* Connor McDavid led the Oilers past Auston Matthews and the Maple Leafs by recording his fifth consecutive multi-goal game and extending his lead in the 2022-23 Maurice "Rocket" Richard Trophy race to double digits.

*Twenty-one-year-old Dawson Mercer joined a short list of skaters as he extended his goal streak to seven games while his Devils closed the gap on top spot in the Metropolitan Division.

* The Bruins will look to become the fastest team in NHL history to reach 100 points when they face the Sabres at TD Garden during a 10-game Thursday.



ANOTHER GAME, ANOTHER ACHIEVEMENT FOR CONNOR McDAVID
Connor McDavid (2-1—3) factored on each of Edmonton's first-period goals to register his 21st career three-point period and fifth consecutive multi-goal game to help the Oilers (33-21-8, 74 points) leapfrog the idle Kraken (33-21-6, 72 points) for third place in the Pacific Division. Seattle holds two games in hand.

* McDavid, who owns a 10-goal lead in the 2022-23 Maurice "Rocket" Richard Trophy race, became the first player in Oilers history to register five consecutive multi-goal games, breaking a tie with Wayne Gretzky (4 GP in 1984-85).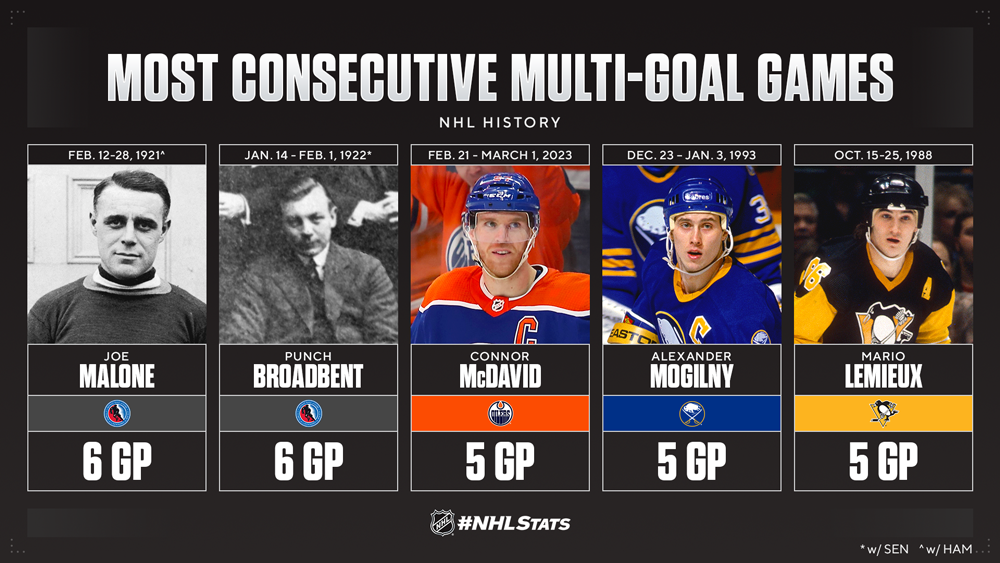 * Tuesday marked the 21st time the Oilers captain notched three-plus points in a period and stands as one of eight players in the past 30 years to register as many instances. The others: Jaromir Jagr (47), Mario Lemieux (34), Sidney Crosby (24), Teemu Selanne (23), Paul Kariya (22), Alex Ovechkin (21) and Patrick Kane (21).

* McDavid has 17 three-point games in 2022-23 and sits one shy of his highest in a single season (18 GP in 2020-21). Only four other players have had as many three-point games in a campaign since 2000-01: Nikita Kucherov (18 GP in 2018-19 w/ TBL), Joe Thornton (18 GP in 2006-07 w/ SJS & 2005-06 w/ BOS/SJS), Jaromir Jagr (18 GP in 2005-06 w/ NYR) and Joe Sakic (19 GP in 2000-01 w/ COL).
MERCER EXTENDS GOAL STREAK TO SEVEN, DEVILS EARN 40TH WIN OF 2022-23
Dawson Mercer scored one of New Jersey's seven tallies to extend his goal streak to seven games as the Devils earned their 40th win in just their 60th contest of 2022-23 – establishing a new franchise benchmark for fewest games to the mark (previously 62 GP in 2008-09). New Jersey (40-15-5, 85 points), which joined Boston as the second team to reach 40 wins in 2022-23, moved within one point of Carolina (39-12-8, 86 points) for first in the Metropolitan Division.

* Mercer, who tied Connor McDavid, Kirill Kaprizov and Leon Draisaitl for the longest run by any player in 2022-23, moved within one of tying Paul Gardner (8 GP in 1977-78 w/ CLR) for the longest goal streak in Devils/Rockies/Scouts history. The last season to feature a player age 21 or younger with a longer run was 1981-82 when both Wayne Gretzky (9 GP) and Ron Flockhart (8 GP) did so.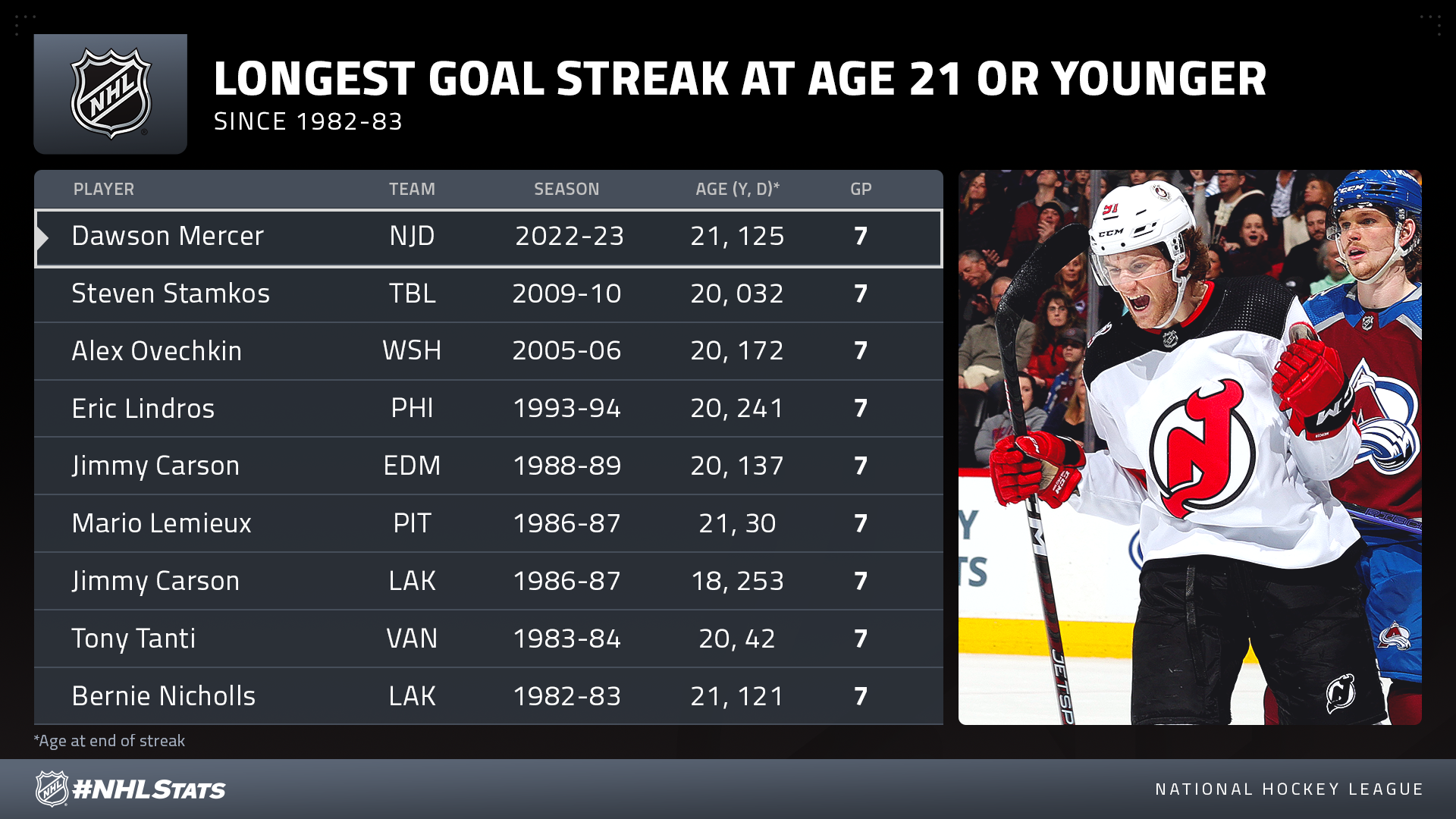 * New Jersey scored seven goals in a game for the second time in as many contests (also 7-0 W vs. PHI on Feb. 25) – a feat they achieved for the fifth time in franchise history (2 GP on Feb. 8-10, 2022; Feb. 5-10, 1994; Oct. 29-30, 1986 & March 6-8, 1986).

RANGERS, GOLDEN KNIGHTS EARN WINS ON #NHLSTATS: LIVE UPDATES
The Tuesday edition of #NHLStats: Live Updates featured Mika Zibanejad (1-0—1) score his 100th career power-play goal as the Rangers (35-17-9, 79 points) earned their eighth third-period comeback win of the season and Reilly Smith record his 15th game winner in a Golden Knights uniform to allow Vegas (36-19-6, 78 points) to maintain its position atop the Western Conference on Women's History Knight – a game created to celebrate the start of Women's History Month.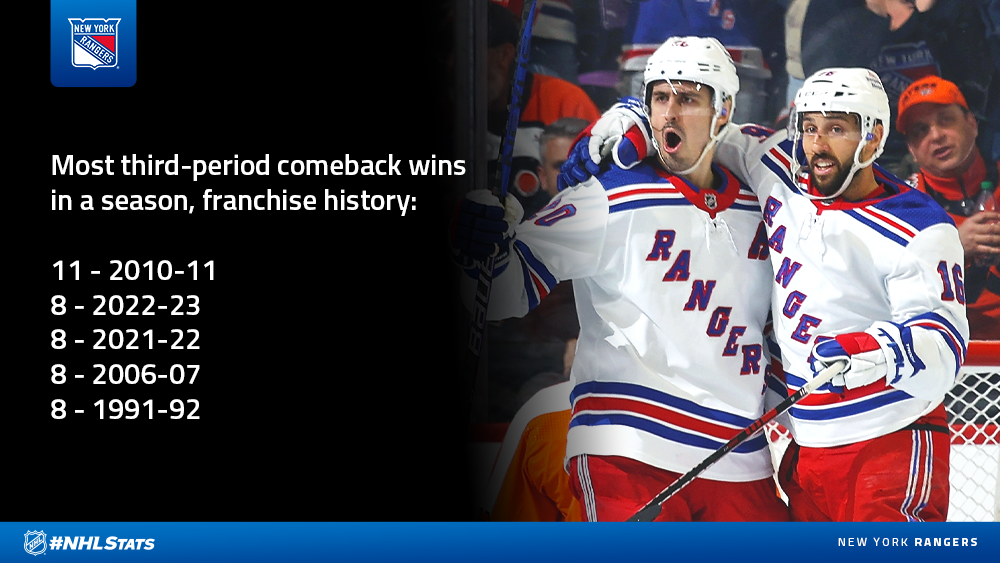 With one day remaining until the 2022-23 NHL Trade Deadline Presented by OFX (3 p.m. ET on Friday, March 3), a number of household names were on the move including Jonathan Quick,who was traded to the Blue Jackets after a decorated 16-plus season career with the Kings. Quick is one of just two goaltenders in NHL history with at least two Stanley Cups (2012 & 2014), two William M. Jennings Trophies (2014 & 2018) and the Conn Smythe Trophy (2012). The other: Patrick Roy.

* Jakob Chychrun was traded to the Senators by the Coyotes. He leads all blueliners from the 2016 NHL Draft class in goals (60) and had 60-110—170 through 373 career games in Arizona – which stood as the fourth-most points by a Coyotes skater since he entered the NHL in 2016-17.

* For a full list of trades that took place Wednesday, check out NHL.com's 2022-23 Trade Tracker. For more notes on the 2022-23 NHL Trade Deadline Presented by OFX, click the #NHLStats Pack.

QUICK CLICKS

*Connor McDavid, Nathan MacKinnon, Linus Ullmark are the "Three Stars" for the month of Feb.
* Patrick Kane trade has Rangers thinking they're 'capable' of winning Cup
* Dylan Larkin signs 8-year, $69.6 million contract with Red Wings
* Jonathan Quick leaves legacy of Stanley Cup titles, competitiveness with Kings
* Mario Lemieux return from cancer 30 years ago today recalled as 'amazing feat'

BRUINS SET SIGHTS ON CENTURY MARK IN BOSTON
The NHL-leading Bruins (47-8-5, 99 points) will look to become the fastest team in NHL history to reach 100 points in a season when they clash with the Sabres (31-24-4, 66 points) at TD Garden during a 10-game slate.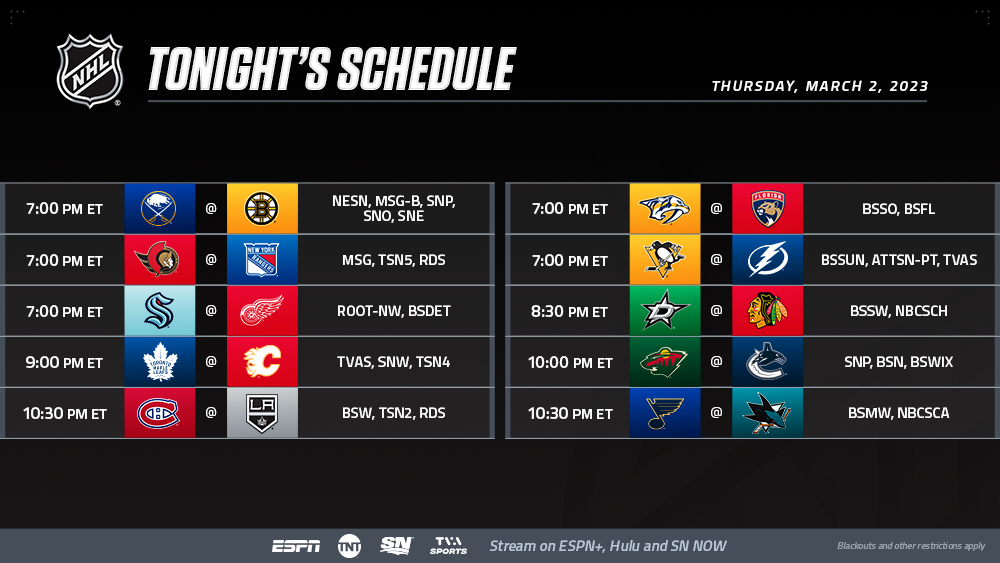 * With a point Thursday, Boston can be the first team to reach 100 points in a season (outright or tied) for the seventh time in NHL history – most recently doing so in 2019-20. Montreal and Detroit pace all franchises, having hit the mark first in a campaign eight times each – the last time the Canadiens accomplished the feat was in 2014-15 and the Red Wings was in 2008-09.

* The Bruins can require the fewest contests in NHL history to reach the 100-point mark in a season. Boston's current best is 63, achieved in 1971-72 en route to its fifth Stanley Cup championship.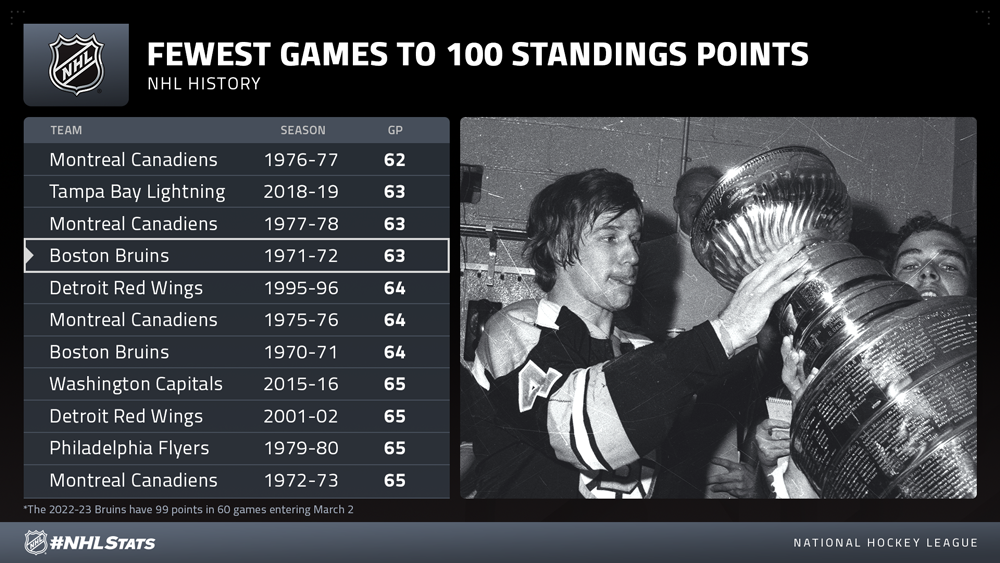 "SHOWTIME" SET FOR BROADWAY DEBUT, WILL REUNITE WITH PANARIN
Patrick Kane (16-29—45 in 54 GP), who was acquired by the Rangers in a trade Tuesday, is expected to make his Rangers debut Thursday while skating on a line with former Blackhawks teammate Artemi Panarin and Vincent Trocheck. Kane spent his first 16 seasons with Chicago where he ranks second on its all-time points list and was a key contributor to three Stanley Cup championships.

* Kane and Panarin were teammates for two seasons (2015-16 – 2016-17). Their first campaign as linemates in 2015-16 was a memorable one, with Panarin registering the second-highest point total by a Blackhawks rookie en route to the Calder Trophy (30-47—77 in 80 GP), while Kane posted his first 100-point season to capture the Hart Trophy and become the first U.S.-born player to win the Art Ross Trophy.

* Over those two seasons as linemates, Kane and Panarin factored on the same goal 102 times, double the next pair of Blackhawks teammates (51: Kane and Artem Anisimov) and more than any other duo in the League. Kane (45) has assisted on more Panarin goals than any other player.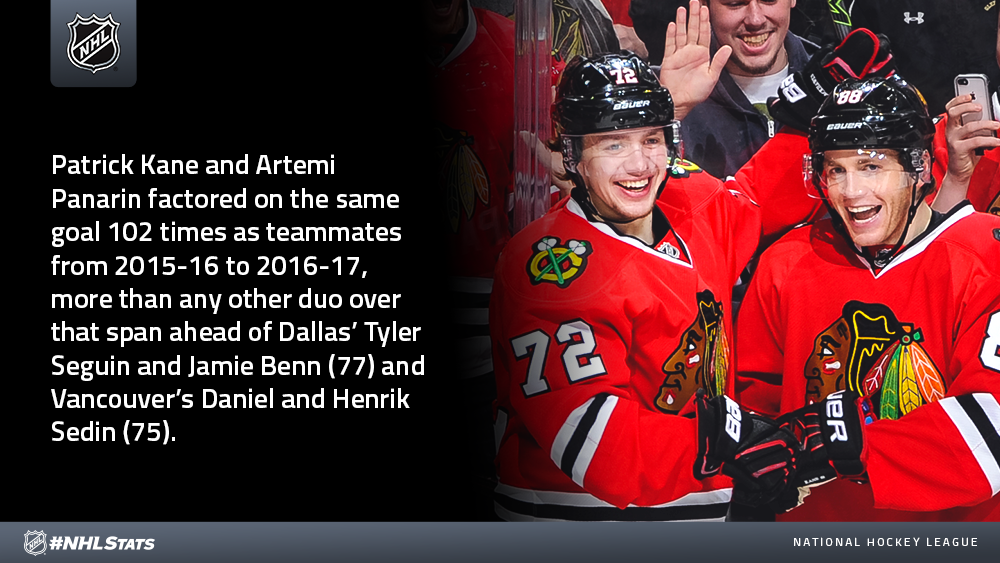 * Kane enters the contest having scored multiple goals in three of his last four appearances (7-3—10 in 4 GP). Thirteen players have recorded two-plus goals in their Rangers debut, with just three doing so in the 2000s or later: Derek Stepan (3 on Oct. 9, 2010), Ryane Clowe (2 on April 3, 2013) and Brendan Shanahan (2 on Oct. 5, 2006). The most points by a player in their Rangers debut is four: Derick Brassard (April 3, 2013) and Doug Bentley (Jan. 20, 1954).