* Artistic impression came to life with the first-ever live, animated NHL game telecast as ESPN, Disney Channel and the NHL teamed up to bring fans the "NHL Big City Greens Classic" on Tuesday.

* Leon Draisaitl scored two goals and became the second player to reach the 100-point mark this season, joining teammate Connor McDavid.

* Wednesday's four-game slate features an NHL on TNT doubleheader with the Maple Leafs hosting the Avalanche followed by the Wild visiting the Blues.




RANGERS DEFEAT CAPITALS IN LANDMARK "NHL BIG CITY GREENS CLASSIC"
Mika Zibanejad zipped two goals into the Washington net as New York earned a 5-3 win in the "NHL Big City Greens Classic," a first-of-its-kind live volumetric animation telecast presented by ESPN+, Disney Channel, Disney XD and Disney+.

* The alternate presentation of the game leveraged NHL Edge puck and player tracking to recreate the action on the ice while featuring "Big City Greens" favorites Cricket Green taking the place of Rangers forward Vincent Trocheck and Tilly Green playing in place of Capitals forward Evgeny Kuznetsov. Zibanejad opened the scoring and had a second first-period goal, which featured a highlight-reel alley-oop assist from Igor Shesterkin (who appeared as Gramma Alice).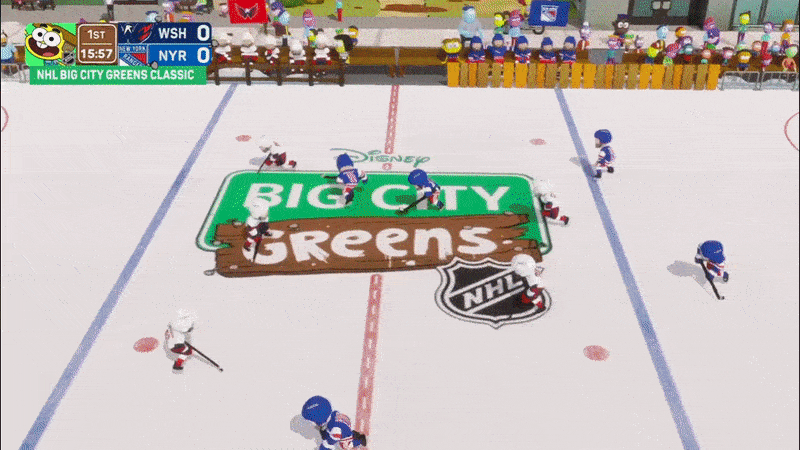 * Steve Levy and former Rangers captain Mark Messier had the traditional broadcast from Madison Square Garden, while Drew Carter and Kevin Weekes called the special telecast. Carter and Weekes wore motion capture suits working to display animation and respective avatars for the simulation modeled after characters from the show in ESPN's Studio Z on March 10.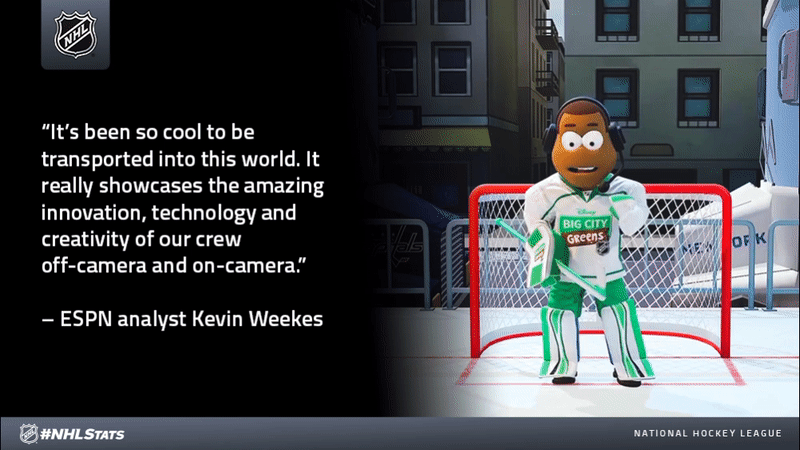 DRAISAITL JOINS TEAMMATE McDAVID IN 100-POINT CLUB
Leon Draisaitl (44-56—100 in 66 GP) tallied twice to reach the 100-point mark for the fourth time in his NHL career and become the second player with a triple-digit total this season, joining teammate Connor McDavid (56-73—129 in 68 GP). Draisaitl (Cologne, Germany) became the sixth player born outside of North America with four or more 100-point seasons in NHL history, joining Peter Stastny (7x), Jari Kurri (6x), Jaromir Jagr (5x), Teemu Selanne (4x) and Alex Ovechkin (4x).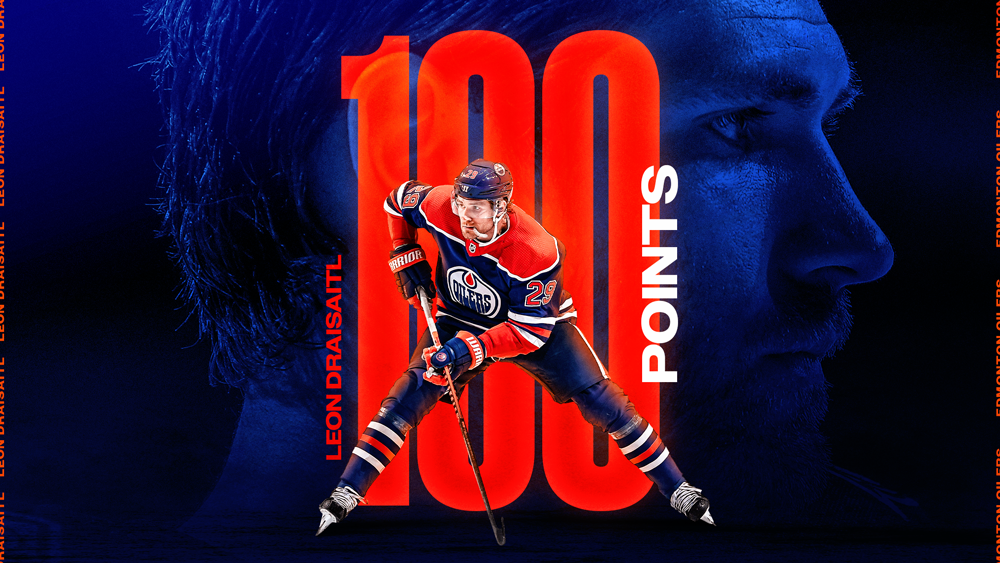 * Draisaitl and McDavid, who had 1-1—2 on Tuesday and now owns sole possession of the highest single-season point total by an active player, were the first two players to reach the 100-point mark last season. It marked the second time in NHL history that the sameteammates were the first two players to 100 points in consecutive seasons – the only other such instance was Phil Esposito and Bobby Orr of the Bruins in1973-74 and 1974-75.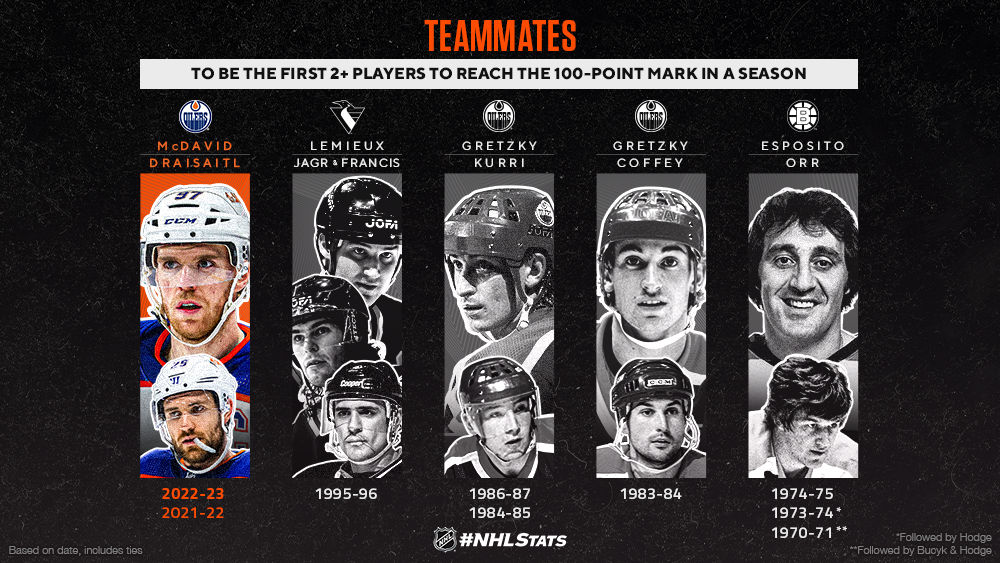 WINS BY DIVISION LEADERS FEATURED IN #NHLSTATS: LIVE UPDATES
Tuesday's edition of #NHLStats: Live Updates featured more notes from the 12-game slate, including victories by the Western Conference-leading Golden Knights (42-20-6, 90 points) and Metropolitan Division-leading Hurricanes (44-14-8, 96 points):

* Jonathan Marchessault (1-2—3) recorded his franchise-leading 17th three-point game in a Golden Knights uniform and Jonathan Quick made 27 saves to help Vegas defeat Philadelphia. Quick improved to 4-0-0 since joining the Golden Knights and tied John Vanbiesbrouck (374) for the second-most wins among U.S.-born goaltenders in NHL history, behind Ryan Miller (391).

* After Jaccob Slavin opened the scoring with his 42nd career goal – tying Dougie Hamilton and Joe Corvo for the sixth most by a defenseman in Hurricanes/Whalers history – Dylan DeMelo pulled the Jets even in the second period, but Jesperi Kotkaniemi (2-1—3) factored on three goals to lift Carolina to victory at PNC Arena. The Hurricanes gained a two-point lead over the Devils (44-17-6, 94 points), who fell to the Lightning on Tuesday.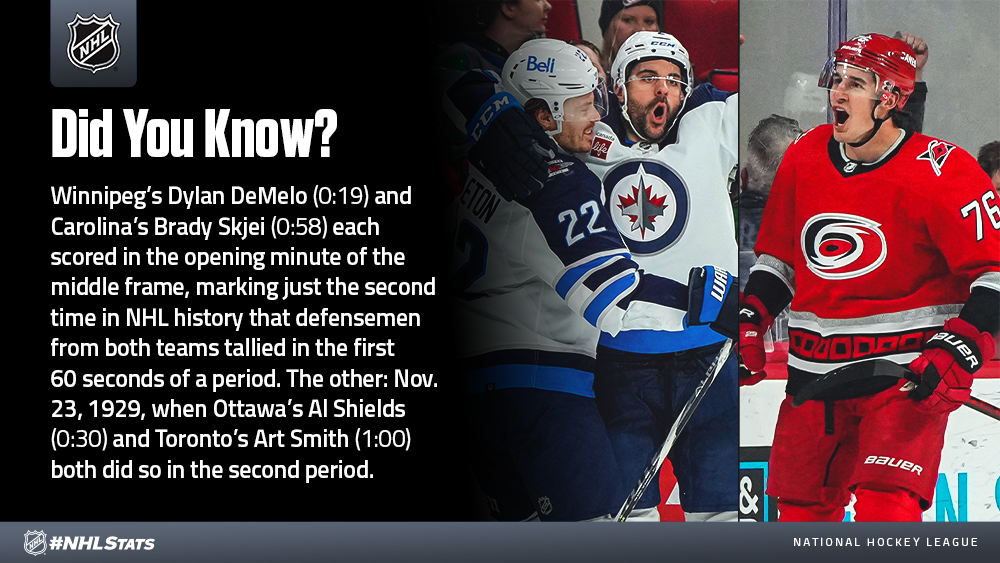 NOT ONE PATH: NATHAN WALKER
Nathan Walker, who moved to Australia at the age of two and started his hockey career in the "Land Down Under," is the most recent player to be featured in the Not One Path series ahead of the Blues' national broadcast on TNT. Walker was inspired to play hockey after watching The Mighty Ducks movie – he started playing inline hockey before transitioning onto the ice. With the nearest hockey rink 45 minutes from Walker's home and the one he and his brother played out of an hour-and-a-half away, it was long drives and dedication to the sport which kept him motivated. Walker carved a path not-yet-travelled to the NHL and is an inspiration to the Australian hockey community.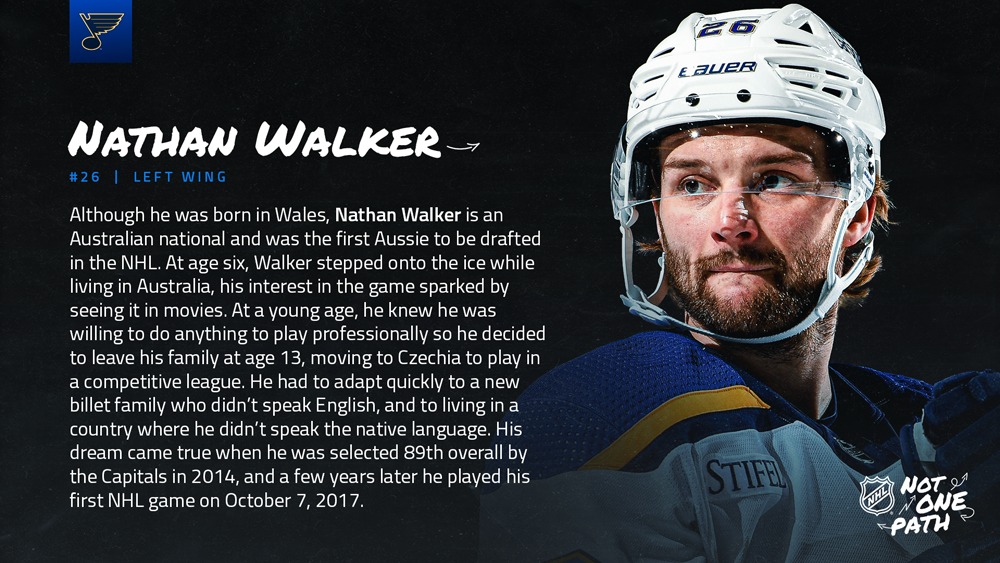 MORE "NHL BIG CITY GREENS CLASSIC" VIDEOS

* Zamboni Tony on the ice
* Wholesome Greg at Big City Greens
* Call from Zookeeper Jimmy
* Animals at Big City Greens
* Chicken interviewed on the ice

QUICK CLICKS

* Johnny Gaudreau gets five points to match Blue Jackets' single-game franchise record
* Nick Seeler dances around the defense
* Ryan O'Reilly expected to return for Maple Leafs before start of playoffs
* Sabres show quiet confidence in win against Maple Leafs
* TNT's Sunday live game coverage up 42% vs. last season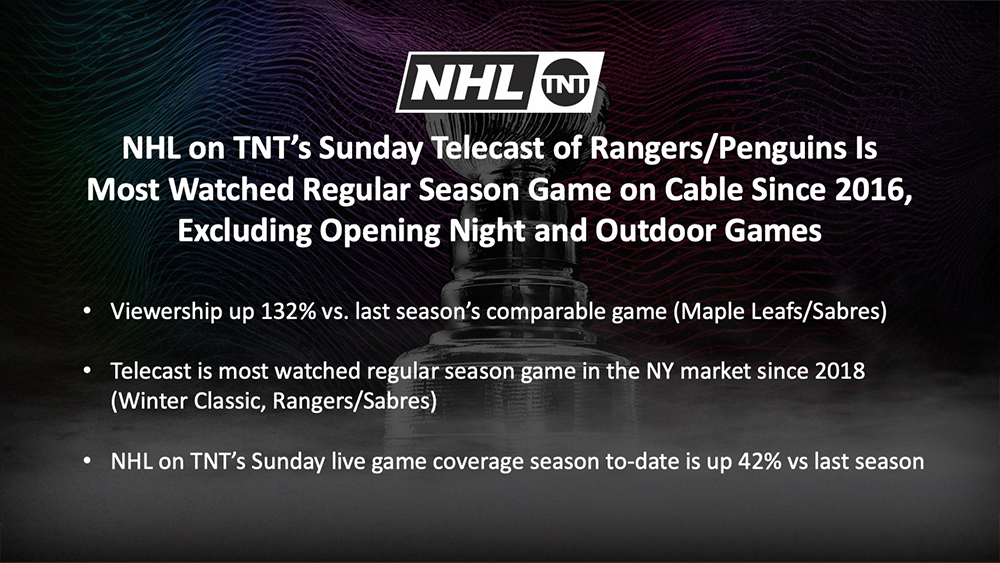 CENTRAL DIVISION RACE FOCAL POINT OF TNT TWO-PACK
Wednesday's four-game slate includes a pair of contests on TNT, both featuring a Central Division team in the thick of a close playoff race. It opens with the reigning champion Avalanche (37-22-6, 80 points), who rank third in the Central Division but hold at least two games in hand on the two teams above them, visiting the Maple Leafs in a game also broadcast on Sportsnet and TVA Sports in Canada. Colorado sits four points back of second-place Minnesota (38-21-8, 84 points), with the Wild on the road in St. Louis looking to extend their franchise record (tied) point streak to 14 games.