* Jack Hughes matched a single-season franchise mark with another multi-point outing as the Devils moved into a tie in standing points with the Hurricanes atop the Metropolitan Division.
* Kris Letang lifted the Penguins to victory with the winner in the extra frame and moved into third on the NHL's all-time overtime goals list among defensemen.
* Maple Leafs look to set franchise benchmark for fewest games to 90 points in a season when they face the Sabres at Scotiabank Arena on a three-game Monday.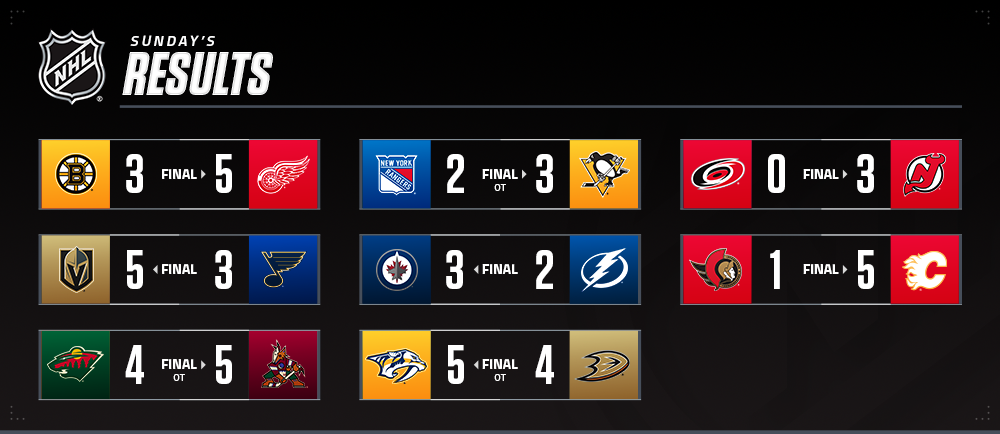 DEVILS DEFEAT HURRICANES, MOVE INTO TIE IN STANDING POINTS ATOP DIVISION
Jack Hughes (1-2—3) factored on all three of his team's goals as the Devils (44-16-6, 94 points) blanked the Metropolitan Division-leading Hurricanes (43-14-8, 94 points) and moved into a tie with the club in standing points – Carolina, which has now occupied first place in the division for 84 straight days since Dec. 20, holds a game in hand.

* Hughes recorded his 27th multi-point outing of 2022-23 and matched Taylor Hall (27 GP in 2017-18) for the most by a Devils/Rockies/Scouts skater in a single season. He also posted his 26th career multi-assist game – only four U.S.-born skaters had more before age 22: Phil Housley (39 GP), Jimmy Carson (34 GP), Patrick Kane (33 GP) and Jeremy Roenick (33 GP).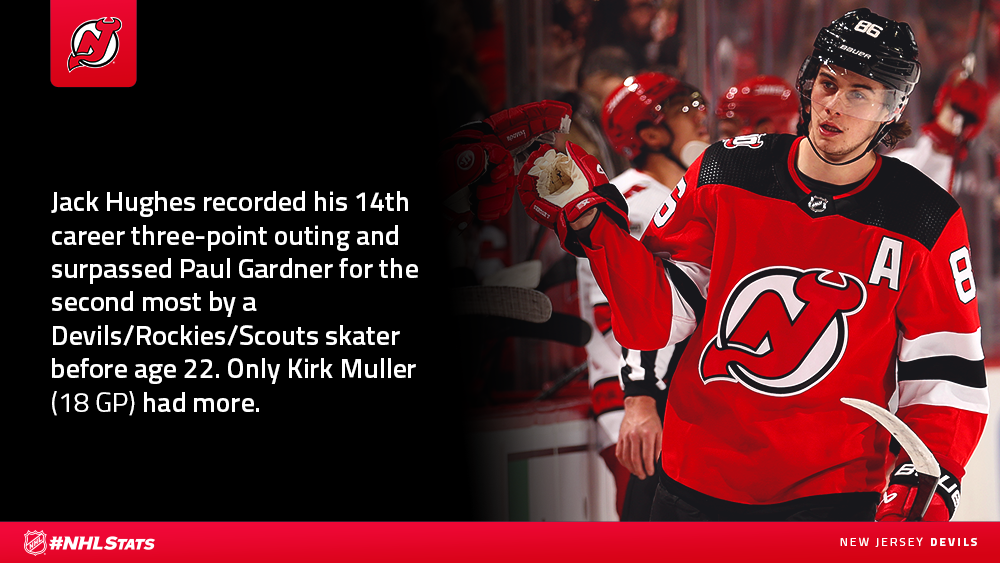 CROSBY, LETANG HELP PENGUINS PREVAIL IN OVERTIME
Sidney Crosby (0-2—2) collected an assist on two of Pittsburgh's three goals, including Kris Letang's third overtime winner of 2022-23, to record his 12th career 80-point season as the Penguins (34-22-10, 78 points) prevailed at PPG Paints Arena and gained a two-point lead over the idle Islanders (34-26-8, 76 points) for the first Wild Card spot in the Eastern Conference. Pittsburgh has two games in hand against New York.

* Crosby (29-51—80), who also hit the 50-assist mark, surpassed Mario Lemieux (11x) for sole possession of the most 80-point seasons in Penguins history. The only other active skater with 10-plus such campaigns is Alex Ovechkin (10x).

* Letang's three overtime goals are the most among all defensemen this season. Only two blueliners in NHL history have had more in a single campaign: Shayne Gostisbehere (4 in 2015-16 w/ PHI) and Scott Niedermayer (4 in 2001-02 w/ NJD).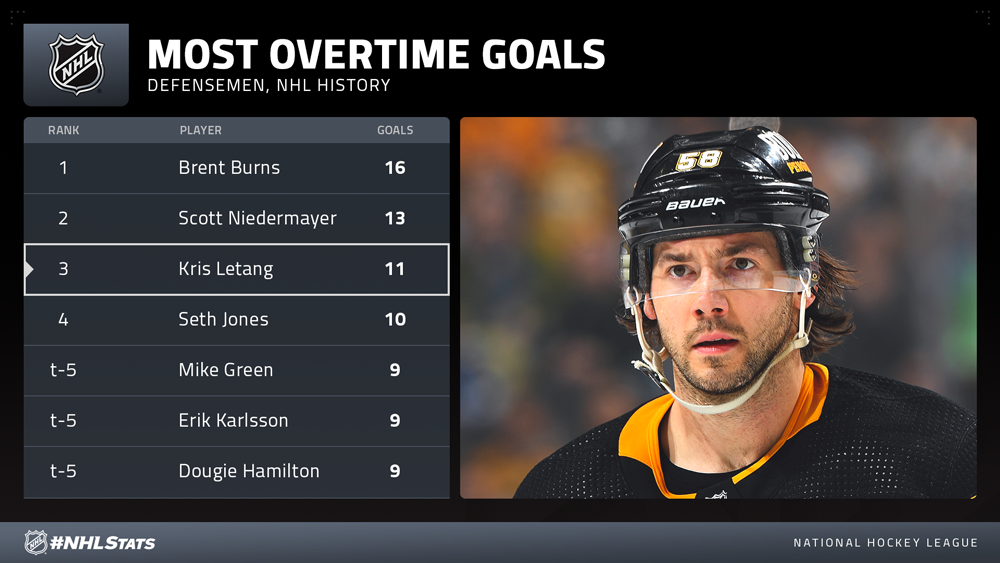 WESTERN CONFERENCE'S WILD CARD RACE FEATURED IN #NHLSTATS: LIVE UPDATES
The latest edition of #NHLStats: Live Updates featured a number of notes on the Jets (38-26-3, 79 points), Flames (30-24-13, 73 points) and Predators (33-24-7, 73 points), who are all a part of the Western Conference's tightly-contested playoff race.

* Mark Scheifele factored on one of his team's three goals to hit the 60-point mark (38-22—60 in 67 GP) and helped Winnipeg leapfrog idle Colorado (36-22-6, 78 points), which is in action tonight, for third place in the Central Division standings. It marked Scheifele's eighth consecutive 60-point season dating to 2015-16, surpassing Blake Wheeler (7x from 2013-14 to 2019-20) for the most in Jets/Thrashers history.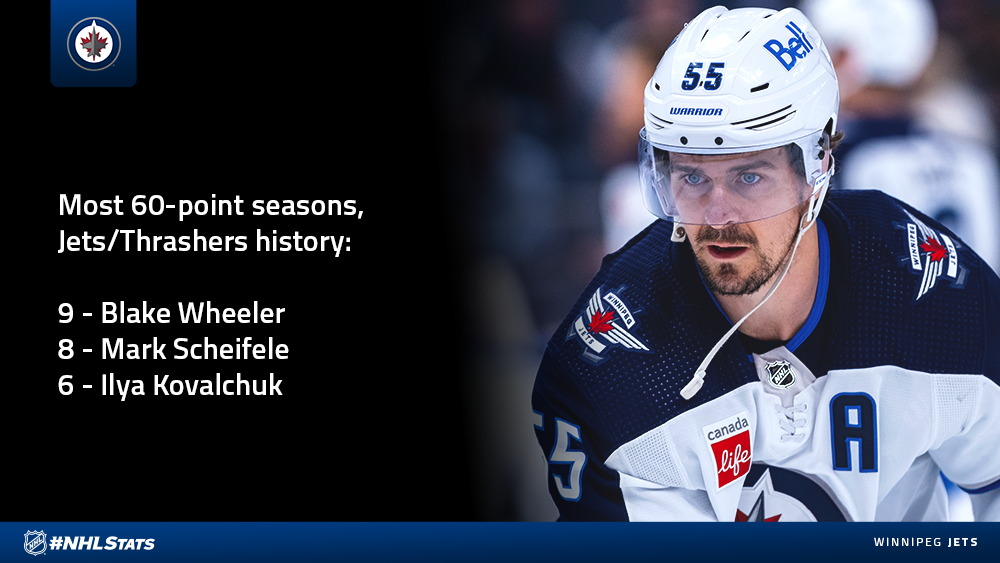 * Roman Josi (0-2—2) collected two assists and became the fifth active defenseman to record at least six 40-assist seasons, alongside Erik Karlsson (8x), Brent Burns (6x), Kris Letang (6x) and Victor Hedman (6x), as the Predators defeated the Ducks in overtime and moved within five points of the idle Avalanche for the second Wild Card spot in the Western Conference.

* Elias Lindholm (1-1—2) factored on two of his team's five goals, including scoring the 200th of his career, as the Flames kept pace in the race for the final Wild Card position. It marked Lindholm's 27th game-winning goal with Calgary, tied with Gary Roberts for ninth place on the franchise's all-time list.

QUICK CLICKS

* Daniel Briere confident he can lead Flyers rebuild after being named interim GM
* Shakira attends Islanders game, hangs with former 'Voice' colleague Carson Daly
* Marc Joannette discusses 'overwhelming' emotions after 1,500th NHL game
* Nick Bonino week to week for Penguins with lacerated kidney
* Penguins don special warmup jerseys for women's team on Her Hockey Day

SABRES, MAPLE LEAFS SET TO CLASH ON THREE-GAME MONDAY
A three-game Monday features an Atlantic-Division showdown broadcast nationally in Canada (TVAS, SNO, SNW & SNP) as the Sabres (32-28-5, 69 points) visit the Maple Leafs (40-17-8, 88 points) at Scotiabank Arena. Toronto can require the fewest games in franchise history to reach 90 points in a season (65 GP entering play) – its current best is 67 outings, accomplished in 2021-22 (43-19-5).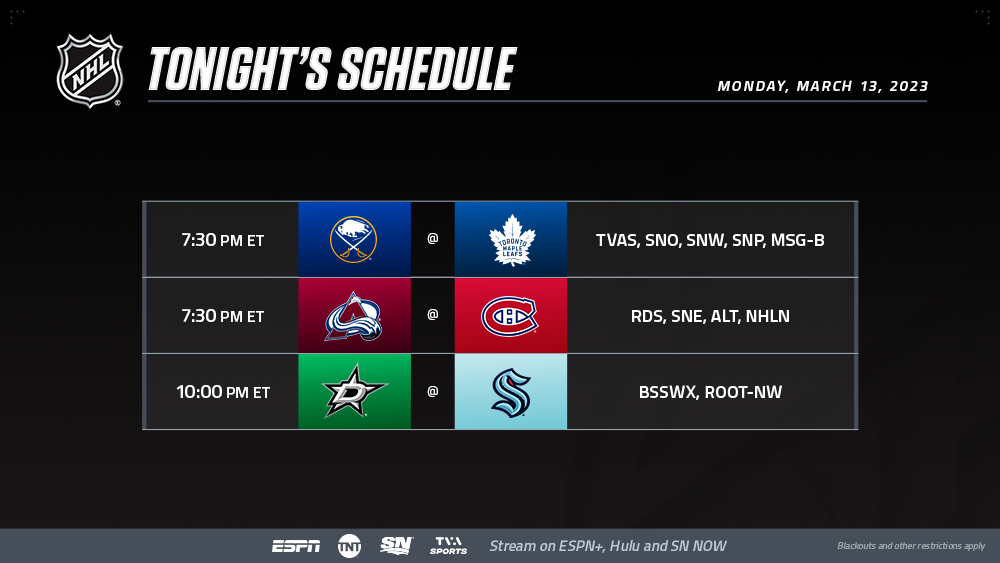 * Rasmus Dahlin (14-49—63 in 61 GP) can become just the third different defenseman to record 50 assists in a single season with Buffalo – Phil Housley (60 in 1989-90 & 53 in 1984-85) and John Van Boxmeer (54 in 1981-82 & 51 in 1980-81) both achieved the feat twice.

* Toronto's 24 home wins are tied with Tampa Bay for the second most among all teams this season, behind only Boston (27). William Nylander (23-26—49 in 34 GP) leads all Maple Leafs skaters in points at Scotiabank Arena and can become just the third player in franchise history to reach 50 at home in 35 contests or fewer. He would join Doug Gilmour (33 GP in 1992-93) and Darryl Sittler (34 GP in 1977-78).