* The Senators, who scored six goals for the second consecutive day, were one of a handful of Eastern Conference teams currently in the hunt for a Wild Card spot to pick up two points Tuesday.

* Anze Kopitar recorded his second career four-goal game and led the Kings to their fourth multi-goal, third-period comeback win of the season – the most among all teams.

* Linus Ullmark (54 saves) posted the eighth 50-save performance by a goaltender this season – and the fifth this month – as 2022-23 produced an NHL rarity.
*A blockbuster deal sent Patrick Kane to his home state of New York and he will now don a Rangers jersey after spending more than 16 years in Chicago. Two days remain until the 2022-23 NHL Trade Deadline Presented by OFX, which is at 3 p.m. ET on Friday, March 3 – click here for the #NHLStats Pack.



SENATORS, PANTHERS, PENGUINS EARN CRUCIAL WINS IN EAST'S WILD CARD RACE
The tightly-contested race for the final Wild Card position in the Eastern Conference took center stage Tuesday as the Senators (30-26-4, 64 points) and Panthers (30-26-6, 66 points) each picked up two points to keep pace with the Penguins (30-21-9, 69 points), who also earned a win:

* Tim Stützle (1-2—3) became the ninth different player in Senators history to score on a penalty shot as Ottawa found the back of the net four times in the first period en route to its second consecutive six-goal game. Stützle netted his team-leading 28th goal of the season (28-35—63 in 56 GP) and 62nd of his career – tying Marian Hossa (62 in 186 GP) for the second most by a Senators player age 21 or younger. Martin Havlat (65 in 212 GP) is the only such skater with more.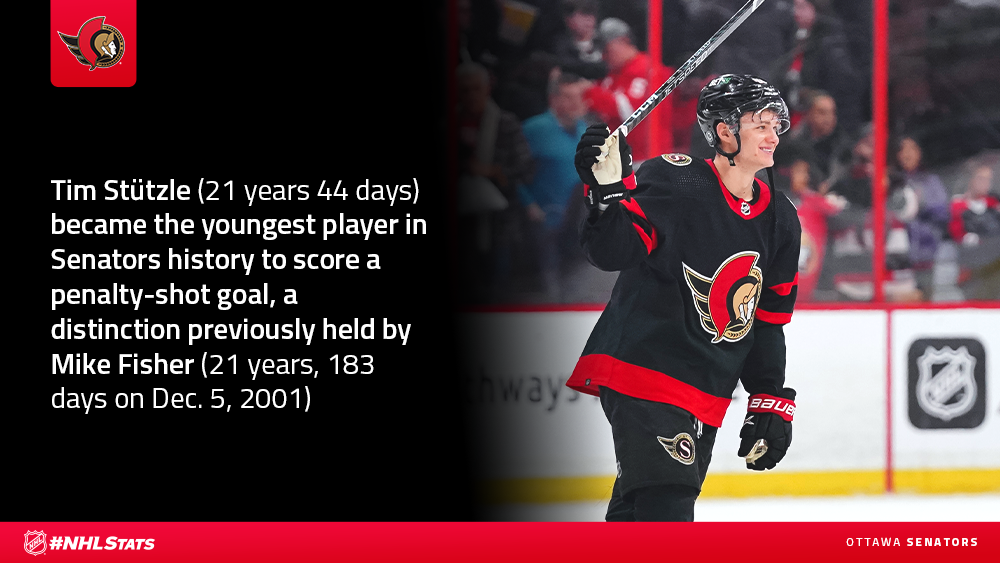 * Matthew Tkachuk (0-1—1)factored on the winning goal to help the Panthers snap the Sunshine State-rival Lightning's franchise-record home point streak at 16 games. Tkachuk boosted his totals with Florida to 28-51—79 in 59 games and sits four points shy of passing Sam Reinhart (33-49—82 in 78 GP) for the most by a player in their first season with the franchise.

* Sidney Crosby tied the game more than halfway through the third period and Jason Zucker scored the go-ahead marker with 1:39 remaining in regulation as Pittsburgh earned its sixth third-period comeback win of the season. The Penguins are no strangers to go-ahead goals in the final two minutes of regulation in Nashville – Patric Hornqvist scored with 1:35 remaining in Game 6 of the 2017 Stanley Cup Final to help Pittsburgh win its second straight championship.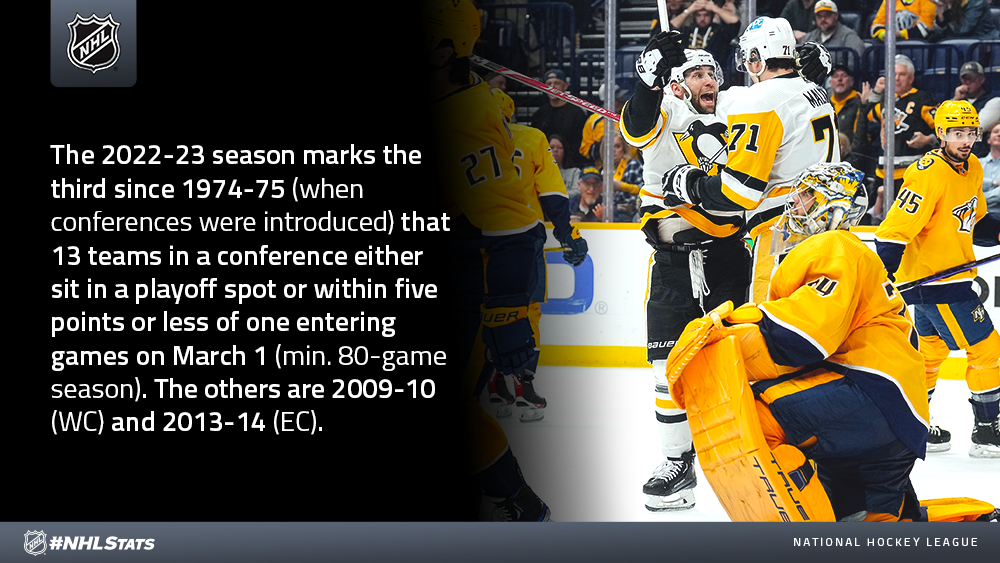 DUELLING FOUR-POINT PERFORMANCES SHINE IN BACK-AND-FORTH AFFAIR IN WINNIPEG
Josh Morrissey (2-2—4) helped the Jets (35-24-2, 72 points) produce multiple two-goal leads but Anze Kopitar (4-0—4) netted his second career four-goal game to guide the Kings to their NHL-best fourth multi-goal, third-period comeback win of the season.

* Tuesday marked just the fifth time in franchise history – and first on the road – the Kings have erased multiple deficits of two or more goals to win following Dec. 28, 1993 (vs. VAN), Dec. 21, 1988 (vs. MNS), March 20, 1982 (vs. PIT) and Oct. 27, 1981 (vs. QUE).

* Kopitar (35 years, 188 days), who joined Alex Ovechkin (4x) and Patrice Bergeron (2x) as the third active player with multiple four-goal games (also 4-0—4 on March 22, 2018), matched the franchise record for most in a contest and became the oldest player in franchise history with a four-goal outing ahead of longtime teammate Dustin Brown (4-0—4 on April 5, 2018: 33 years, 152 days).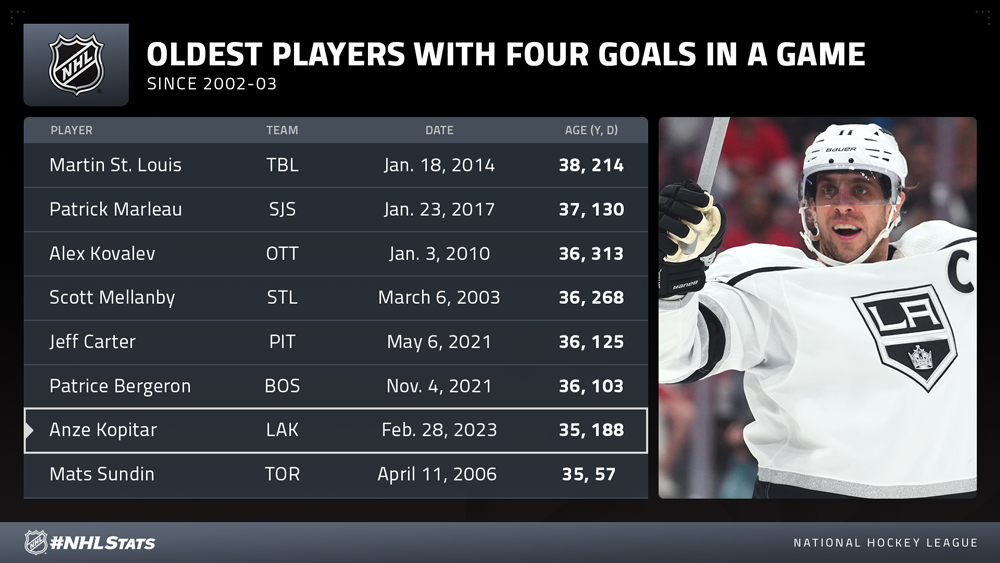 * Drew Doughty (0-2—2), the captain's teammate since 2008-09, assisted on Kopitar's first and third goals of the evening and have now factored on the same goal 284 times – surpassing Kris Letang and Sidney Crosby (282) for the most by an active forward-defenseman duo.

* Morrissey's performance, which included two goals in a span of 1:43, propelled him to the first 50-assist campaign by a defenseman in Jets/Thrashers history as well as matching the franchise record for points in a game by a blueliner –a feat previously accomplished by Toby Enstrom (2-2—4 on Dec. 20, 2010), Jaroslav Modry (1-3—4 on Dec. 26, 2005) and Dustin Byfuglien (1-3—4 on Nov. 28, 2010 & April 7, 2016).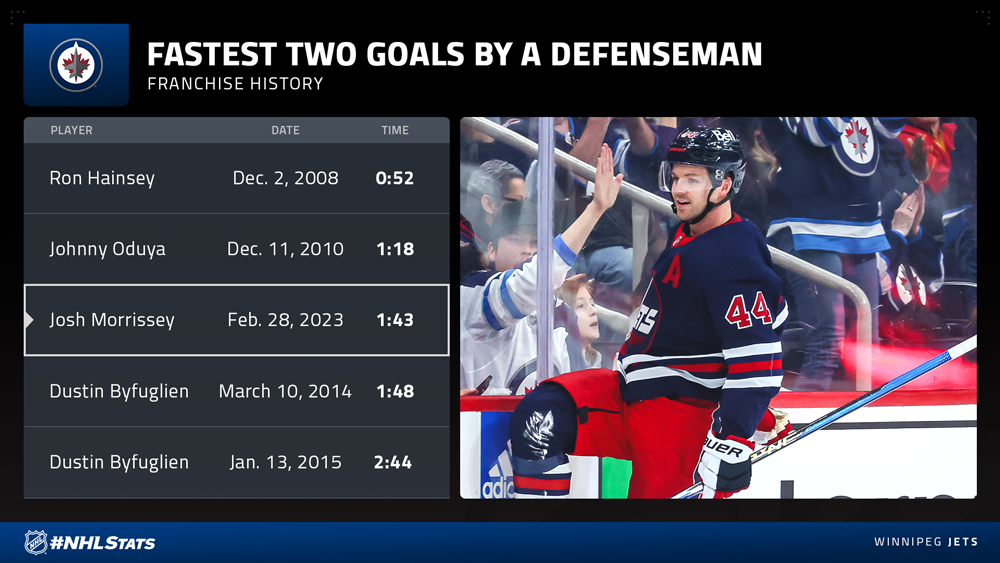 ULLMARK RISES TO THE OCCASION AGAIN FOLLOWING GOALIE GOAL
After sending the hockey world abuzz in his last outing by scoring a goal, Linus Ullmark (54 saves) produced the eighth 50-save performance by a netminder this season while Charlie McAvoy notched his fifth career overtime goal with five seconds remaining in extra time as the Bruins (47-8-5, 99 points) extended the NHL's longest active win streak to eight games.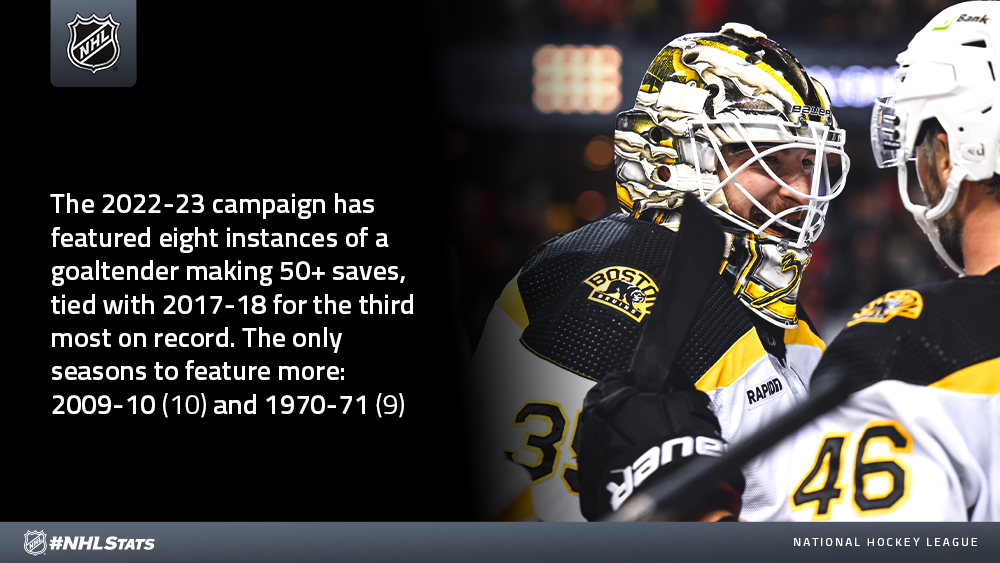 * Ullmark made a career-high 54 saves and registered the most on record by a Bruins goaltender (since 1955-56 when shots on goal began being tracked), besting Tim Thomas (51 saves on March 1, 2007). Of note, Boston has featured one instance of a netminder making more saves in the Stanley Cup Playoffs: Tuukka Rask (59 saves in Game 1 of 2013 SCF).

* McAvoy, who tied Ray Bourque (5) for the most overtime winners by a defenseman in Bruins history, scored Boston's latest such tally (4:55) since the five-minute format was introduced in 2005-06.




Trades were aplenty three days ahead of the 2022-23 NHL Trade Deadline Presented by OFX (3 p.m. ET on Friday, March 3), highlighted by a blockbuster trade that sent Patrick Kane to his home state of New York after spending more than 16 years in Chicago. The Rangers are receiving one of three players in NHL history to win at least three Stanley Cups, a Conn Smythe Trophy, an Art Ross Trophy, a Hart Memorial Trophy and a Calder Memorial Trophy (also Bryan Trottier & Evgeni Malkin).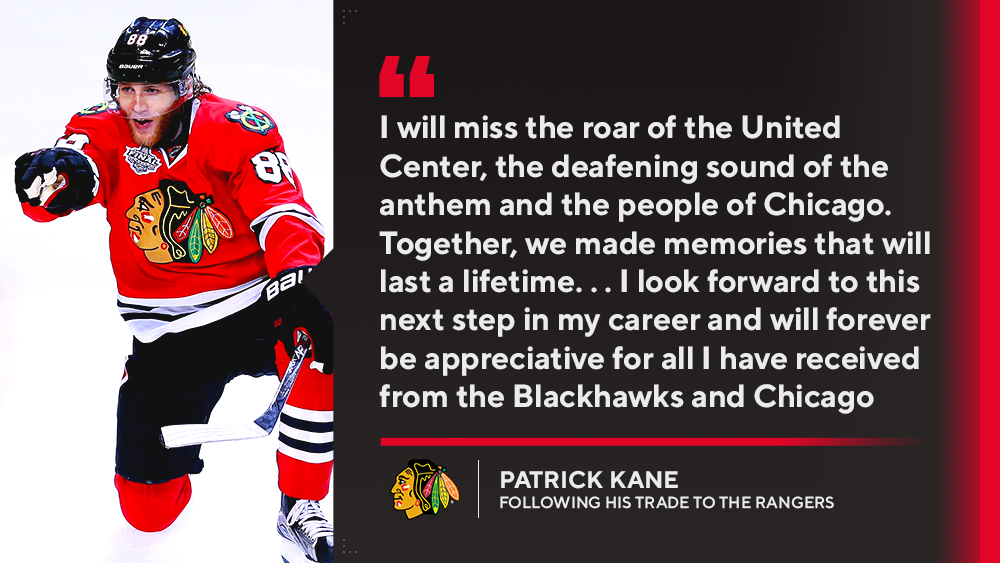 All of the deals around the League can be found on NHL.com's 2022-23 Trade Tracker, but here are some of the other trades that took place Tuesday:
* Mattias Ekholm was traded to the Edmonton Oilers by the Nashville Predators for Tyson Barrie.

* Luke Schenn was traded to the Maple Leafs by the Canucks for a third-round pick in the 2023 NHL Draft.

* Jesse Puljujarvi was traded to the Hurricanes by the Oilers for prospect Patrik Puistola.

* Marcus Johansson was traded to the Wild by the Capitals for a third-round pick in the 2024 NHL Draft.

* Gustav Nyquist was traded to the Wild by the Blue Jackets for a fifth-round pick in the 2023 NHL Draft.

QUICK CLICKS

* Feb. 28 Edition of #NHLStats: Live Updates
*K'Andre Miller suspended 3 games for actions in Rangers game
*Colin Miller fined $5,000 for actions in Stars game
* Patrick Kane trade to Rangers ends golden era of Blackhawks hockey
* Maple Leafs hope new identity can end skid in playoffs

DIVISION LEADERS CLASH IN SECOND GAME OF TNT DOUBLEHEADER
The Metropolitan Division-leading Hurricanes (39-11-8, 86 points) have their sights set on their 40th win of the season when they travel to Vegas to clash with the Pacific Division-leading Golden Knights (35-19, 76 points) in the second game of a doubleheader on TNT. The Rangers (34-17-9, 77 points) and Flyers (23-28-10, 56 points) get the action going earlier in the evening.



AVALANCHE LOOK TO CONTINUE CLIMB UP WESTERN CONFERENCE STANDINGS
The Avalanche (34-19-5, 73 points) enter their Wednesday contest with wins in each of their past six games, a 15-6-2 record since the beginning of the calendar year and an opportunity to move into first place in the Central Division. Colorado (19-13-3, 41 points) rang in the new year 11 points behind Dallas (23-9-6, 52 points) – also in action tonight – for top spot and now find themselves two points behind the Stars.

* Nathan MacKinnon (22-49— 71 in 47 GP) has been the catalyst of the Avalanche offense as of late, which includes an active eight-game point streak (8-8—16 in 8 GP) and multiple points in six straight games from Feb. 11-24. Additionally, MacKinnon's 37 points since Jan. 1 (14-23—37 in 23 GP) are the second most among all players through that span and trail only Connor McDavid (18-25—43 in 23 GP).