* Connor McDavid, David Pastrnak and Tage Thompson combined for six goals Thursday as the Oilers, Bruins and Sabres prevailed in high-scoring games.

* For the first time since entering games on Dec. 9, the Red Wings are in a playoff position! Detroit dealt New York its first regulation road loss in nearly two months to leapfrog Pittsburgh and Florida for the Eastern Conference's final Wild Card spot.

* Friday's six-game slate features a pair of national broadcasts in Canada as the Sabres square off with the Panthers and the Jets face the Avalanche.



McDAVID, THOMPSON SET NEW CAREER HIGHS FOR GOALS AS "ROCKET" RACE TIGHTENS
Oilers captain Connor McDavid (46-63—109 in 59 GP) and Sabres forward Tage Thompson (39-36—75 in 56 GP) scored two and three goals, respectively, to establish new single-season career highs and help their teams earn wins Thursday. Thompson moved within seven goals of League leader McDavid in the Maurice "Rocket" Richard Trophy race, with Buffalo holding three games in hand on Edmonton – David Pastrnak (42-37—79 in 57 GP), who tallied once in the Bruins' back-and-forth victory versus the Kraken, ranks second with 42.

* McDavid (2-2—4) recorded his ninth four-point outing of 2022-23 and scored his second career penalty-shot goal as the Oilers (32-19-8, 72 points), who occupied the Western Conference's first Wild Card spot entering play, moved past the Kraken (32-20-6, 70 points) and Kings (32-19-8, 72 points) for second place in the Central Division. McDavid's nine four-point performances are the most by a player in a single season since 1995-96, when Mario Lemieux (16), Jaromir Jagr (9) and Peter Forsberg (9) all had as many.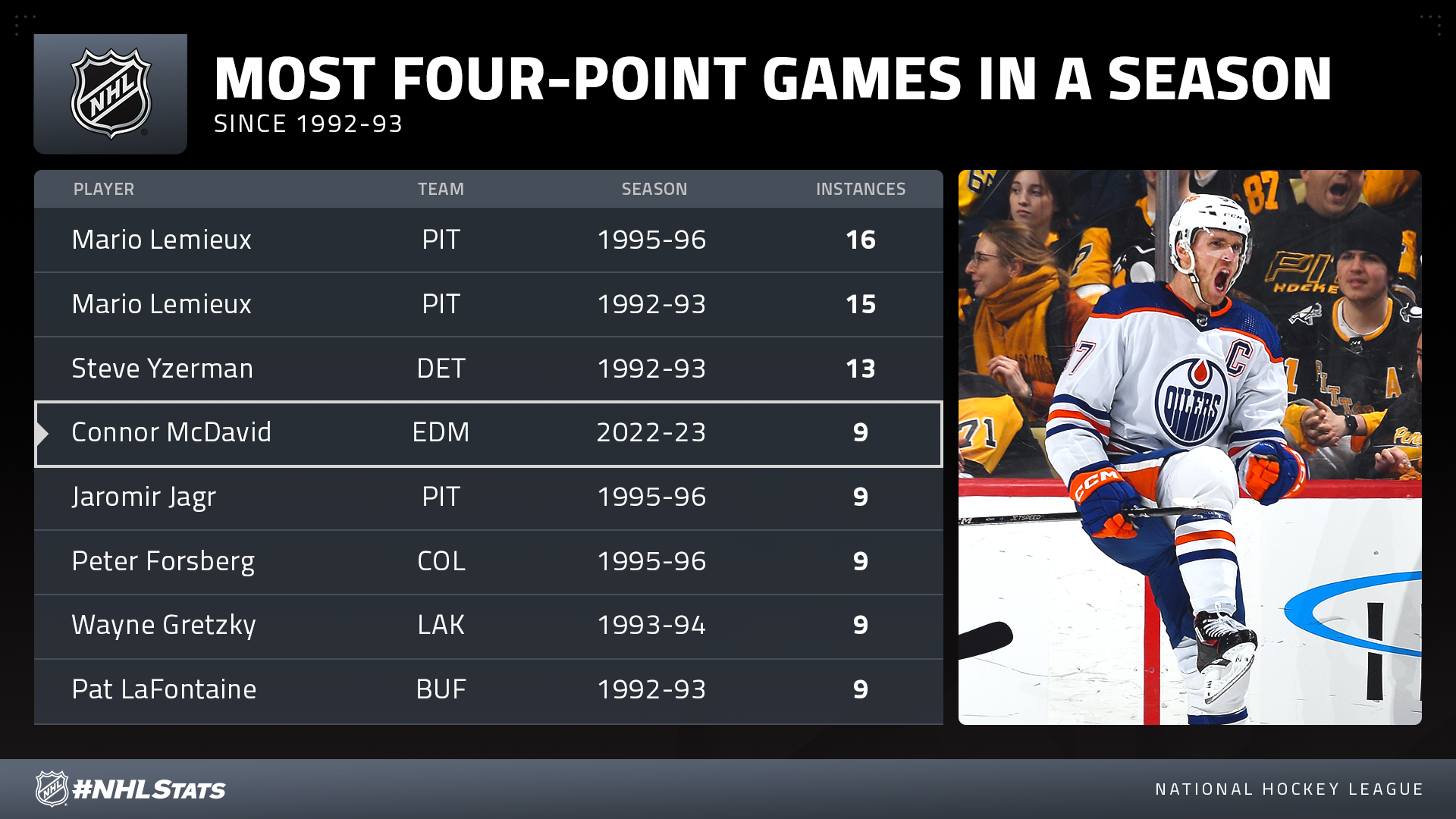 * Thompson tallied his League-leading fourth hat trick of the season (also Jan. 3, Dec. 7 & Oct. 31) and Ilya Lyubushkin scored a shorthanded goal in overtime as the Sabres (29-23-4, 62 points) moved within two points of the final Wild Card spot in the Eastern Conference. The former needs one tally to become the 13th different 40-goal scorer in franchise history and first since Jeff Skinner (40 in 2018-19), who had the primary assist on two of Thompson's three markers Thursday.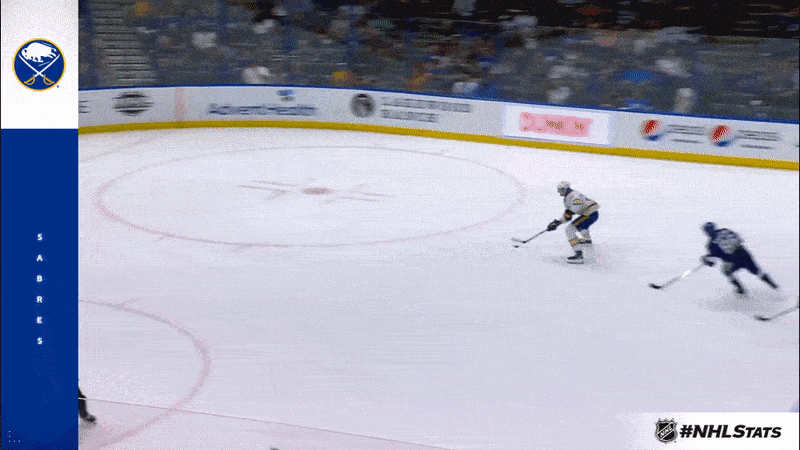 RED WINGS CLAIM EAST'S FINAL WILD CARD SPOT; MINNESOTA ALSO CLIMBS STANDINGS

* Andrew Copp (1-2—3) collected three points against his former club as the Red Wings (28-21-8, 64 points) snapped the Rangers' 10-game road point streak to leapfrog the Penguins (27-21-9, 63 points) and Panthers (29-25-6, 64 points) for the Eastern Conference's final Wild Card spot. Copp was acquired by New York on March 21, 2022 and had 8-10—18 in 16 games with the Rangers, which marked the most points through the remainder of the season among all players moved on deadline day.

* Marc-Andre Fleury (30 saves), who was acquired by Minnesota at the 2021-22 NHL Trade Deadline, blanked the Blue Jackets for the first time in his NHL career as the Wild (32-21-5, 69 points) surpassed the idle Avalanche (31-19-5, 67 points) for third place in the Central Division. Fleury became the first goaltender in League history to record a shutout against 29 different franchises – the next-closest netminders are Ed Belfour, Martin Brodeur, Dominik Hasek and Tomas Vokoun (all w/ 27).

* More notes can be found in the #NHLStats Pack for the 2022-23 NHL Trade Deadline presented by OFX, with exactly one week to go before this season's deadline (3 p.m. ET on March 3).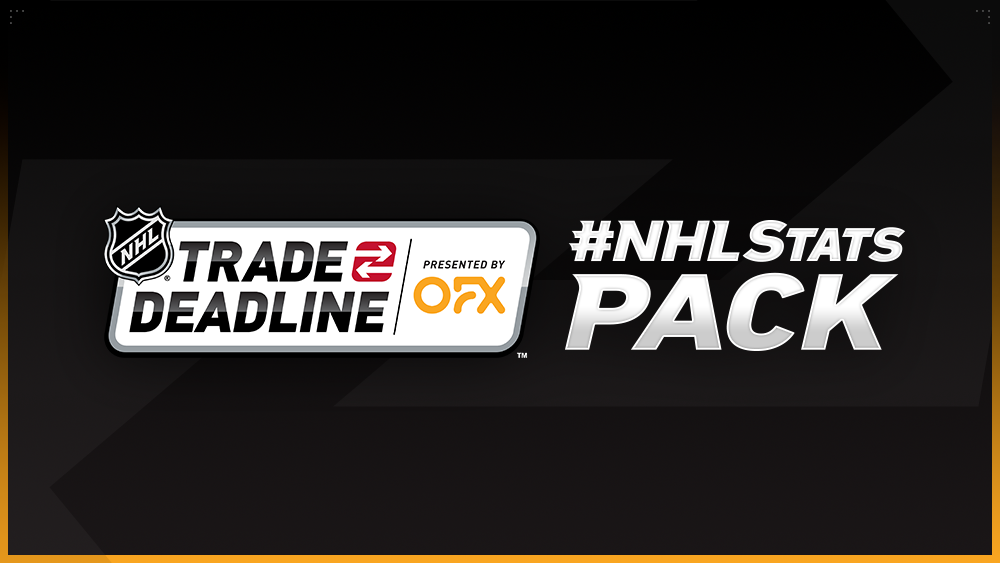 COMEBACK NOTES APLENTY IN THURSDAY'S #NHLSTATS: LIVE UPDATES
Thursday's edition of #NHLStats: Live Updates featured more notes from all 10 games, which included multi-goal comeback wins by the Devils, Golden Knights and Canucks as well as Vancouver forward Andrei Kuzmenko achieving a notable NHL feat:

* Kuzmenko scored the game-tying goal with 29 seconds remaining in regulation to help Vancouver erase a multi-goal, third-period deficit to force overtime and set the stage for Elias Pettersson's coast-to-coast winner. The Canucks rallied from a multi-goal deficit to win for the seventh time in 2022-23, tied for the second-most in franchise history behind only 2009-10 (8). For Kuzmenko, it was the second consecutive game in which he evened the score in the final minute of regulation (also 59:44 in 5-4 SO L at NSH on Feb. 21).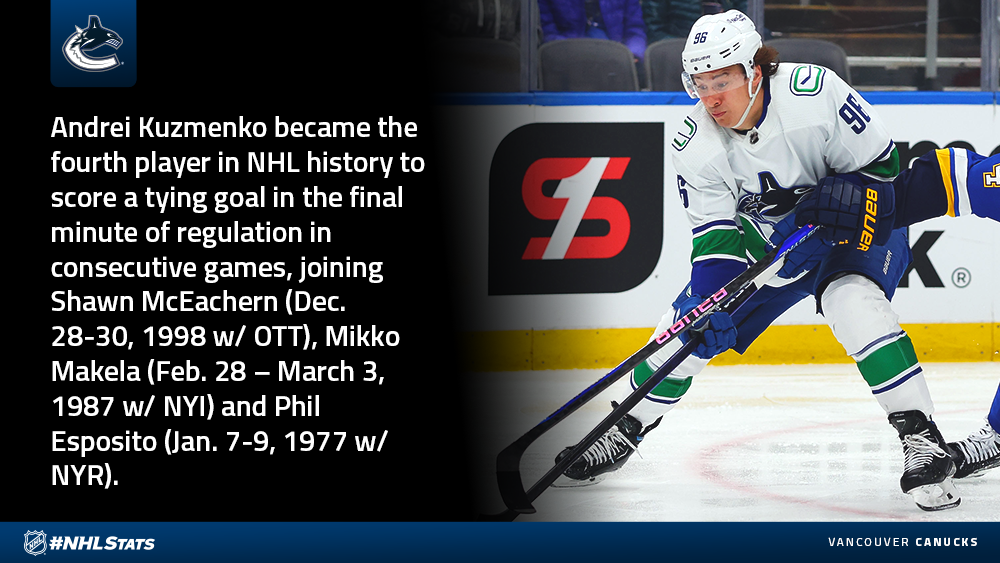 QUICK CLICKS

* 'NHL Mash-Up' set to debut on YouTube with hosts Kathryn Tappen, Dominic Moore
* Patrice Bergeron and Brad Marchand both factor on same shorthanded goal for 32nd time
* Dmitry Orlov, Garnet Hathaway go to Bruins in three-team trade with Capitals, Wild
* NHL Trade Buzz: Jakob Chychrun 'professional' while awaiting move from Coyotes
*Nazem Kadri's philanthropy work continues to better his communities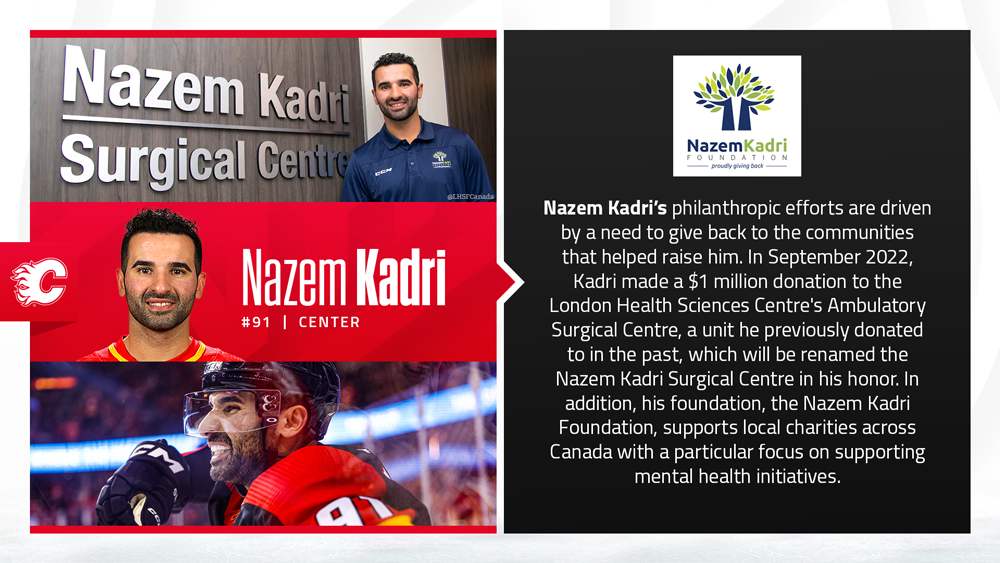 FRIDAY FEATURES PAIR OF PIVOTAL CLASHES ON SPORTSNET, TVA SPORTS
Friday's six-game slate is highlighted by the Sabres (29-23-4, 62 points) squaring off with the Panthers (29-25-6, 64 points) on Sportsnet and the Jets (35-22-1, 71 points) facing the Avalanche (31-19-5, 67 points) on TVA Sports. Buffalo or Florida could move into the final Wild Card spot in the Eastern Conference, while Winnipeg and Colorado can claim first and third place, respectively, in the Central Division.