* David Pastrnak joined elite company withhis third career 40-goal season as Boston defeated Ottawa and matched the NHL record for fewest games to 90 points in a season.
* Connor Hellebuyck and John Gibson both made 50 or more saves Monday, marking just the third time since 1955-56 (when shots on goal were officially tracked) that two goaltenders have posted as many on the same day.
* Tuesday's nine-game slate will feature a showdown between the Sabres and Maple Leafs at KeyBank Center on Hulu and ESPN+.

PASTRNAK SCORES TWICE, RECORDS THIRD CAREER 40-GOAL SEASON
David Pastrnak (2-0—2) scored his 49th career game winner to reach the 40-goal mark for the third time in his career and for the second straight season as the League-leading Bruins (43-8-5, 91 points) matched the 1979-80 Flyers (56 GP) for the NHL record for fewest contests to 90 points in a campaign.

* Pastrnak (41) joined Connor McDavid (42) as the second player to reach the 40-goal plateau this season, further heating up the Maurice "Rocket" Richard Trophy race – he has already won it once before (2020).

* Pastrnak became the fifth player in Bruins history to register at least three 40-goal seasons with the club, following Phil Esposito (7x), Rick Middleton (5x), Cam Neely (4x) and Ken Hodge (3x). He also became the first Bruins skater to record consecutive 40-goal seasons sinceNeely more than 30 years ago.



GOALTENDERS ACHIEVE NOTABLE FEATS MONDAY
Monday saw a trio of goaltenders each put up impressive performances en route to achieving notable feats:

* Samuel Ersson (6-0-0) made 32 saves to become the 11th goaltender in League history to start his career with wins in each of his first six-plus decisions – a feat only one other Flyers netminder accomplished: Bob Froese (8-0-0 in 1982-83).

* Connor Hellebuyck made 50 saves to help Winnipeg snap New York's 10-game point streak, marking the second-most saves in a contest in his career (51 saves on Nov. 1, 2019 at SJS). He also tied for the fourth-most saves in a game in Jets/Thrashers history.

* John Gibson made 51 saves to help Anaheim earn a point and tied the third-most saves in a single game in Ducks history – two shy of the franchise record, a mark he established just 10 days ago (53 saves on Feb. 10). Gibson became the third goaltender on record to post multiple 50-save games in a single month, joining Gump Worsley (3x in January 1963) and Al Rollins (2x in October 1955).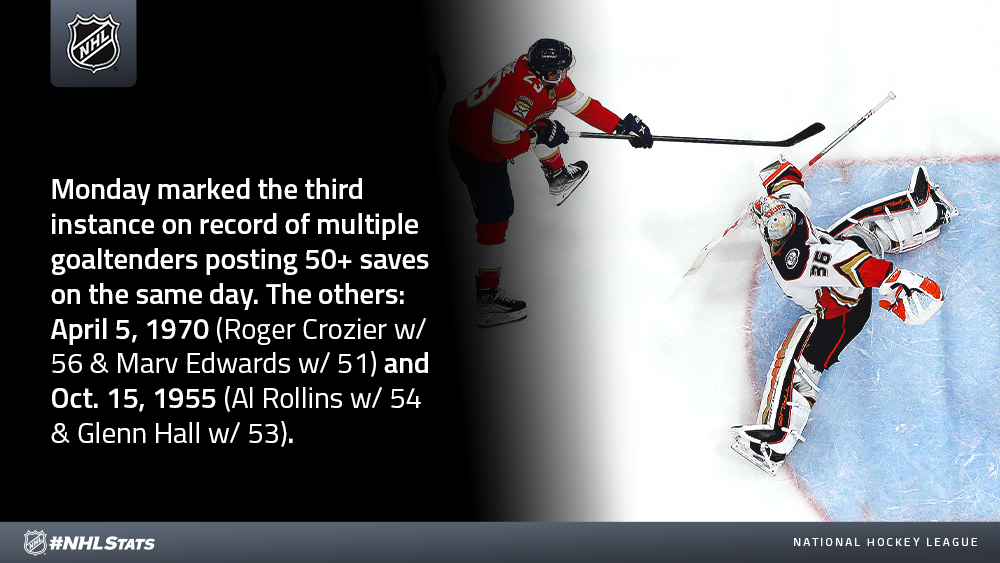 PAIR OF DEFENSEMEN HIGHLIGHTED IN MONDAY'S #NHLSTATS: LIVE UPDATES
The latest edition of #NHLStats: Live Updates featured several notes from across the six-game slate, including Josh Morrissey and Erik Karlsson each collecting two assists in their respective teams' wins:

* Morrissey recorded his ninth multi-assist game of 2022-23 and tied Jacob Trouba (2018-19) for the second most by a Jets/Thrashers defenseman in a season. Morrissey boosted his 2022-23 totals to 11-47—58 (57 GP), surpassing Dustin Byfuglien (2013-14: 20-36—56 in 78 GP) for the most points in a season by a blueliner in franchise history.

* Karlsson posted his 181st career multi-point game – surpassing Kent Nilsson and tying Thomas Steen for the 10th most by a Swedish-born player – as the Sharks shut out the Kraken.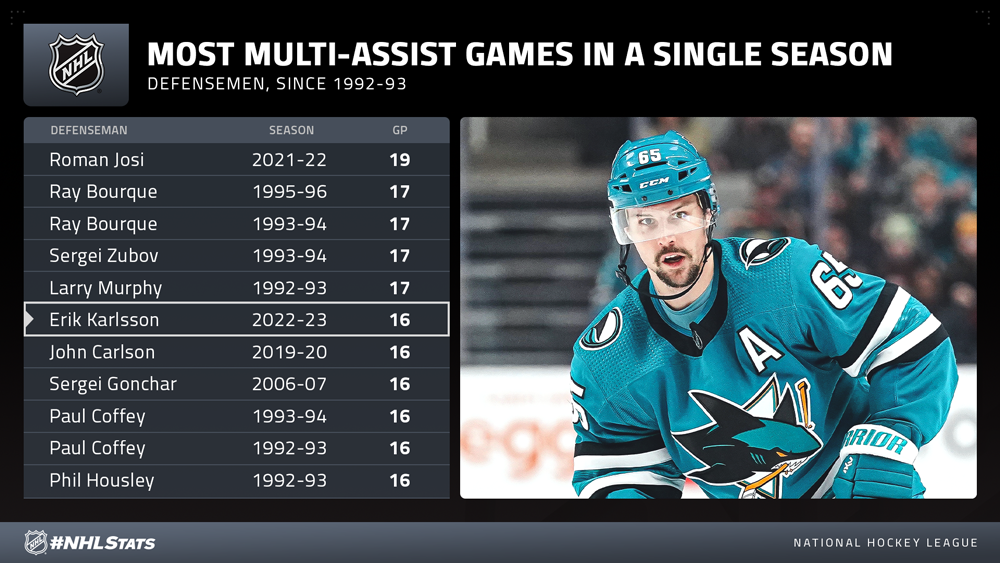 QUICK CLICKS
* Tim Stützle, Nathan MacKinnon and Dylan Larkin Named NHL 'Three Stars' of the Week
* Bruins honor David Krejci, shower him with gifts for reaching 1,000 NHL games
* Stadium Series an 'unforgettable' experience for NHL Power Player
* Panthers celebrate Kids Day with drawings
* Women in Hockey: Emily Engel-Natzke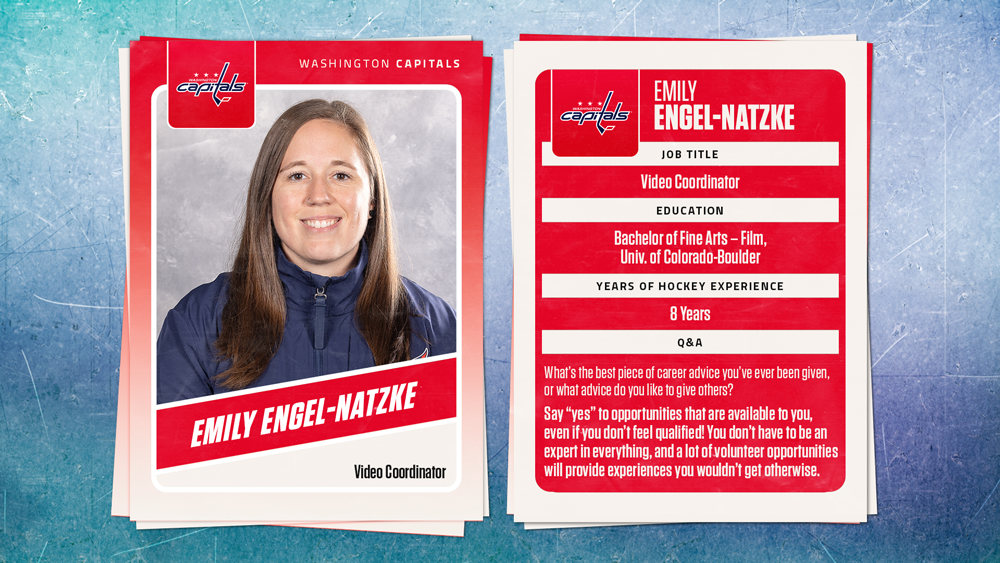 MAPLE LEAFS VISIT SABRES ON HULU, ESPN+
Tuesday's nine-game slate will feature the "Battle of the QEW" on HULU and ESPN+ when the Maple Leafs (34-15-8, 76 points) visit the Sabres (28-22-4, 60 points) at KeyBank Center. Buffalo will look to move within two points of a Wild Card position.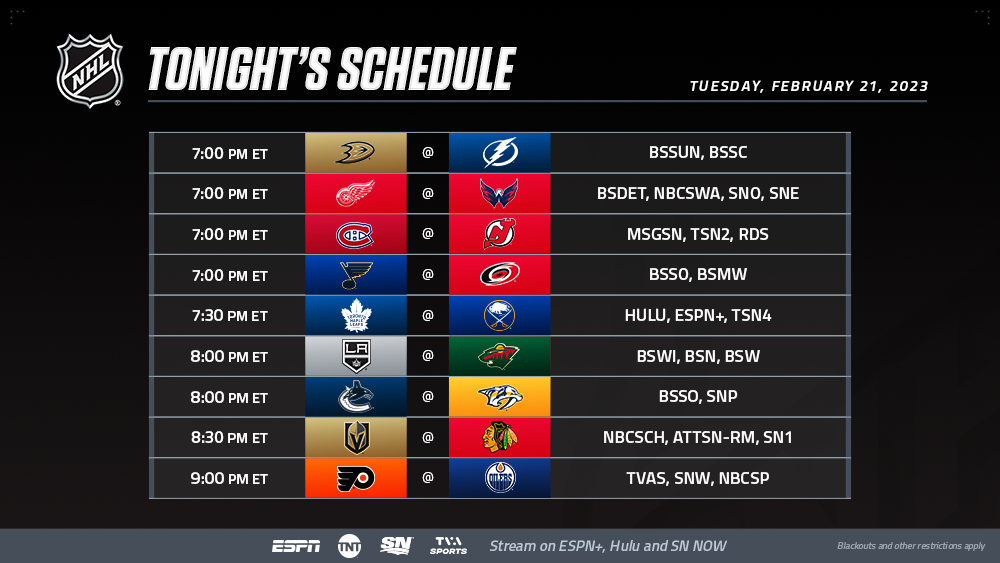 * John Tavares leads the Maple Leafs' active roster in points against the Sabres with 23-23—46 (39 GP) – tied for his third-highest total against a single opponent – including 1-2—3 in Toronto's first game against Buffalo in 2022-23 (Nov. 19, 2022). Tavares' 1.18 points-per-game average against the Sabres sits fourth among active players (min. 25 GP), behind Sidney Crosby (1.43 P/GP), Evgeni Malkin (1.32 P/GP) and Nikita Kucherov (1.27 P/GP).
* Dylan Cozens (20-28—48 in 53 GP) enters Tuesday on a three-game goal streak and can achieve a career-high run if he finds the back of the net. Should Cozens record two points, he would become the fifth Sabres player to reach the 50-point mark in 2022-23 – the most among all teams.