* Connor Ingram had 47 saves against the club that selected him in the NHL Draft to record the first shutout of his NHL career.

* William Nylander notched three points and Auston Matthews scored the game-winning goal in his return to the Maple Leafs' lineup as Toronto took back second place in the Atlantic Division.
* Thursday's slate features the Blues entertaining the Devils at Enterprise Center on ESPN as well as the Hurricanes and Capitals contesting their final games before squaring off outdoors in the 2023 Navy Federal Credit Union NHL Stadium Series.

INGRAM ACHIEVES NHL-FIRST WITH 47-SAVE SHUTOUT
Connor Ingram made 47 saves in his first career shutout to achieve an NHL-first and help the Coyotes extend their point streak to seven contests (4-0-3) – their longest since a seven-game run in 2015-16 (5-0-2 from Dec. 31, 2015–Jan. 14, 2016).

* Ingram's 47 saves marked the most on record by a goaltender in their first career shutout (since 1955-56 when shots on goal began being tracked), besting his partner Karel Vejmelka (46 saves on Nov. 29, 2021 w/ ARI) and Dan Bouchard (46 saves on Dec. 13, 1972 w/ AFM). Ingram made the second-most saves in a shutout in Coyotes/Jets history behind Mike Smith (54 on April 3, 2012).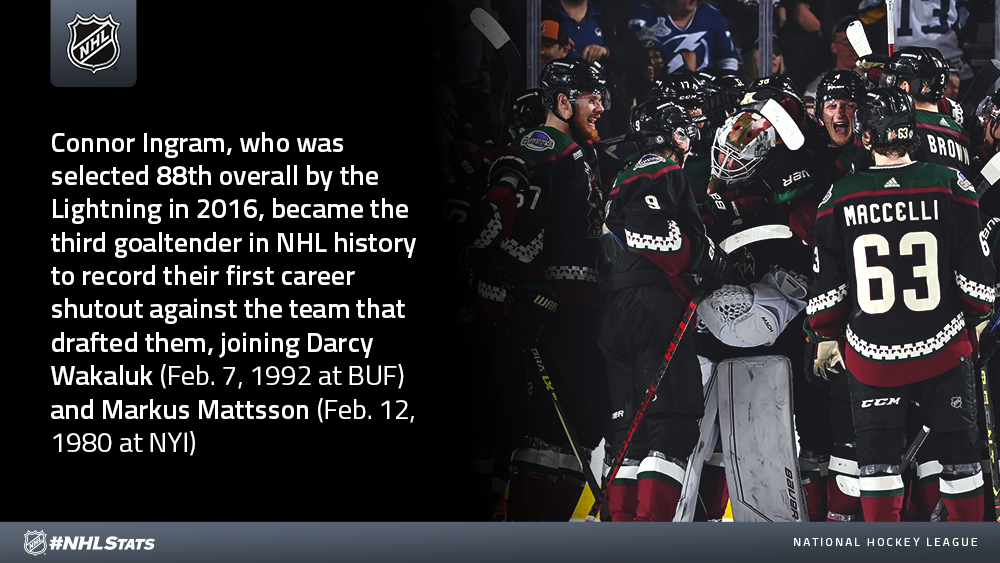 * The journey toIngram's first NHL shutout included a period of time when he didn't know if he would play hockey again – on Jan. 24, 2021, a day he says changed his life, Ingram went to the rink to ask for help before voluntarily entering the NHL/NHLPA player assistance program and through the help of a therapist was diagnosed with obsessive compulsive disorder. Ingram says therapy saved his life and is now a mental health advocate who hopes that being open with his diagnosis can help others.

NYLANDER'S EARLY GOAL HELPS TORONTO TACK ON ANOTHER HOME WIN
William Nylander (1-2—3) opened the scoring just nine seconds into the game and Auston Matthews (1-1—2) recorded his 150th career multi-point outing in his return to the lineup as the Maple Leafs (33-14-8, 74 points) beat the Blackhawks to reclaim second place in the Atlantic Division. Toronto earned its 21st home win of 2022-23, which trails only Boston (22) for the most among all teams.

* Nylander, who matched the fastest game-opening goal by a player this season (Carl Grundstrom: 0:09 on Nov. 12, 2022), hit the 30-goal mark for a second straight year and for the third time in his last four campaigns. Matthews recorded the 50th game-winning goal of his NHL career and tied Ron Ellis for fourth place on the franchise's all-time list.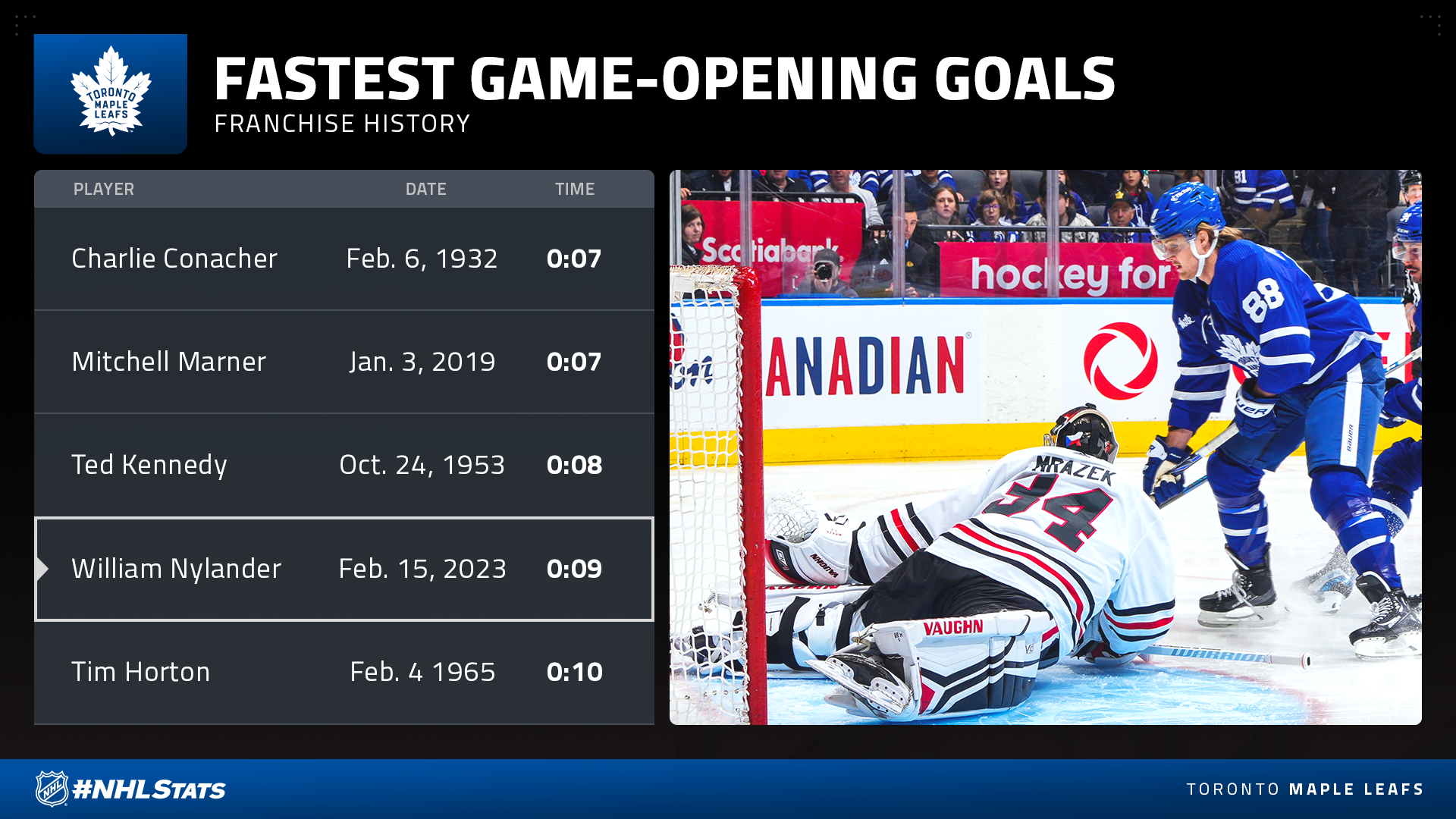 McDAVID MOVING WITHIN ONE POINT OF 100 FEATURED IN LIVE UPDATES
Wednesday's edition of #NHLStats: Live Updates featured more notes from the six-game slate, including League scoring leader Connor McDavid (42-57—99 in 55 GP) moving within one point of 100 on the season as the Oilers fell to the Red Wings at Rogers Place. Some other highlights include:

* Artemi Panarin (2-1—3) followed up his 4-1—5 outing on Feb. 11 with three points to lead the Rangers to their sixth straight victory. Panarin trailed only Jean Ratelle (4-6—10 from Jan. 5-9, 1972) and Mark Pavelich (6-3—9 from Feb. 20-23, 1983) for the most points over a two-game span in franchise history.

* Rasmus Dahlin (45-173—218 in 329 GP) had two first-period helpers to reach 173 career assists and leapfrog former Buffalo blueliner Doug Bodger (42-172—214 in 360 GP) for sole possession of the eighth most by an NHL defenseman before age 23.

* Nathan MacKinnon (1-1—2) scored the 48th game-winning goal of his NHL career to move past Michel Goulet (47) for sole possession of third place on the Avalanche/Nordiques franchise's all-time list.




HURRICANES, NHL CONTRIBUTE DONATION AS LEGACY TO STADIUM SERIES
As a legacy to the 2023 Navy Federal Credit Union NHL Stadium Series, the NHL and Hurricanes will contribute a joint donation to long-term sustainable ball hockey programming for underrepresented communities in Raleigh, with a focus on growing sled hockey and special hockey.

* The Hurricanes and NHL are committed to creating another entry point for children to learn the sport through access to ball hockey – especially for underrepresented and adaptive communities – as part of a larger mission to make a positive impact in the community both on and off the ice throughout the region.

* Click here to read more.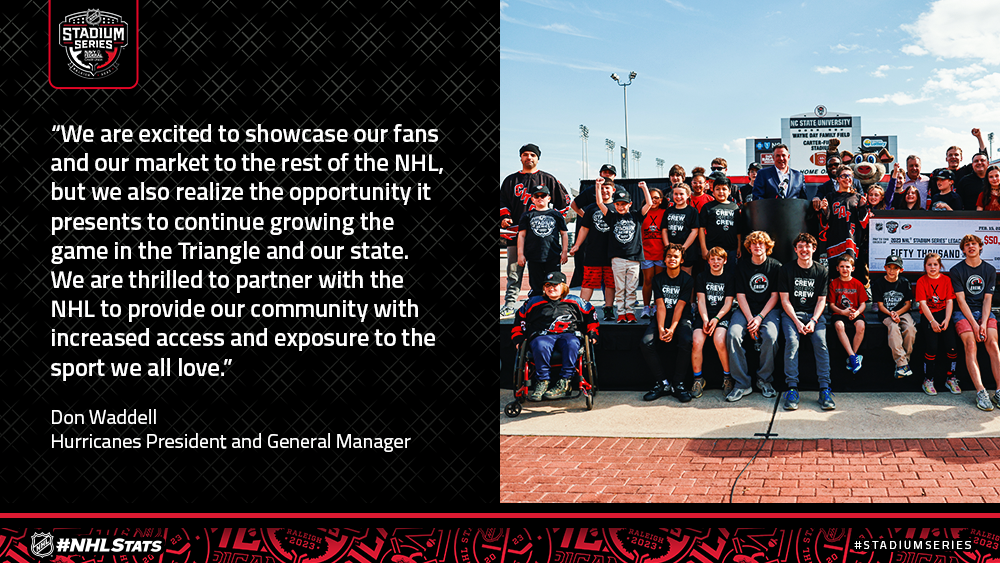 2023 NAVY FEDERAL CREDIT UNION NHL STADIUM SERIES COVERAGE

* Hurricanes, Capitals expect more intensity in rematch at Stadium Series
* Stadium Series outdoor rink 'in good shape' ahead of Capitals-Hurricanes
* Rod Brind'Amour still face of Hurricanes ahead of Stadium Series vs. Capitals

QUICK CLICKS

* NHL on TNT's Anson Carter sits down with Ryan Reaves in Black History Month segment
* NHL executive Kim Davis honored with award from New York Urban League
*Mikey Anderson signs 8-year, $33 million contract with Kings
* Jeremy Swayman shows off secondary talent in Music City
* Mikhail Ovechkin dies at 71, father of Alex Ovechkin

DEVILS, BLUES READY TO CLASH ON ESPN
The Devils (35-13-5, 75 points) and Blues (25-25-3, 53 points) will meet on ESPN after each club skated to eventful victories on Valentine's Day. Tuesday saw St. Louis net six goals for the second time in as many contests (also 6 vs. ARI on Feb. 11) and now the club looks to match the longest stretch of games with six or more goals in franchise history – a feat accomplished seven times and three times in the past 30 years (3 GP: April 14-17, 2022, Jan. 3-8, 2015 & Dec. 9-15, 2000).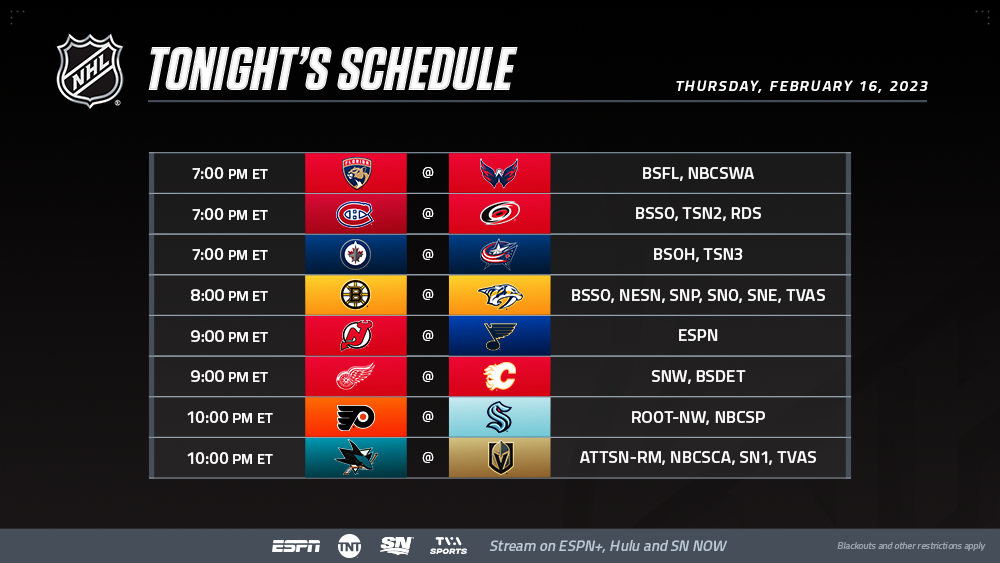 HURRICANES, CAPITALS TAKE TO THE ICE ONE FINAL TIME BEFORE STADIUM SERIES
The Hurricanes (35-10-8, 78 points) and Capitals (28-22-6, 62 points) each welcome the opposition to their home rinks in their final contests before going head-to-head for the 2023 Navy Federal Credit Union NHL Stadium Series at Carter-Finley Stadium – the NHL's 37th regular-season outdoor game.

* Carolina welcomes Montreal (23-27-4, 50 points) to PNC Arena – 1,056 feet away from the home of the NC State Wolfpack. The Hurricanes have blanked the Canadiens in each of their past two home games against the club dating to Dec. 30, 2021 and spanning 176:12. Their current stretch sits 2:07 shy of their longest home shutout sequence versus a single opponent (178:19 vs. TBL, Jan. 5, 2020 – Feb. 22, 2021).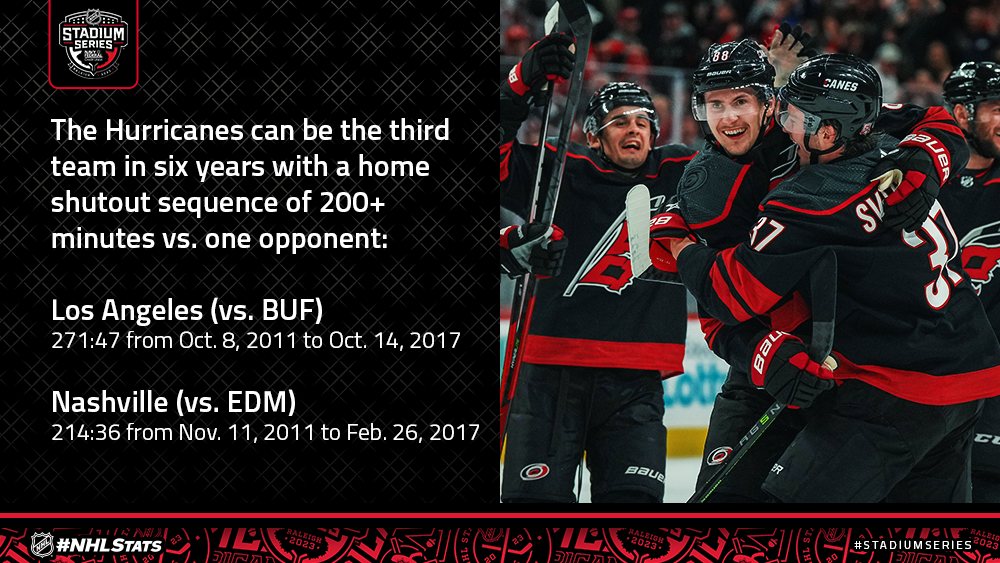 * Evgeny Kuznetsov (8-36—44 in 55 GP) currently leads all Capitals skater with 36 assists – 11 more than the next-closest skater (Dylan Strome: 11-25—36 in 55 GP). After finishing tied for the team lead in 2021-22 (24-54—87 in 79 GP), Kuznetsov can be just the second player – not named Nicklas Backstrom –since 2007-08 to lead the club in helpers in consecutive seasons (outright or tied), joining John Carlson (2018-19 & 2019-20).