* The Hurricanes took down the Capitals in Washington ahead of their meeting at the 2023 Navy Federal Credit Union NHL Stadium Series on Saturday. Each team will take to the ice one more time before facing off at Carter-Finley Stadium, home of the NC State Wolfpack (CAR: Feb. 16 vs. MTL; WSH: Feb. 16 vs. FLA).

* David Pastrnak scored in overtime to help the Bruins collect their 40th win of the season and match the fewest games in NHL history to reach the mark.

* Twenty-two-year-old Kevin Mandolese had an NHL debut to remember, turning aside 46 shots to backstop the Senators to their second comeback win in as many days.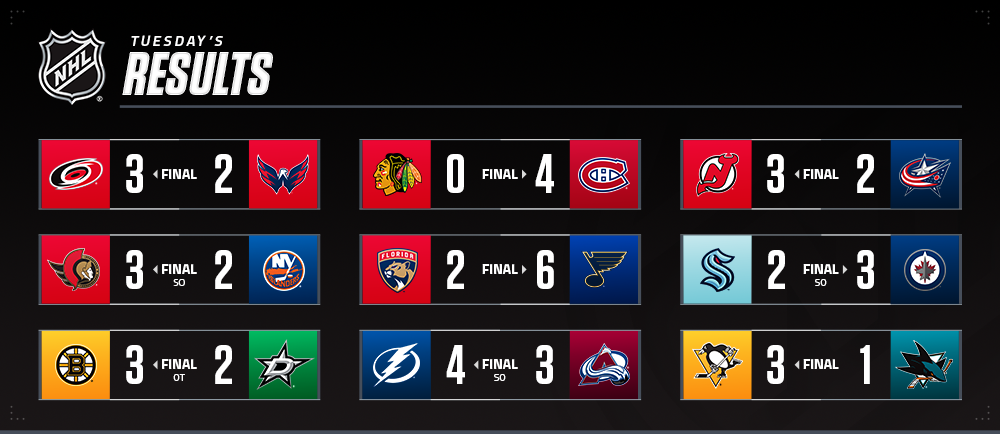 HURRICANES EDGE CAPITALS IN 2023 STADIUM SERIES PREVIEW
Brent Burns (1-0—1) scored one of Carolina's three goals and Frederik Andersen made 34 saves as the Hurricanes (35-10-8, 78 points) withstood two game-tying tallies from the Capitals to earn a victory against their 2023 Navy Federal Credit Union NHL Stadium Series opponent.

* Burns (1-0—1 in 2015 SS w/ SJS) and Andersen are two of 11 current Carolina players who have appeared in at least one NHL outdoor game (min. 1 GP in 2022-23), with the latter backstopping the Maple Leafs to victory against the Red Wings during the NHL Centennial Classic at Exhibition Stadium on Jan. 1, 2017 (33 saves).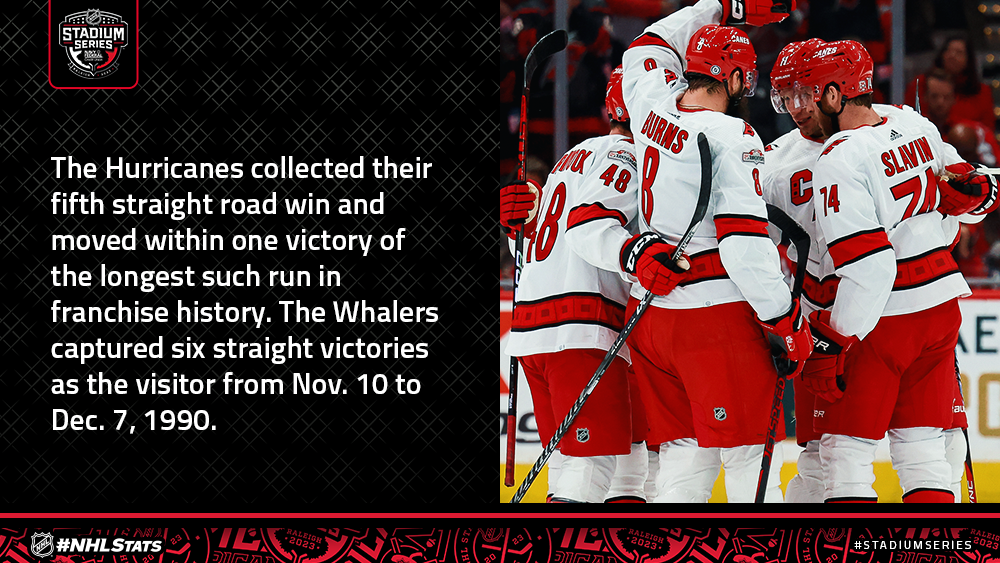 * The 2023 Stadium Series will be the 185th regular-season meeting between the clubs, the fourth most the Hurricanes/Whalers franchise has faced one opponent (BUF: 210 GP; BOS: 209 GP; & MTL: 208 GP). The Capitals (103-57-24, 230 points) hold the all-time, head-to-head edge (CAR: 67-90-27, 161 points) but the Hurricanes won their only playoff series (2019 R1).

* More stats and storylines like these can be found in the #NHLStats Pack: 2023 Navy Federal Credit Union NHL Stadium Series.

2023 NAVY FEDERAL CREDIT UNION NHL STADIUM SERIES COVERAGE

* Alex Ovechkin away from Capitals for family matter, likely out rest of week
* Hurricanes-Capitals Stadium Series will have college football feel
* Hurricanes' forecheck key part of their identity, success
*Brett Pesce's dad energetically reads out Hurricanes starting lineups
* Jake Owen, lovelytheband to perform at Stadium Series between Capitals, Hurricanes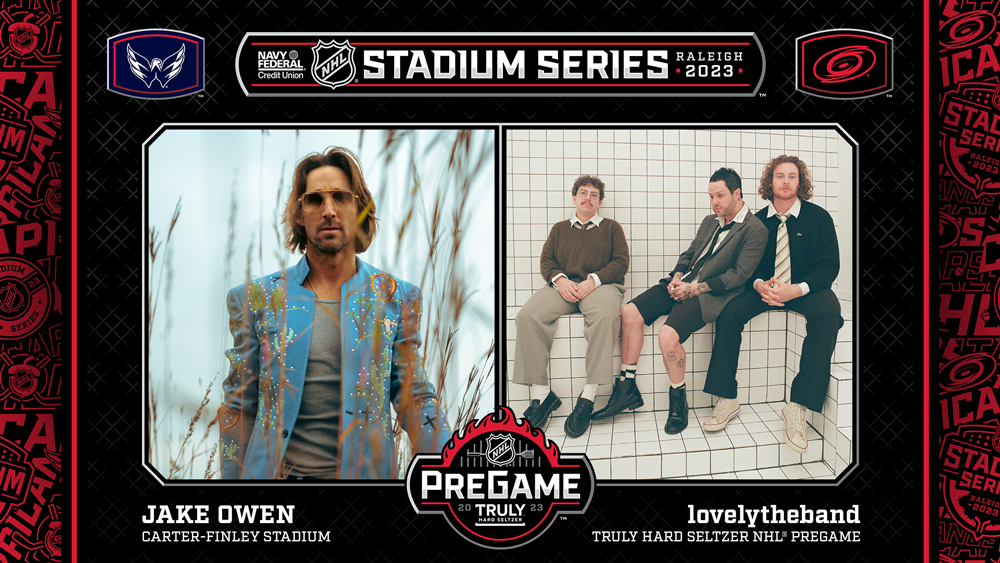 BRUINS JOIN ELITE COMPANY WITH 40TH WIN IN 53 GAMES
David Pastrnak (1-1—2) assisted on the game-tying tally and scored his 39th goal of the season in overtime to help NHL-leading Boston (40-8-5, 85 points) become the first team to reach the 40-win mark in 2022-23. The Bruins, who have lost consecutive games only once during this current campaign (0-2-1 from Jan. 26-29), matched the 2015-16 Capitals (53 GP) for the fewest contests to hit 40 wins in a single season.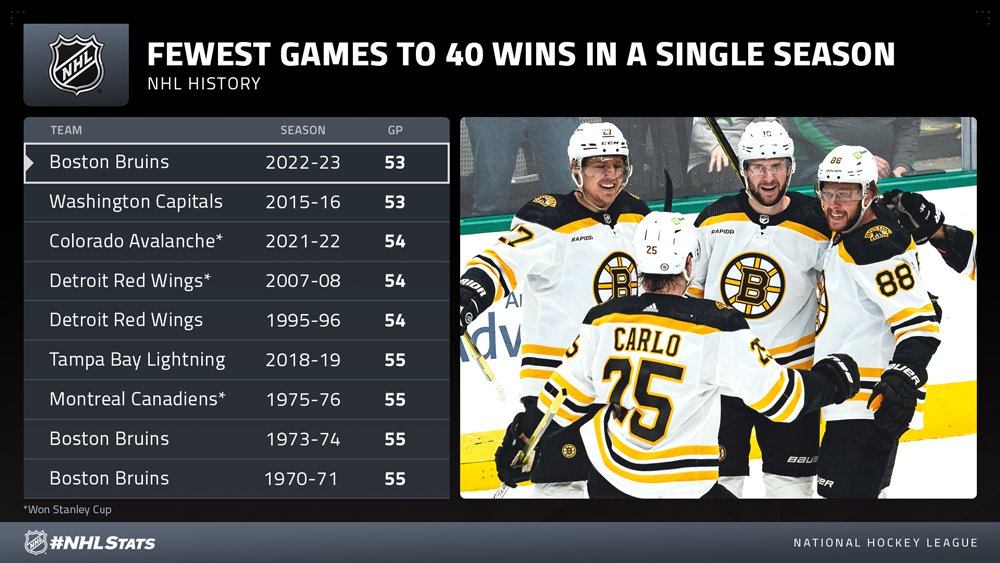 * Boston has 29 games remaining in 2022-23, with 12 contests against clubs currently occupying a postseason position, and continues its chase toward breaking the NHL's single-season wins record (62: DET in 1995-96 & TBL in 2018-19) as well as the single-season points record (132: MTL in 1976-77).

* The Bruins own a .802 point percentage and sit as one of seven teams in NHL history with a point percentage of .800 or higher at this stage of a season (860 GP), joining the 1929-30 Bruins (.875), 1943-44 Canadiens (.830), 1976-77 Canadiens (.825), 1977-78 Canadiens (.806), 2012-13 Blackhawks (.802) and 1944-45 Canadiens (.800). Every team went on to win the Stanley Cup except for the Bruins in 1929-30 (SCF loss vs. MTL) and the Canadiens in 1944-45 (SF loss vs. TOR).

GRAVES' LATE GO-AHEAD GOAL GUIDES DEVILS TO 20TH ROAD VICTORY
With the help of a late go-ahead goal by Ryan Graves and a 31-save performance by Vitek Vanecek, the Devils claimed victory at Nationwide Arena and became the first team in NHL history to record 20 road wins in 26 games or fewer – the previous mark was 27 contests, accomplished by the Capitals twice (2019-20 & 2015-16).

* Graves' tally at 59:58 of the contest is tied for the latest go-ahead goal in Devils/Rockies/Scouts franchise history, a mark set by Patrik Elias on Jan. 26, 2000 (at FLA).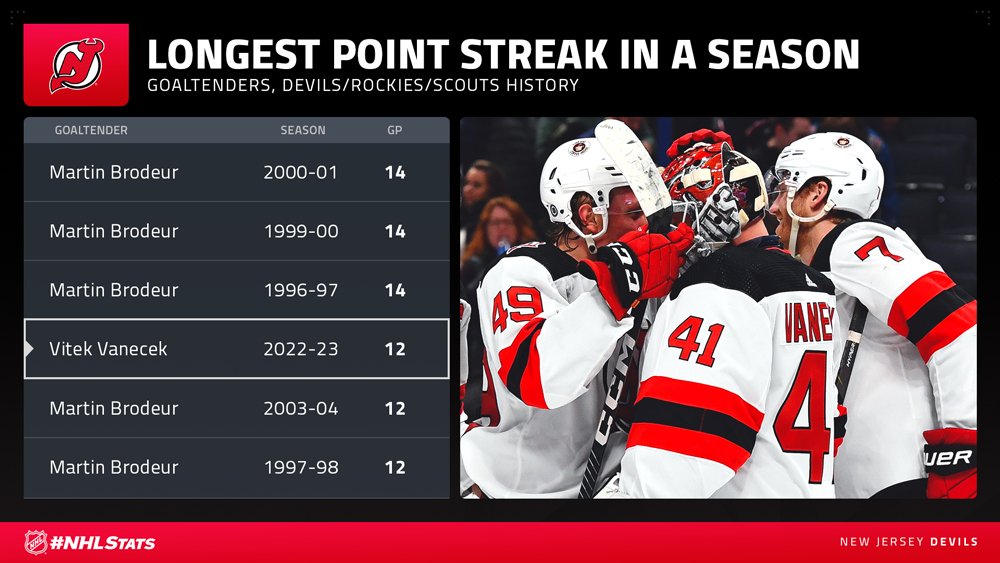 LIGHTNING DEFEAT AVALANCHE AGAIN, LEAPFROG MAPLE LEAFS IN ATLANTIC
Nikita Kucherov (1-0—1) scored to extend his point streak to 11 games while Andrei Vasilevskiy made 43 saves to help the Lightning (35-16-2, 72 points) defeat the Avalanche and move into second place in the Atlantic Division for the first time since Nov. 5, leapfrogging the idle Maple Leafs (32-14-8, 72 points).

* Kucherov became the third player in Lightning history to record multiple point streaks of 11-plus games in a single season (also 11 GP from Oct. 15 – Nov. 8), joining Martin St. Louis (2x: 2009-10 & 2006-07) and Steven Stamkos (2022-23).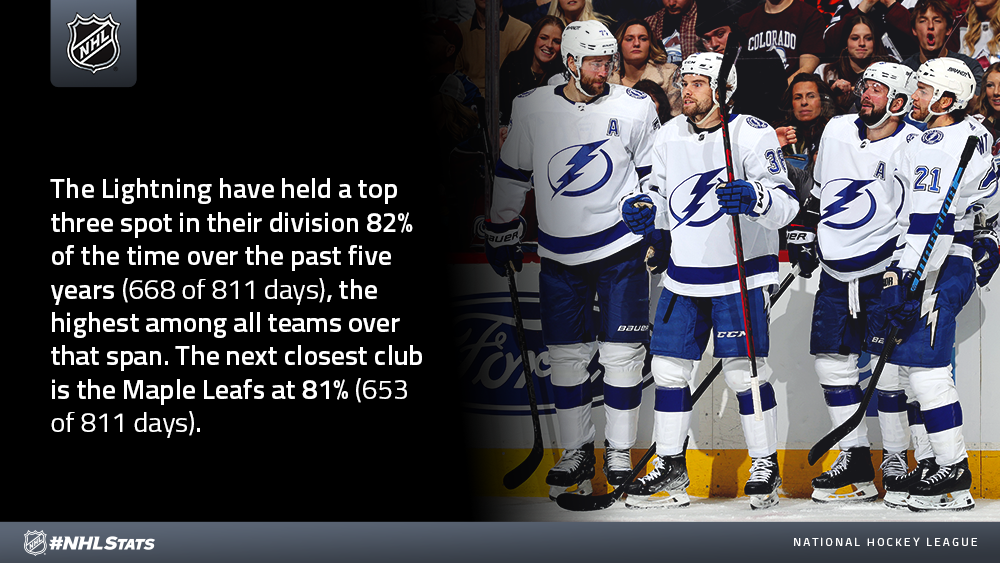 MANDOLESE'S VICTORY IN NHL DEBUT HIGHLIGHTED IN #NHLSTATS: LIVE UPDATES
The latest edition of #NHLStats: Live Updates featured multiple notes from all 18 teams in action, including one on a Senators netminder winning his NHL debut Tuesday.

* Kevin Mandolese stopped 46 of 48 shots he faced to win his first NHL game, trailing only Craig Anderson (47 on Feb. 19, 2011) for the most saves by a goaltender in their Senators debut.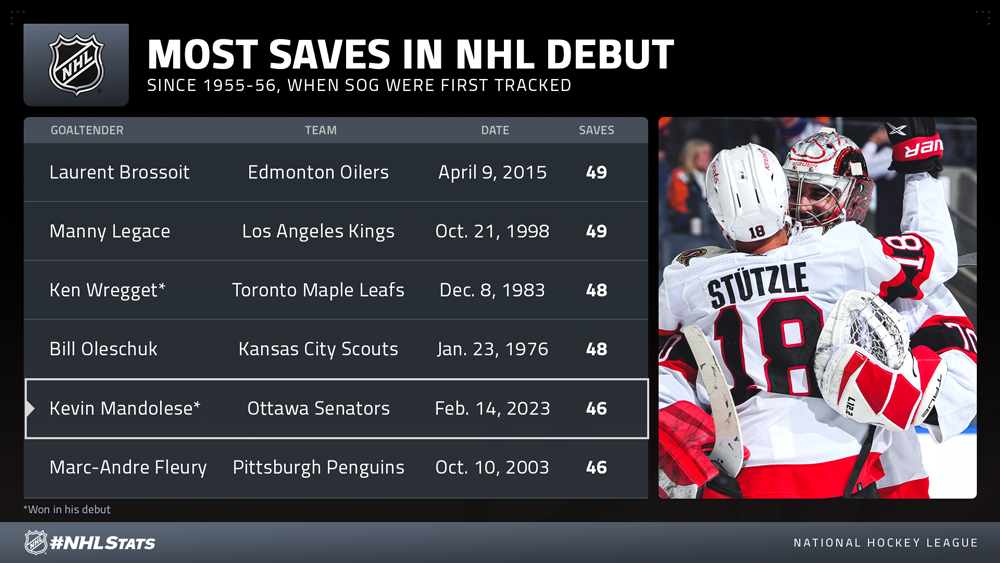 ICYMI: ABC's Hockey Saturday game between the Capitals and Bruins was the second most-watched game of the season across all networks.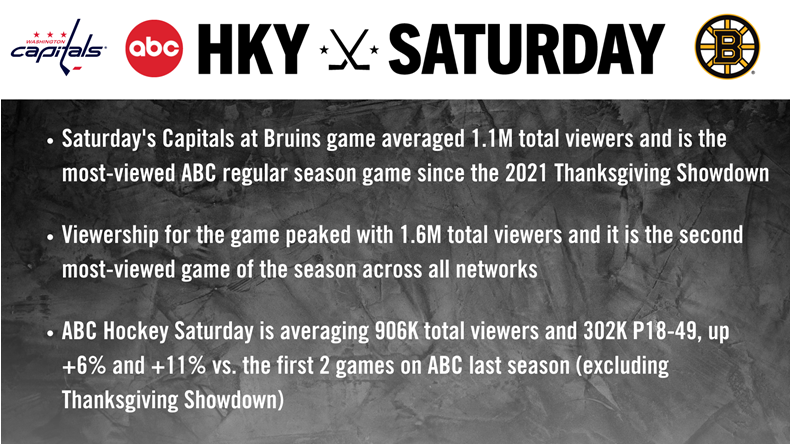 QUICK CLICKS

* NHL, Valentine's Day have long-lasting relationship
* Kirill Kaprizov's comfort level in NHL matching production for Wild
* Auston Matthews could return for Maple Leafs against Blackhawks
* Ron Francis talks Kraken turnaround, 2024 Winter Classic in Q&A with NHL.com
* Rangers, Capitals in 'Big City Greens' Classic on ESPN, Disney Channel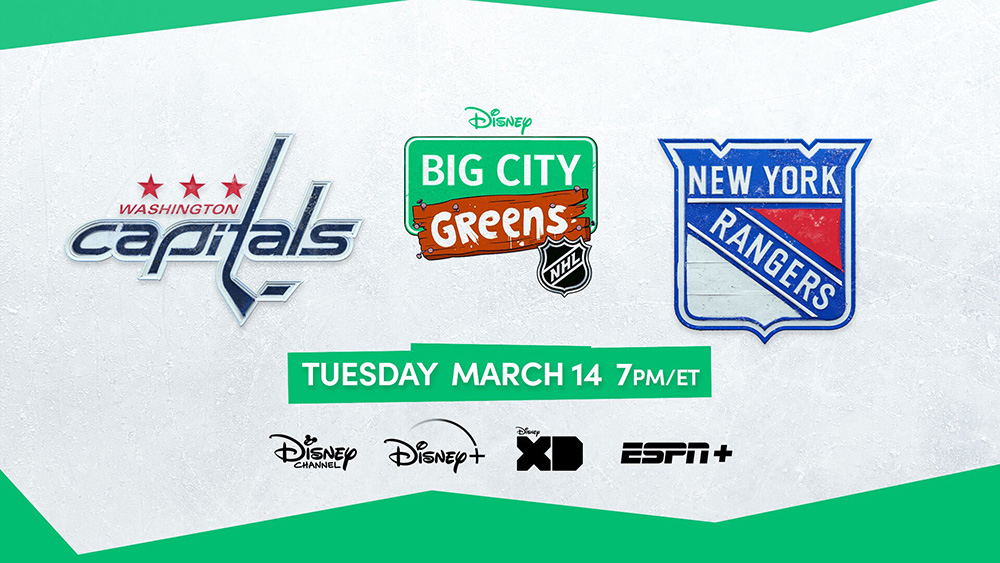 WEDNESDAY HIGHLIGHTED BY NHL ON TNT, TVA SPORTS DOUBLEHEADERS
Wednesday's six-game slate is highlighted by an NHL on TNT tangle featuring the Avalanche (28-19-5, 61 points) and Wild (28-20-5, 61 points), a TVA Sports showcase of the Red Wings (24-20-8, 56 points) and Oilers (30-19-5, 65 points) as well as both networks carrying the clash between the Blackhawks (16-31-5, 37 points) and Maple Leafs (32-14-8, 72 points). The Chicago-Toronto and Detroit-Edmonton games can also be seen on Sportsnet and Sportsnet ONE, respectively.