* The Avalanche, producing an NHL-best 4.30 goals per game this season, netted seven tallies for the second time in as many contests and a League-leading fifth time in 2021-22.* Golden Knights captain Mark Stone led the way and guided Vegas to the franchise's third multi-goal, third-period comeback victory – snapping Dallas' seven-game win streak in the process.
* Americans Trevor Zegras and Auston Matthews are set to take to the ice when the Ducks and Maple Leafs take part in a 10-game Thursday.

AVALANCHE SCORE EARLY AND OFTEN TO HALT STREAKING RANGERS. . .
Nazem Kadri (1-2—3), with five three-point outings in a single season for the first time, and Gabriel Landeskog (0-1—1), who extended his point streak to nine games, each found the score sheet on the night the Avalanche (14-7-2, 30 points) netted their fifth seven-goal performance of 2021-22 and halted the Rangers' win streaks.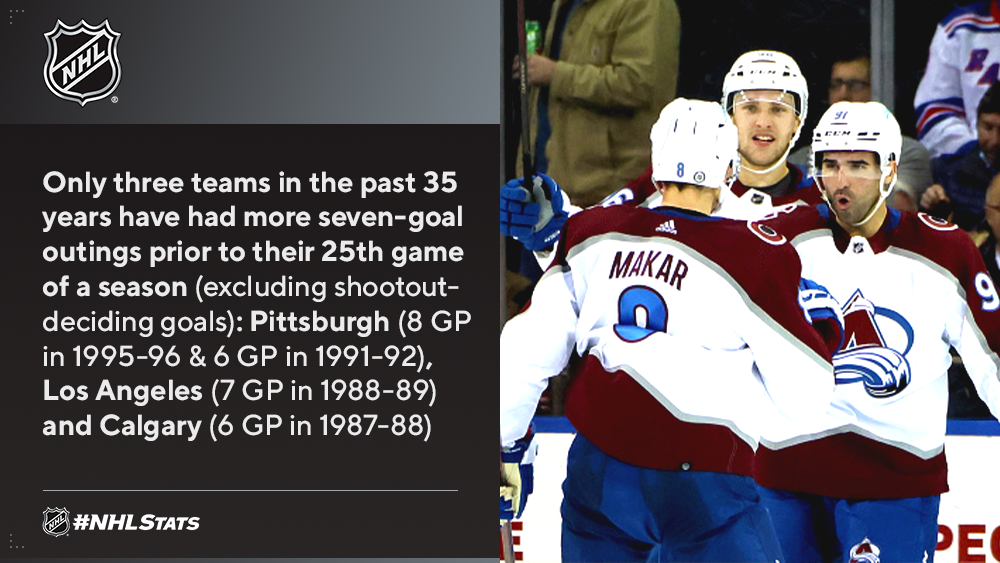 * Colorado has now recorded back-to-back seven-goal games for the second time this season (also Nov. 19-22) and became the fourth team in the last 30 years to do so multiple times in a single campaign. The others: Buffalo (2x in 2006-07 & 1992-93), Pittsburgh (3x in 1995-96 & 2x in 1991-92) and Vancouver (2x in 1995-96).
* The Avalanche are also scoring an NHL-best 4.30 goals per game in 2021-22. Only two seasons in franchise history have featured the club conclude the campaign with a higher rate: 1983-84 (4.50) and 1981-82 (4.45). It also marks the highest goal-per-game rate by any team since the 1995-96 Penguins (4.41).
. . . WHILE GOLDEN KNIGHTS RALLY IN THIRD TO END STARS WIN STREAK
Mark Stone (2-1—3), Max Pacioretty (1-1—2) and Michael Amadio (1-0—1) scored 5:55 apart in the third period goal to help the Golden Knights (15-10-0, 30 points) end the Stars' seven game-win streak and record their NHL-leading fourth multi-goal comeback victory of 2021-22.
* The Golden Knights, who recorded a multi-goal, third-period comeback win for the third time (also March 1, 2021 & March 17, 2021), are the ninth team to achieve the feat this season.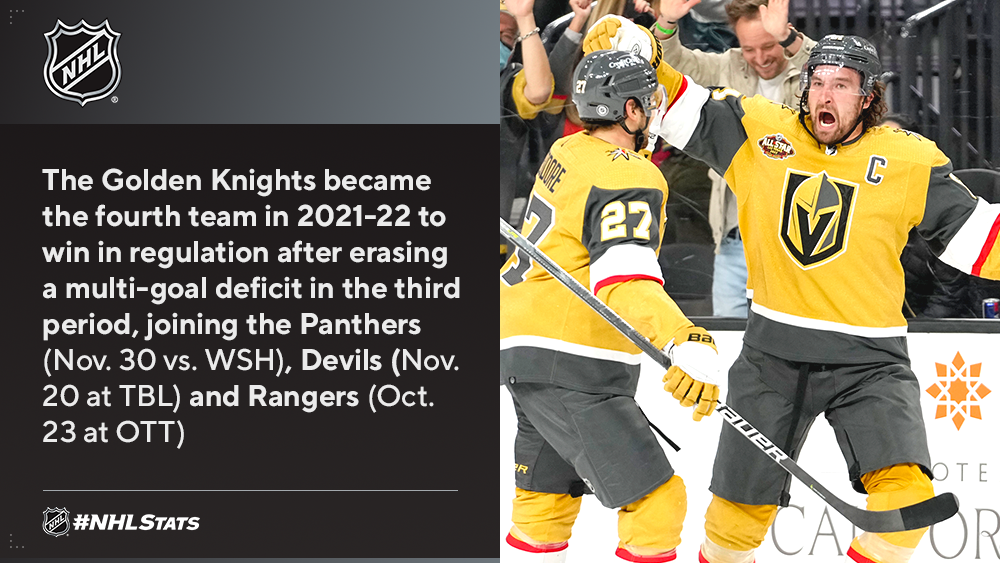 * Stone recorded his ninth outing with three-plus points since joining Vegas in 2018-19. Only three players have recorded more with the Golden Knights franchise: William Karlsson (13), Pacioretty (12) and Jonathan Marchessault (12).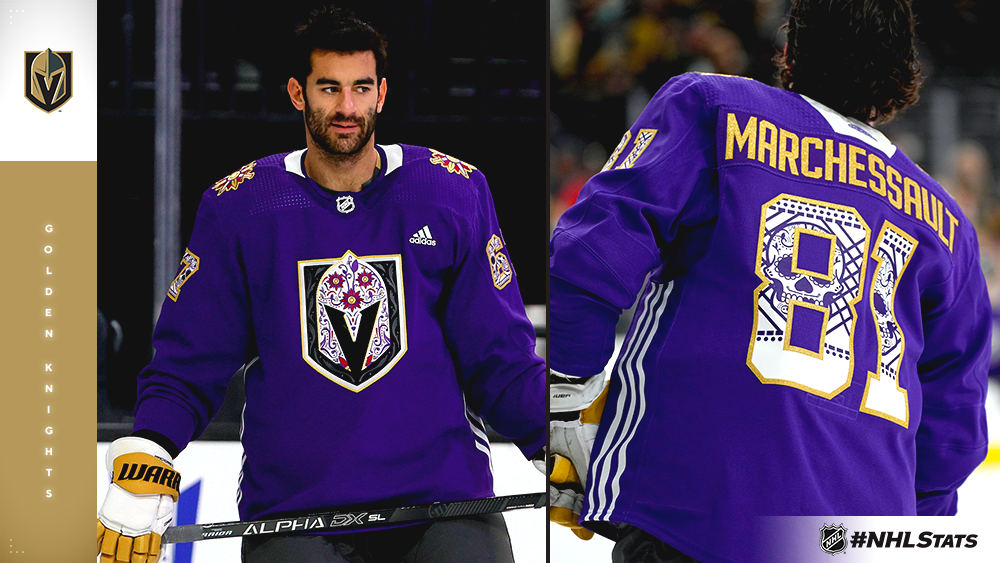 ZEGRAS, MATTHEWS LOOK TO STAY HOT ON 10-GAME THURSDAY
After breaking the internet with a lacrosse-like alley-oop assist on Tuesday, rookie Trevor Zegras is set to skate in his 50th career game when the Ducks (14-8-5, 33 points) clash with the Blue Jackets (13-11-0, 26 points), while fellow American Auston Matthews aims to extend his goal streak to eight games when the Maple Leafs (18-7-2, 38 points) host the Lightning (16-5-4, 36 points).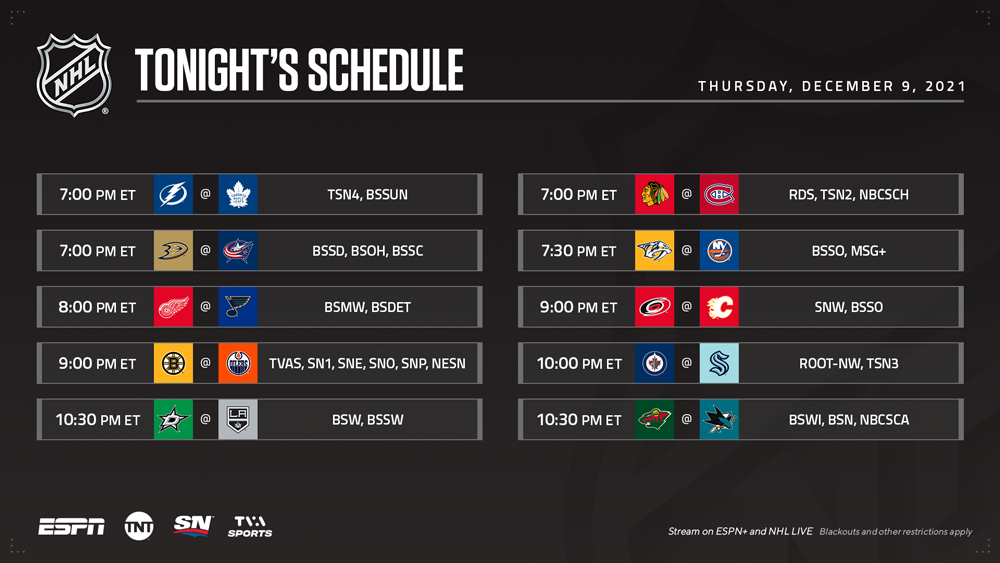 * Zegras, who is tied for the most points among all rookies in 2021-22, enters Thursday with 9-26—35 in 49 career games. Among players to debut with the franchise, he is only one point shy of equaling Bobby Ryan (17-19—36) for the second-most points through his first 50 career games with the Ducks, a list paced by Paul Kariya (22-21—43).
* Matthews (10-3—13 in 7 GP) can become the sixth different player over the last 25 years (since 1996-97) to record a goal streak of eight or more games. The others: Teemu Selanne (11 GP in 1997-98 & 8 GP in 1998-99), Jaromir Jagr (9 GP in 1996-97), Connor Brown (8 GP in 2020-21), Mike Green (8 GP in 2008-09) and Miroslav Satan (8 GP in 1998-99).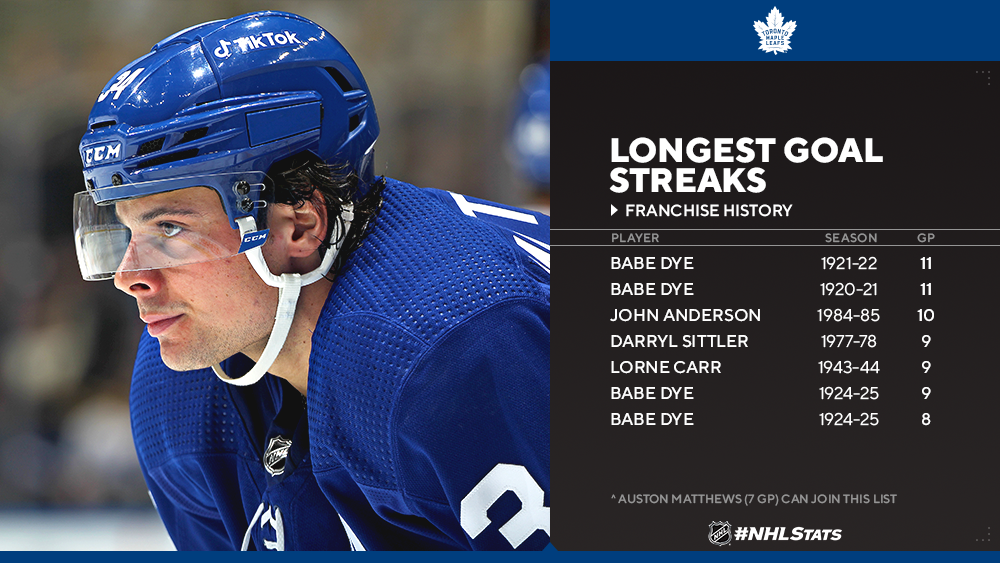 WILD LOOK TO EXTEND WIN STREAK IN CALIFORNIA
The Wild (18-6-1, 37 points) look to extend the NHL's longest active win streak to eight games when they visit the Sharks (14-11-1, 29 points). Minnesota, which has held its opponents to two or fewer goals in six of their seven contests during their win streak, can string together at least eight consecutive victories for the third time in franchise history. They have previously done so in 2016-17 (12 GP) and 2006-07 (9 GP)