* Winnipeg captain Blake Wheeler became the third player from his draft class to play 1,000 NHL games and the fourth player to reach the milestone while skating for the current Jets or Thrashers.
* Victor Hedman helped the Lightning celebrate a "1,000th" milestone of their own, while Drew Doughty resumed his high-scoring ways in 2021-22.
* The Stars will look to match a franchise record when they put the League's longest active win streak (tied) on the line against the Coyotes.

WHEELER CELEBRATES 1,000TH GAME WITH TWO ASSISTS IN WIN
Jets captain Blake Wheeler notched two assists while skating in his 1,000th regular-season game as Winnipeg improved to 9-3-1 on home ice this season and handed the Maple Leafs consecutive losses for the first time since October.
* Wheeler has recorded multiple assists in 101 of his 1,000 career regular-season games, with 95 of those coming since the franchise relocated to Winnipeg in 2011-12.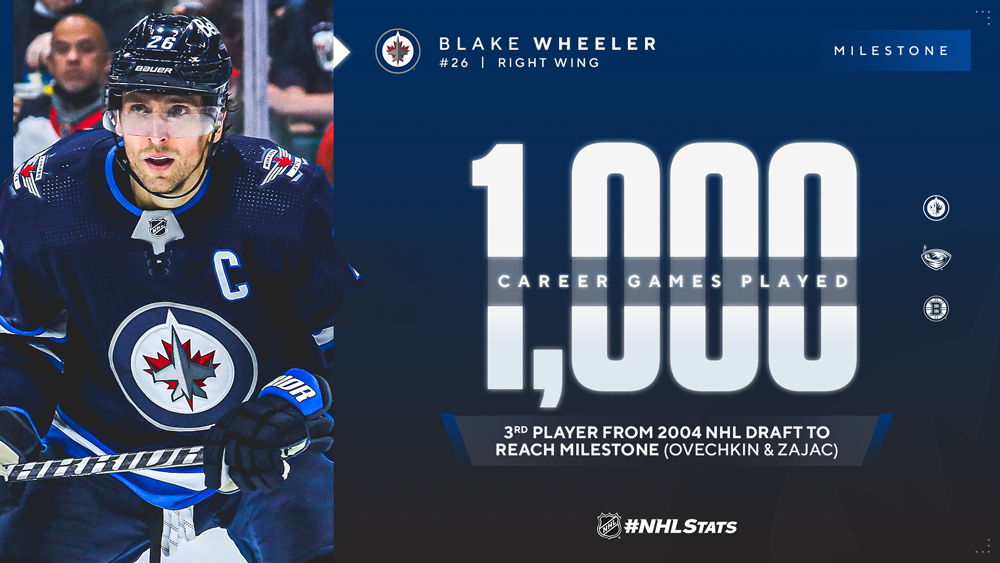 * After posting an 8-4 victory Friday, Winnipeg has scored at least six goals in consecutive games for the sixth time in franchise history and third since becoming the Jets (also 2 GP from Feb. 16-18, 2018 and 2 GP from Dec. 9-11, 2018).
* Wheeler, who was drafted by the Coyotes and played for the Bruins and Thrashers before becoming captain of the Jets, was presented with a silver stick and congratulatory messages from current and former teammates before the game.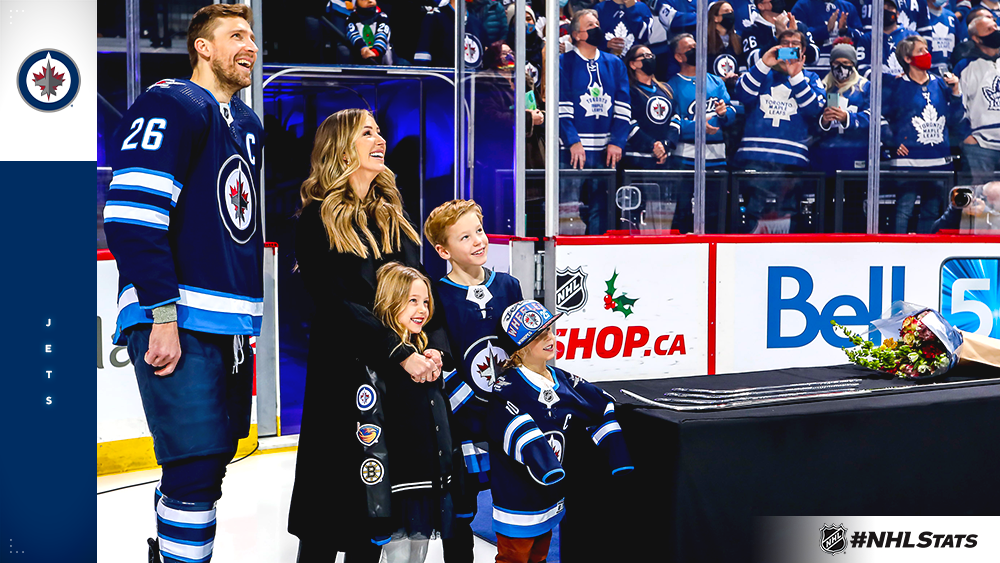 HEDMAN, DOUGHTY TALLY THREE POINTS APIECE FOR WINS ON THE ROAD
Victor Hedman (0-3—3) and Drew Doughty (1-2—3) each added three points to help their respective teams win on the road. The Lightning collected their 1,000th regular-season victory while the Kings extended their road point streak to five games (4-0-1). Doughty notched his second three-plus point outing of the season, second to only Hedman (3) for the most among defensemen in 2021-22.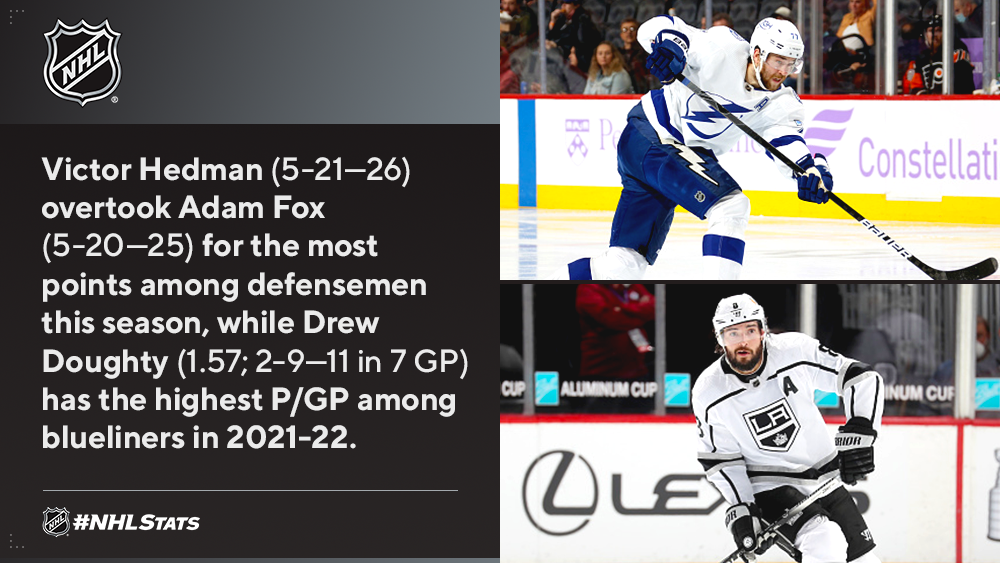 GOLDEN KNIGHTS REMAIN PERFECT AT HOME AGAINST FLAMES
Max Pacioretty (4-3—7) and Mark Stone (1-5—6) each extended their point streaks to five games as the Golden Knights remained perfect in seven all-time home meetings against the Flames.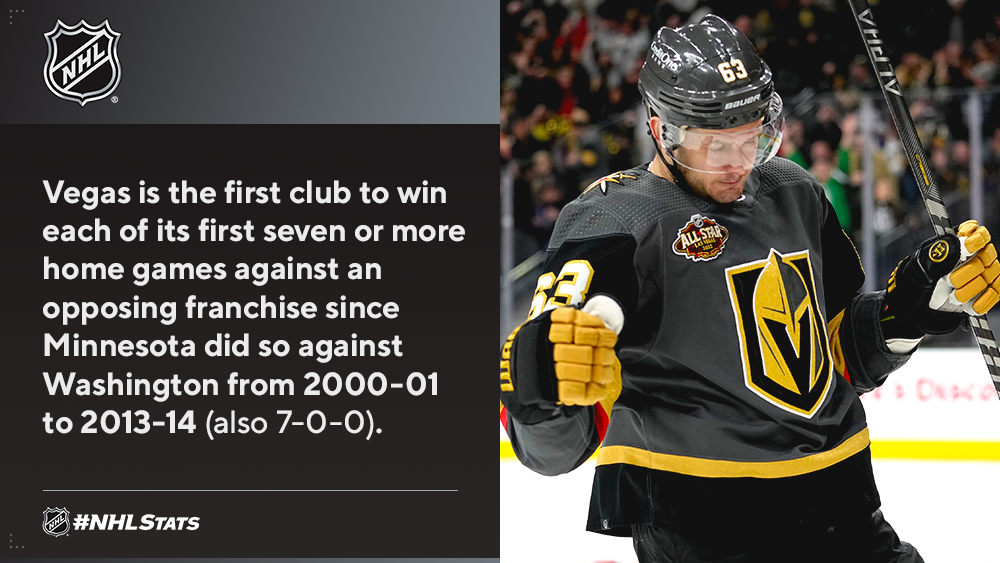 PLENTY OF U.S. REPRESENTATION AMONG NHL'S TOP GOAL SCORERS
Half of the top eight goal-scorers in the NHL this season are U.S.-born after Kyle Connor (Shelby Township, Mich.) and Auston Matthews (San Ramon, Calif.) each scored for the 15th time Sunday. The other U.S.-born players in that group are Chris Kreider (16 goals; Boxford, Mass.) and Troy Terry (15 goals; Denver, Colo.).
* Matthews extended his goal streak to six games, the longest in the League in 2021-22 and the third time he has had a run of at least that length in his career (also 6 GP in 2018-19 and 7 GP in 2020-21).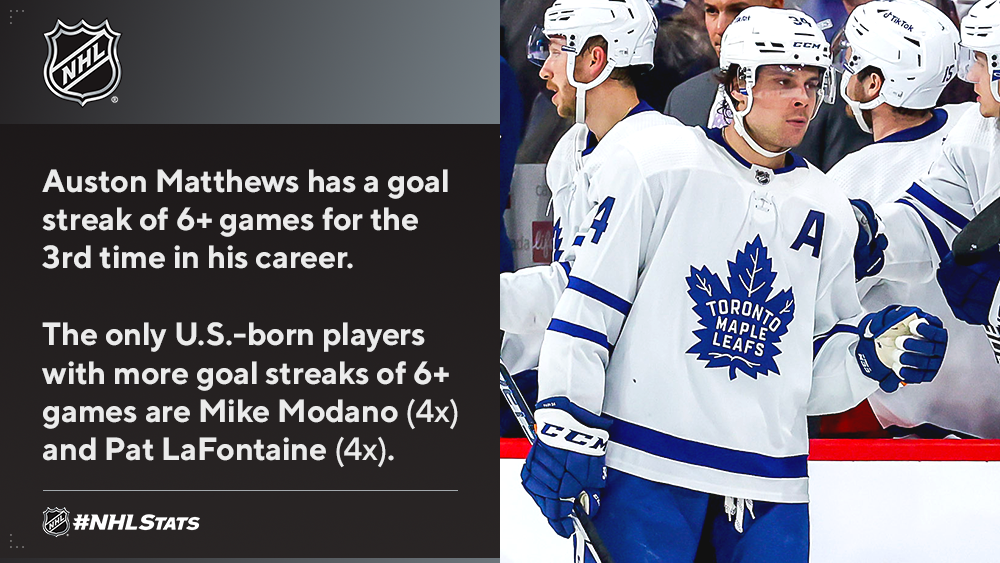 AVALANCHE TO VISIT FLYERS ON ROGERS HOMETOWN HOCKEY
Rogers Hometown Hockey makes a stop in Pembroke, Ont., with Sportsnet set to broadcast the first meeting between the Avalanche (12-7-2, 26 points) and Flyers (8-10-4, 20 points) since Feb. 1, 2020.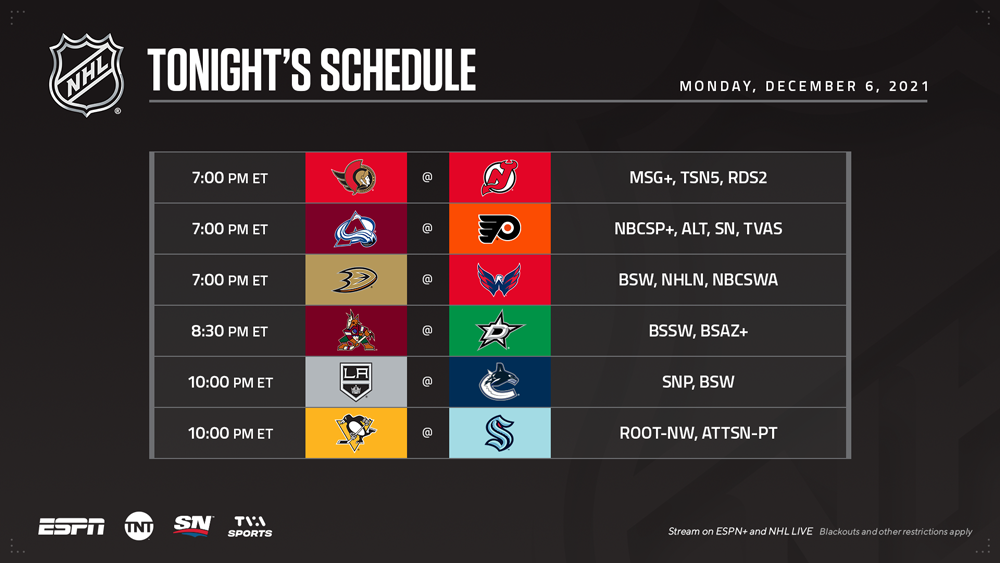 STREAKING STARS LOOK TO JUMP BACK INTO PLAYOFF PICTURE
After six straight wins overall and seven consecutive victories on home ice, the Stars (12-7-2, 26 points) are within striking distance of jumping back into a playoff position when they host the Coyotes (5-17-2, 12 points). Dallas is part of a five-team group separated by two points in the Central Division standings.
* A victory Monday would allow Dallas to match a franchise record for the longest winning streak within a regular season. The franchise has had a home winning streak of eight or more games on three separate occasions and only once since relocating to Dallas in 1993-94.