* Mark Scheifele recorded a hat trick as the Jets earned a first-of-its-kind win, while the Golden Knights also skated to a high-scoring victory.* Igor Shesterkin and Alexandar Georgiev combined for a tandem shutout as the Rangers extended their lengthy home win streak.
* Saturday's 10-game slate opens at 1 p.m. ET when the League-leading Panthers host the Blues at FLA Live Arena.

SCHEIFELE SCORES HAT TRICK AS WINNIPEG EARNS FIRST-OF-ITS-KIND WIN . . .
The Jets raced to a 3-0 lead within the opening eight minutes, but the Devils responded with four consecutive goals to go up 4-3 early in the second period. Winnipeg then scored five unanswered tallies, including the second and third goals of the game by Mark Scheifele (3-1—4), en route to an 8-4 victory.
* The Jets became the first team in NHL history to lead by three or more goals and then trail within the first two periods before going on to win a game by a margin of four-plus goals (regular season or playoffs). Before Friday, the last team to hold a three-goal lead and then be tied within the first 40 minutes before winning by four or more goals was Pittsburgh on Feb. 7, 2001 (9-4 W vs. PHI).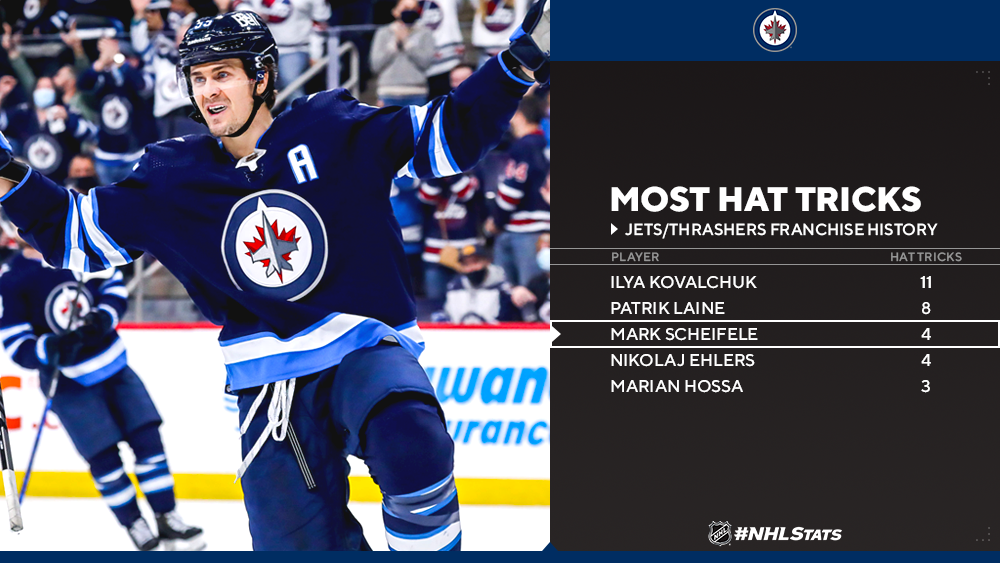 . . . WHILE GOLDEN KNIGHTS NOTCH ANOTHER SEVEN-GOAL GAME
Max Pacioretty scored twice as the Golden Knights erupted for seven goals for the second time this season (also Nov. 13: 7-4 W vs. VAN). Only one team has recorded more contests with at least seven goals in 2021-22: Colorado (3x: Nov. 11, Nov. 19 & Nov. 22).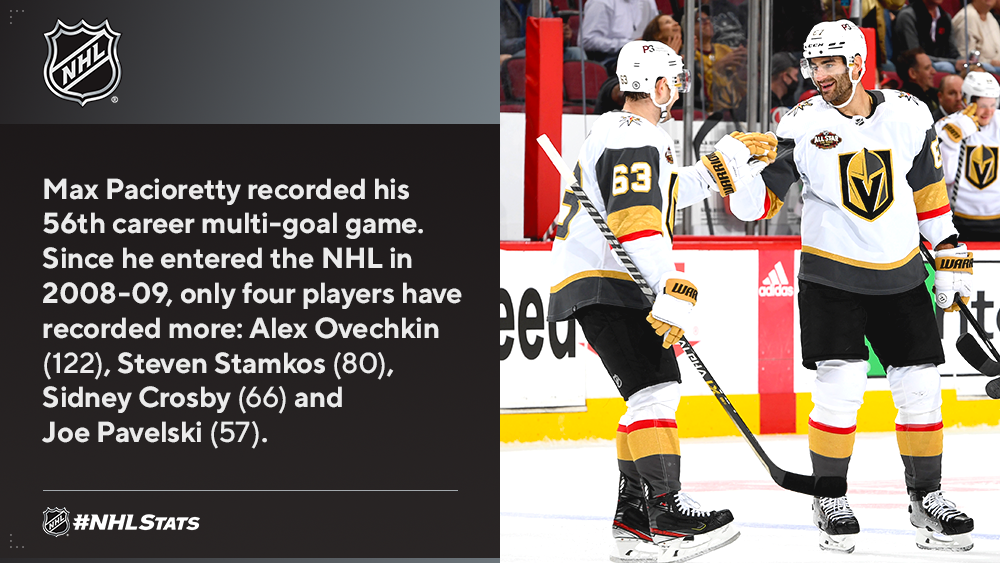 RANGERS' SHARED SHUTOUT HIGHLIGHTS #NHLSTATS: LIVE UPDATES
The latest edition of #NHLStats: Live Updates features several more notes from Friday's five games. Some highlights include Igor Shesterkin (19 saves) and Alexandar Georgiev (9 saves) combining for a shared shutout as the Rangers earned their seventh consecutive win at Madison Square Garden, the Kraken improving to 5-1-1 (11 points) since Nov. 21 and Elias Lindholm (10-14—24 in 24 GP) becoming the third Flames player to reach the 10-goal mark this season.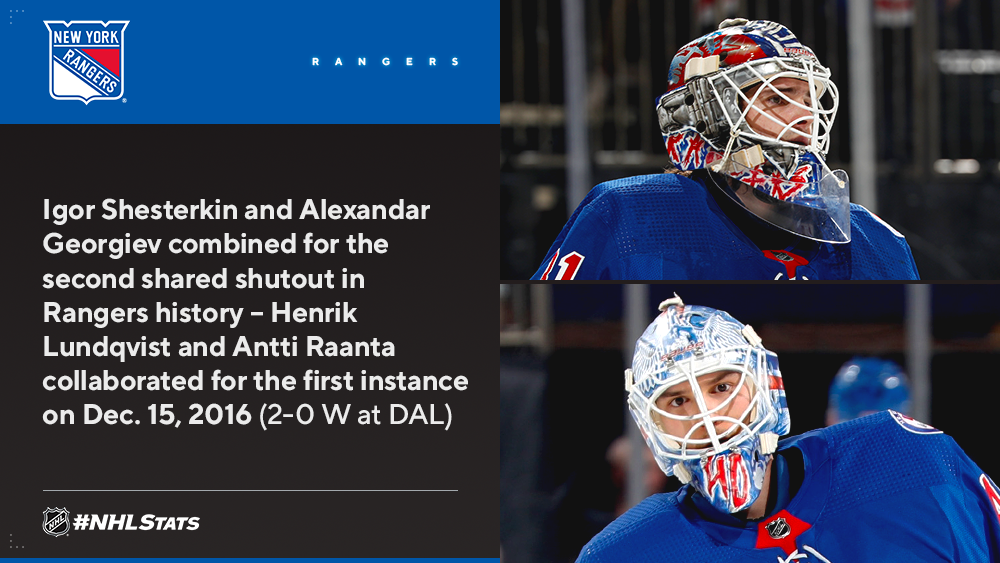 NHL PODCAST WEEKLY ROUNDUP
* Fantasy on Ice (11/29): Best fantasy pickups entering the eighth week of the season
* The Chirp (11/30): Darren Pang talks Alex Ovechkin, Battle of Alberta & Turner Sports
* NHL @TheRink (12/1): Guest Dave Stubbs talks Canadiens shakeup, Jack Hughes' deal
* Soul On Ice (12/1): Legendary coach Neal Henderson talks Fort Dupont Hockey Cannons
* Fantasy on Ice (12/2): Pete Jensen, Sportsnet's Nick Alberga answer fan questions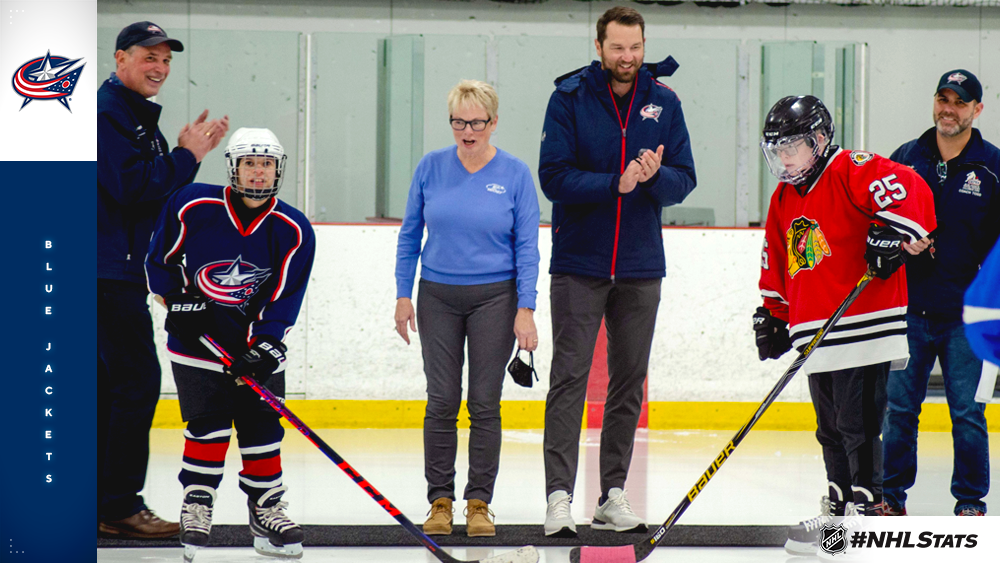 GET SET FOR SATURDAY
The NHL-leading Panthers (16-4-3, 35 points) will welcome the Blues (12-8-3, 27 points) to FLA Live Arena – where Florida has earned 13 of its 16 wins this season (13-1-0, 26 points) – while the Wild (16-6-1, 33 points) and Maple Leafs (17-6-1, 35 points) are set to each put their five-game win streak on the line during a 10-game Saturday.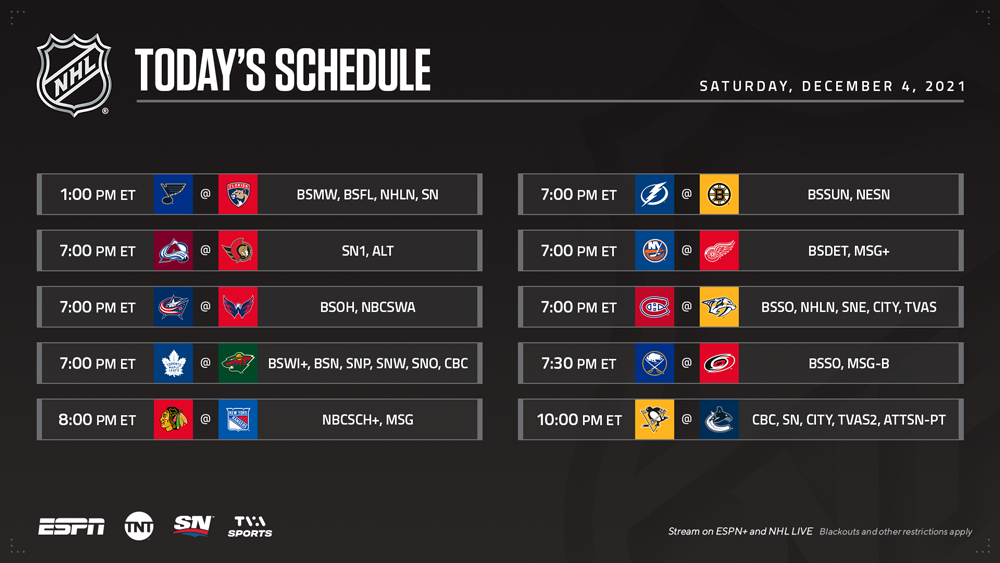 * Kirill Kaprizov has led the Wild through their five-game win streak with 4-6—10, including multi-point outings in three of those contests. Minnesota will aim for its 10th run of wins in six or more straight games – two of which came last season – when the Wild welcome the Maple Leafs to Xcel Energy Center. Minnesota has won nine of its 11 contests at home in 2021-22 (9-2-0, 18 points), while Toronto is 7-0-0 in its last seven games as the visiting team and can establish a new franchise record for longest road win streak.
* Michael Bunting has collected at least one point in every game during the Maple Leafs' 5-0-0 run which dates to Nov. 21, including an assist in each contest (2-7—9). Toronto will aim to post a win streak of six or more games for the third straight season (also 6 GP in 2020-21 & 2019-20) – something they have yet to accomplish in their 104-year history.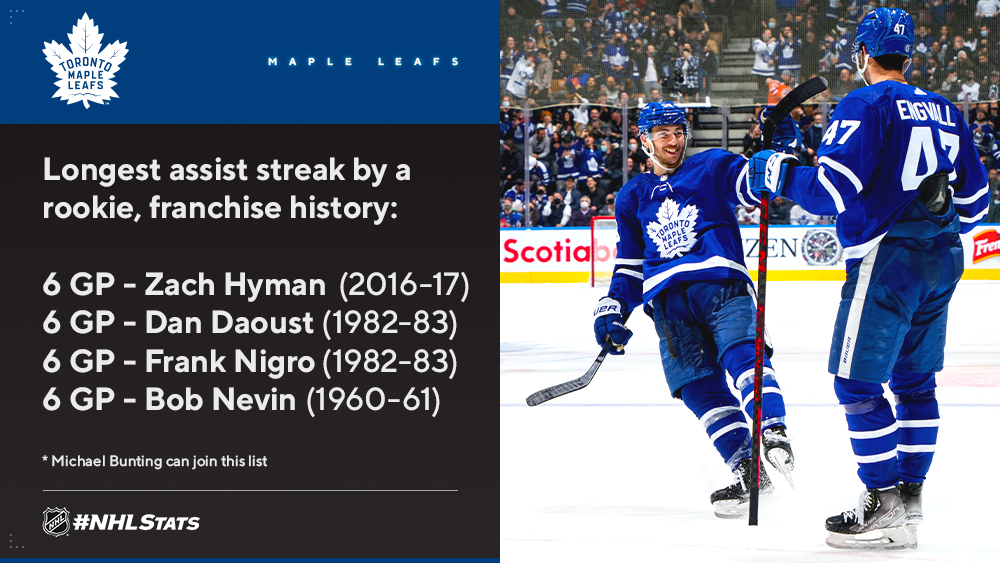 STREAKING GUENTZEL EYES THE SCORE SHEET
Pittsburgh forward Jake Guentzel will put the NHL's longest active point streak on the line Saturday as he enters the contest with points in each of his last 11 games (7-5—12). Only two Penguins players in the last 10 years have posted a longer run: Pascal Dupuis (17 GP in 2011-12) and Sidney Crosby (12 GP in 2015-16).