* Auston Matthews recorded his fourth career hat trick as the Maple Leafs unloaded eight and extended their win streak to five games, outscoring their opponents 26-7 over that run. * Quinn Hughes became the first Canucks defenseman to record a four-point game since Alexander Edler (Feb. 7, 2009) and helped Vancouver skate to a six-goal outburst in Ottawa.
* Connor McDavid recorded his second four-point outing of the season to reach 40 points and improve to 4-10—14 through eight head-to-head meetings versus Penguins captain Sidney Crosby.

MATTHEWS NETS HAT TRICK, LEADS MAPLE LEAFS IN EIGHT-GOAL WEDNESDAY
Hours after honoring his pledge by shaving his moustache on the back of raising $148,124 for Movember, Auston Matthews recorded his fourth career hat trick to help the Maple Leafs (17-6-1, 35 points) score eight goals in a game for the first time since Dec. 23, 2019 and overtake top spot in the NHL standings. Toronto improved to 5-0-0 in its last five outings and has outscored its opponents 26-7 over that run.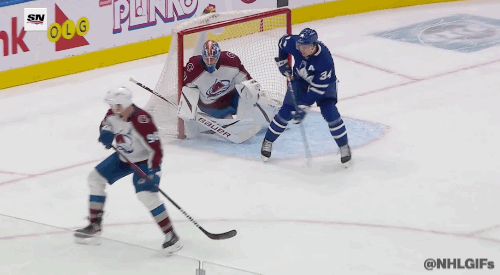 * Matthews, who was held to only one goal through the month of October, has scored 12 since Nov. 1, which trails only Leon Draisaitl (15) for the most among all players over that span.
* The Maple Leafs, who improved to 15-2-0 in their last 17 games, have won five straight for the third time in 2021-22. Toronto has recorded a win streak of five or more contests three times in a season only three other times in franchise history: 2018-19 (3x), 1999-00 (3x) and 1950-51 (3x).
HUGHES' FOUR ASSISTS POWERS OFFENSE AS CANUCKS SCORE SIX
Quinn Hughes (0-4—4) set a new career high for assists and points in a game to help propel the Canucks to a six-goal outburst. Hughes, who became the first Vancouver defenseman to record a four-point outing since Alexander Edler on Feb. 7, 2009, improved his season totals to 2-18—20 in 23 games.
* Hughes' 18 assists are tied with Adam Fox for the most among defensemen this season – he is averaging 0.68 assists per game throughout his career (104 in 152 GP), second among all active defensemen (min. 50 GP) behind Cale Makar (0.72).
MCDAVID NOTCHES FOUR, HITS 40-POINT MARK
Connor McDavid (1-3—4) recorded his second four-point outing of the season and the 21st of his career to help Edmonton snap Pittsburgh's 19-game point streak against the Oilers (PIT: 15-0-4; EDM: 4-12-3). McDavid boosted his totals to 4-10—14 through eight head-to-head meetings against Penguins captain Sidney Crosby.
* McDavid (15-25—40 in 21 GP) joined teammate Leon Draisaitl (20-21—41 in 21 GP) as the second player this season to reach the 40-point mark, just two games after Draisaitl did so.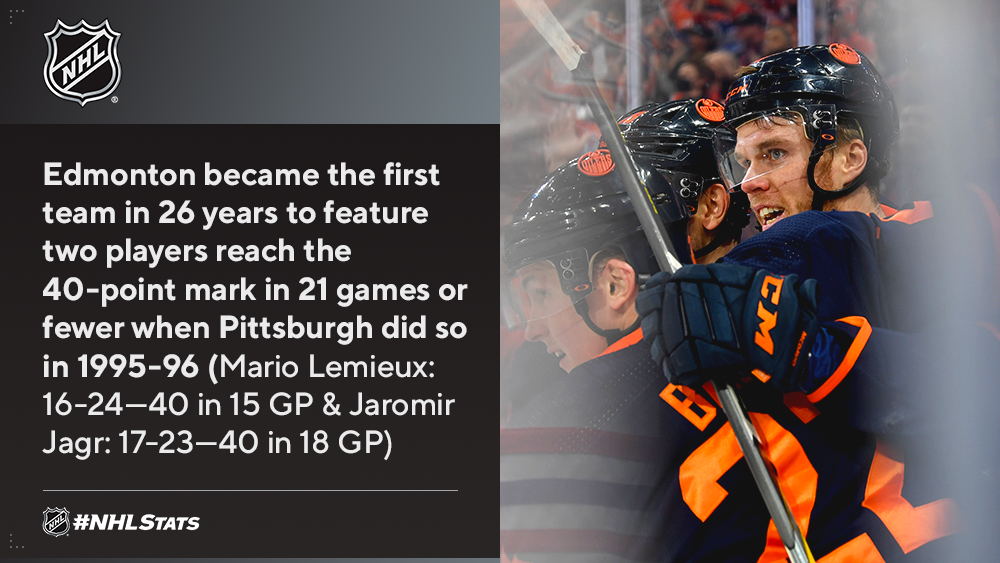 * Edmonton, which improved to 9-1-0 at Rogers Place in 2021-22, won nine of its first ten home games to start a season for the third time in franchise history (also 9-1-0 in 1985-86 & 9-0-1 in 1983-84).
RAYMOND SCORES ROOKIE-LEADING 10TH GOAL ON #NHLSTATS: LIVE UPDATES
On the latest edition of #NHLStats: Live Updates, Lucas Raymond netted his 10th goal of the season to help the Red Wings earn their fourth straight win – after being named the NHL's Rookie of the Month earlier in the day – and Ducks rookie Trevor Zegras recorded his second three-point outing of 2021-22.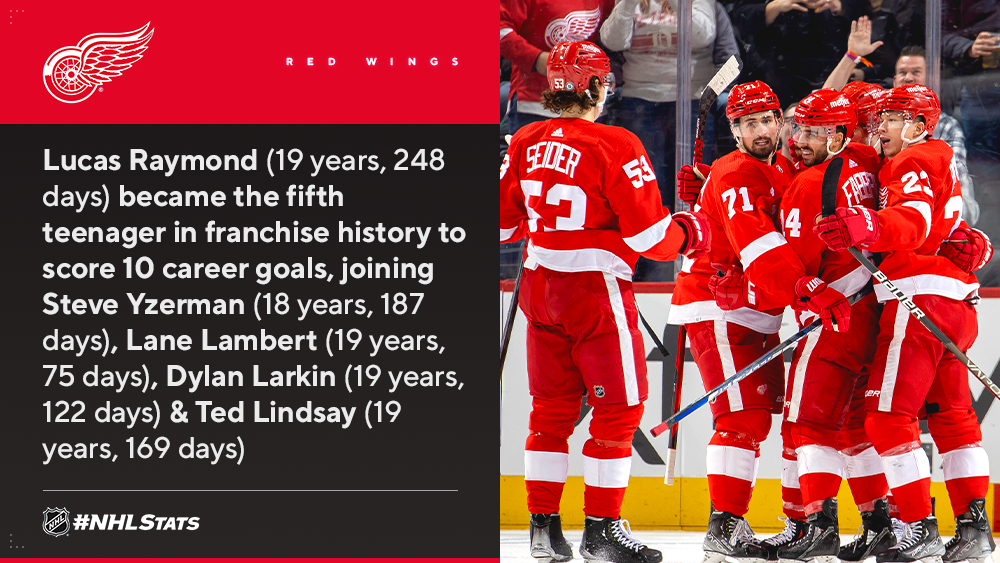 PREMIERE OF ROAD TO THE NHL WINTER CLASSIC FEATURES RYAN O'REILLY
Wednesday featured the premiere episode of the five-part "Road to the NHL Winter Classic" docuseries showcasing exclusive, behind-the-scenes access to the Blues and Wild as they prepare for an outdoor showdown on New Year's Day at Target Field in Minneapolis, Minn.
The first segment gives viewers a look at life on and off the ice for Blues captain Ryan O'Reilly, as he prepares to take on the Blue Jackets and spends time at home with his wife and kids.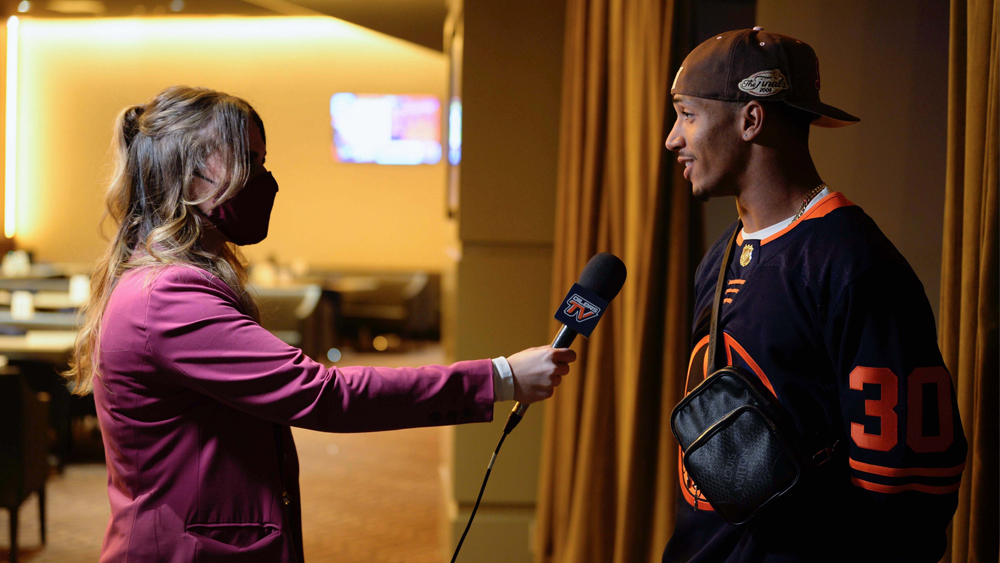 STREAKING STARS LOOK TO BENEFIT FROM ANOTHER QUICK START
Roope Hintz (10-5—15 in 20 GP) and the Stars (11-7-2, 24 points), with wins in each of their past five outings, welcome Oliver Bjorkstrand (6-13—19 in 20 GP) and the Blue Jackets (12-8-0, 24 points) to American Airlines Center.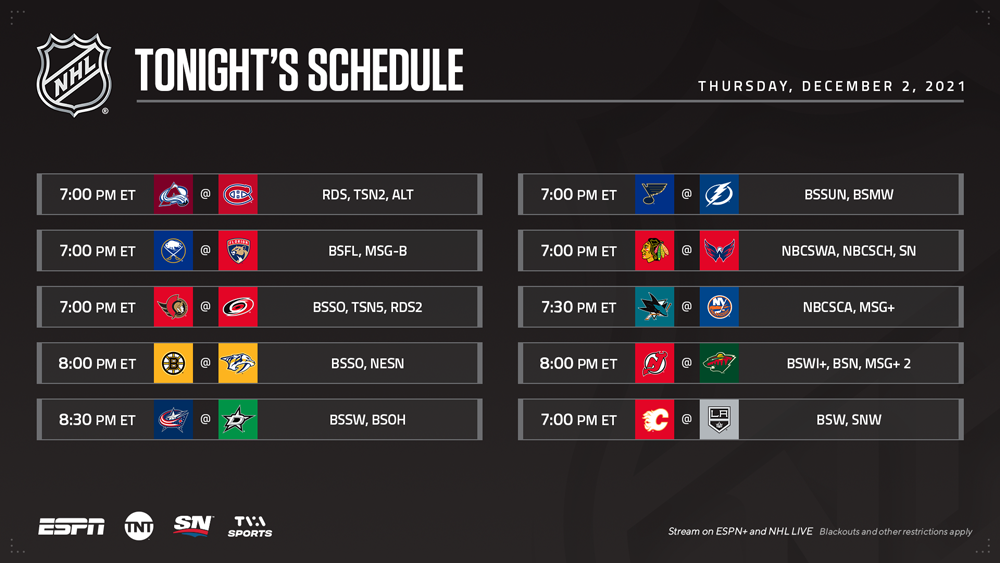 * Dallas enters the contest having benefited from a quick goal in each of its last three games – Nov. 26 vs. Colorado (1:12), Nov. 27 at Arizona (0:54) and Nov. 30 vs. Carolina (1:13) – and can become the first team in NHL history to score within the opening 75 seconds of a contest in four consecutive outings.
* Meanwhile, Hintz has found the score sheet in each of his past five outings dating to Nov. 20 (7-2—9) and has accounted for each of the Stars' last two game-opening goals. Dallas' leading goal scorer in 2021-22 can also become just the second player in League history to score within the opening 75 seconds in three straight contests. Johnny Gagnon (3 GP from Jan. 24 – Feb. 1, 1931) is the only skater to accomplish the feat.
OVECHKIN EYES ANOTHER ACCOMPLISHMENT IN CAPITALS HOME GAME
Alex Ovechkin (19-18—37 in 23 GP), one goal shy of his 17th consecutive 20-goal season and 750 in his career, returns home to Capital One Arena to take on Patrick Kane (6-12—18 in 17 GP) and the Blackhawks (7-12-2, 16 points).
* With three-point performances in each of his last two outings at Capital One Arena (3-0—3 on Nov. 26 & 0-3—3 on Nov. 24), Ovechkin can become the third player in Capitals history to register at least three points in three consecutive home games. Michal Pivonka (3 GP from Feb. 7-22, 1992 & 3 GP from Nov. 16-23, 1990) and Calle Johansson (3 GP from Jan. 28 – Feb. 6, 1990) are the only Washington skaters to achieve the feat.