* Marc-Andre Fleury blanked the Canadiens and became the third goaltender in NHL history to reach 500 career wins.
* Nathan Walker, who made history four years ago when he became the first player of Australian nationality to appear in an NHL game, scored his first career hat trick.
* Tonight, Sidney Crosby and Alex Ovechkin meet in their 60th all-time head-to-head game during the regular season and first on ESPN+.

FLEURY FOILS CANADIENS TO REACH 500 CAREER NHL WINS
Blackhawks goaltender Marc-Andre Fleury turned aside all 30 shots he faced and became the third netminder in NHL history to record 500 career wins. Fleury (901 GP) required the fewest games to reach the milestone, besting Martin Brodeur (908 GP) by seven appearances and Patrick Roy (933 GP) by 32.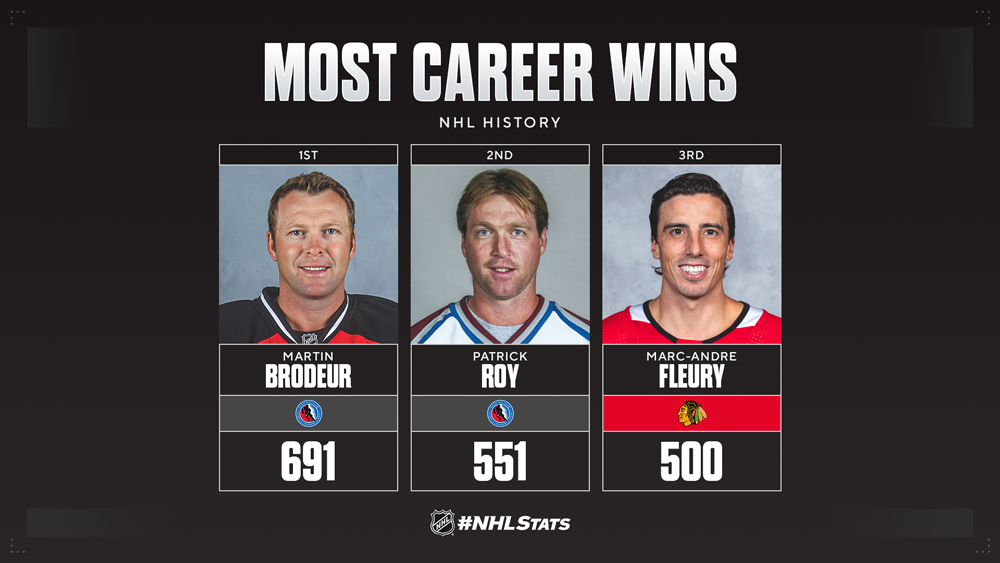 WALKER NETS FIRST CAREER HAT TRICK IN BLUES WIN
Australian hockey pioneer Nathan Walker, who was recently recalled by the Blues under emergency conditions, scored the first hat trick of his NHL career as St. Louis earned its sixth consecutive victory at Enterprise Center.
* Walker, who was born in Cardiff, Wales but grew up in Sydney, Australia, became the second player in Blues history to record three or more goals in a season debut. He joined Brendan Shanahan on Oct. 7, 1993.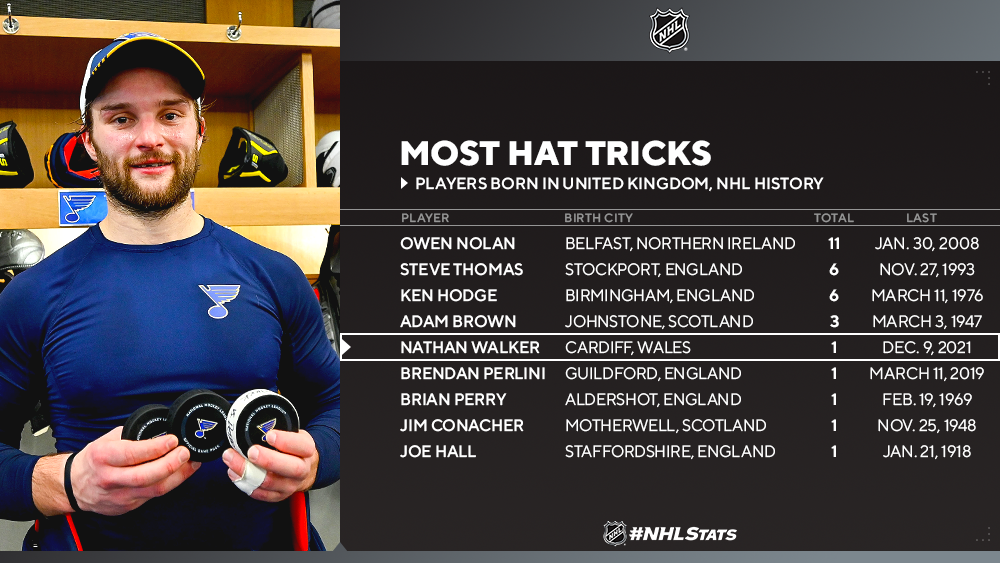 WILD EXTEND WIN STREAK, GRAB FIRST PLACE IN NHL STANDINGS
Kirill Kaprizov (1-1—2) factored on two of his team's five goals as the Wild (19-6-1, 39 points) extended the NHL's longest active win streak to eight contests and moved into first place in the League standings.
* Kaprizov collected at least one assist in his seventh consecutive game (5-9—14). Only one player has recorded a longer such run with the franchise: Jim Dowd (8 GP in 2001-02).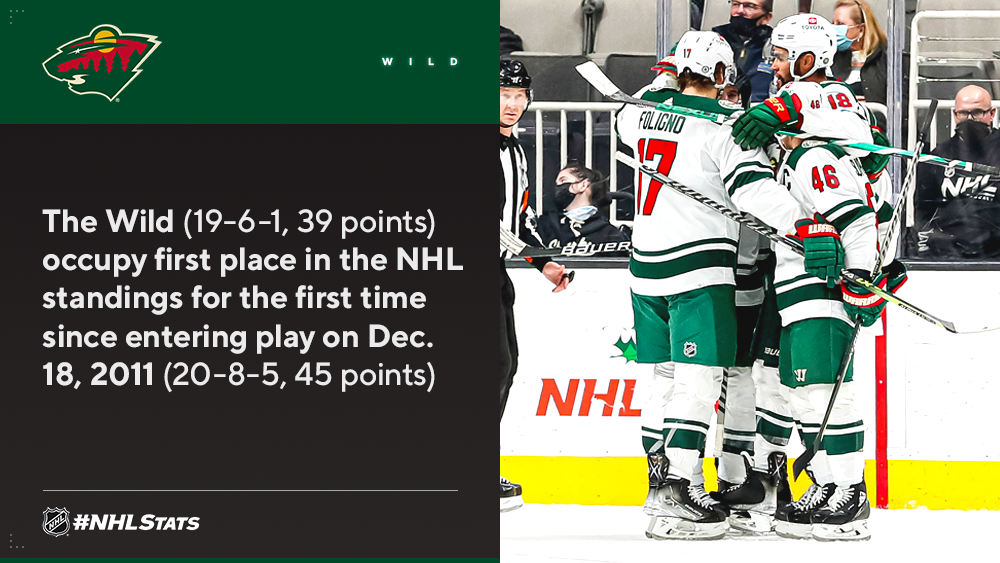 COOPER MAKING NHL HISTORY FEATURED IN #NHLSTATS: LIVE UPDATES
Click here to read Thursday's edition of #NHLStats: Live Updates, which features many more notes from the 10-game slate. Some highlights include:
* Bruins forward Brad Marchand opened the scoring with a shorthanded goal for the 12th time in his NHL career, surpassing Peter Bondra, Bob Pulford and Mark Messier (all w/ 11) for the most such goals in League history.
* Sebastian Aho (2-0—2) scored the sixth overtime goal of his NHL career and tied Jeff O'Neill for the most in Hurricanes/Whalers franchise history. Aho has multiple points in each of his last four games (3-6—9).
* Predators forward Eeli Tolvanen scored the winner with 12 seconds remaining in the third period, which is tied for the second-latest go-ahead goal in franchise history and the latest on the road.
* Kyle Connor (2-0—2) became the second player in Jets/Thrashers franchise history with multiple goals while celebrating a birthday, joining Dany Heatley on Jan. 21, 2003 (2-1—3).
* Steven Stamkos had 1-3—4 against his hometown Maple Leafs as the Lightning defeated the hosts at Scotiabank Arena to give Jon Cooper the 400th win of his NHL career.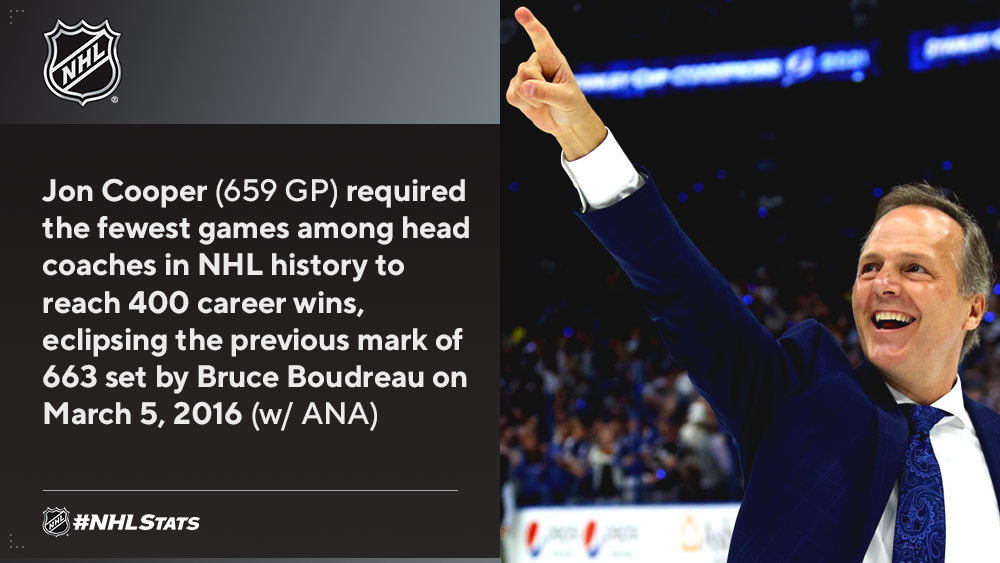 ICYMI: "ROAD TO THE NHL WINTER CLASSIC" EPISODE 2 NOW AVAILABLE
CLICK HERE to watch the second installment of the "Road to the NHL Winter Classic" docuseries featuring exclusive, behind-the-scenes access to the Blues and Wild as they prepare for the legendary outdoor game. This week brings viewers inside Wild captain Jared Spurgeon's time with his family, including a look at the next generation of hockey players, as he attends one of his son's games.
FIRST-EVER MEETING ON ESPN+ BETWEEN CROSBY, OVECHKIN FEATURED FRIDAY
Penguins captain Sidney Crosby and Capitals captain Alex Ovechkin will meet in their 60th all-time head-to-head game during the regular season and first on ESPN+ as part of Friday's schedule. The contest will also be broadcast across North America on HULU, Sportsnet and TVAS.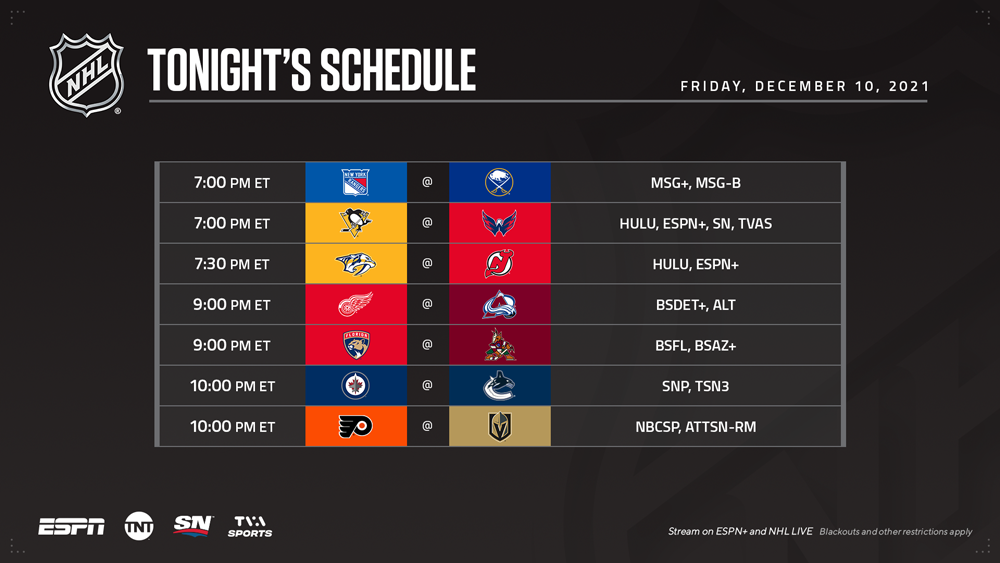 * Each player ranks among the top 30 on the NHL's all-time points list, with Ovechkin (750-611—1,361 in 1,223 GP) holding the No. 26 spot and Crosby (490-848—1,338 in 1,052 GP) sitting tied for 30th with Dave Andreychuk (640-698—1,338 in 1,639 GP) and Denis Savard (473-865—1,338 in 1,196 GP).
* Crosby (4-9—13 in 13 GP) is currently averaging a point per game in 2021-22. He has concluded a campaign averaging at least one point per game 16 times in his NHL career – only Wayne Gretzky (19x) and Gordie Howe (17x) have done so more times in League history.
* Ovechkin (20-21—41 in 26 GP) presently sits second in terms of goals and third in scoring this season. His point total at this stage of a campaign is the highest of his NHL career, besting 2009-10 (21-17—38 in 26 GP). Ovechkin enters Friday on the heels of yet another accomplishment as the Capitals captain is one power-play goal from tying Andreychuk (274) for the most in NHL history.