* Jonathan Huberdeau scored a goal Sunday to help the Panthers become the first team to clinch a berth in the 2022 Stanley Cup Playoffs and establish a new franchise record for points in a single season.

* Leon Draisaitl had 1-1—2 at Honda Center to reach 50 goals on the season and join teammate Connor McDavid as the NHL's second member of the 100-point club.

* Monday's four-game slate opens with a clash in Columbus between the Blue Jackets and Bruins, followed by the Lightning welcoming the Maple Leafs to AMALIE Arena. Boston trails Tampa Bay and Toronto by two points in the Atlantic Division standings.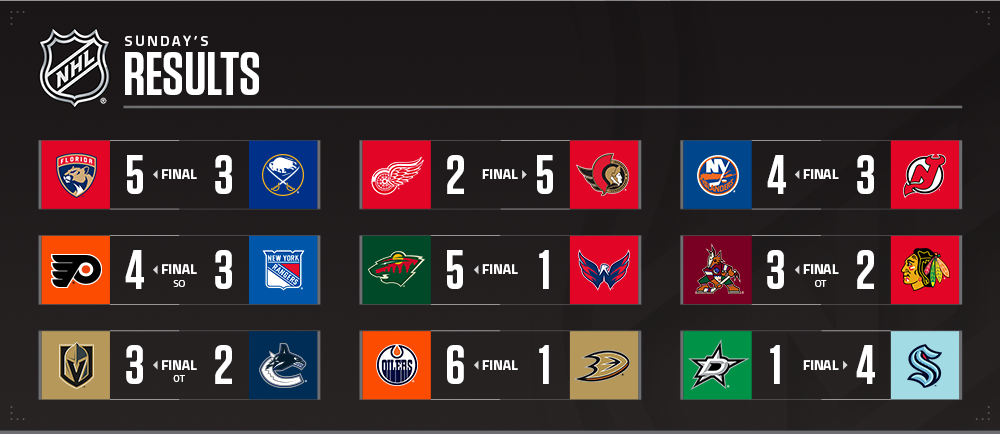 PANTHERS BECOME FIRST TO CLINCH PLAYOFF BERTH IN 2021-22
The Eastern Conference-leading Panthers (48-15-6, 102 points) became the first team to clinch a berth in the 2022 Stanley Cup Playoffs on Sunday afternoon with their victory over the Sabres. It marked the second consecutive day they rallied from a deficit to win and their 23rd comeback victory this season – the only team with more is the Rangers (24).



* The Panthers have reached the postseason in three straight campaigns for the first time in franchise history. Florida will aim for its first series victory since the 1996 Eastern Conference Final, a seven-game affair that saw the Panthers (in their third NHL season) eliminate a Penguins team that had won two of the previous five Stanley Cup championships and included Mario Lemieux, Jaromir Jagr and Sergei Zubov.

* Jonathan Huberdeau scored Florida's first goal to improve his season totals to 24-73—97 in 69 games, surpassing Aleksander Barkov (35-61—96 in 2018-19) for the most points in a single season in Panthers franchise history.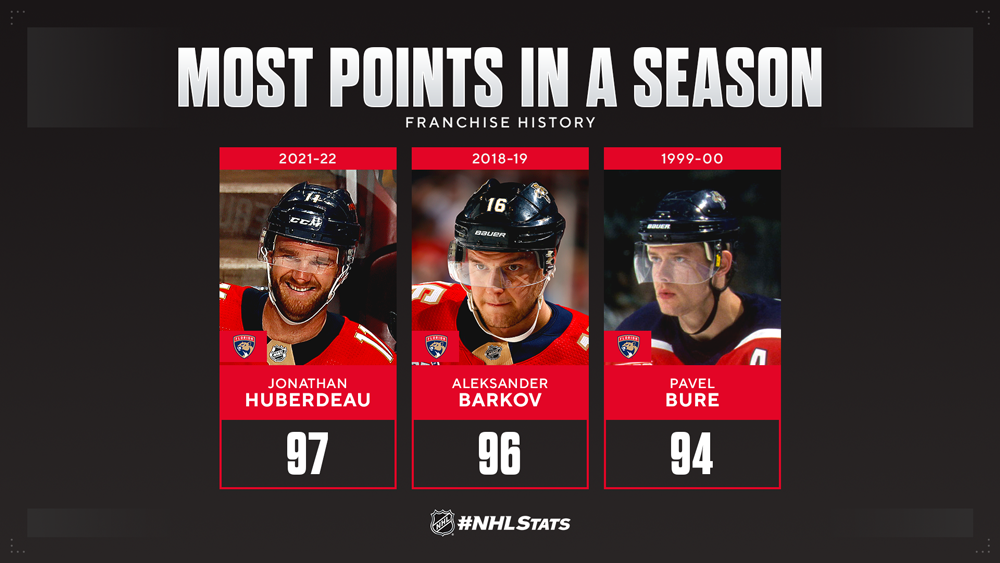 DRAISAITL DOUBLES UP ON MILESTONES WITH 100TH POINT, 50TH GOAL
Oilers forward Leon Draisaitl (50-51—101 in 70 GP) had 1-1—2 in the final frame to record his third career 100-point NHL season (also 2018-19 & 2019-20) and second 50-goal campaign (also 2018-19).

* Draisaitl became the second player to reach the 100-point mark this season, joining teammate Connor McDavid (40-65—105 in 69 GP) who posted 1-2—3 Sunday to extend his point streak to 13 games (11-15—26). Draisaitl's three career 100-point campaigns trail only Wayne Gretzky (9x), Jari Kurri (6x), Mark Messier (5x) and McDavid (5x) for the most in franchise history.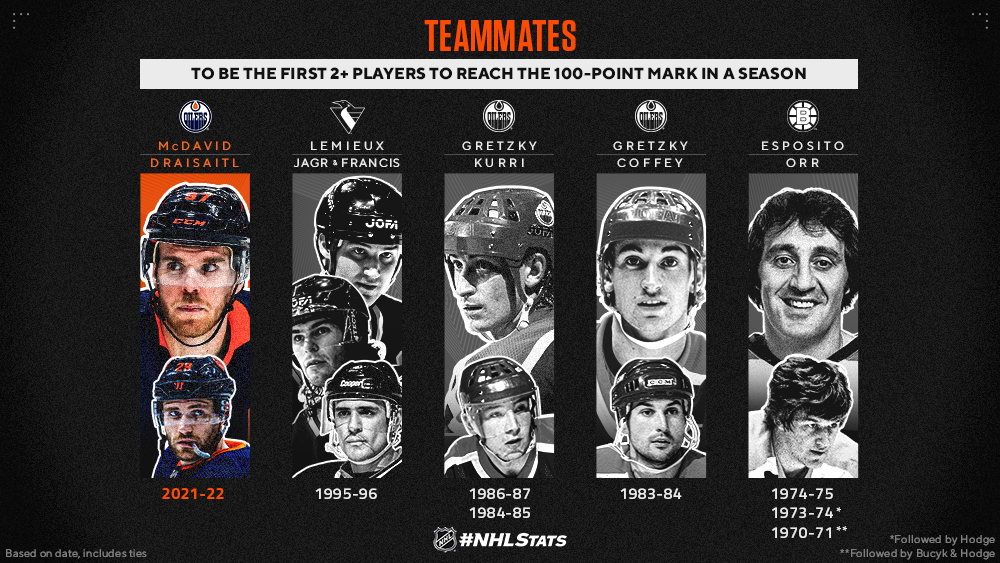 * Draisaitl, who joined Maple Leafs forward Auston Matthews (51-37—88 in 63 GP) as the second NHLer to hit 50 goals in 2021-22, became the fourth player in franchise history to record multiple 50-goal seasons with Edmonton. He followed Gretzky (8x),Kurri (4x) and Glenn Anderson (2x).

* Draisaitl(Cologne, Germany) became the ninth player in NHL history born and trained outside of North America to record multiple 50-goal seasons, joining Alex Ovechkin (8x), Pavel Bure (5x),Kurri (4x), Jaromir Jagr (3x), Teemu Selanne (3x), Ilya Kovalchuk (2x), Peter Bondra (2x) and Alexander Mogilny (2x). Draisaitl is the only member of that cohort born and trained in Germany – of note, Dany Heatley was born in West Germany and reached the 50-goal mark twice in his NHL career, but moved to Canada in his youth.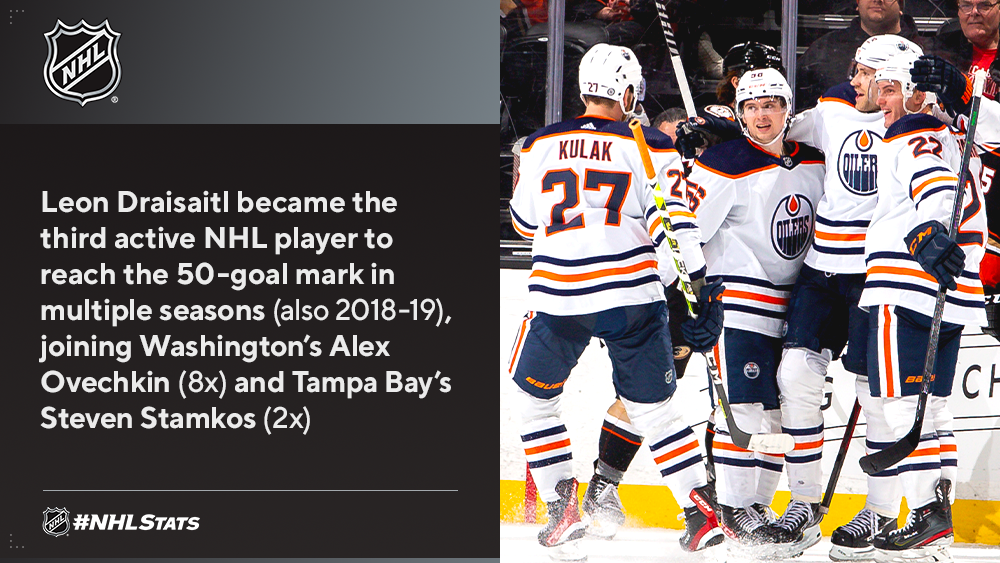 ERIKSSON EK, FOLIGNO REACH 20-GOAL MARK AS WILD EXTEND POINT STREAK
Joel Eriksson Ek (21-19—40 in 63 GP) and Marcus Foligno (20-16—36 in 64 GP) each tallied at least once Sunday to reach the 20-goal mark and help Minnesota extend its point streak to 10 games (9-0-1). The Wild, who also went 9-0-1 from Jan. 6–Feb. 2, recorded multiple double-digit point streaks in a single season for the first time in franchise history.

* Eriksson Ek and Foligno became the fifth and sixth 20-goal scorers for the Wild this season. That marks the franchise's most 20-goal scorers in a single campaign, eclipsing the previous high of five from 2006-07 (Brian Rolston, Marian Gaborik, Pavol Demitra, Mikko Koivu & Pierre-Marc Bouchard).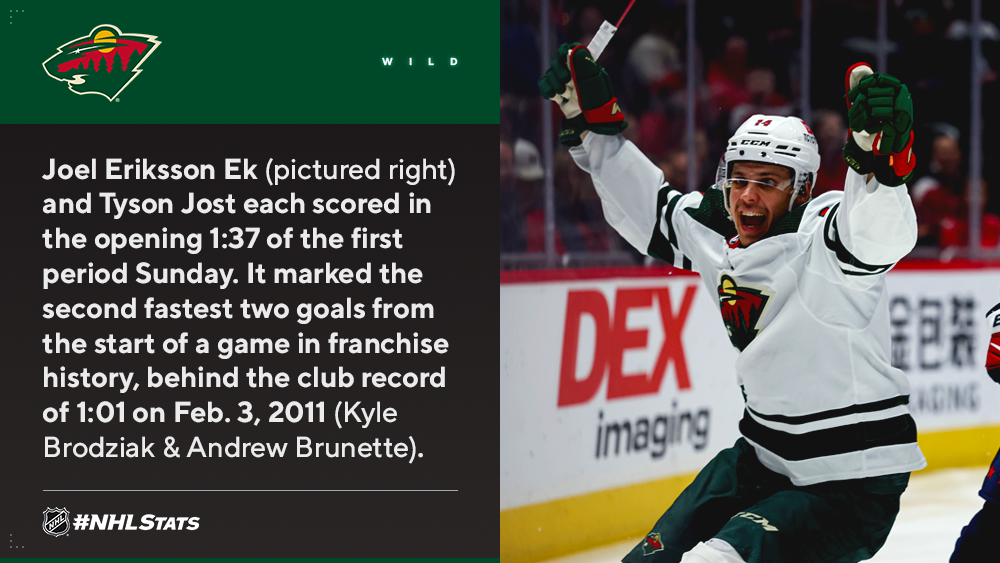 HAT TRICKS BY NORRIS, PAGEAU FEATURED IN #NHLSTATS: LIVE UPDATES
Sunday's edition of #NHLStats: Live Updates features more notes from the nine-game slate, including Senators forward Josh Norris netting three goals and his former teammate Jean-Gabriel Pageau potting a natural hat trick as Cory Schneider secured a win in his Islanders debut.

* ICYMI: Sunday also featured the debut of #NHLStats Pack: Team Clinching Notes, a running document of notes for all teams as they clinch a berth in the 2022 Stanley Cup Playoffs. Click here to read more.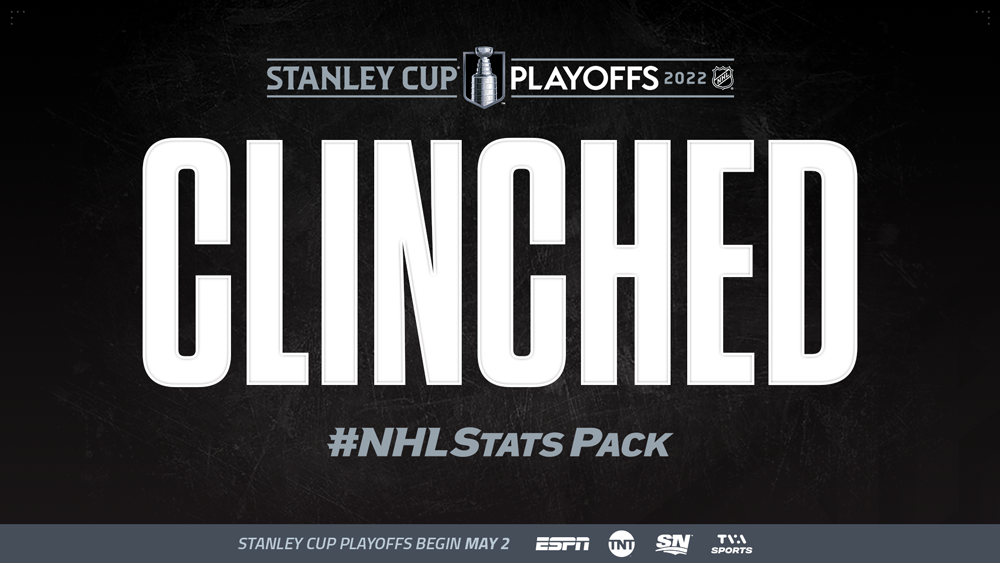 QUICK CLICKS

* Panthers ride potent offense to clinch playoff berth
* Golden Knights defeat Canucks, leapfrog Stars for final Wild Card spot in Western Conference
* Blackhawks have lavish celebration for Jonathan Toews' 1,000th NHL game
* Julien BriseBois talks Lightning chance for three-peat in sit-down with NHL.com
* Senators pay tribute to Eugene Melnyk in their first home game since his passing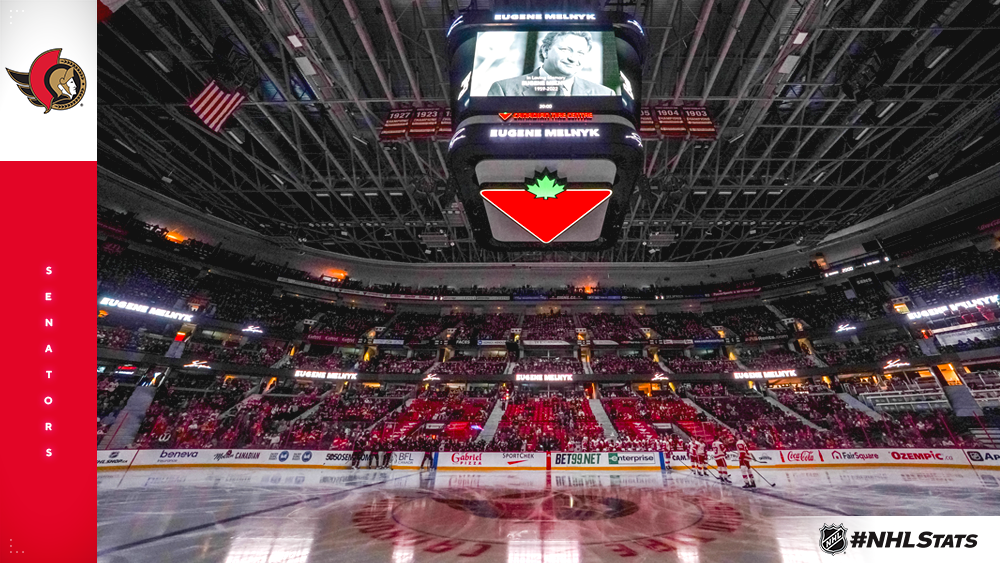 PIVOTAL ATLANTIC, PACIFIC DIVISION MATCHUPS HEADLINE MONDAY'S SLATE
A pair of pivotal contests highlight a four-game NHL slate as Mitchell Marner and the Maple Leafs (44-19-5, 93 points) visit the defending Stanley Cup-champion Lightning (43-18-7, 93 points) in a potential First Round matchup, while the Pacific Division's No. 1-seeded Flames (40-19-9, 89 points) take on the second-place Kings (38-23-10, 86 points).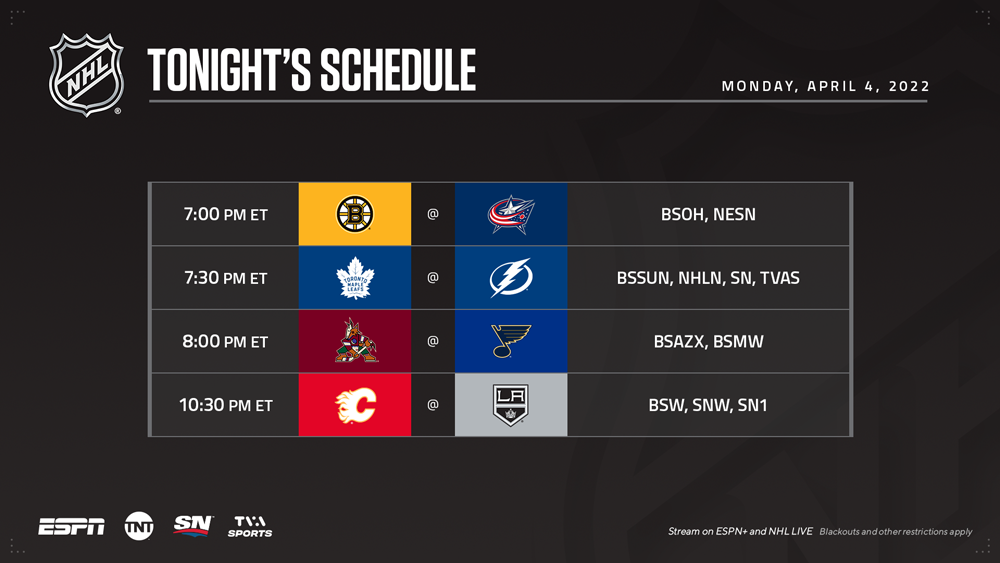 * Marner enters Monday with a nine-game point streak (5-14—19), including multiple points in each of his last five outings (1-11—12). A sixth straight multi-point performance would make Marner (28-53—81 in 59 GP), who is averaging an NHL-leading 1.71 P/GP since Jan. 1 (22-38—60 in 35 GP), the fourth different player in franchise history with 83 or more points through 60 games played in a season – he would join Doug Gilmour in 1992-93 (24-71—95 in 60 GP) and 1993-94 (21-62—83 in 60 GP), Darryl Sittler in 1977-78 (37-52—89 in 60 GP) as well as teammate Auston Matthews in 2021-22 (48-35—83 in 60 GP).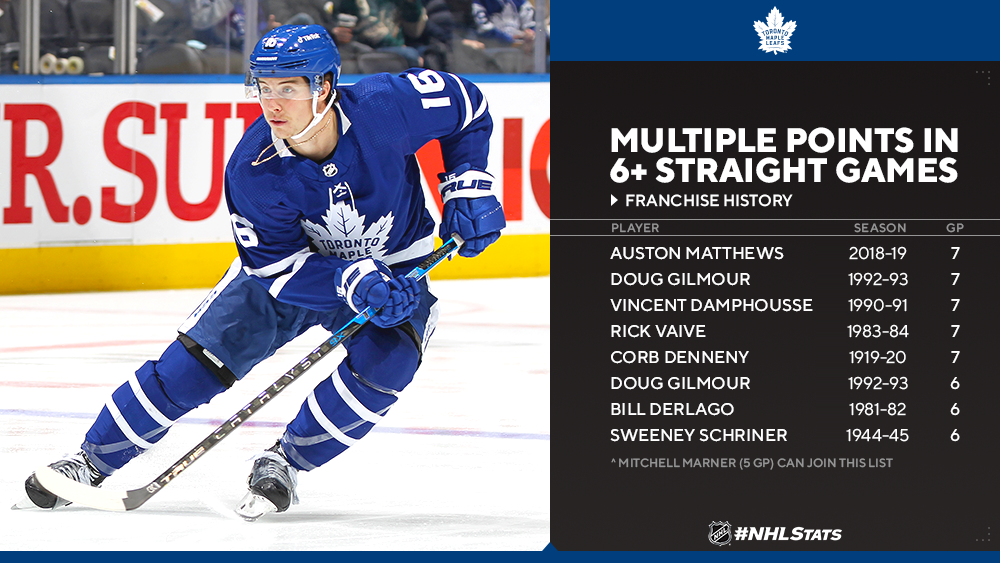 * Calgary looks to reach 90 points in its 69th game of 2021-22, which would be tied for the second fewest contests required by the franchise to hit the benchmark in a season (also 69 GP in 2018-19) behind only 1988-89 (60 GP). The Flames went on to win the Stanley Cup that year, which included sweeping Wayne Gretzky and the Kings in the 1989 Division Finals.