* With only 11 NHL starts under his belt, all in the regular season, rookie netminder Joseph Woll earned a win in his first career playoff start to help the Maple Leafs stave off elimination and force a Game 5.

* Leon Draisaitl and Connor McDavid continued their high-scoring ways to help Edmonton even their series – the duo currently sits first and second in points in the 2023 Stanley Cup Playoffs and became just the fourth pair of teammates since 1990 to hit the 50-point mark across two postseasons.
* The 2023 Stanley Cup Playoffs marks just the sixth time in 36 years there will not be any best-of-seven sweeps through the first two rounds – with three of those instances coming in the past eight years. The others: 1991, 2002, 2010, 2016 and 2020.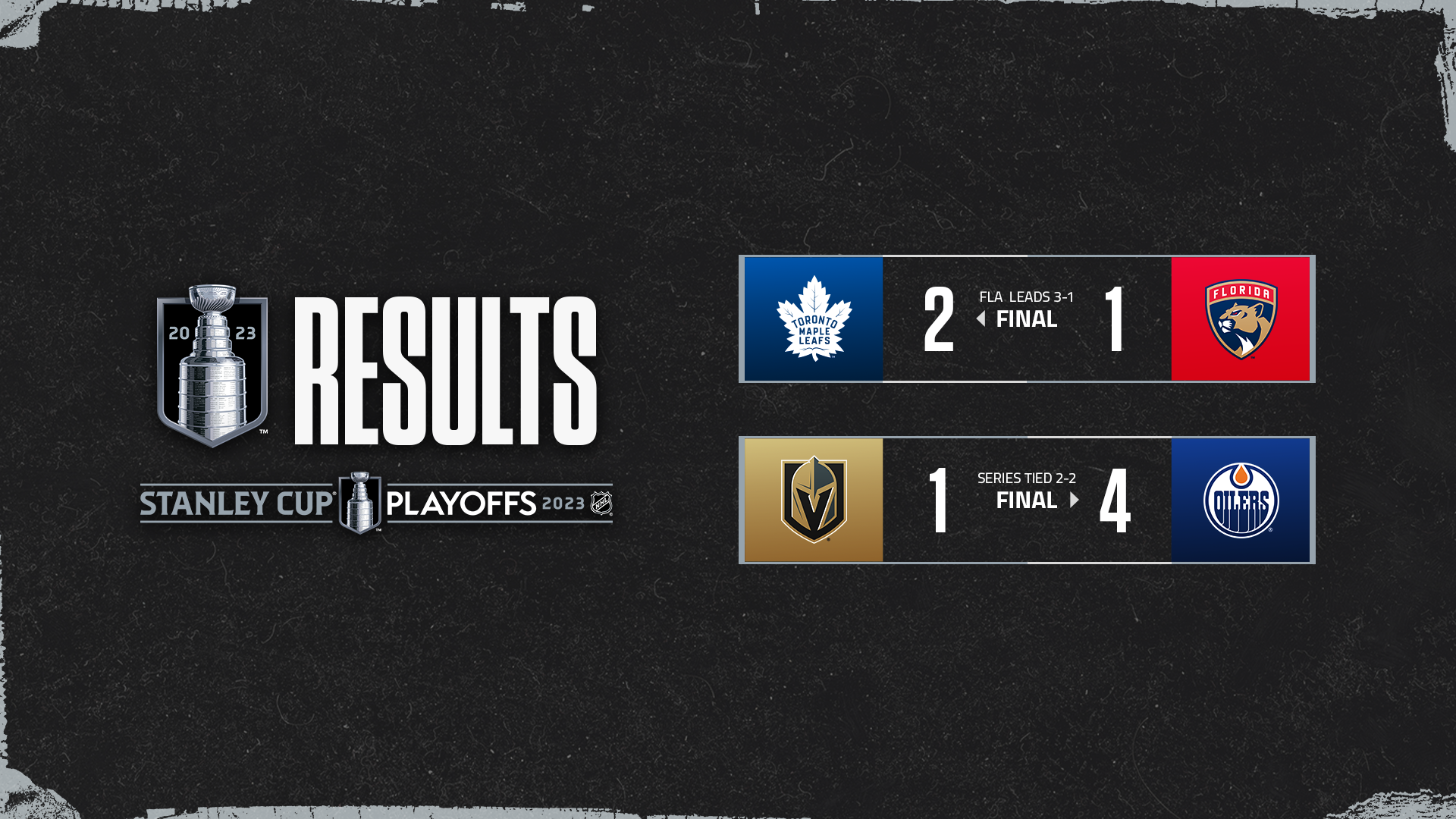 PANTHERS CAN'T GET THROUGH WOLL AS MAPLE LEAFS FORCE GAME 5
Joseph Woll made 24 saves in his first career playoff start and Mitchell Marner (1-1—2) factored on both of the Maple Leafs' goals to help Toronto force a Game 5 and ensure there will be no sweeps through the first two rounds of the 2023 Stanley Cup Playoffs. It was the third straight contest between the clubs decided by a one-goal margin.

* Woll became the 11th different Maple Leafs rookie goaltender to earn a playoff win and the first since Felix Potvin in Game 5 of the 1993 Conference Finals. He posted a 6-1 record in his seven games with the Maple Leafs during the 2022-23 regular season – including six straight wins to finish the campaign – and a 16-4-1 mark with the AHL's Toronto Marlies.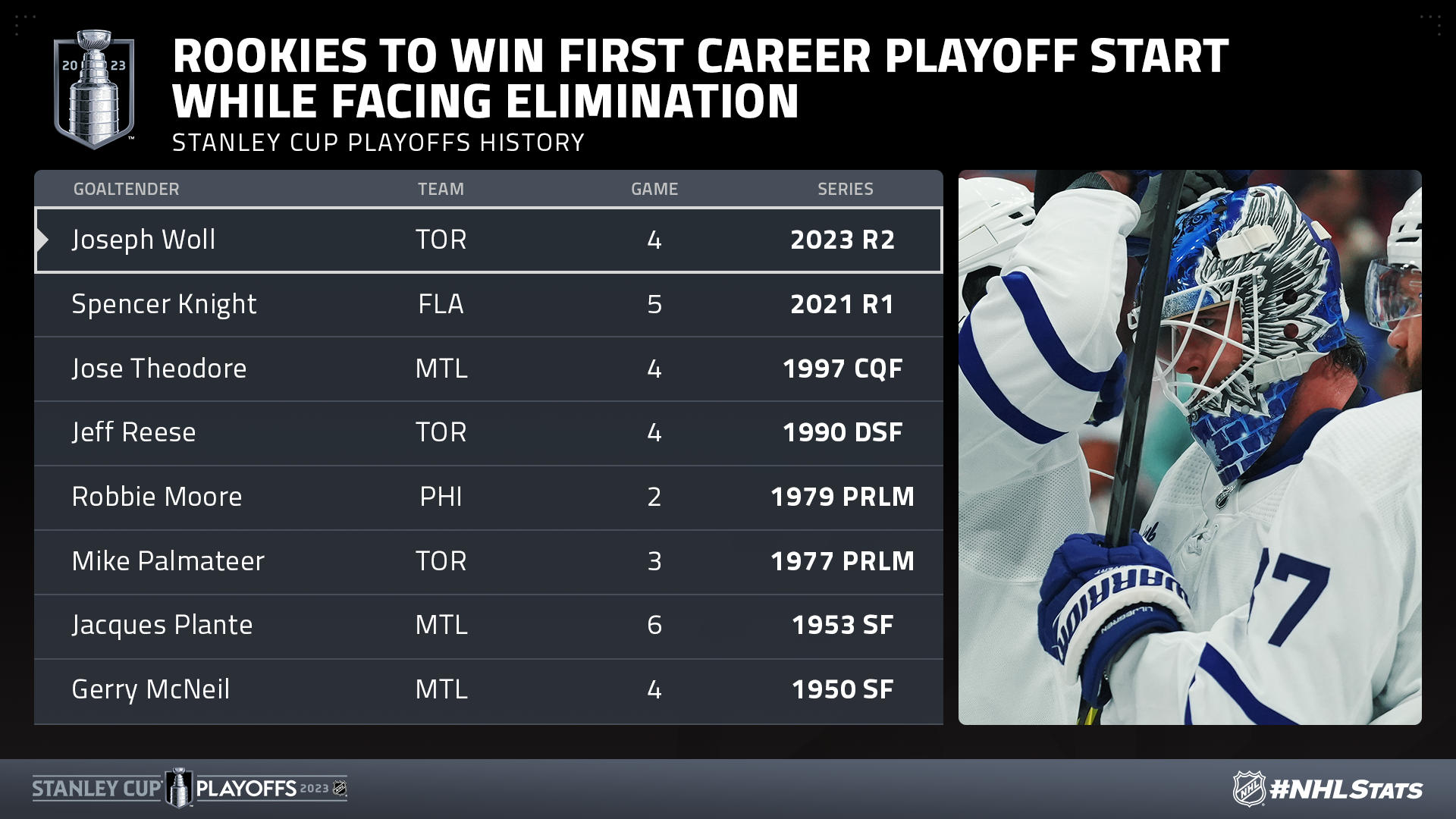 * Before Wednesday, Woll's last taste of playoff hockey as a starter was March 23, 2019 with the Boston College Eagles in the Hockey East championship game, a 3-2 defeat against the Northeastern Huskies. One day earlier, Woll had shut out the UMass Lowell River Hawks – whose roster included future Norris Trophy, Conn Smythe Trophy and Stanley Cup winner Cale Makar – to claim what was his most recent playoff victory.

* Marner improved his postseason totals to 3-11—14 (10 GP) and now owns the third-most assists by a Maple Leafs skater through the first ten games of a postseason, trailing only Darryl Sittler (16 in 1977) and Doug Gilmour (15 in 1994). Of note, Sittler only played nine playoff games in 1977. In the past 25 years, three Maple Leafs players have recorded as many points in a playoff year: Gary Roberts (19 in 2002), Mats Sundin (16 in 1999) and Alyn McCauley (15 in 2002).
* Road teams are now 39-27 this postseason, with Toronto's victory ensuring that each series through the first two rounds of the 2023 Stanley Cup Playoffs will feature at least five games – these League trends and more are featured in Wednesday's edition of #NHLStats: Live Updates.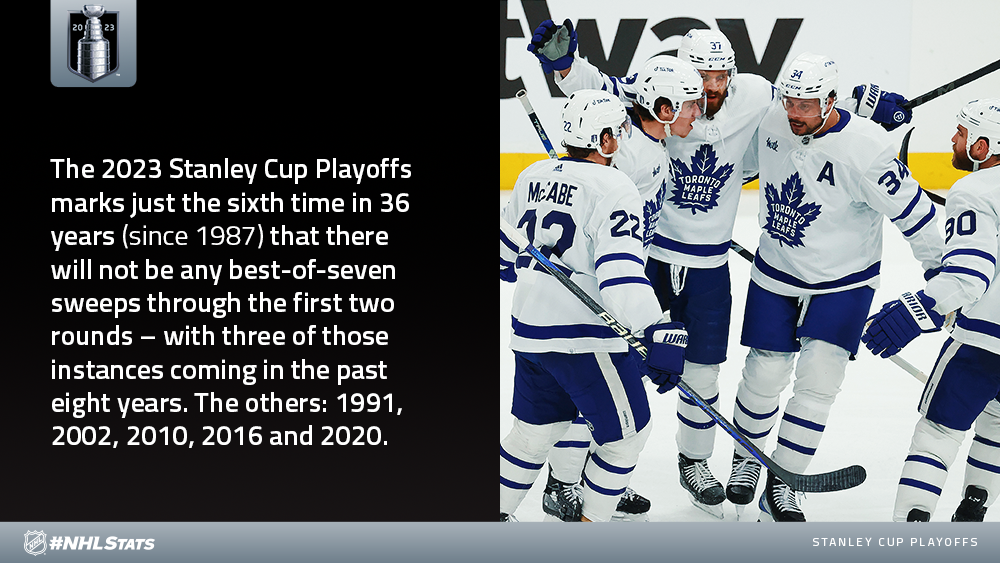 McDAVID, DRAISAITL, BOUCHARD KEEP RACKING UP THE POINTS AS OILERS EVEN SERIES
Connor McDavid (0-2—2), Evan Bouchard (1-0—1) and Leon Draisaitl (0-1—1) each found the score sheet in the first period as the Oilers piled on three goals in the opening frame and never looked back while Stuart Skinner (25 saves) tied a rookie franchise record with his fifth win of the postseason to help Edmonton even its Second Round series at two games apiece.

* Bouchard improved his power-play totals in the 2023 Stanley Cup Playoffs to 4-9—13 – tied for the seventh most by a defenseman in a single postseason. The only blueliners with more are Al MacInnis (23 in 1989), Ray Bourque (17 in 1991), Denis Potvin (15 in 1981), Dave Ellett (14 in 1994), Brian Leetch (14 in 1994) and Dmitri Mironov (14 in 1994).

* Draisaitl (13-5—18) and McDavid (5-12—17) currently sit first and second in points, respectively, in the 2023 Stanley Cup Playoffs and have now both collected 50 playoff points dating to 2022 (McDavid: 15-35—50 & Draisaitl: 20-30—50). They became the fifth and sixth active players to reach the mark across two postseasons, joining Nikita Kucherov (2x; from 2021 – 2022 & 2020 – 2021), Sidney Crosby (2x; from 2009 – 2010 & 2008 – 2009), Brayden Point (2020 – 2021) and Evgeni Malkin (2008 – 2009).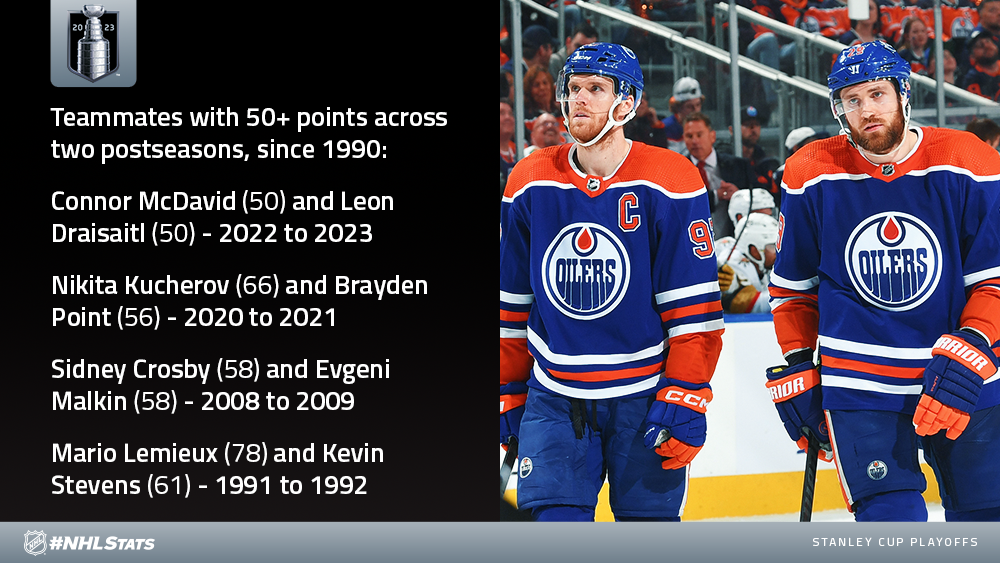 KARLSSON, MCDAVID, PASTRNAK NAMED 2022-23 TED LINDSAY AWARD FINALISTS
The NHLPA announced Sharks defenseman Erik Karlsson, Oilers captain Connor McDavid and Bruins forward David Pastrnak as the finalists for the 2022-23 Ted Lindsay Award, presented annually "to the most outstanding player in the NHL," as voted by fellow members of the NHLPA.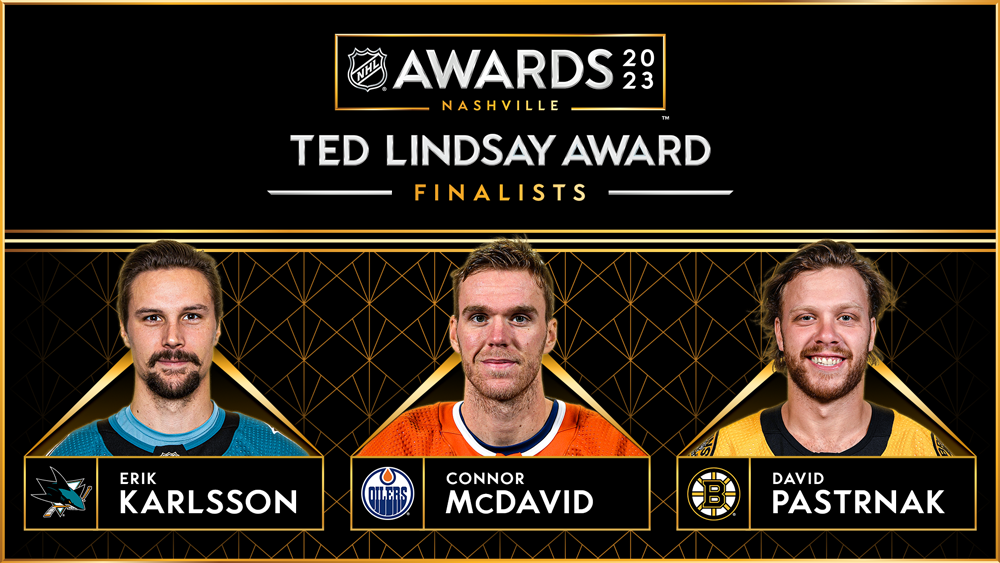 QUICK CLICKS

*Brendan Smith presence helping young Devils through Stanley Cup Playoff run
* Predators hand out pizza at local school for Teacher Appreciation Week
* Kraken hoping healthy Jared McCann can regain form in Game 5 of West 2nd Round
*Cale Makar sits with John Calipari, Devon Toews at Nuggets game
* Jordan Eberle greets daughter during warmups before Game 4
TRIO OF VETERANS CONTINUE CHASE FOR FIRST STANLEY CUP
Ryan Suter (1,362 GP), Brent Burns (1,333 GP) and Joe Pavelski (1,250 GP) are set to take to the ice for their respective Game 5s when the Hurricanes and Stars return home; Carolina can advance to the Conference Finals for the second time in five years while Dallas eyes a 3-2 series edge. Suter, Burns and Pavelski sit within the top-three in regular-season games played among active players in search of their first Stanley Cup.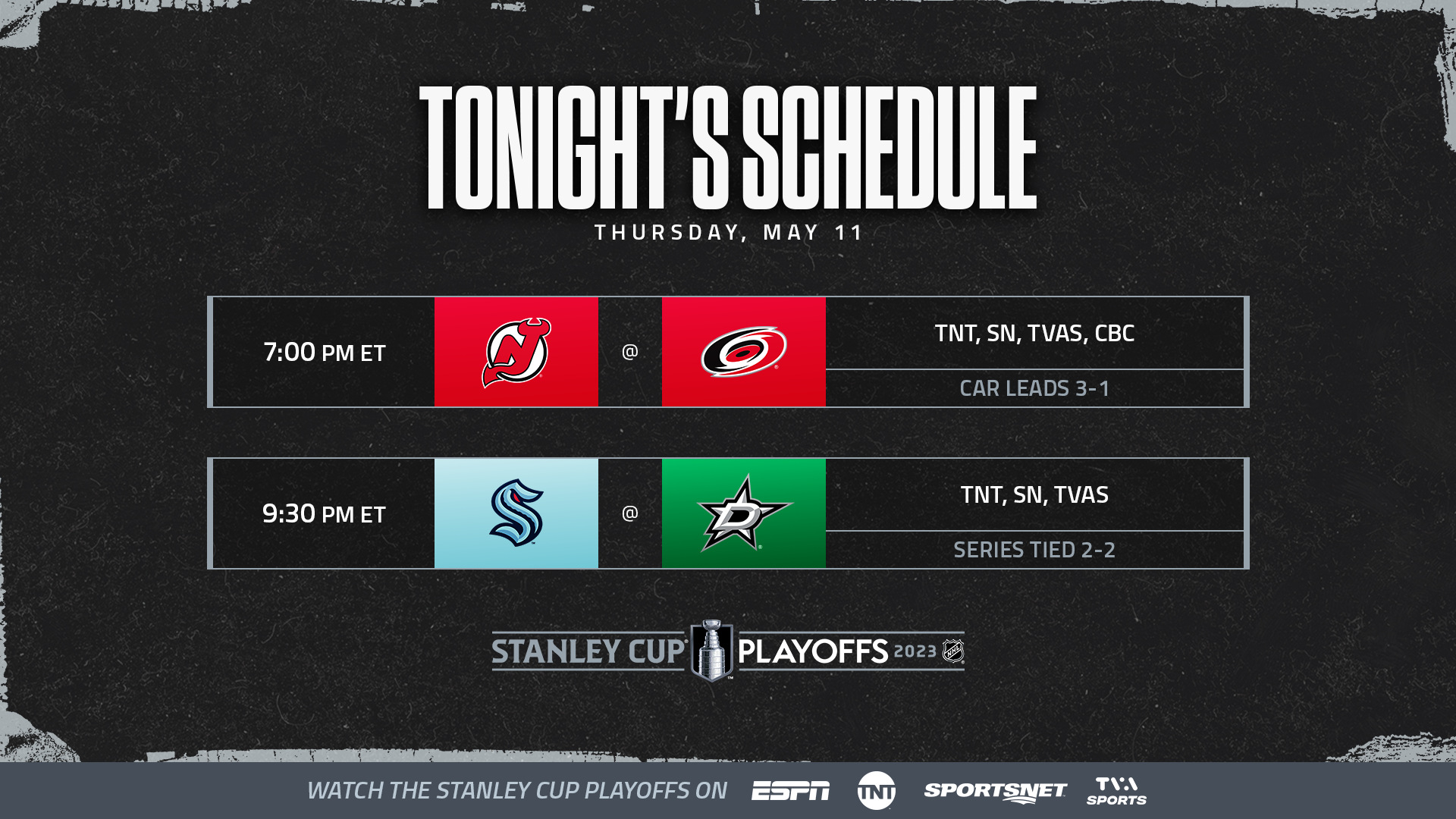 * Carolina and Dallas (both w/ 37) both trail only Edmonton (39) for the most goals among all teams in the 2023 Stanley Cup Playoffs, with the former having scored at least five times in four contests this postseason and in both home games against New Jersey in the Second Round. With another high-scoring performance, the Hurricanes can register five or more outings of at least five goals in a single playoff year for the first time in franchise history; three teams accomplished the feat in 2022 (COL: 8 GP, EDM: 8 GP & NYR: 6 GP).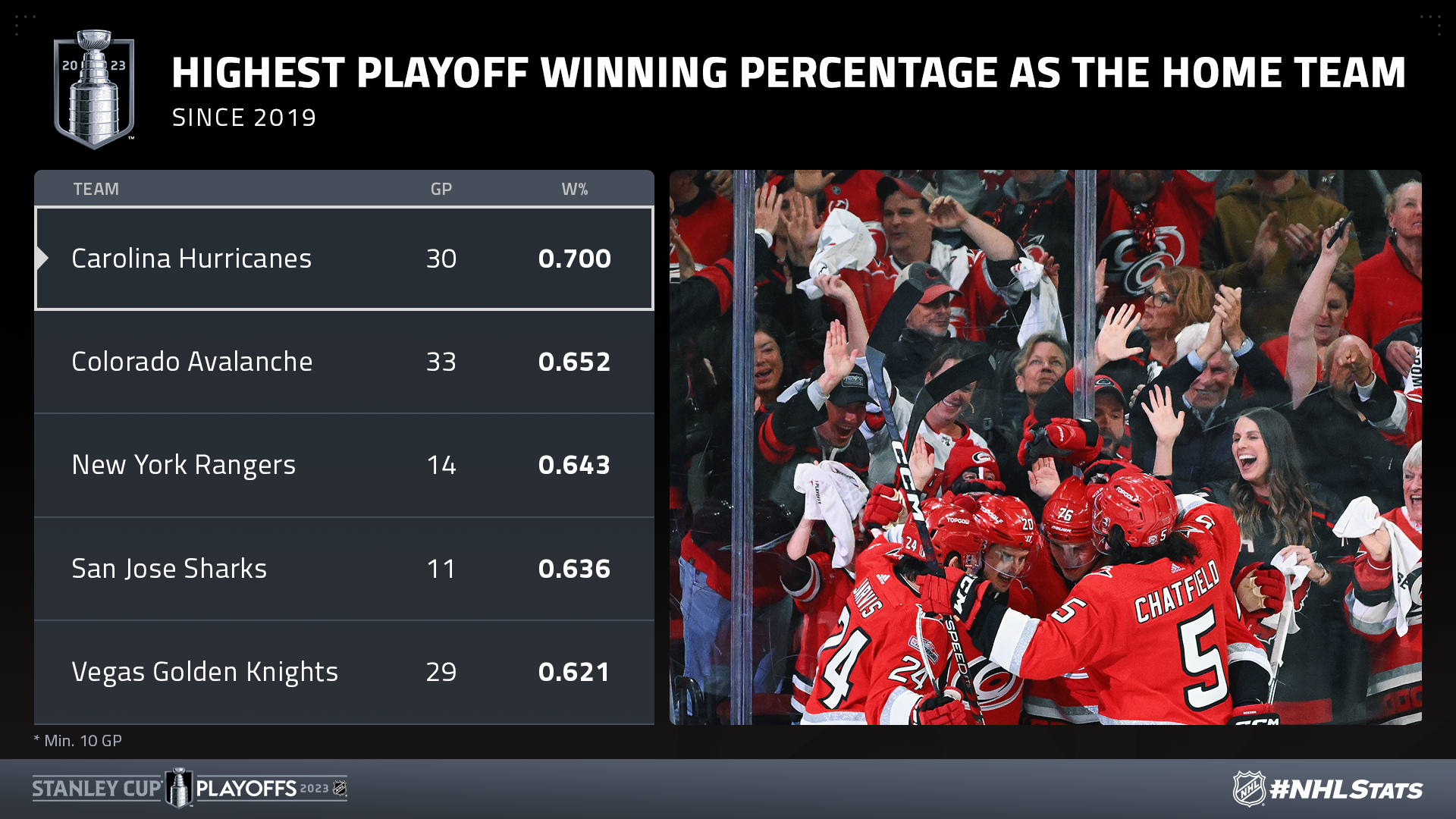 * Captain Jamie Benn (2-7—9 in 10 GP) has been a regular contributor for the Stars during the 2023 Stanley Cup Playoffs, with his nine points trailing only Roope Hintz (6-9—15) and Max Domi (3-7—10). Benn, who collected 8-11—19 during the team's Stanley Cup run in 2020, can become the third player in franchise history to collect a double-digit total in a single postseason four times (also 15 in 2016 & 10 in 2019) joining Mike Modano (7x; last:12 in 2008) and Bobby Smith (4x; last: 16 in 1991).