* Jordan Martinook manufactured a fourth straight multi-point game to help the Hurricanes take a 3-1 series lead and move past Leon Draisaitl for the most points among all players in the Second Round.

* Joe Pavelski picked up the game-winning goal to climb several all-time NHL lists and help the Stars even their Second Round series with the Kraken.

* Wednesday's slate features two more Second Round Game 4s, with the Panthers looking to sweep the Maple Leafs and reach the Conference Finals for the first time in 27 years.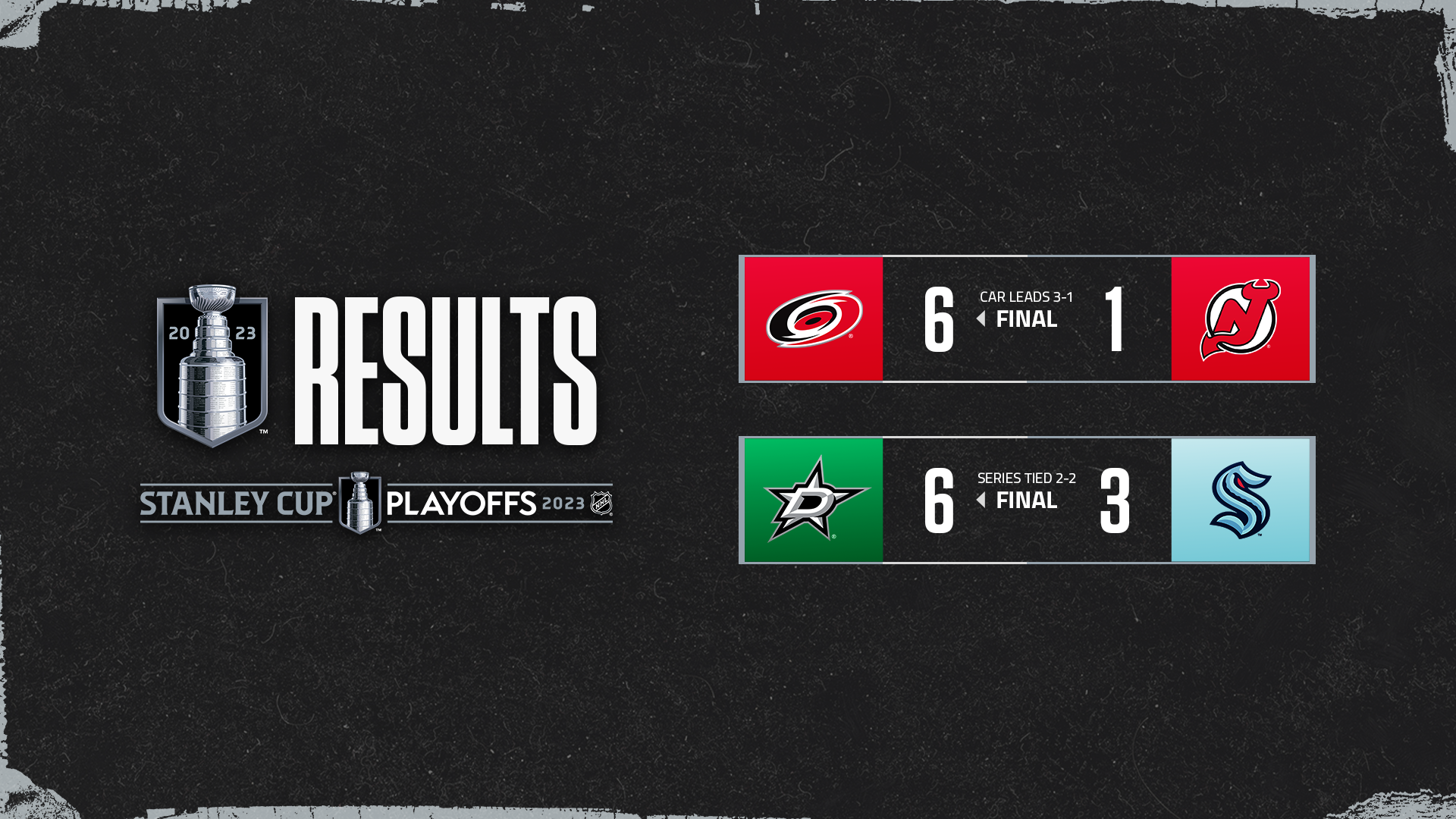 MARTINOOK FACTORS ON THREE OF CANES' SIX UNANSWERED GOALS IN GAME 4 WIN
Jordan Martinook had two assists and scored the last of Carolina's six unanswered goals as the Hurricanes rebounded from an 8-4 loss in Game 3 to take a 3-1 lead in their Second Round series. Martinook has amassed 3-6—9 through four contests against New Jersey after recording zero points in Carolina's First Round series.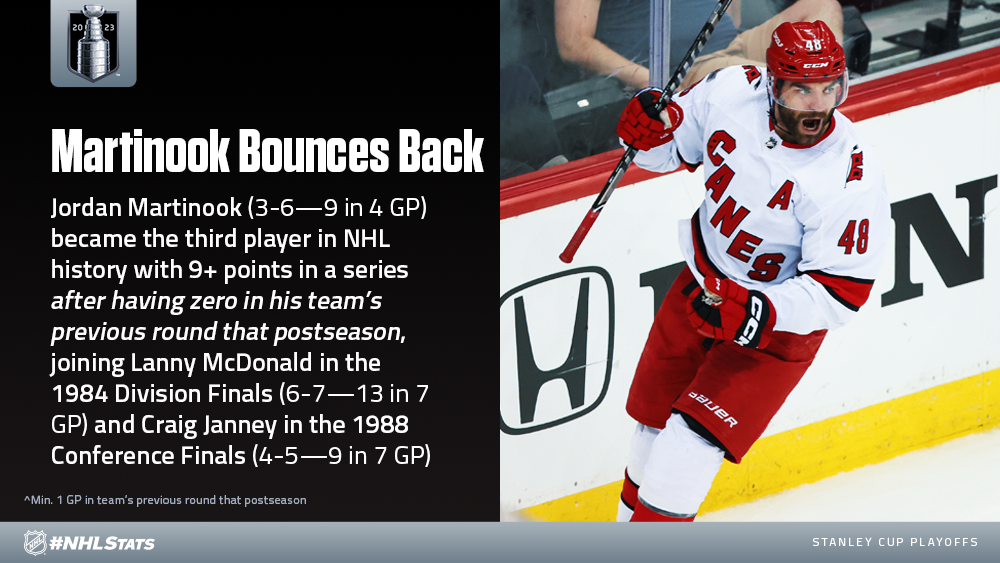 * Martinook became the first player in Hurricanes/Whalers franchise history with four straight multi-point performances in a postseason, eclipsing three-game runs by Sebastian Aho in 2020 and Bates Battaglia in 2002. Martinook needs one point to match the club record for most in a single series, a mark set by Battaglia in the 2002 Conference Semifinals (4-6—10 in 6 GP) and equaled by Cory Stillman in the 2006 Conference Finals (3-7—10 in 7 GP).

* Martin Necas (2-0—2), Brent Burns (1-1—2), Brett Pesce (1-1—2) and Jordan Staal (0-2—2) also had multiple points for Carolina, which moved within one win of its fifth Conference Finals berth in franchise history (also 2019, 2009, 2006 & 2002). Burns became the sixth different Hurricanes/Whalers player with a playoff goal at age 38 or older, following forwards Mark Recchi (7), Ron Francis (6), Rod Brind'Amour (1), Gordie Howe (1) and Justin Williams (1).

PAVELSKI CLIMBS ALL-TIME NHL LISTS AS STARS EVEN SECOND ROUND SERIES
Joe Pavelski pocketed a power-play goal to record his sixth tally of the Second Round and help Dallas defeat Seattle in Game 4.

* Pavelski (70-62—132 in 173 GP) tied Steve Yzerman (70-115—185 in 196 GP) for 19th place on the NHL's all-time postseason goals list while also passing Yzerman, Brian Propp and Joe Sakic (all w/ 27) to move into a share of the seventh most power-play markers in Stanley Cup Playoffs history. Pavelski's 16th career game-winning goal in the postseason put him ahead of Yvan Cournoyer, Jean Beliveau and Mike Modano (all w/ 15) and into a tie with Patrick Marleau and Jaromir Jagr for ninth place on the League's all-time list.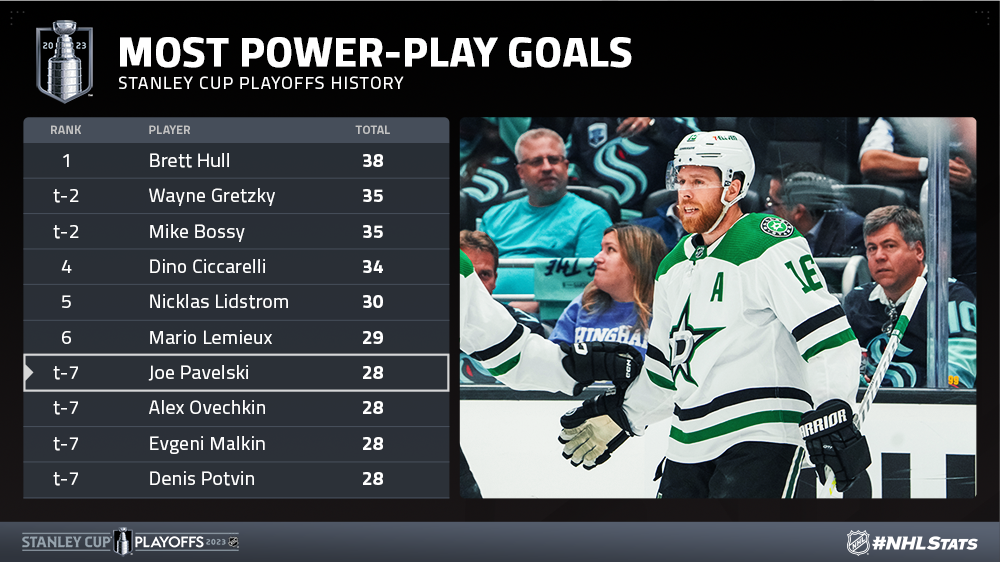 * Max Domi (3-7—10 in 10 GP) had 2-1—3 on Tuesday to reach 10 points through his first 10 playoff games with Dallas. He became the fifth player in Stars team history (since 1993-94) to record 10 points through his first 10 postseason contests with Dallas, joining Jamie Benn (6-5—11 in 10 GP), Jason Spezza (4-7—11 in 10 GP), Brad Richards (2-8—10 in 10 GP) and Mike Ribeiro (1-9—10 in 10 GP).

* Benn (1-1—2), Thomas Harley (1-1—2), Roope Hintz (1-1—2) and Evgenii Dadonov (0-2—2) also had multiple points. Harley (21 years, 263 days) became the sixth-youngest defenseman in franchise history at the time of his first career playoff goal, behind Miro Heiskanen (19 years, 266 days in Game 1 of 2019 R1), Craig Hartsburg (20 years, 285 days in Game 2 of 1980 PRLM), Richard Matvichuk (21 years, 86 days in Game 1 of 1994 CSF), Curt Giles (21 years, 130 days in Game 1 of 1980 PRLM) and Barry Gibbs (21 years, 200 days in Game 6 of 1970 QF).

MASTERTON TROPHY FINALISTS, KING CLANCY TROPHY NOMINEES ANNOUNCED
The NHL resumed the unveiling of finalists for the 2023 NHL Awards and also announced each team's nominee for the King Clancy Memorial Trophy on Tuesday. Finalists for each of nine individual NHL Awards will be announced by Canada and U.S. national broadcast rightsholders ESPN, TNT, Sportsnet and TVA Sports during their Stanley Cup Playoffs coverage through Friday, May 12, with the three for the Ted Lindsay Award set to be revealed Wednesday.

* Coyotes forward Clayton Keller, Penguins defenseman Kris Letang and Blackhawks goaltender Alex Stalock are the three finalists for the 2022-23 Bill Masterton Memorial Trophy, which is awarded "to the player who best exemplifies the qualities of perseverance, sportsmanship and dedication to hockey." Click here to read more.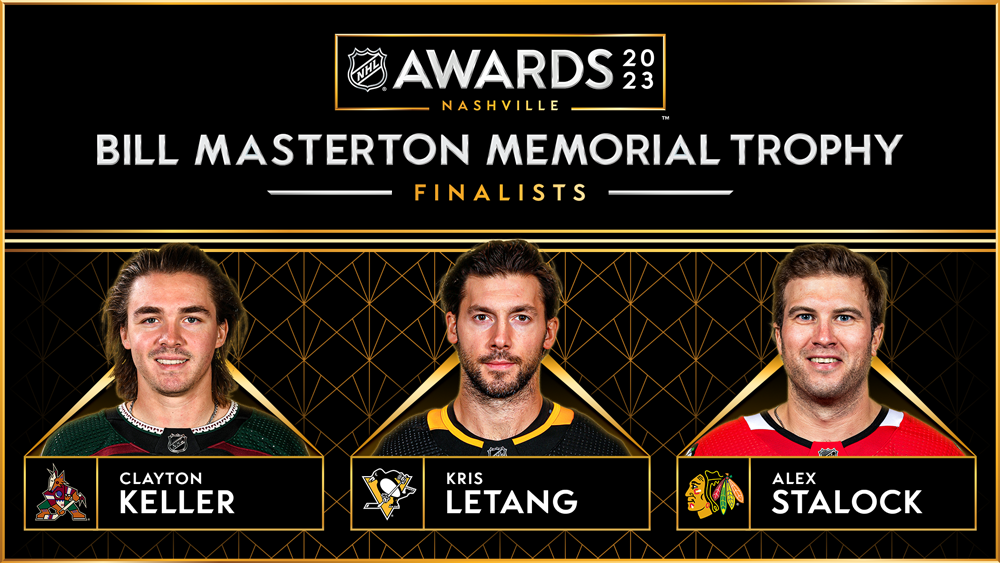 * The NHL announced the 32 team nominees for the 2022-23 King Clancy Memorial Trophy, which is presented "to the player who best exemplifies leadership qualities on and off the ice and has made a noteworthy humanitarian contribution in his community." Click here to read more.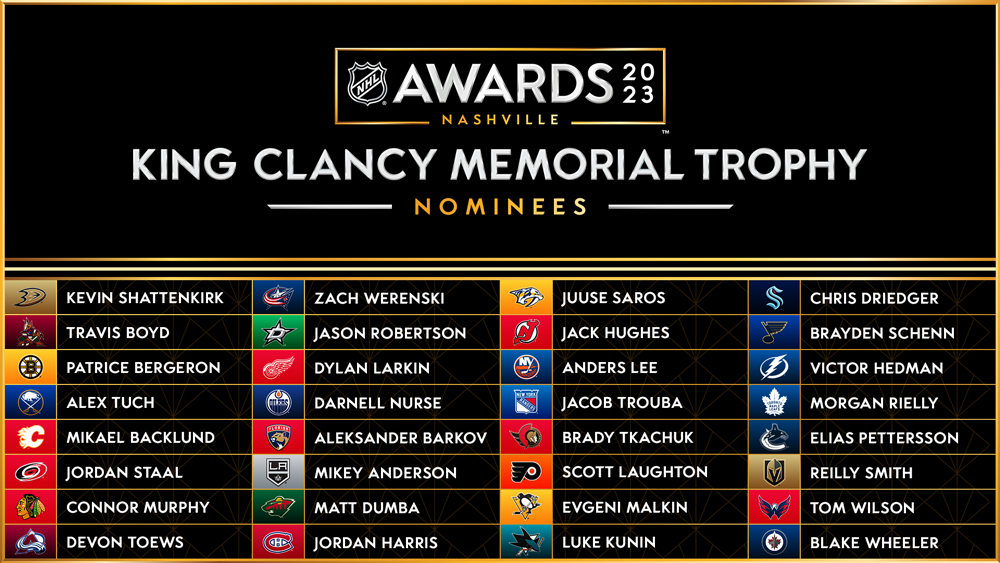 'QUEST FOR THE STANLEY CUP' TO PREMIERE MAY 12
The NHL and ESPN+ Originals have teamed up again for 'Quest For The Stanley Cup,' the groundbreaking behind-the-scenes documentary series chronicling the remaining eight teams competing in the 2023 Stanley Cup Playoffs and vying for the chance to hoist the Stanley Cup. The seven-episode series will drop weekly on Friday nights at 5 p.m. ET starting May 12, streaming exclusively on ESPN+ in the U.S. and at YouTube.com/NHL in Canada and abroad, with re-airs on ESPN2. Find the full details here and the trailer here.
QUICK CLICKS

* #NHLStats: Live Updates for Tuesday, May 9
* NHL announces start times for Stanley Cup Playoff games on May 13
* 2023 NHL Draft Lottery on ESPN was most-watched standalone NHL Draft Lottery presentation
* Yvan Cournoyer reflects on 50th anniversary of 1973 Cup title with Canadiens
* CHEL Intel: European Championship Review — Issue No. 14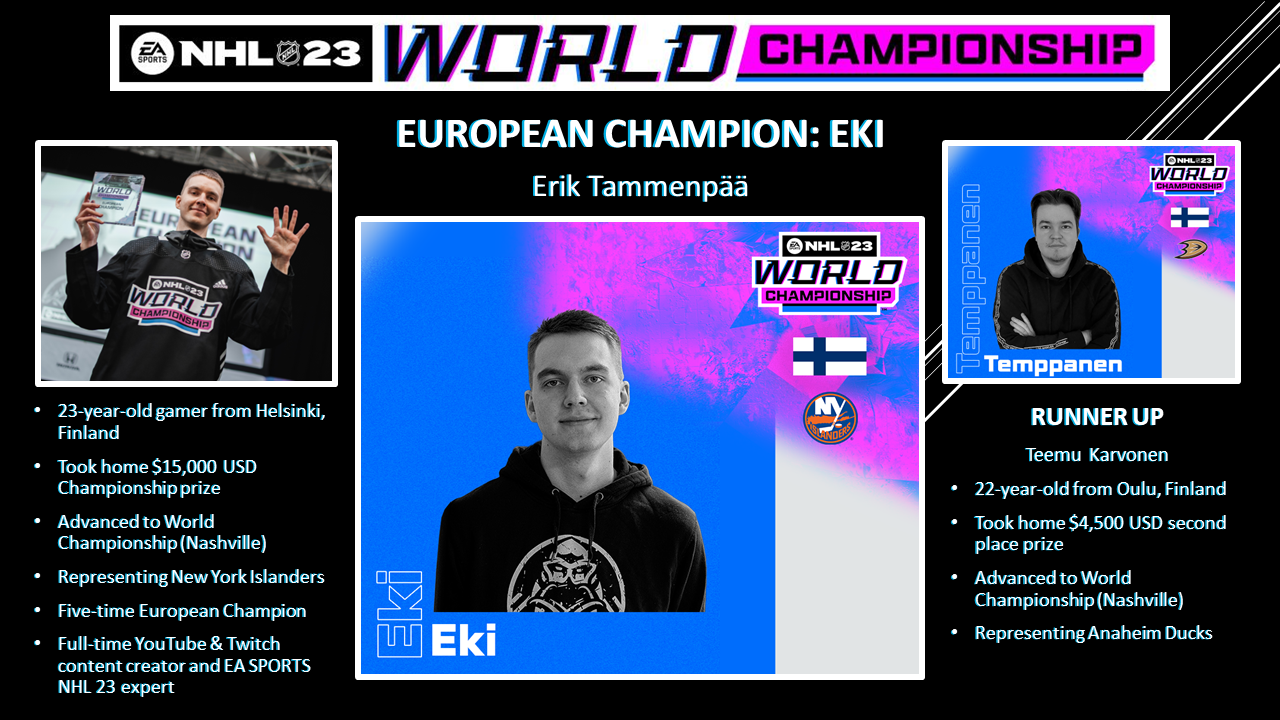 CANADIAN CLUBS LOOK TO CLIMB BACK INTO CONTENTION WEDNESDAY
The Maple Leafs and Oilers currently trail their Second Round series and look to capture crucial Game 4 victories against the Panthers and Golden Knights, respectively, while Florida aims to record its seventh straight win and reach the Conference Finals for the second time in franchise history (also 1996).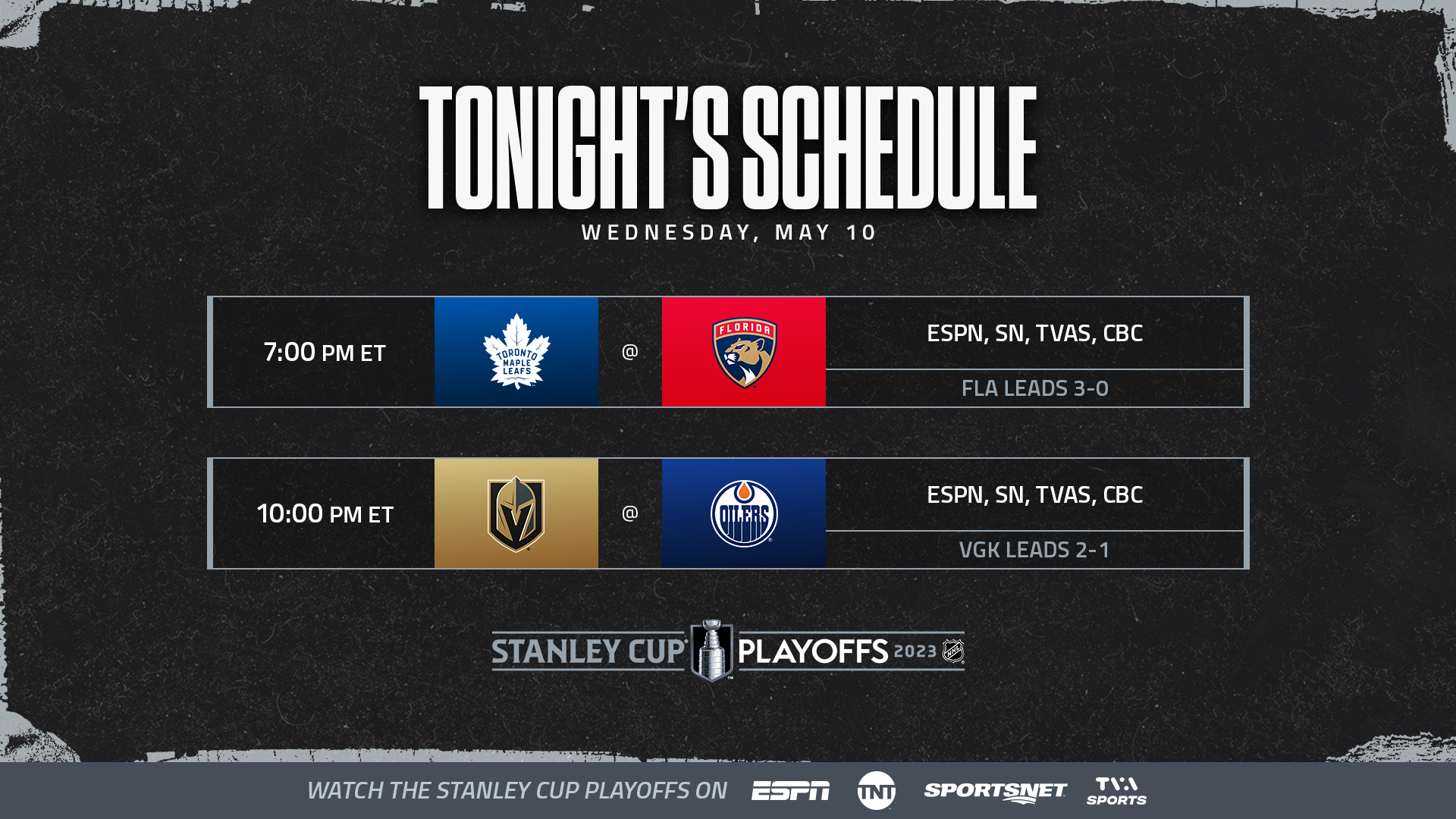 * Toronto is one of the four franchises in NHL history to win a playoff series by overcoming a 3-0 deficit, after recording the first-ever instance against Detroit during the 1942 Stanley Cup Final. The Islanders (1975 QF vs. PIT), Flyers (2010 CSF vs. BOS) and Kings (2014 R1 vs. SJS) all followed suit, with Philadelphia and Los Angeles going on to reach the League's championship series.

* The Panthers are one win away from sweeping the 50-win Maple Leafs after rallying from a 3-1 series deficit to eliminate the 65-win Bruins in the First Round. Florida can become the fourth team in the NHL's expansion era (since 1967-68) to sweep a best-of-seven series at any point in a postseason after entering the playoffs as the League's lowest-seeded team – the Panthers would join the Canadiens (2021 R2 vs. WPG), Predators (2017 R1 vs. CHI) and Blues (1993 DSF vs. CHI).

* Individuals in the Panthers-Maple Leafs series were involved in each of the three previous instances where the NHL's lowest-seeded team completed a best-of-seven sweep. Florida forward Eric Staal can achieve the feat for the second time in three postseasons after helping Montreal do so in the 2021 Second Round – the others are Toronto teammates Erik Gustafsson (2021 R2 w/ MTL) and Calle Jarnkrok (2017 R1 w/ NSH) as well as Maple Leafs president and alternate governor Brendan Shanahan (1993 DSF w/ STL).

* Vegas and Edmonton have combined for 22 goals through three contests, with the Golden Knights getting a 6-4 win in Game 1 as well as a 5-1 victory in Game 3 and the Oilers earning a 5-1 triumph in Game 2. Should this pattern continue, Vegas and Edmonton would join the Second Round between Carolina and New Jersey as the second series this postseason to feature at least one team scoring five or more goals in each of the first four games.

* Connor McDavid returns to the ice for Game 4 after being held off the score sheet in the 2023 Stanley Cup Playoffs for just the second time and ninth time overall in 2022-23. McDavid (69-99—168 in 91 GP) sits two points away from becoming the fifth different player in NHL history with 170 in a regular season and playoffs combined, a feat only Wayne Gretzky (10x; last: 1990-91), Mario Lemieux (3x; last: 1995-96), Mike Bossy (1981-82) and Jaromir Jagr (1995-96) have accomplished to date.