THREE HARD LAPS
* The Islanders stifled the Lightning in Game 1 of their Semifinals matchup, rewriting a different outcome than their series-opening contest during the 2020 Conference Finals.
* Ryan Pulock leads all defensemen with four goals during the Stanley Cup Playoffs, three of which have stood as the game winner for New York.
* The Golden Knights and Canadiens are set to begin their Semifinals series tonight with a couple of decorated goaltenders at the helm.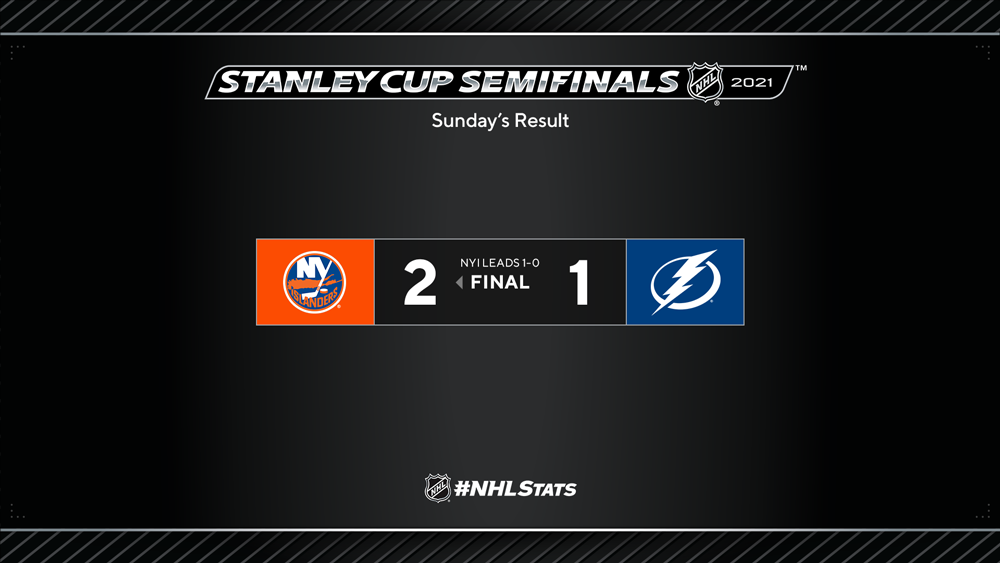 ISLANDERS TURN TABLES WITH VICTORY IN GAME 1 REMATCH
After losing 8-2 in the opening game of the 2020 Eastern Conference Final against the Lightning, Semyon Varlamov and the Islanders held the defending champions off the scoreboard until the final minute of play en route to a Game 1 victory in the Stanley Cup Semifinals. Mathew Barzal and Ryan Pulock provided the offense for New York, which won the 33rd one-goal game of the 2021 postseason.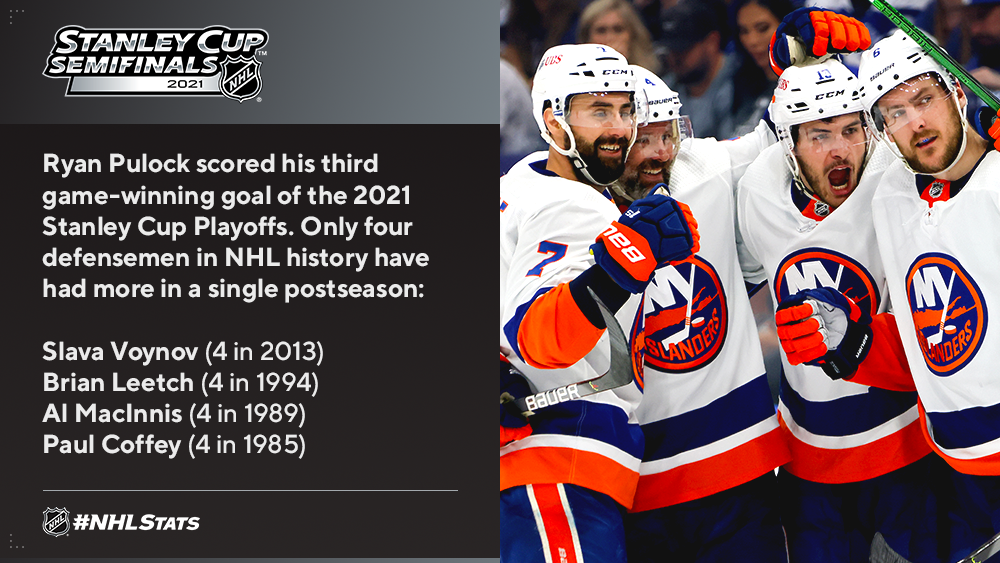 * Pulock, whose four goals in the 2021 Stanley Cup Playoffs are the most by an Islanders defenseman since Ken Morrow (5) and Denis Potvin (8) in 1983, recorded New York's sixth goal by a blueliner this postseason – tied with Vegas and Carolina for the most among all teams.
* Sunday's contest marked the Islanders' fifth victory of the postseason by a one-goal margin, tied with Montreal for the most among all teams. The only playoff years in which the franchise had more such victories are 1980 (6) and 1993 (6).
* Varlamov has allowed one or fewer goals in two of his last four outings and joined rookie teammate Ilya Sorokin as the second Islanders goaltender to record a four-game win streak this postseason.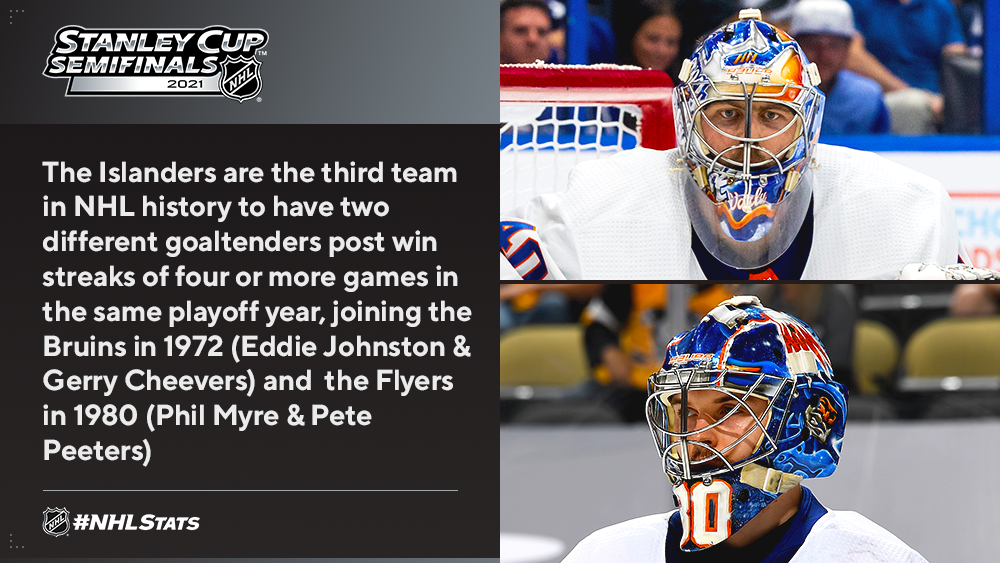 DECORATED NETMINDERS SET TO CLASH AS STANLEY CUP SEMIFINALS CONTINUE
Marc-Andre Fleury, a three-time Stanley Cup champion and 2020-21 Vezina Trophy finalist, is expected to lead the Golden Knights against Carey Price, a Hart Memorial Trophy, Vezina Trophy and Ted Lindsay Award winner, and the Canadiens tonight for Game 1 at T-Mobile Arena. Each goaltender also has a William M. Jennings Trophy to his name, with Fleury winning this season (with Robin Lehner) and Price claiming it in 2014-15. Montreal will be the first Canadian team to play as visitors in a game contested in the United States in 460 days.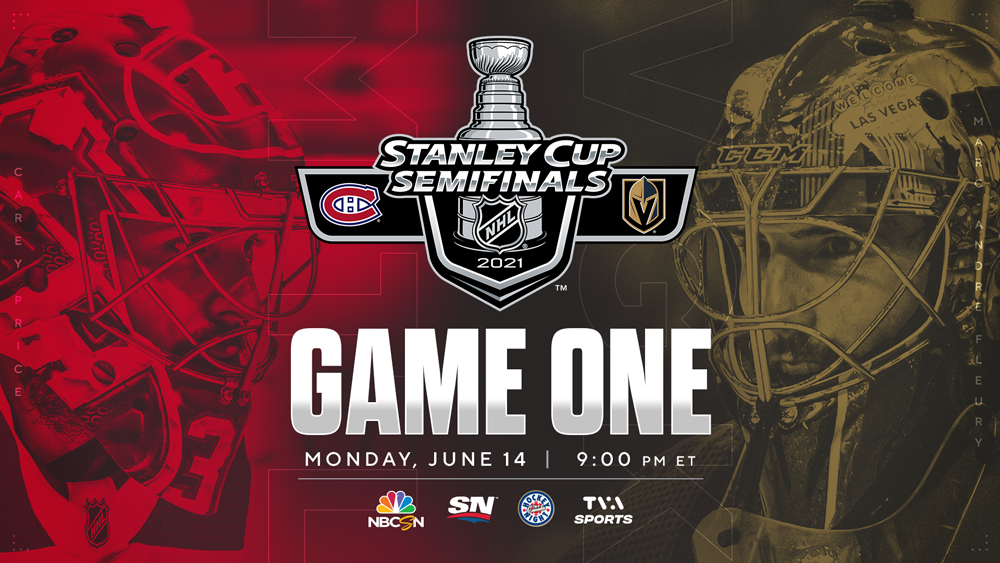 * Fleury and Price have never started against each other in the Stanley Cup Playoffs. Their only head-to-head meeting in the postseason came in Game 1 of the 2010 Conference Semifinals when Price entered for 14:06 of relief action (3 saves on 3 shots) in place of Jaroslav Halak. In 27 all-time meetings during the regular season, Fleury also holds the edge (15-8-3, 2.57 GAA, .912 SV% & 1 SO; Price: 12-11-3, 2.91 GAA, .909 SV% & 1 SO).
* The Golden Knights netminder and native of Sorel, Que., with victories in each of his last four games, holds an all-time postseason record of 3-4 against the Canadiens (2.82 GAA, .892 SV%, 1 SO w/ PIT). He trails Mario Gosselin (7-6), Dan Bouchard (5-6), Martin Biron (4-1), Gilles Meloche (4-3) Rejean Lemelin (4-2) and Martin Brodeur (4-1) for the most wins among Quebec-born goaltenders against Montreal in Stanley Cup Playoffs history.
* Price enters the final four with a seven-game win streak dating to Game 5 of the First Round. With a series-opening victory, the native of Anahim Lake, B.C., can tie Jacques Plante (8 GP in 1960) and Bill Durnan (8 GP in 1944) for the third-longest playoff run in Canadiens history – behind only Patrick Roy (11 GP in 1993) and Ken Dryden (9 GP in 1978).
2018 TRADE COMES FULL CIRCLE
On Sept. 10, 2018, the Golden Knights sent Nick Suzuki to the Canadiens as part of a trade that saw then-captain Max Pacioretty move from Montreal to Las Vegas. Tonight, 21-year-old Suzuki and 32-year-old Pacioretty – who each have 4-4—8 this postseason – are set to step onto the ice to battle for a berth into the 2021 Stanley Cup Final.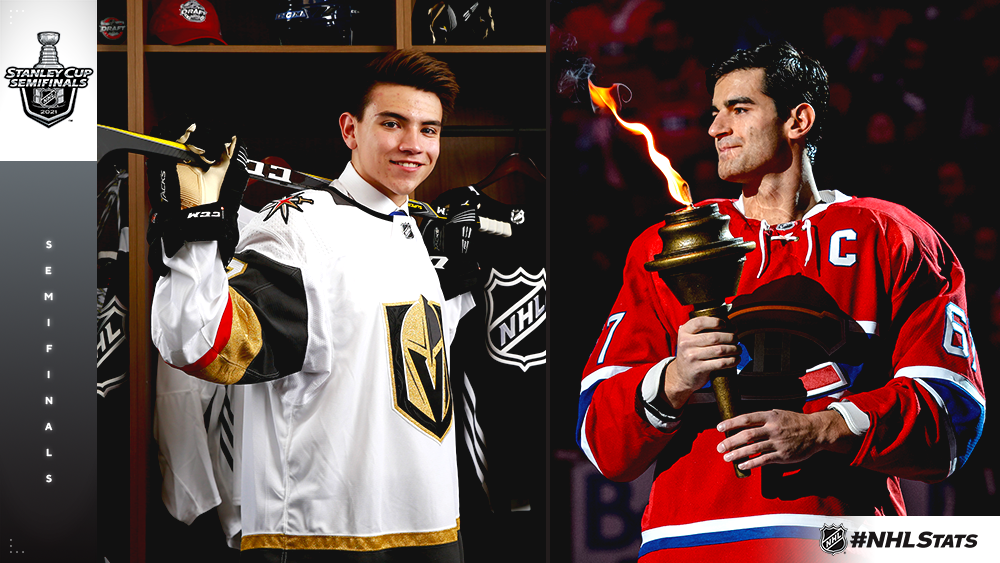 * Pacioretty (4-4—8 in 7 GP), who captained Montreal from 2015-16 to 2017-18, is set to become the second player in NHL history to serve as a full-time captain of the Canadiens and then face the club in the Stanley Cup Playoffs. Doug Harvey matched up against Montreal in the 1968 Stanley Cup Final with St. Louis after wearing the "C" with his former club in 1960-61.
* Suzuki (4-4—8 in 11 GP), who assisted on each of Montreal's two series-clinching goals this postseason, was the Golden Knights' first-round pick in the 2017 NHL Draft (No. 13). Suzuki has accounted for eight of 16 combined points by Canadiens players aged 21 or younger in the 2021 Stanley Cup Playoffs (also Jesperi Kotkaniemi: 4-0—4 & Cole Caufield: 0-4—4) – tied for the fourth-highest combined total in a single postseason in franchise history. The others: 1987 (38 points), 1986 (21 points), 1973 (19 points) and 1991 (16 points).