* The Flyers had "the luck of the Irish" on St. Patrick's Day as Owen Tippett recorded his first NHL hat trick and Carter Hart became the fourth-youngest active goaltender at the time of their 80th career win (min. 1 GP in 2022-23) behind Andrei Vasilevskiy, Marc-Andre Fleury and John Gibson.

* The Maple Leafs tied their franchise mark for second-fewest games to 90 points in a season (also 68 GP in 1950-51) while skating in St. Pats uniforms.

* Down to the final four Saturdays in the 2022-23 regular season – it's a 13-game slate which will feature 18 teams in a playoff position or within four points of one, while only 15 spots in the 2023 Stanley Cup Playoffs remain.

LUCK OF THE IRISH: ST. HAT TRICK'S DAY FOR TIPPETT, 90-POINT MARK FOR ST. PATS
Owen Tippett and Carter Hart led the Flyers to victory with notable St. Patrick's Day feats as Mitchell Marner helped the Maple Leafs become the fifth team to reach the 90-point mark this season while skating in their St. Pats uniforms.

* Hart (24 years, 216 days) became the fourth active goaltender (min 1. GP in 2022-23) with at least three wins on St. Patrick's Day as well as the youngest netminder in Flyers history to record 80 victories with the club – Ron Hextall (24 years, 229 days) previously held the distinction.

* Tippett scored his first career hat trick and became the second player in Flyers history to record a three-goal performance on St. Patrick's Day after John LeClair did so in 1996.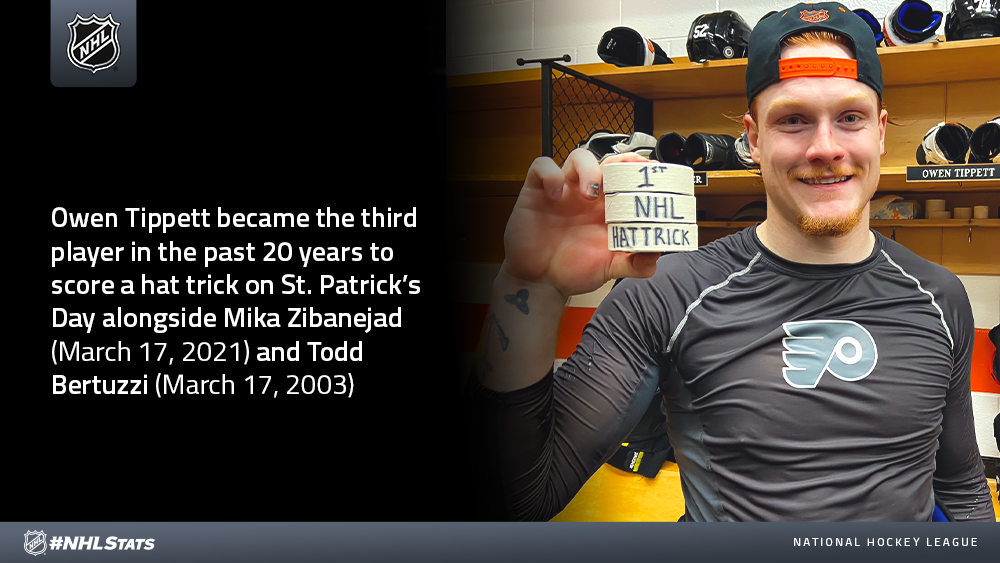 * Marner scored against the Hurricanes on St. Patrick's Day for the second straight year to help Toronto improve to 41-18-9 (91 points) and build a three-point lead over Tampa Bay (41-22-6, 88 points) for second place in the Atlantic Division. The Maple Leafs eclipsed the 90-point mark in 68 contests – one game shy of the franchise's best pace, achieved last season (67 GP in 2021-22).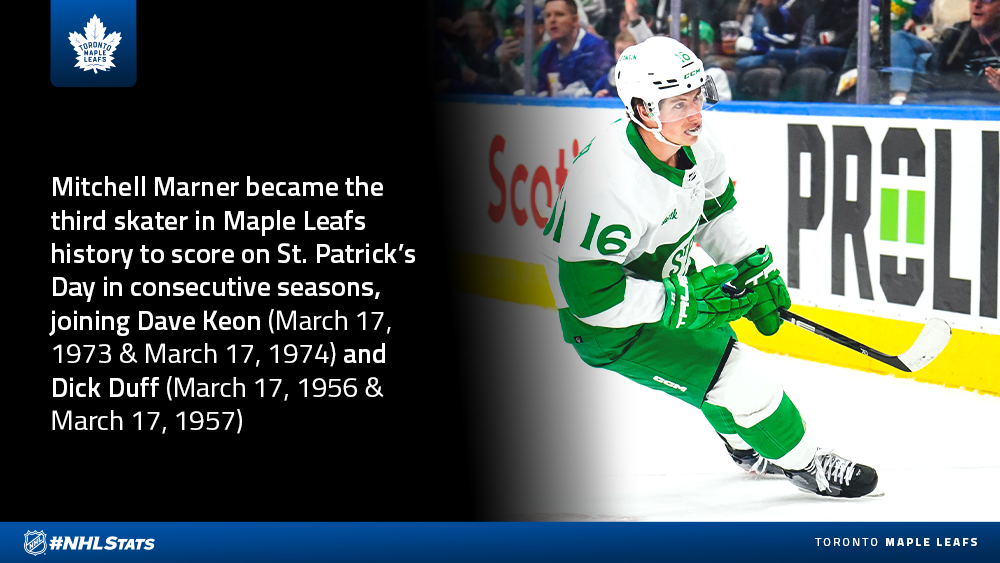 BUCHNEVICH EXTENDS POINT STREAK TO 11 GAMES ON #NHLSTATS: LIVE UPDATES
Pavel Buchnevich (0-1—1) extended his point streak to 11 games (7-12—19) to match Seattle's Vince Dunn for the longest active run in the NHL on Friday's edition of #NHLStats: Live Updates.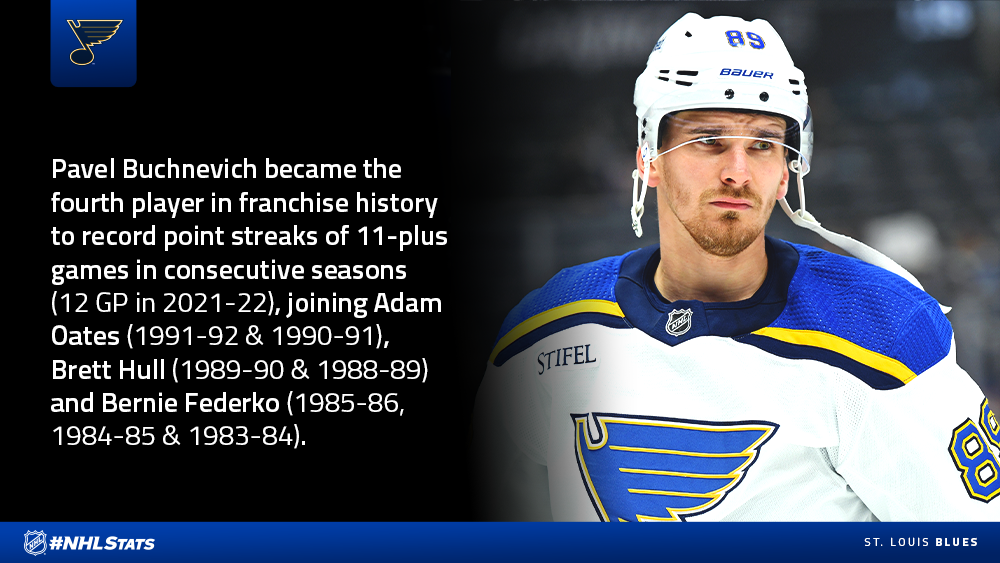 QUICK CLICKS

* District E to host EA SPORTS NHL 23 North American Championship
* St. Patrick's Day has always been eventful in NHL
* Nick Suzuki fined $2,500 for actions in Canadiens game
* NHL GMs say early deals before NHL Trade Deadline could be trend
* Alex Tuch in leading role to help hometown Sabres end 11-year playoff drought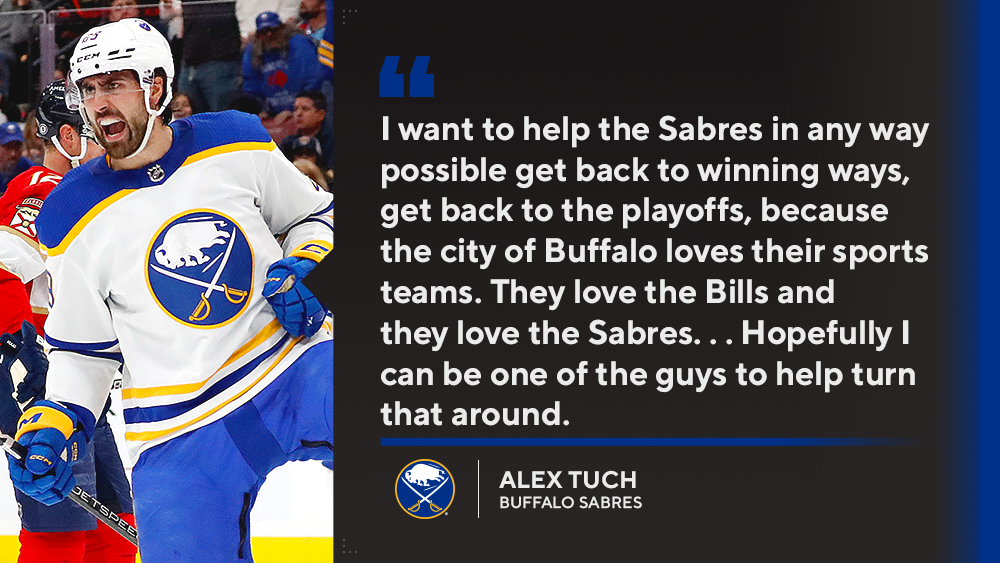 ESPN+ DOUBLEHEADER HEADLINES 13-GAME SATURDAY
With only four Saturdays remaining in the 2022-23 regular season, this one features a showdown between the Metropolitan Division-leading Hurricanes (44-15-8, 96 points) and Flyers (25-32-11, 61 points) on HULU and ESPN+ as well as a second game of back-to-back meetings between the Penguins (34-24-10, 78 points) and Rangers (39-19-10, 88 points) on ABC and ESPN+.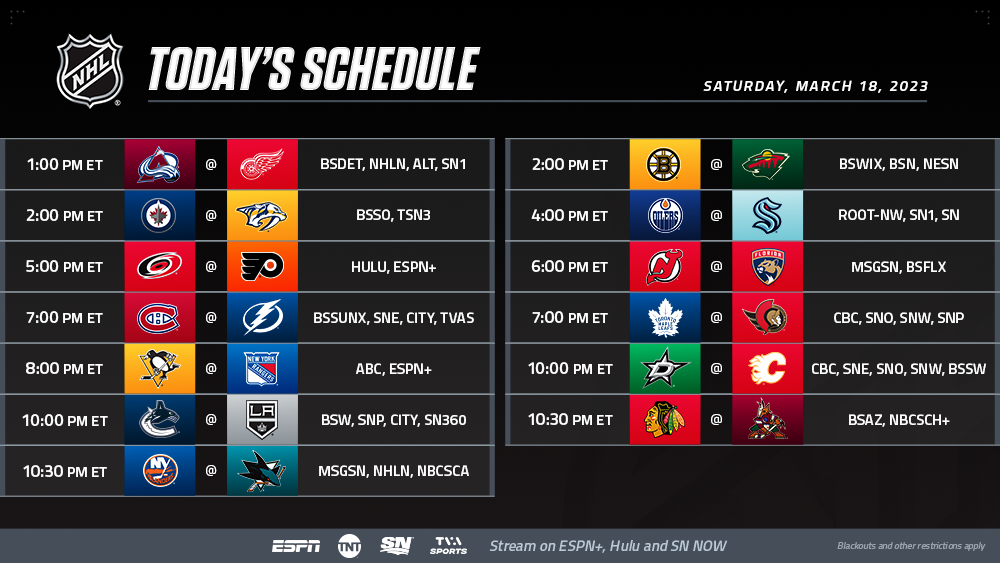 * Captain Sidney Crosby (29-54—83 in 68 GP) has multiple points in every game against the Rangers this season and enters Saturday one goal shy of his 11th career 30-goal campaign (all w/ PIT). Should he do so, Crosby would become the 10th player in NHL history with 11 or more 30-goal seasons with a single franchise; Alex Ovechkin (17 w/ WSH), Gordie Howe (14 w/ DET) and Bobby Hull are the only skaters with more than 11.

* Igor Shesterkin (31-11-7, 2.63 GAA, .910 SV% & 1 SO) is one of four netminders with 30 wins in 2022-23 and will compete in his 150th career game should he get the start for the Rangers on Saturday. He owns a 93-40-14 mark through his first 149 career appearances and can become the seventh goaltender in NHL history with 94-plus victories through his first 150 NHL games.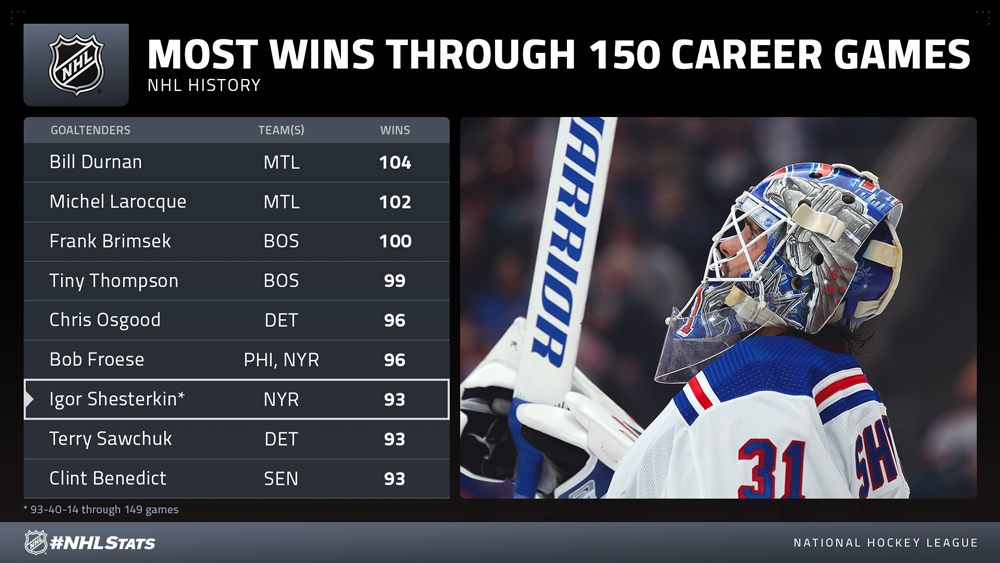 CRUCIAL CLASH IN PACIFIC PITS KRAKEN AGAINST OILERS
The third-seeded Oilers (38-23-8, 84 points) travel to Climate Pledge Arena to battle with the fourth-seeded Kraken (38-23-7, 83 points) as the two clubs continue to jockey for positioning in the Pacific Division. The winner Saturday will conclude the weekend in third place.

* Leon Draisaitl (298-419—717 in 625 GP) has three goals through his past three games and has his sights set on his 300th career tally when he takes to the ice. A seventh multi-goal contest in 2022-23 would make Draisaitl just the fifth active player to reach the milestone prior to his 700th career game joining Alex Ovechkin (473 GP), Steven Stamkos (550 GP), Sidney Crosby (622 GP) and Evgeni Malkin (653 GP).

* The Kraken continue to rebound from their inaugural campaign after concluding the 2021-22 season with 27 wins and 60 points. A victory against Edmonton would make Seattle the fourth team in NHL history to produce a 25-point improvement from their first-ever season to their second; the Islanders (26; 30 in 1972-73 & 56 in 1973-74), Bruins (26; 12 in 1924-25 & 38 in 1925-26) and Maroons (25; 20 in 1924-25 & 45 in 1925-26) all did so.

CLUBS LOOK TO CONTINUE RECENT STREAKING SUCCESS
The Wild (39-21-8, 86 points), with an active 14-game point streak (11-0-3) and Kings (40-20-9, 89 points), who are 8-0-1 in their past nine home games, look to continue their climbs up the standings when the puck drops for the Saturday slate.

* Minnesota has already established the longest point streak in franchise history and has the opportunity to overtake Dallas (37-19-13, 87 points), also in action, for top spot in the Central Division – a position they have yet to hold in 2022-23. The Wild can join the Hurricanes (17 GP from Nov. 25 – Jan. 1, 2023) and Maple Leafs (15 GP from Nov. 12 – Dec. 13, 2022) as the third team with a 15-game point streak in this season.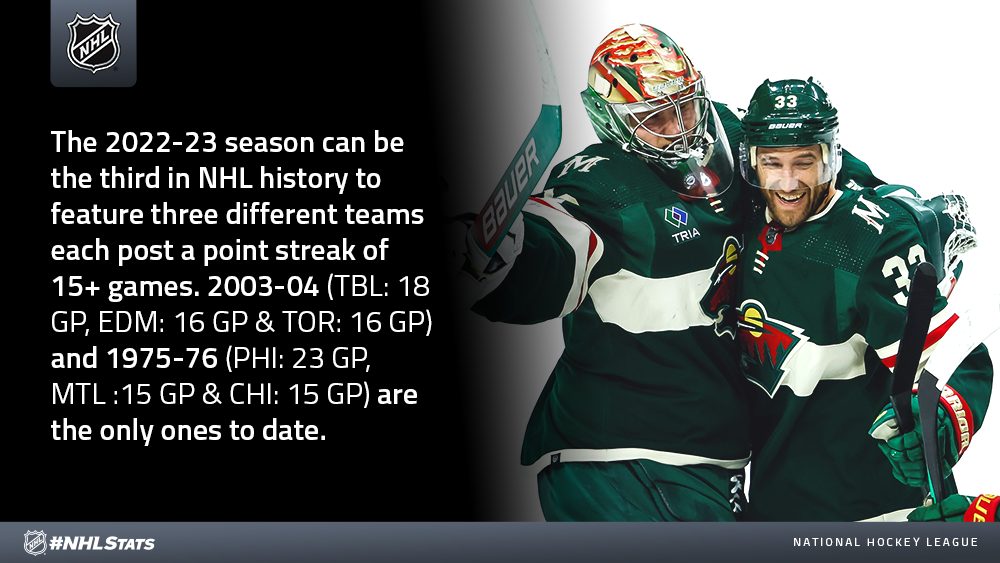 * The Kings have an opportunity to overtake the idle Golden Knights (42-21-6, 90 points) for first place in the Pacific Division – a position they've only held on Jan. 27. Los Angeles can register a double-digit home point streak for the sixth time in franchise history and first since an 11-game run from March 4 to April 14, 2002 (9-0-2).