* Sidney Crosby surpassed a fellow franchise legend with his 13th 70-point season as the Penguins recorded a six-goal second period en route to victory.
* Dylan Cozens netted the first three-goal performance of his NHL career while Kirill Kaprizov became the fifth player in League history to complete a natural hat trick in overtime.
* Connor McDavid and Leon Draisaitl are set to put goal streaks on the line when the Oilers face off against the League-leading Bruins on Monday.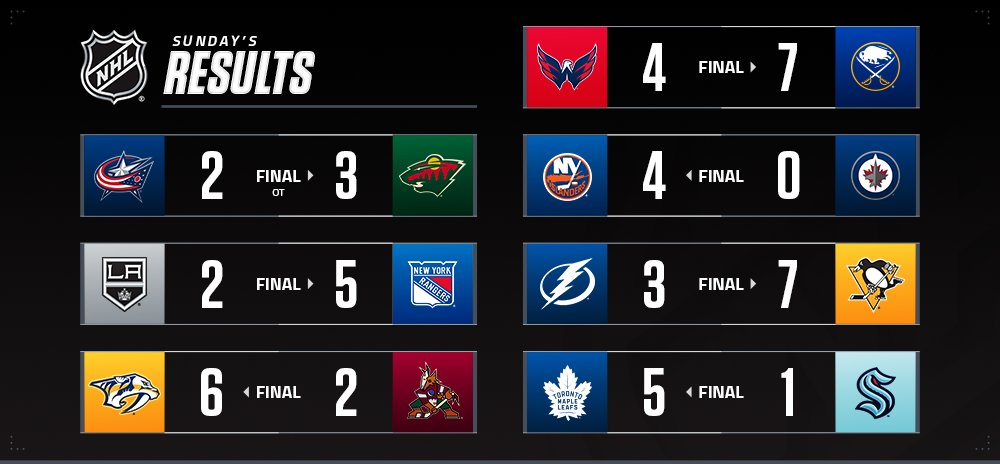 PENGUINS POT SEVEN THANKS TO SIX-GOAL SECOND PERIOD
The Penguins were down 2-1 after 20 minutes but scored six straight goals in the second period en route to their 16th comeback win of the season, trailing only the Devils (21) and Maple Leafs (18) for the most in the NHL. Pittsburgh (29-21-9, 67 points) maintained its one-point lead over Buffalo (31-23-4, 66 points) for the final Wild Card spot in the Eastern Conference.

* The Penguins' six second-period goals marked their most in a single frame since Jan. 2, 2022 (6 in P1). Pittsburgh has only scored more goals in a period three times (8 in P2 on Dec. 17, 1991, 7 in P2 on Feb. 27, 1995 & 7 in P3 on Nov. 22, 1972).

* Sidney Crosby, who factored on two of his team's goals in the second frame (1-1—2), recorded his 13th career 70-point season (26-45—71 in 59 GP). The Penguins captain surpassed Alex Ovechkin (12x) for the most 70-point campaigns among active skaters as well as Mario Lemieux (12x) for the most in franchise history.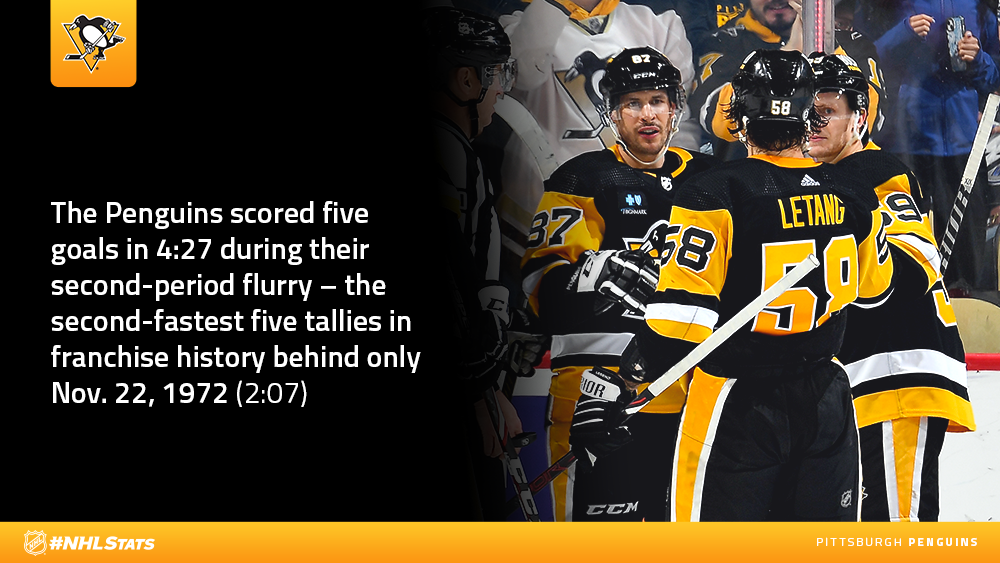 COZENS, KAPRIZOV EACH SCORE HAT TRICK IN VICTORIES
Dylan Cozens (3-1—4) and Kirill Kaprizov (3-0—3) each scored a hat trick Sunday to help the Sabres and Wild pick up wins at home:

* After reaching 100 career points with his first goal of the game and his teammate Tage Thompson netting his 40th goal of the season, Cozens tallied two more to record his first career hat trick. Cozens (22 years, 17 days) became the youngest player since Jack Eichel (21 years, 48 days on Dec. 15, 2017) to score three goals in a game for Buffalo.

* With Minnesota facing a two-goal deficit, Kaprizov scored his team's next three goals including the overtime winner. He became the third player in Wild history to complete a hat trick in overtime, joining Joel Eriksson Ek (Oct. 19, 2021) and Mark Parrish (Dec. 9, 2006).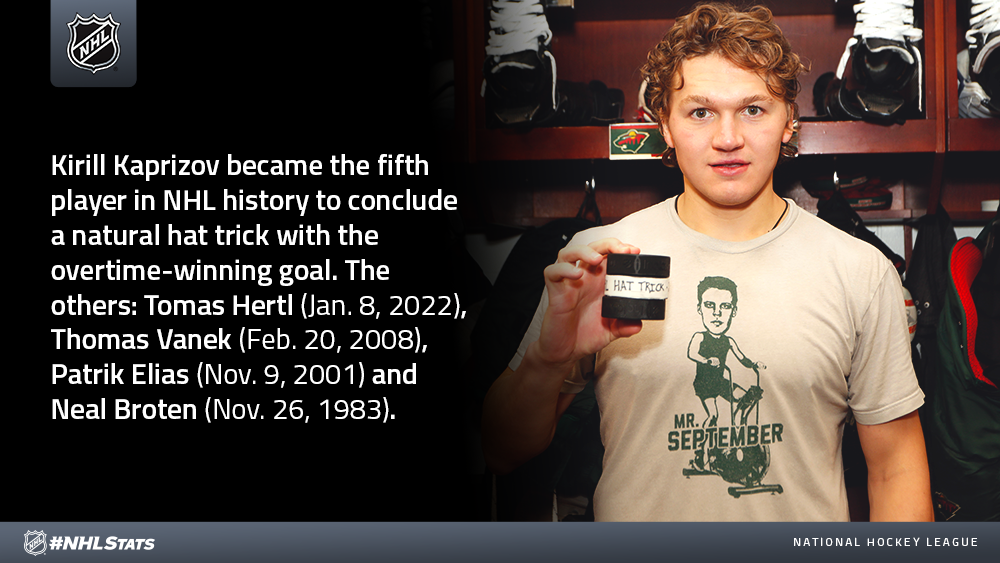 FOUR CLUBS KEEP PACE IN PLAYOFF RACE SUNDAY
The Rangers, Maple Leafs, Islanders and Predators each earned wins Sunday, with the former two clubs maintaining their playoff positions while the latter two kept pace in their respective Wild Card races:

* Vincent Trochek scored twice in a span of 1:35 – the fastest two goals by a Rangers skater since Frank Vatrano on March 27, 2022 (0:18) – to help New York (34-17-9, 77 points) snap a four-game slide and move within six points of New Jersey (39-15-5, 83 points) for the second spot in the Metropolitan Division.

* Mitchell Marner (0-3—3) factored on three of his team's five goals as the Maple Leafs (37-15-8, 82 points) gained a four-point lead over the Lightning (37-18-4, 78 points) – Toronto's 82 points are the most in franchise history through 60 games in a season, topping its previous best of 81 points (38-17-5) set in 2021-22. Marner boosted his totals over his past two games as a visitor to 0-8—8, eclipsing Gary Leeman (2-5—7 from Oct. 7-12, 1989) for the most points in Maple Leafs history through a span of two road games.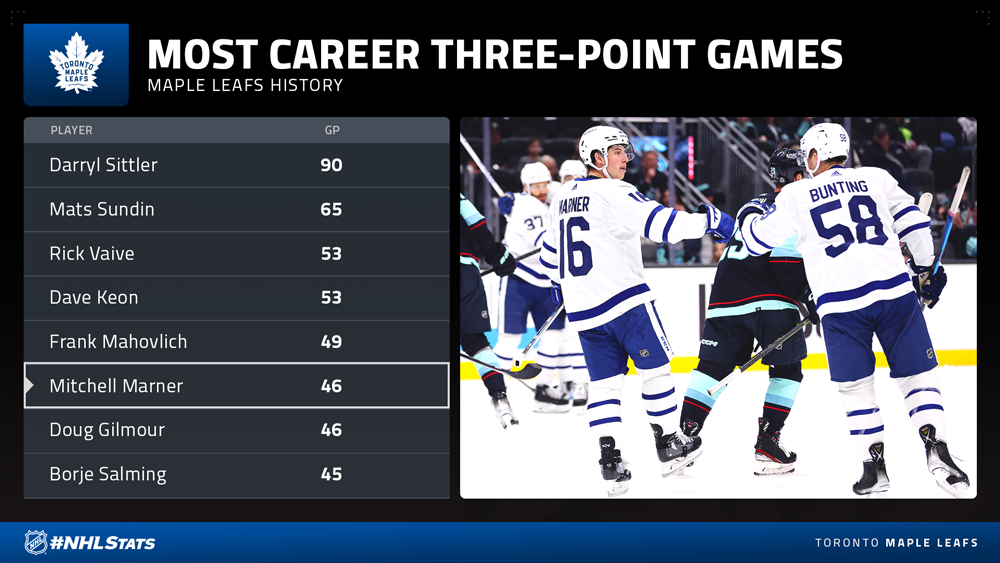 * Semyon Varlamov turned aside all 23 shots he faced while Brock Nelson scored one of four Islanders goals to help New York (31-25-7, 69 points) strengthen its grip over the first Wild Card spot. Varlamov recorded his 13th shutout with the Islanders and surpassed Jaroslav Halak (12) for sole possession of sixth place on the franchise's all-time list.

* Roman Josi (2-1—3), Matt Duchene (1-2—3) and Tommy Novak (1-2—3) each had three-point outings to help the Predators put up six goals for the second straight game. Nashville (29-22-6, 64 points), which has scored a League-leading 26 goals since Feb. 18, moved within six points of Seattle (32-31-6, 70 points) for the second Wild Card Spot in the Western Conference.

KUCHEROV HITS 700-POINT MARK IN #NHLSTATS: LIVE UPDATES
The latest edition of #NHLStats: Live Updates featured Nikita Kucherov hitting the 700-point milestone in his 621st career game. Kucherov became the fourth skater in Lightning history to reach the mark and required the fewest games among that cohort, besting teammate Steven Stamkos (696 GP).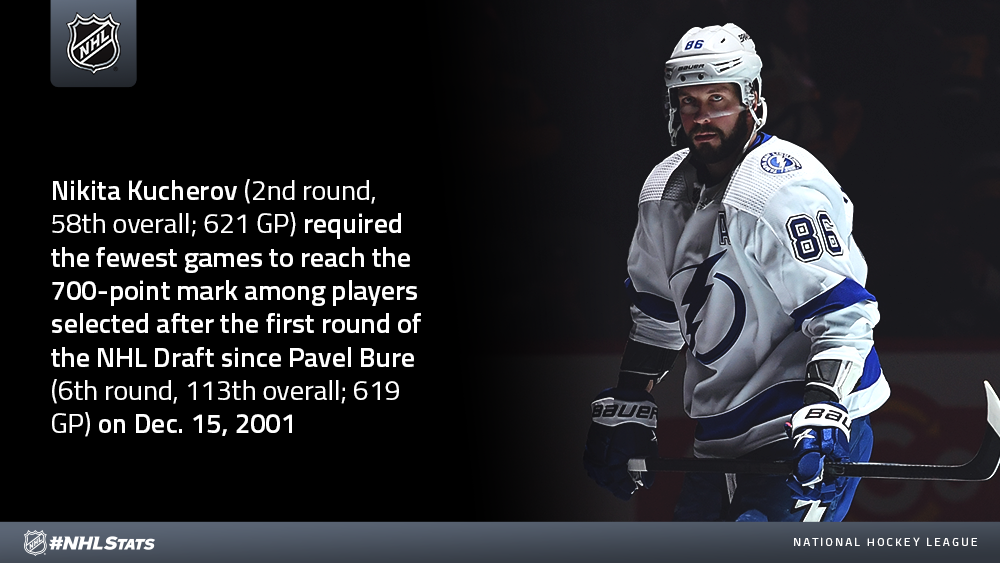 * As the 2022-23 NHL Trade Deadline nears (3 p.m. ET on Friday, March 3), teams across the league continue to make moves, including the Devils who acquired Timo Meier from the Sharks on Sunday. Meier, who led San Jose in goals in 2022-23 (31-21—52 in 57 GP), recorded three 30-goal seasons with the franchise. Click here to read the #NHLStats Pack: 2022-23 NHL Trade Deadline Presented by OFX.

QUICK CLICKS
* Evgenii Dadonov traded to Stars by Canadiens
* Ivan Barbashev traded to Golden Knights by Blues
* Jack Johnson traded to Avalanche by Blackhawks
* Linus Ullmark's goal for Bruins dream come true
* David Poile, only general manager in Predators history, to retire after season

PLAYOFF PUSH CONTINUES AS TRADE DEADLINE APPROACHES
The playoff race continues with key matchups in both conferences Monday as the Red Wings (28-22-8, 64 points) begin a back-to-back set in Ottawa while the Golden Knights (35-18-6, 76 points) and Avalanche (33-19-5, 71 points) clash in Denver.
* Detroit is one of six clubs in the Eastern Conference that has occupied a Wild Card position since Feb. 16 as it vies for its first playoff berth since 2015-16.
* The reigning-champion Avalanche are one of seven teams in the Western Conference who trail the No. 1-ranked Golden Knights by six points or less. To date, the smallest end-of-season gap between first and eighth place in a conference is 10 points, seen in the 2007-08 Eastern Conference.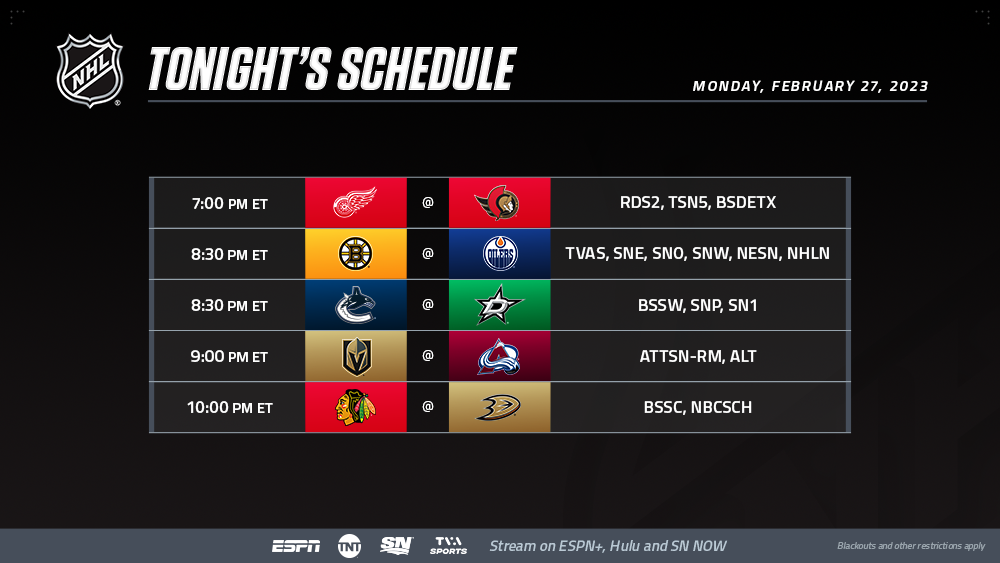 LEAGUE LEADERS SET TO CLASH IN EDMONTON
Two of the NHL's most high-powered offenses will clash in Edmonton on Monday when the Oilers (230 GF; 1st) host the Bruins (217 GF; 3rd) in a contest that will feature both the League's top team and top scorer. The contest will be carried on Sportsnet (East, Ontario & West), TVA Sports, NHL Network and NESN (8:30 p.m. ET).

* League-leading Boston (45-8-5, 95 points in 58 GP) sits five points back of 100 on the season and is on pace to become the fastest club in NHL history to hit the mark (currently 62 GP by the 1976-77 Canadiens). The Bruins own the NHL's longest active winning streak (6-0-0 since Feb. 14) and can equal their longest run of 2022-23 (7-0-0 from Oct. 20-Nov. 3 and Nov. 7-21).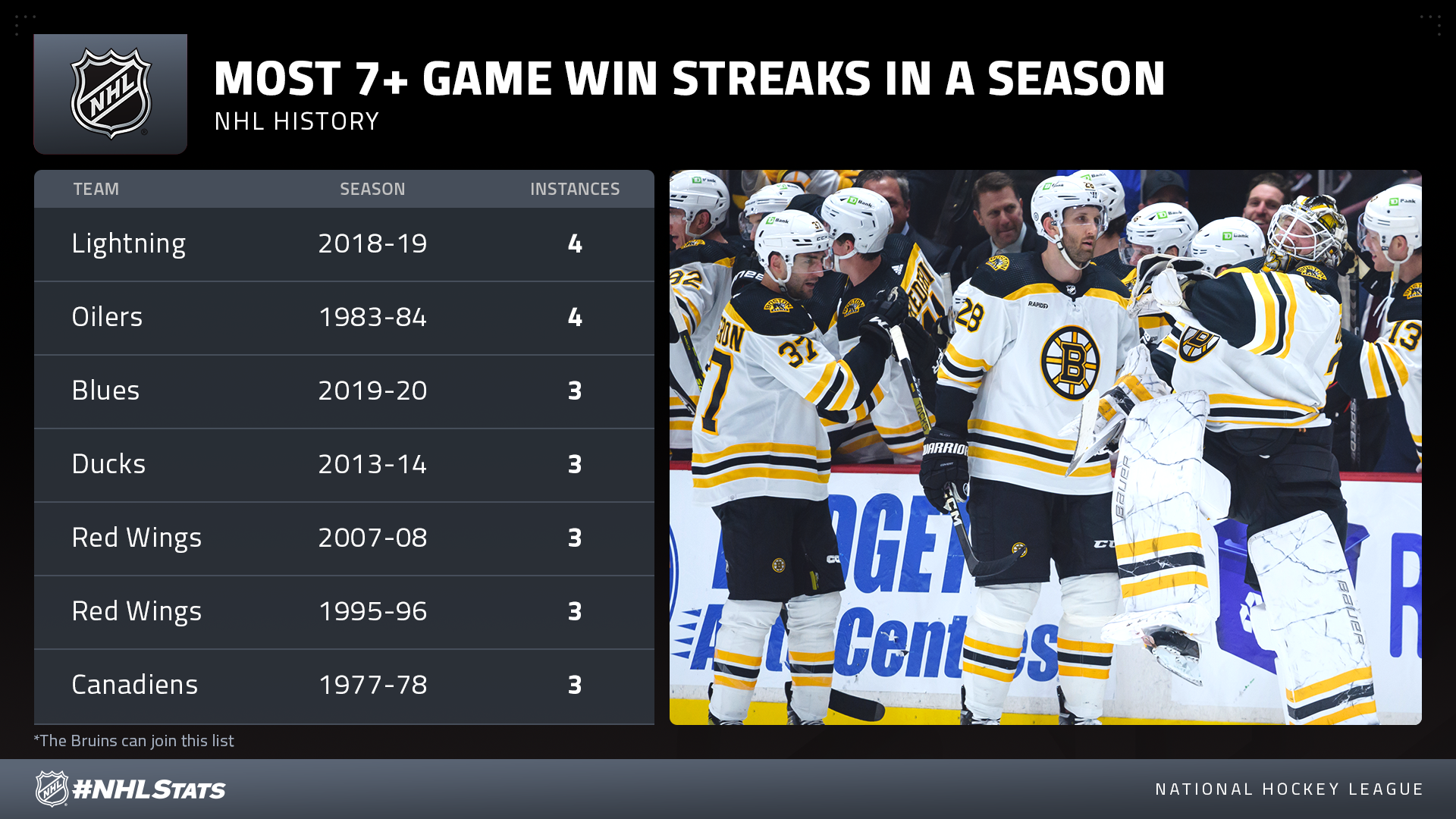 * Connor McDavid (48-65—113 in 60 GP) is well past the 100-point mark and needs only 16 points to post the highest single-season total by any active player (currently 128 points by Nikita Kucherov in 2018-19). McDavid can become the second player in Oilers history to record a streak of four straight multi-goal games – only Wayne Gretzky (4 GP from Oct. 16-21, 1984) has done so to date.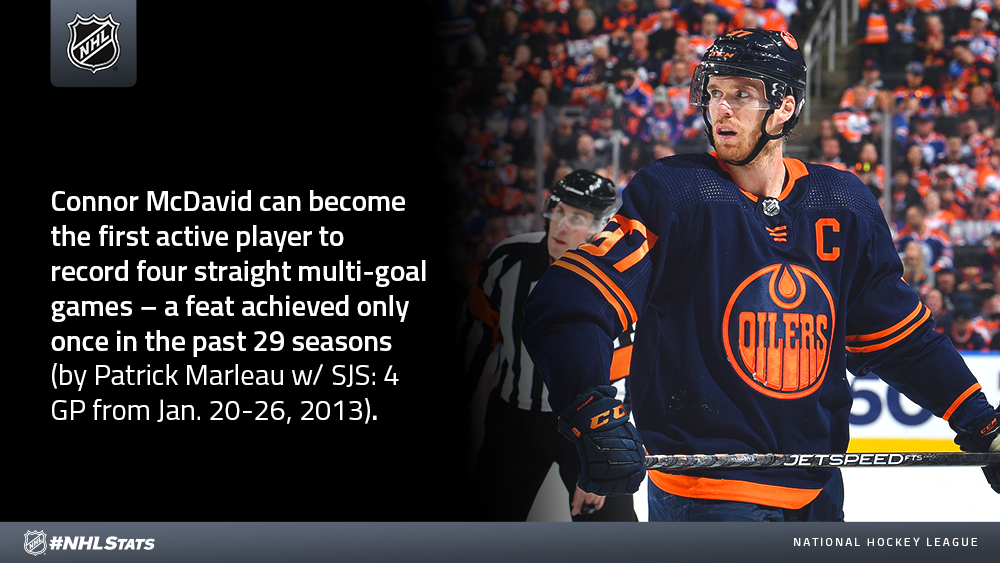 * Leon Draisaitl, meanwhile, can post the longest goal streak by an Oilers player in more than 37 years and become the fourth different skater to score in eight straight Edmonton games – only Dave Lumley, Jari Kurri and Gretzky (3x) have done so.