* The Hurricanes and Capitals will contest the NHL's 37th outdoor regular-season game when the teams take to Carter-Finley Stadium for the 2023 Navy Federal Credit Union NHL Stadium Series tonight at 8 p.m. ET on ABC, ESPN+, SN360 and TVAS2.
* Connor McDavid became the first player in 2022-23 to reach the 100-point milestone and matched Sidney Crosby (6x) for the most 100-point campaigns by an active player.
* The Eastern Conference Wild Card race intensified following Friday's results, with more potential positioning changes to come after Saturday's 13-game slate.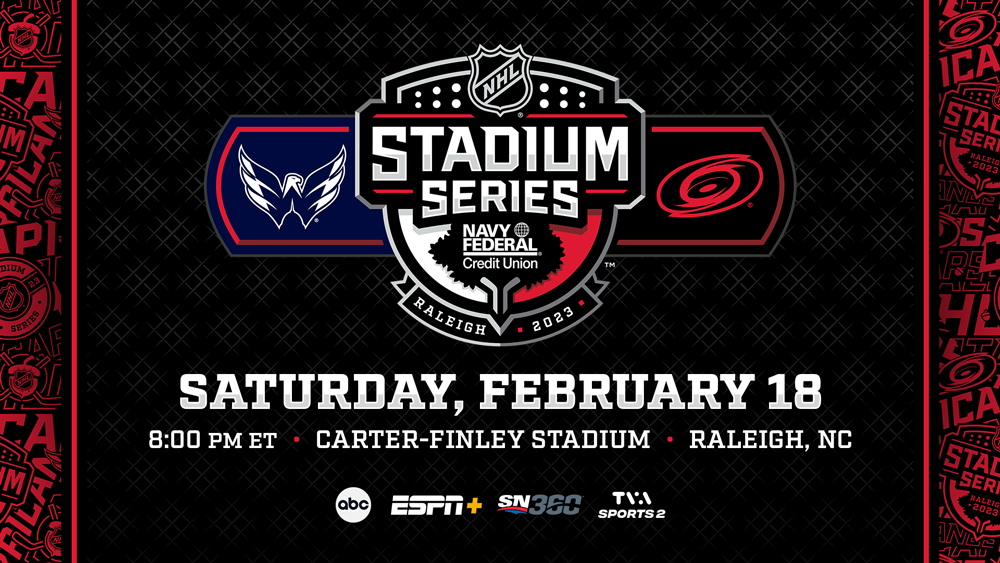 HURRICANES, CAPITALS READY TO CLASH AT CARTER-FINLEY STADIUM
The Metropolitan Division-leading Hurricanes (36-10-8, 80 points), who trail only the Bruins (41-8-5, 87 points) in the NHL's overall standings, eye to be the 15th team – and second in as many seasons (TBL: 2022 SS) – to win its inaugural appearance in an outdoor game when they host the Capitals (28-23-6, 62 points) in the 2023 Navy Federal Credit Union NHL Stadium Series on Saturday.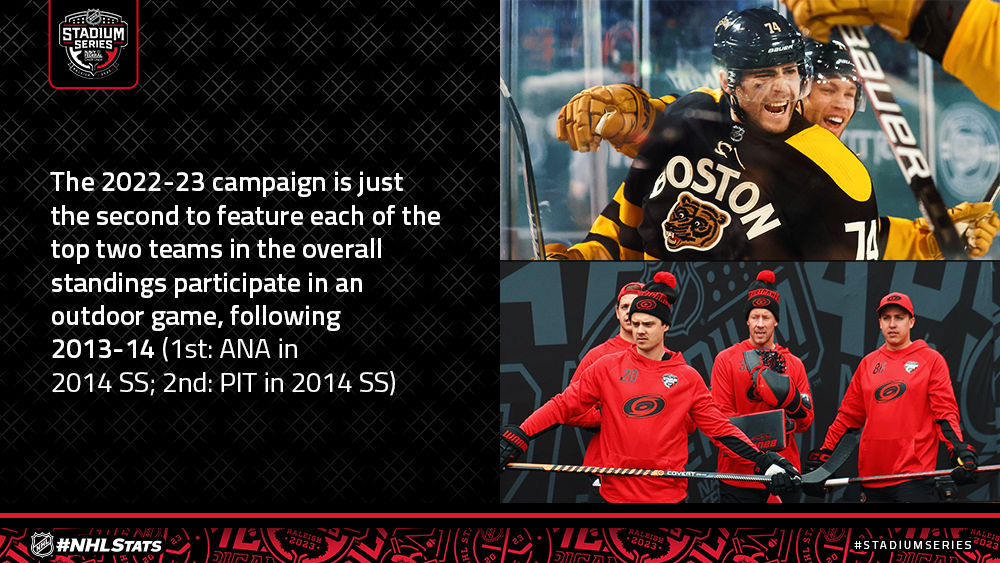 * Brent Burns (11-29—40 in 54 GP) has scored an NHL-best (tied) seven goals among defensemen since Jan. 1 en route to surpassing his total from the 2021-22 campaign with San Jose (10-44—54 in 82 GP). Meanwhile, should the first-year Hurricanes blueliner reach the 30-assist mark at Carter-Finley Stadium, he would become the seventh defenseman in League history with multiple such seasons at age 37 or older. Andrei Markov (2016-17 & 2015-16) and Nicklas Lidstrom (2010-11, 2009-10, 2008-09 & 2007-08) are the only ones to do so in the past dozen years.
* Following a multi-point performance in Carolina's precursor to the 2023 Stadium Series, Sebastian Aho (24-24—48 in 47 GP) sits two shy of reaching the 50-point mark in fewer than 50 games for the third time in his career (45 GP in 2018-19 & 2021-22). Only one other skater in Hurricanes team history has accomplished the feat multiple times: Eric Staal (3x; best: 35 GP in 2005-06).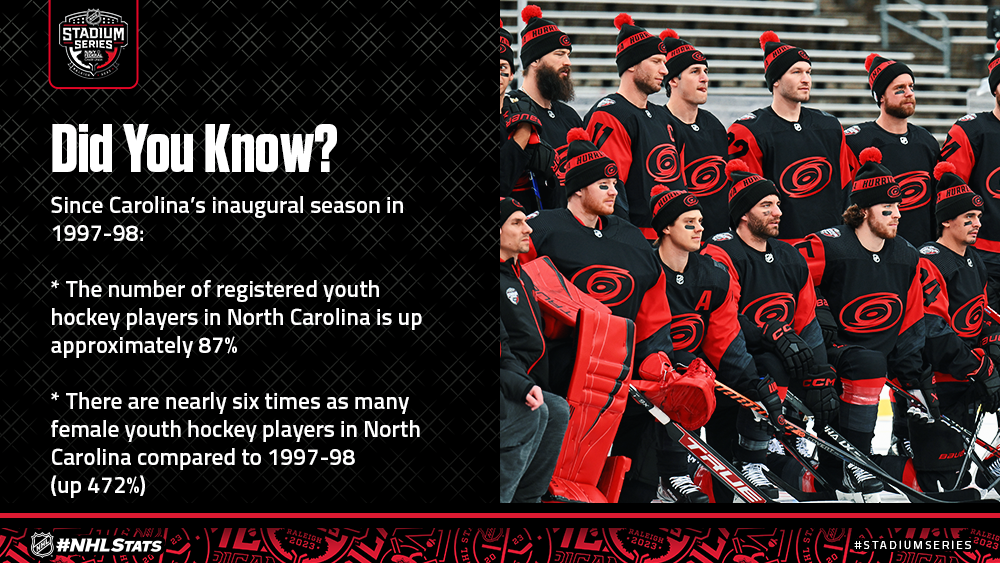 * Nicklas Backstrom found the score sheet in Washington's final tune-up for the contest Thursday against the Panthers (1-0—1) and has collected 3-4—7 in 14 games this season. Backstrom (1-3—4) leads all Capitals players in assists and points in outdoor games and sits one shy of joining Henrik Zetterberg (0-7—7), Jonathan Toews (2-5—7 in 6 GP) and Marian Hossa (0-4—4 in 3 GP) as the fourth player with four or more career helpers outdoors.
* Anthony Mantha is one of six current Capitals skaters (min. 1 GP in 2022-23) set to appear in his second career outdoor game following a 2-1—3 performance with Detroit during the 2017 Centennial Classic with Detroit. With another multi-point outing against the Hurricanes, Mantha can join David Pastrnak(1-1—2 in 2019 WC & 3-0—3 in 2021 LT) as just the second player with two or more points in each of his first two career outdoor appearances.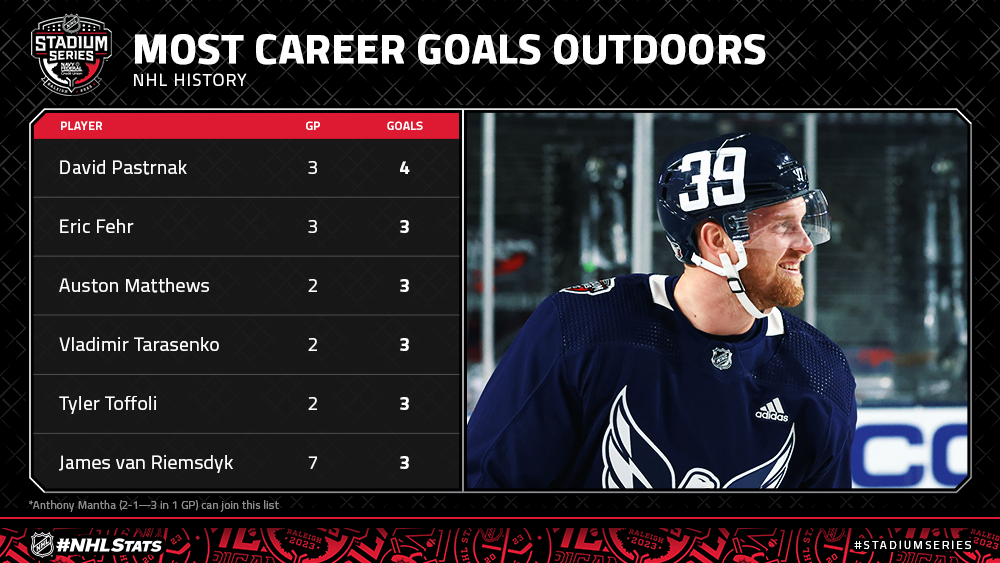 MORE STADIUM SERIES COVERAGE:
* Hurricanes look to add to history, grow brand in Stadium Series
* Hurricanes set for Stadium Series spotlight in their 1st outdoor game
* Brent Burns taking Hurricanes by storm, pumped for Stadium Series
* Capitals hoping Stadium Series experience will be breath of fresh air
* Veterans Showcase Hockey Tournament unites military members on ice
* lovelytheband, Stadium Series is 'match made in Heaven'
McDAVID MARCHES TO AND PAST 100-POINT MILESTONE
Connor McDavid (0-2—2) factored on Edmonton's game-opening goal to become the first player with 100 points this season and achieved a number of notable feats in the process on a night the Oilers honored the memory of superfan Ben Stelter.
* The Oilers captain (42-59—101 in 56 GP) recorded his sixth career 100-point season and already matched the most by an active skater, a mark held by 18-season veteran Sidney Crosby. In doing so, McDavid also became the fourth player in NHL history to be the first to 100 points in at least five seasons.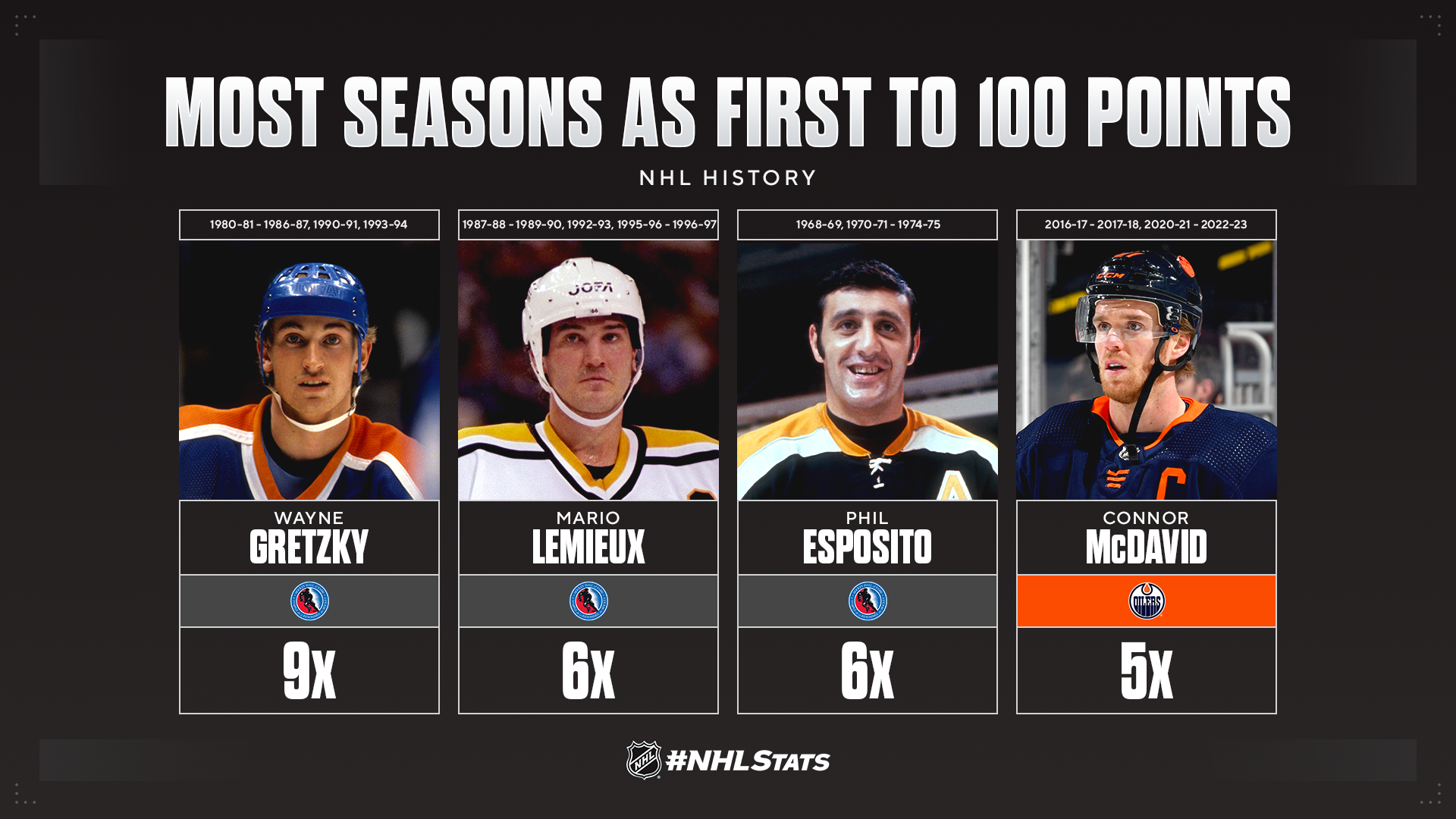 * McDavid became the seventh player in NHL history to hit 100 points within his first 56 games of a season multiple times (also 53 GP in 2020-21), following Wayne Gretzky (12x), Mario Lemieux (8x), Mike Bossy (3x), Phil Esposito (3x), Jari Kurri (2x) and Guy Lafleur (2x). McDavid is the only active player to hit the mark in fewer than 62 contests.
#NHLStats Pack: Connor McDavid Notches 100th Point of Season, Approaches 800 in Career
ICYMI: The Oilers honored the memory of Ben Stelter on Friday by launching the Ben Stelter Fund as his family took part in the ceremonial puck drop prior to the contest. Ben, the superfan who passed away in August at age six, was frequently seen in Edmonton's locker room dishing out high-fives and encouragement to players during the 2021-22 season and left his mark throughout the organization and community.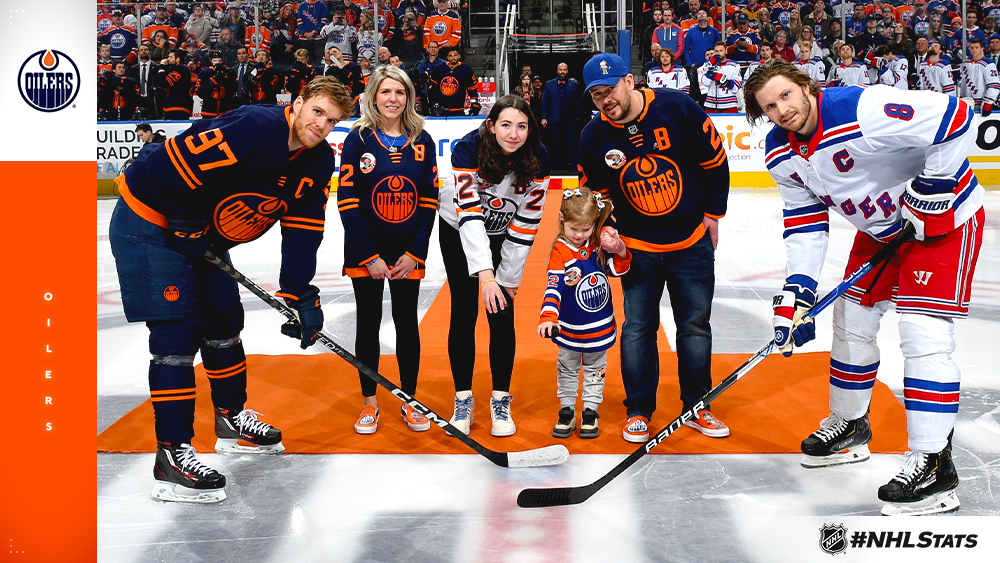 STREAKING RANGERS RALLY FROM THREE-GOAL DEFICIT
The streaking Rangers staged one of the three multi-goal comeback victories during Friday's five-game slate by posting their first three-goal comeback win since Nov. 23, 2019 in Montreal. New York improved to 8-0-1 in its past nine games and own the League's longest active winning streak (7 GP).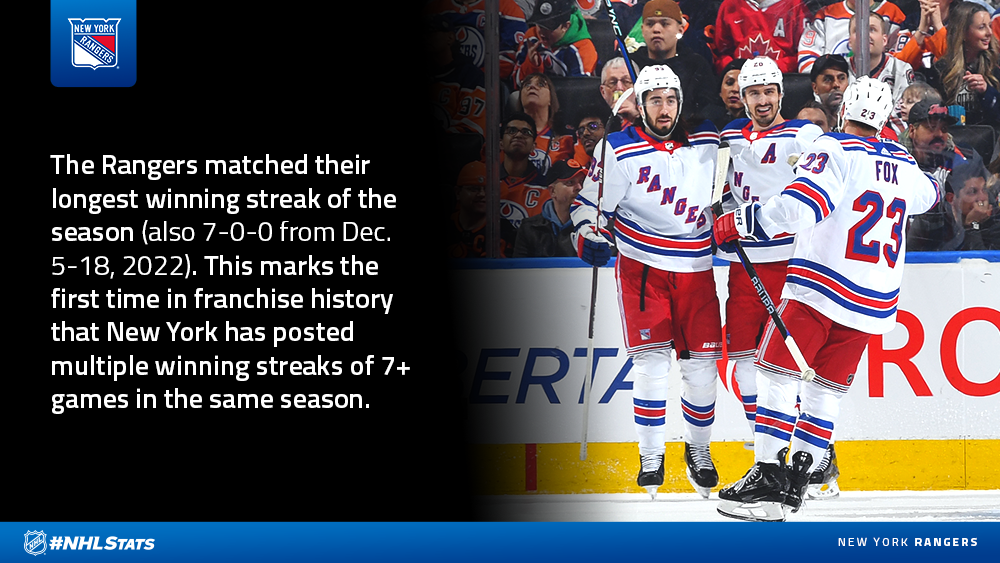 * The Wild defeated the Stars in a potential First Round matchup to create space in their position as the second Wild Card club in the Western Conference, the Blackhawks set a franchise record with their seventh multi-goal comeback win of the season and the Kings moved within one point of first place in the Pacific Division with a victory on ESPN.


ISLANDERS RALLY FOR CRUCIAL POINTS AS PLAYOFF RACE INTENSIFIES IN EAST
Six teams are separated by five points in the Eastern Conference Wild Card race, including the Penguins and Islanders who met Friday in a back-and-forth contest that saw New York salvage a regulation victory on home ice.
* Sidney Crosby (1-1—2) continued his scoring ways against the Islanders by factoring on two of the Penguins' first four goals to take a 4-2 lead, but Anders Lee (2-1—3) and Brock Nelson (2-1—3) spurred a New York rally capped off by Zach Parise scoring the game-winning goal in his 1,200th career contest. With the win, the Islanders (28-23-7, 63 points) leapfrogged the idle Capitals (28-23-6, 62 points) and Panthers (28-24-6, 62 points) for the final Wild Card spot in the Eastern Conference – right below Pittsburgh (27-18-9, 63 points).
* Now tied with 63 points apiece in the two Wild Card positions, Pittsburgh and New York will each take the ice Saturday in hopes of strengthening their playoff position. The Penguins will host the Devils – who have won 20 of their 27 road games this season and sit five points out of first place in the Metropolitan Division – while the Islanders visit the League-leading Bruins – owners of a 22-2-3 record as hosts this season.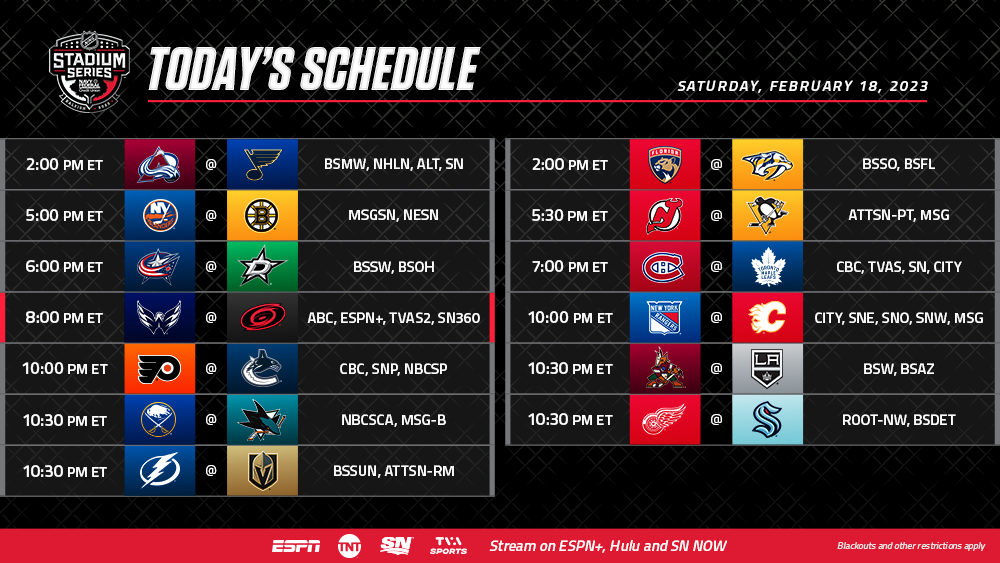 * Three of the other four clubs in that grouping are in action Saturday, with the Capitals (28-23-6, 62 points) taking part in the 2023 Navy Federal Credit Union NHL Stadium Series, the Red Wings (26-20-8, 60 points) are wrapping up a four-game West Coast swing in Seattle and the Sabres (27-22-4, 58 points) are closing out a California trip in San Jose.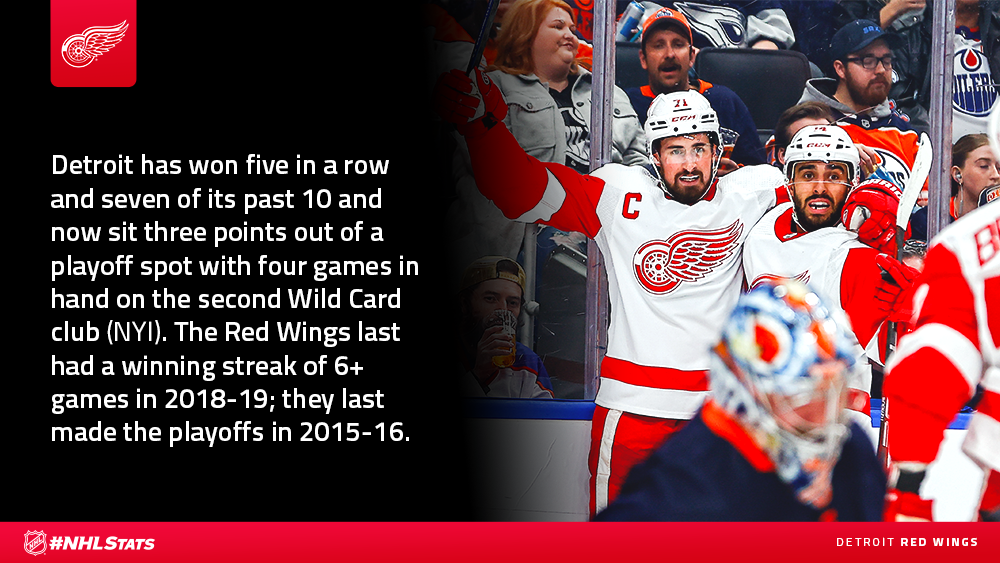 MAPLE LEAFS ADD CONN SMYTHE WINNER & STANLEY CUP CHAMPION IN O'REILLY
After making a splash in the trade market by acquiring Stanley Cup-winning captain Ryan O'Reilly from the Blues late Friday, the Maple Leafs will hit the ice on Hockey Night in Canada against their oldest rival. Toronto, who also acquired forward Noel Acciari in a three-time trade involving the Wild, ranks second in the Atlantic Division with a record of 33-14-8 (74 points) – one point ahead of Tampa Bay (35-16-3, 73 points) who have a game in hand.
#NHLStats Pack: 2022-23 NHL Trade Deadline Presented by OFX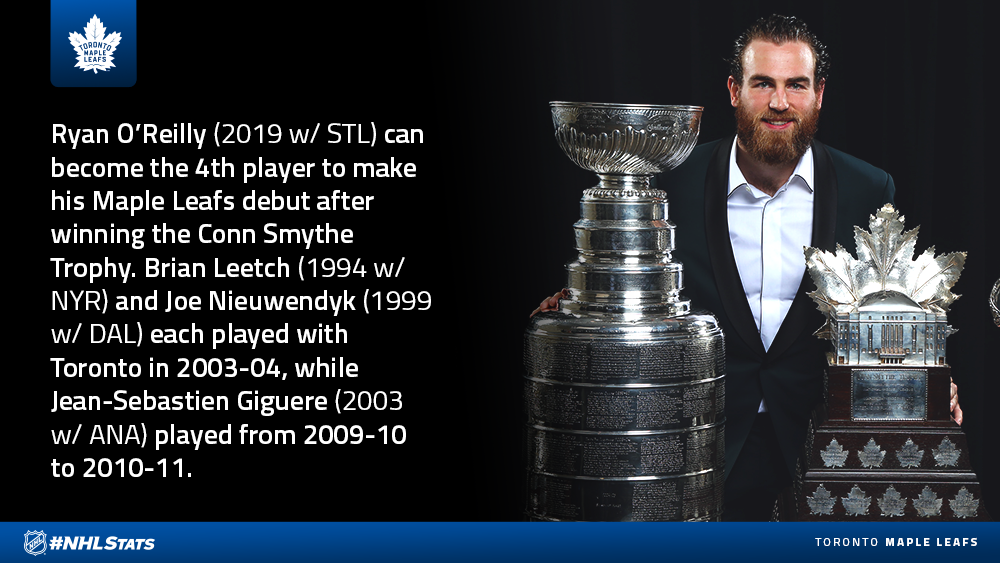 NHL PODCASTS WEEKLY ROUNDUP
* NHL Fantasy (Feb. 13): Impact of Tarasenko trade on Rangers; fantasy waiver wire pickups
* NHL Fantasy (Feb. 13): Action Network Collab: Week 18
* NHL @ The Rink (Feb. 15): Lars Eller joins; Stadium Series, Mailbag,, Tarasenko deal
* The Chirp with Daren Millard (Feb. 16): Seth Jarvis & Derek Lalonde join, Red Wings rebuild
* NHL Fantasy (Feb. 16): Hurricanes, Stadium Series talk with tennis star John Isner
QUICK CLICKS
* Veterans Showcase Hockey Tournament unites military members on ice
* Jack Hughes expected to return for Devils at Penguins