* Down 4-1 to the Sabres, the Panthers rallied yet again and became the ninth team in NHL history to overcome a three-goal deficit to win in consecutive games.
* The Stars extended the NHL's longest active win streak to six games and did so after becoming the first team in League history to score within the opening 75 seconds in four straight contests.
* The Wild joined the Panthers in collecting their 16th win of the season, which trails only the Maple Leafs (17) for the most among all teams in 2021-22.

 
DEJA VU AS PANTHERS OVERCOME THREE-GOAL DEFICIT YET AGAIN
After Jonathan Huberdeau and Sam Reinhart played instrumental roles in Florida's three-goal, third-period comeback win against the Capitals on Nov. 30, the duo struck again Thursday (Huberdeau: 1-4—5 & Reinhart: 1-3—4) to help the Panthers (16-4-3, 35 points) earn their ninth three-goal comeback win since 2011-12 – trailing only the Penguins (11) and Capitals (11) for the most among all teams over the past 10 years.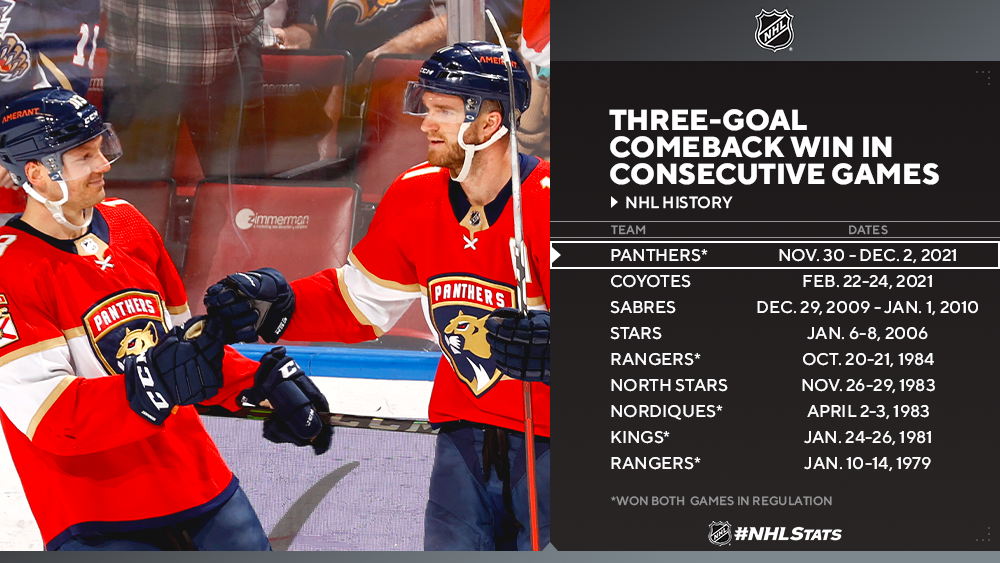 * Huberdeau and Reinhart are the fourth set of Panthers teammates in the past 10 years to record four or more points in the same contest. The others: Huberdeau and Noel Acciari (Dec. 20, 2019), Huberdeau and Aleksander Barkov (March 8, 2019) as well as Brian Campbell, Stephen Weiss and Kris Versteeg (Oct. 17, 2011).
* Huberdeau – whose streak of assisting on consecutive team goals ended at five (dating to Nov. 30) – accounts for three of eight performances of five-plus points in Panthers history, with Olli Jokinen (2-4—6 on March 17, 2007) holding the franchise mark.
ICYMI: Eetu Luostarinen denied a potential go-ahead goal from Sabres forward Zemgus Girgensons just 40 seconds before Anton Lundell scored to give the Panthers a 5-4 lead.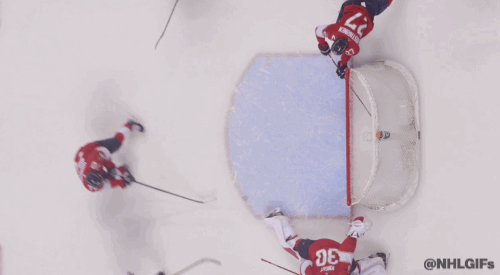 PAVELSKI PROPELS STARS TO WIN WITH ANOTHER MULTI-POINT PERFORMANCE
Joe Pavelski (0-2—2) factored on two goals, including Jason Robertson's (2-0—2) tally 68 seconds into the contest, to record his fourth consecutive multi-point game. Dallas (12-7-2, 26 points) extended the NHL's longest active win streak to six contests – one shy of matching the lengthiest run in Stars/North Stars history.
* The Stars became the first team in NHL history to score within the first 75 seconds of a game in four consecutive contests, with Pavelski factoring on each game-opening goal (1-3—4).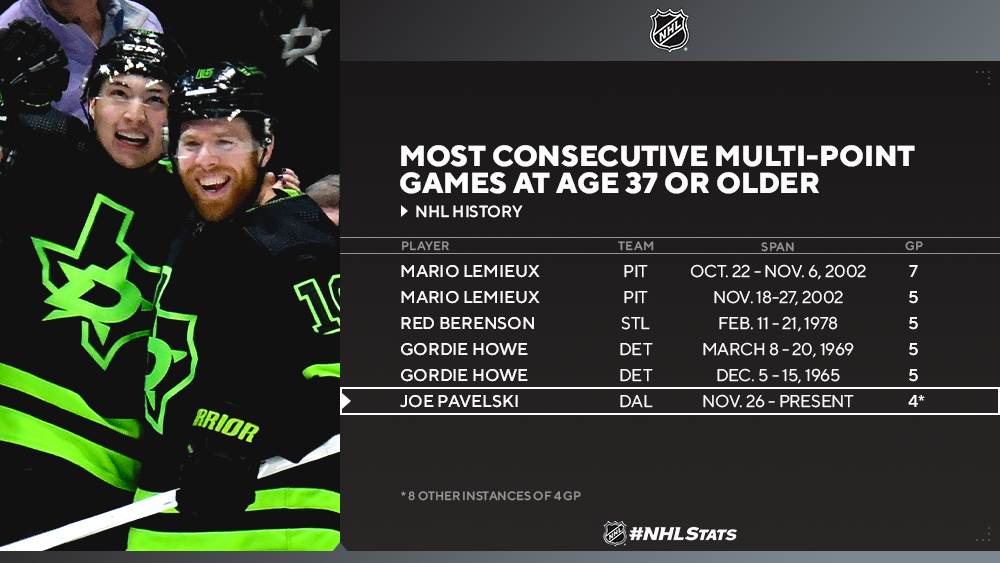 MAKAR, KADRI REACH SEASONAL BENCHMARKS IN WIN
Cale Makar (1-0—1) scored his 10th goal of the season and Nazem Kadri (0-1—1) reached the 30-point mark to help the Avalanche (12-7-1, 25 points) improve to 8-2-0 in their last 10 games dating to Nov. 11 — trailing only the Maple Leafs (9-1-0, 18 points) for the most wins among all teams over that span.
* Makar (10-11—21 in 18 GP) required the fewest contests among defensemen in Avalanche/Nordiques history to score 10 goals in a season, besting the previous mark set by Sandis Ozolinsh (33 GP in 1996-97) and later matched by Rob Blake (33 GP in 2001-02).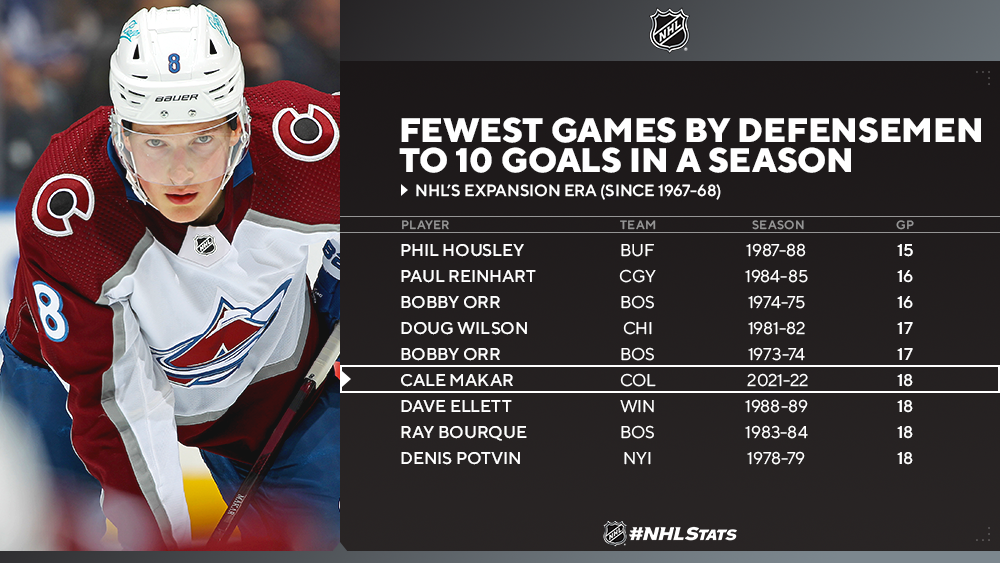 * Kadri (9-21—30 in 20 GP), the fourth player to hit 30 points in 2021-22, became the third Avalanche player in the past 20 years to require 20 or fewer games to reach the mark in a campaign, joining Peter Forsberg (19 GP in 2003-04) and Mikko Rantanen (20 GP in 2018-19).
KAPRIZOV, HARTMAN GUIDE WILD TO FIFTH STRAIGHT WIN
Kirill Kaprizov (2-1—3) and Ryan Hartman (1-2—3) each potted a three-point game to propel the Wild (16-6-1, 33 points) to their fifth straight win. Their 16 victories in 2021-22 trail only the Maple Leafs (17-6-1, 35 points) for the most among all teams.
* Thursday marked Kaprizov's seventh career outing with three-plus points – the most by any Wild skater prior to his 80th career game and five more than the next closest skaters (Nino Niederreiter, Marian Gaborik & Rickard Wallin all w/ 2).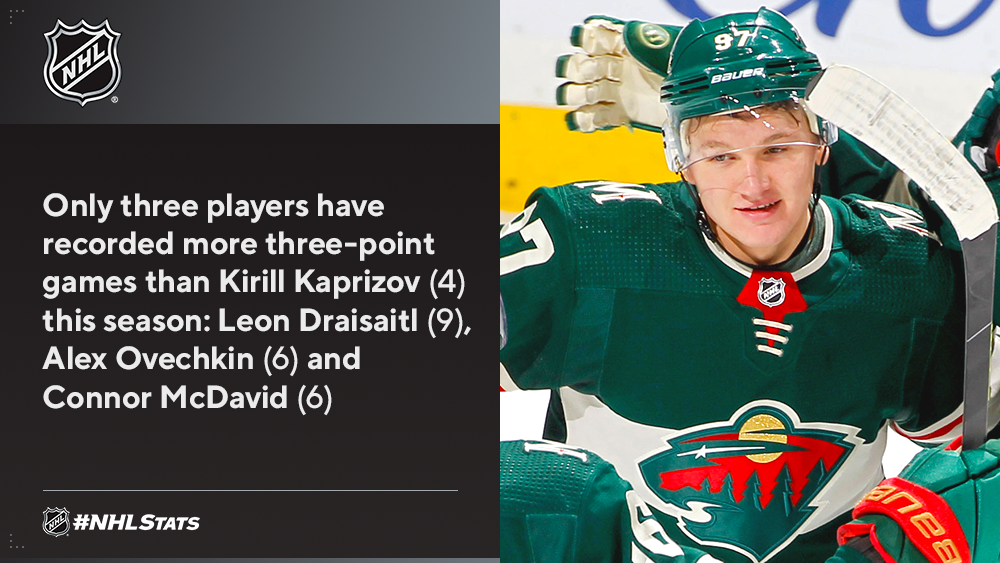 FORSBERG'S 47-SAVE WIN HIGHLIGHTS #NHLSTATS: LIVE UPDATES
The latest edition of #NHLStats: Live Updates featured Senators goaltender Anton Forsberg, who made a career-high 47 saves and tied the most by any goaltender this season (also Jake Allen on Nov. 27 at PIT).
RANGERS EYE SEVENTH STRAIGHT WIN AT MSG
Chris Kreider (16-3—19 in 21 GP) and the Rangers welcome the Sharks (13-9-1, 27 points) to Madison Square Garden on Friday, with New York having won each of its last six home games and outscoring the opposition 23-13 over that span.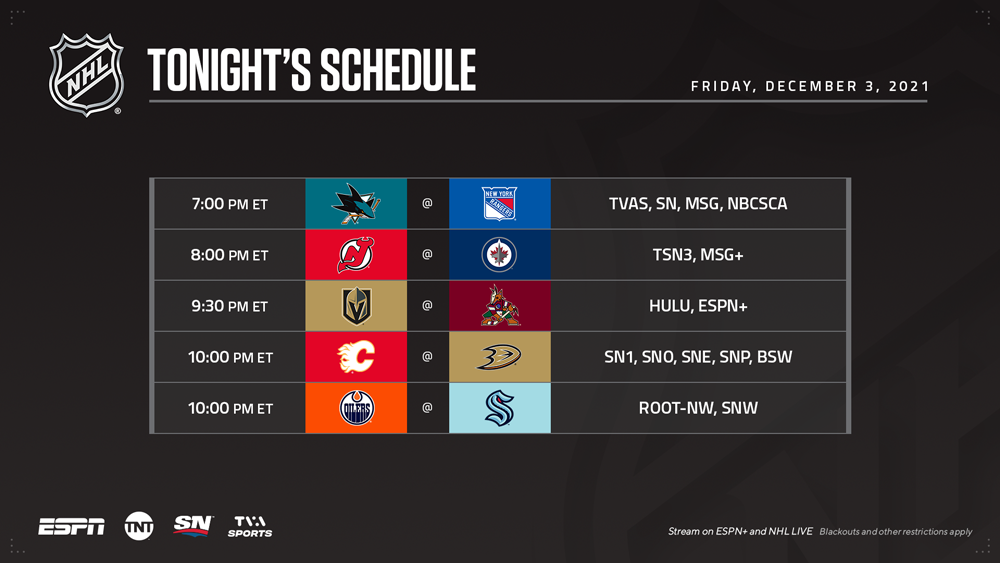 * Kreider sits tied for third in the NHL in goals this season behind only Leon Draisaitl (20 in 21 GP) and Alex Ovechkin (19 in 24 GP). With at least 20 goals in each of his previous three seasons, including a career-high 28 (tied) in 2018-19, Kreider has netted 88 total tallies in 213 contests since then and 47 at Madison Square Garden – the most home goals among Rangers skaters over that span.