* Adin Hill relieved Laurent Brossoit early in Game 3 and logged nearly 50 minutes without allowing a goal as the Golden Knights took a 2-1 lead in their Second Round series.
* The Blackhawks won the No. 1 pick in the 2023 NHL Draft Lottery on Monday, while the Ducks landed the No. 2 selection.
* Tuesday's two-pack features a pair of pivotal contests as the Devils-Hurricanes and Kraken-Stars square off in Game 4 of their Second Round series.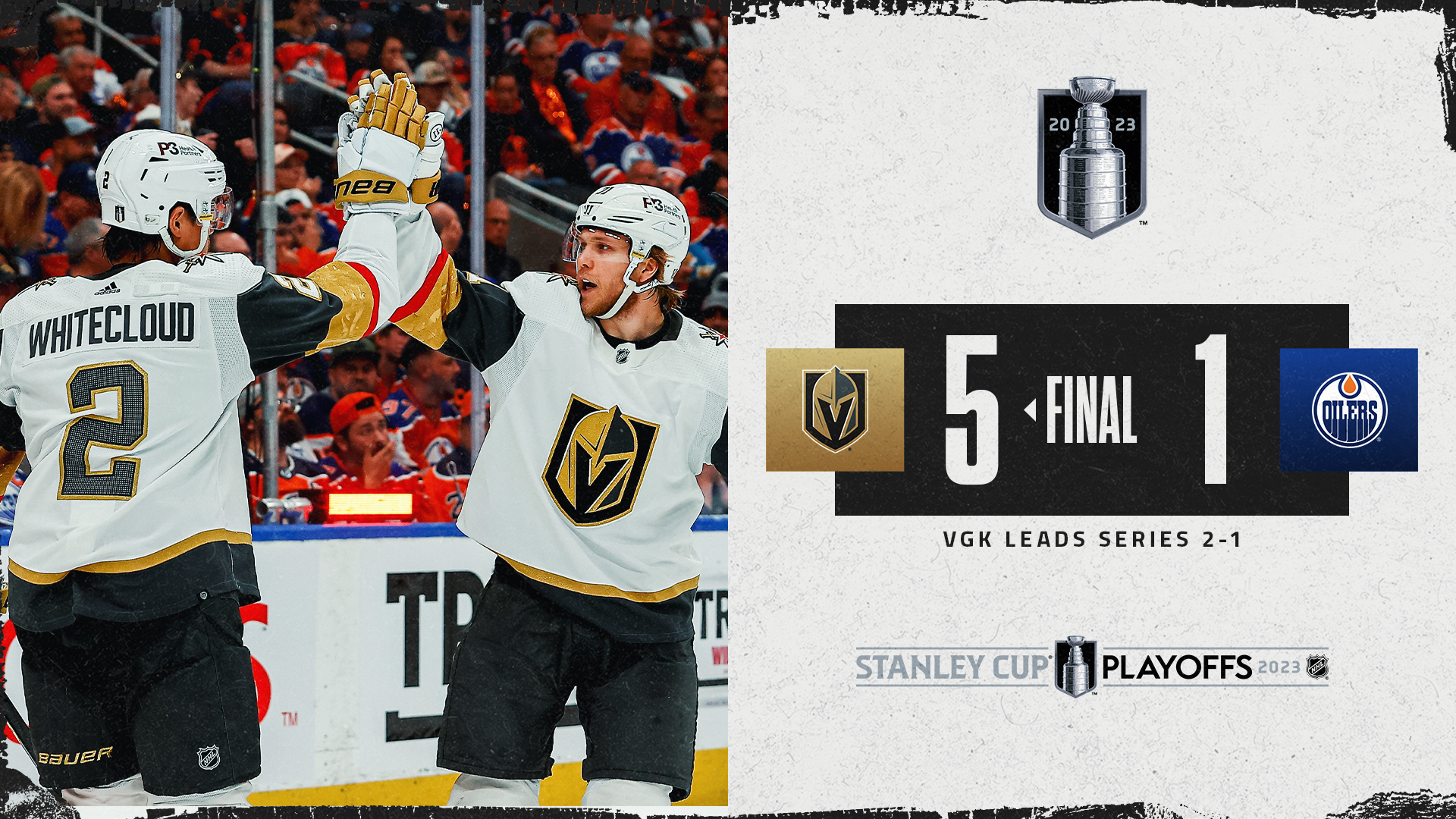 HILL HOLDS McDAVID, DRAISAITL OFF SCORE SHEET IN RELIEF AS VEGAS WINS GAME 3
Adin Hill entered the contest with 8:16 remaining in the opening frame and turned aside all 24 shots he faced to earn his first career playoff win and give the Golden Knights a 2-1 series lead against the Oilers.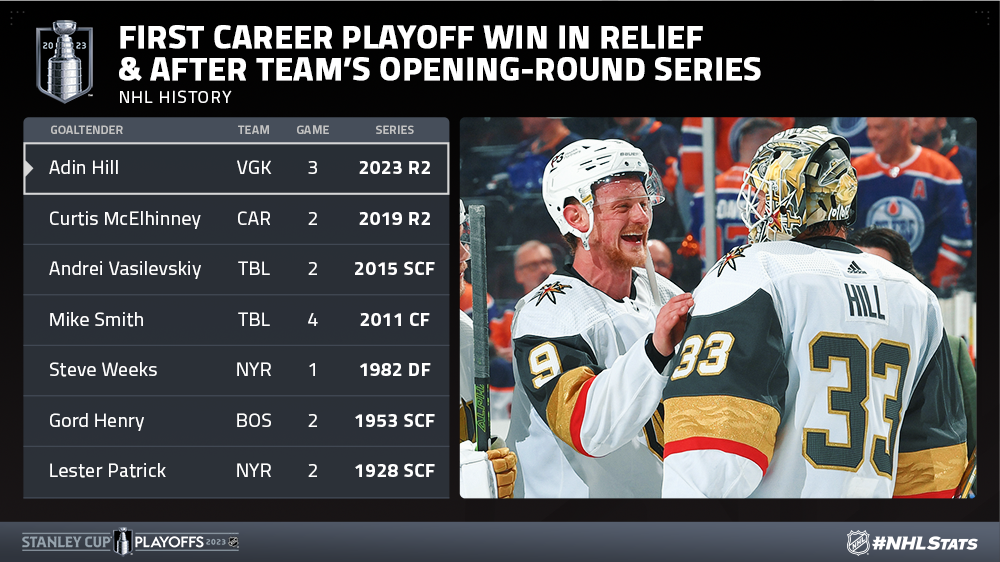 * Hill (47:48) became the fifth NHL goaltender on record to earn his first career playoff win in relief while logging at least 45 minutes of ice-time and allowing zero goals against. He joined Elvis Merzlikins (Game 3 of 2020 SCQ), Scott Darling (Game 1 of 2015 R1), Scott Clemmensen (Game 3 of 2012 CQF) and Ed Belfour (Game 2 of 1990 DSF).

* Hill made six of his saves on shots by Leon Draisaitl (13-4—17 in 9 GP) and Connor McDavid (5-10—15 in 9 GP), who entered Game 3 with a combined 18 goals and 32 points this postseason. Hill and Laurent Brossoit became the fourth and fifth goaltenders to hold both Draisaitl and McDavid off the score sheet this season, following Jordan Binnington (Oct. 22, 2022), Cal Petersen (Nov. 16, 2022) and Ilya Sorokin (Nov. 23, 2022).

* Jack Eichel (1-2—3) assisted on the winning goal by Jonathan Marchessault (2-0—2) and concluded the contest with a game-high three points. Monday's edition of #NHLStats: Live Updates featured more notes on Eichel (5-5—10 in 8 GP), who reached 10 career playoff points in just eight contests.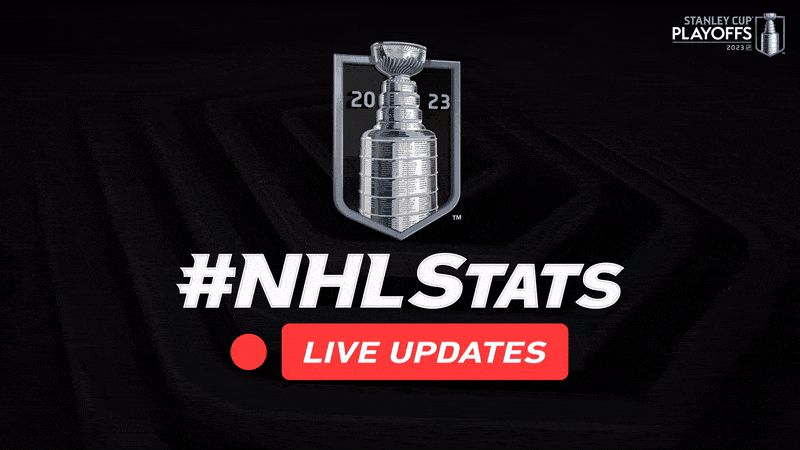 BLACKHAWKS WIN LOTTERY AND FIRST SELECTION IN 2023 UPPER DECK NHL DRAFT
The Blackhawks and Ducks own the first and second overall drafting positions, respectively, for the First Round of the 2023 Upper Deck NHL Draft as a result of the 2023 NHL Draft Lottery on Monday. Click here to read more.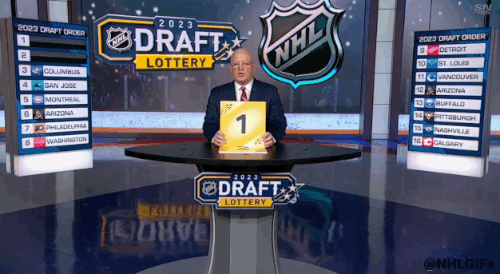 * NHL Commissioner Gary Bettman presided over the 2023 NHL Draft Lottery, which was conducted at NHL Network's studio in Secaucus, N.J. Click here to watch a video featuring a behind-the-scenes look at the drawing procedure, which involved Commissioner Bettman being joined by Alex Meruelo Jr. of the Coyotes, Tom Minton of the Flyers as well as media members Aaron Portzline, Frank Seravalli and Stephen Whyno.

* The Blackhawks have selected a player with the No. 1 pick in an NHL Draft once in franchise history, which was Patrick Kane in 2007 – he won three Stanley Cups with Chicago and remains among the top three on the franchise's all-time lists for goals, assists, points and games played. The Ducks have selected a player with a top-two pick in an NHL Draft twice in franchise history, which were Bobby Ryan and Oleg Tverdovsky at No. 2 in 2005 and 1994, respectively.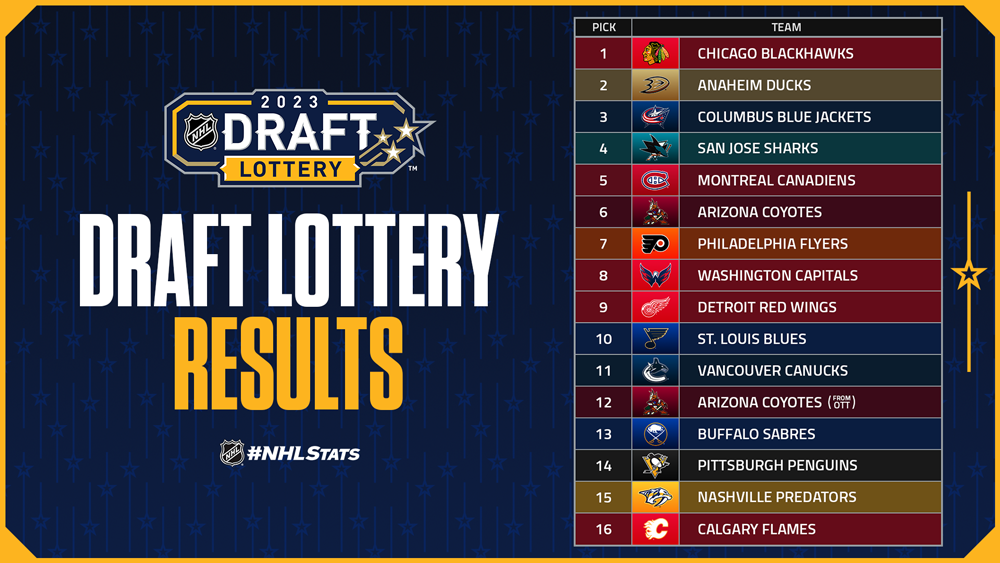 DID YOU KNOW?
Connor Bedard, a center from the WHL's Regina Pats who placed No. 1 among North American Draft prospects when the NHL Central Scouting Bureau released its final rankings presented by BioSteel on April 18, had a great-great-uncle named Jim Bedard who played 22 games with Chicago across two seasons from 1949-50 to 1950-51.Click here to read more about the elder Bedard.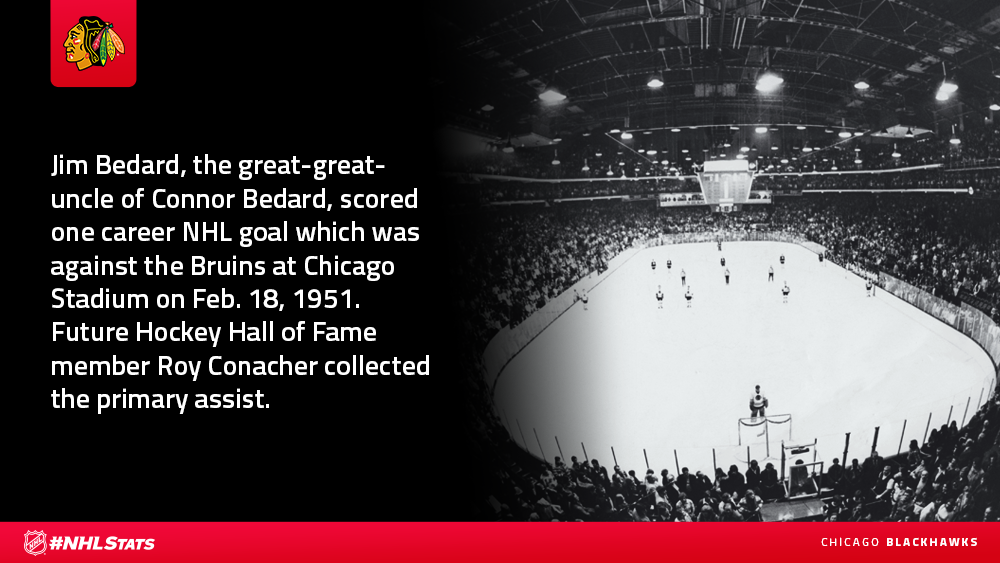 MORE 2023 NHL DRAFT LOTTERY COVERAGE

* Blackhawks win No. 1 pick in 2023 NHL Draft in lottery
* Blackhawks fans get party started after winning No. 1 pick
* Connor Bedard could replace Patrick Kane, Jonathan Toews as face of Blackhawks
* Draft Lottery runners-up will have plenty to choose from after Connor Bedard

QUICK CLICKS

*Tomas Tatar fined $5,000 for actions in Devils game
* Timo Meier provides grit for Devils ahead of Game 4 against Hurricanes
* Ilya Samsonov could return for Maple Leafs in Game 4 against Panthers
* Kraken depth at forefront during run in Stanley Cup Playoffs
* Panthers shutting down top Maple Leafs forwards, on cusp of 4-game sweep

STARS, DEVILS AIM TO TIE SECOND ROUND SERIES AT 2-2
The Devils and Stars will have the opportunity to even their Second Round series at 2-2, while both the Hurricanes and Kraken can move within one win of advancing to the Conference Finals as the four clubs get set to contest Game 4.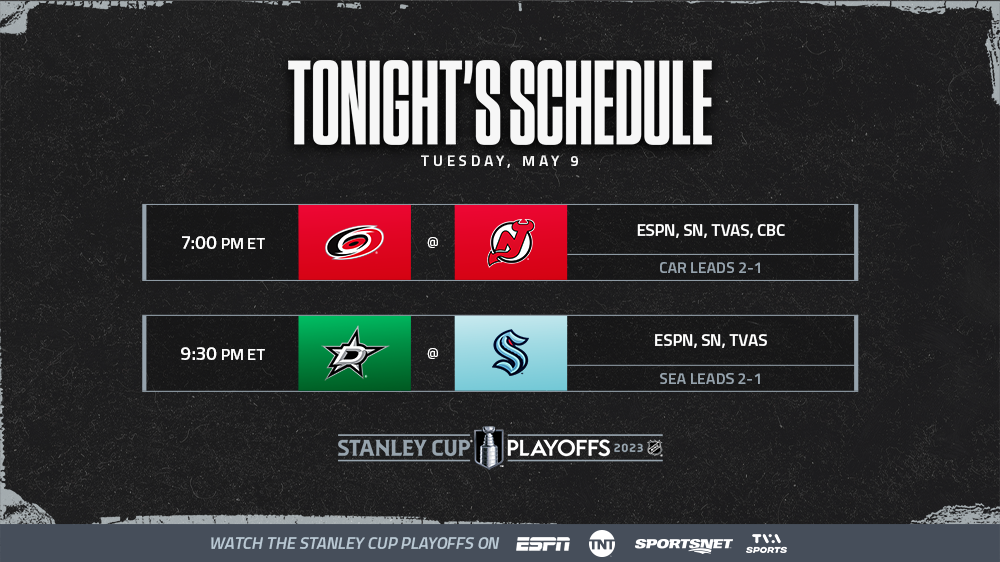 * The Hurricanes will look to rebound from a Game 3 loss and move within one win of their first Conference Finals appearance since 2019 – Carolina has not suffered consecutive losses so far this postseason. Sebastian Aho has career totals of 4-15—19 in 22 games following a loss in the postseason, which rank second in franchise playoff history behind Eric Staal (9-12—21 in 18 GP).
* Luke Hughes factored on two of the Devils' eight goals Sunday to help the club cut their series deficit in half. Should he record a multi-point outing on Tuesday, he would become the fifth defenseman in NHL history to record four points in their first two playoff contests – Hughes would join Dave Ellett (1985 w/ WIN), Joe Micheletti (1981 w/ STL), Paul Reinhart (1981 w/ CGY) and Ron Stackhouse (1975 w/ PIT). No blueliner has ever recorded five.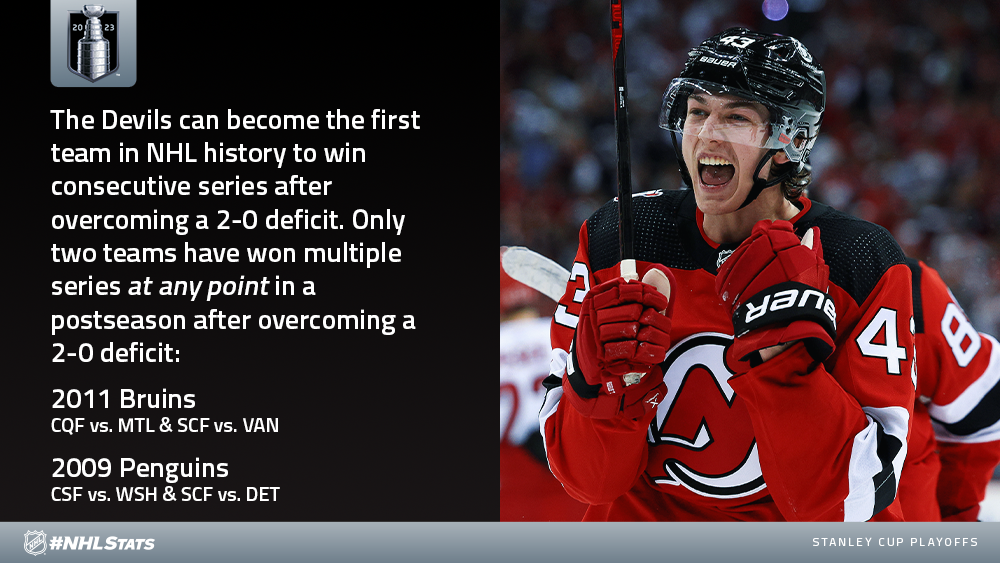 * The Kraken took a 2-1 series lead for the first time after a seven-goal performance in Game 3 – Seattle has scored a total of 32 goals so far this postseason, which is the third most among all teams in the 2023 Stanley Cup Playoffs behind Florida (36) and Edmonton (35). The most goals by a franchise in a two-game span during their first postseason is 13, a mark set by their opponent – the North Stars scored 13 between Game 6 and Game 7 of the 1968 Quarterfinals against Los Angeles.
* Joe Pavelski, who sits second among all players in goals during the Second Round with five behind only Leon Draisaitl (6), leads all players on the Stars roster in career points in games following a loss in the postseason. Pavelski is 40-31 all-time in those contests.