* Jack Hughes and Luke Hughes combined for six points as the Devils erupted for eight goals – their second most in a playoff game – and cut their series deficit in half.

* The Kraken scored seven goals for the eighth time in 2022-23 (regular season & playoffs combined) to claim a 2-1 series edge over the Stars.

* Sam Reinhart found the back of the net in overtime to move the Panthers within one win of their first-ever series sweep in the Stanley Cup Playoffs.

* The 2023 NHL Draft Lottery will be broadcast live Monday at 8 p.m. ET on ESPN, Sportsnet and TVA Sports from the NHL Network's studio in Secaucus, N.J.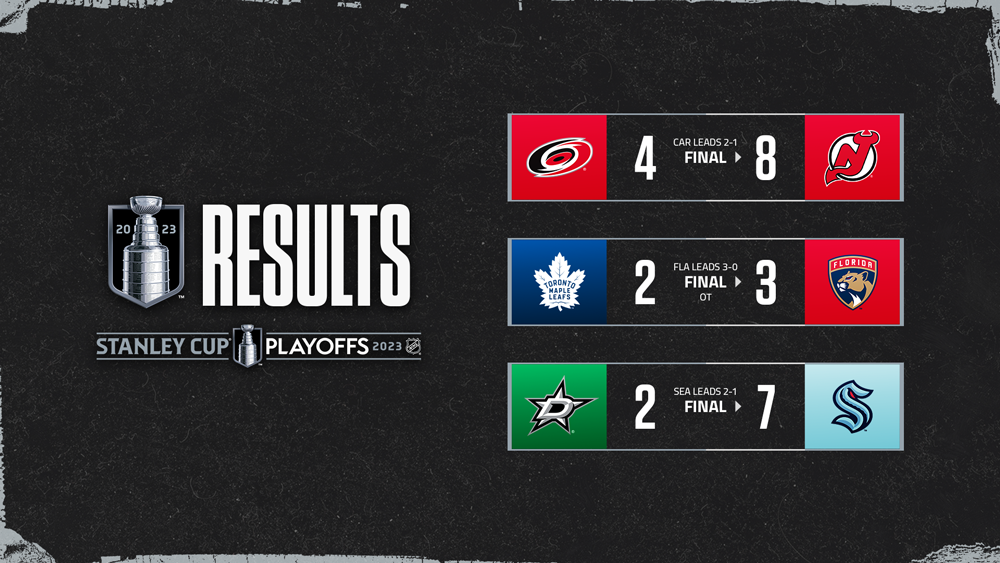 HUGHES, HUGHES COMBINE FOR SIX, DEVILS CUT SERIES DEFICIT TO 2-1
Luke Hughes (0-2—2)made an impact in his playoff debut alongside his brother Jack Hughes (2-2—4) as the pair joined forces with Dawson Mercer (0-3—3), giving the Devils nine points from players age 21 or younger en route to victory. New Jersey became the first team in the 2023 Stanley Cup Playoffs to score eight goals in a game – it marked the second most in a postseason contest in Devils/Rockies/Scouts history, behind Game 3 of the 1988 Division Finals (10).

* New Jersey set a franchise record for most combined points by players age 21 or younger in a single postseason as the Hughes brothers and Mercer boosted the Devils' total to 17 on Sunday, surpassing 2001 and 1995 (both w/ 14).

* Jack (21 years, 358 days), who became the youngest player in franchise history to register four points in a postseason contest, improved his playoff point totals to 5-4—9 (10 GP). He tied Brendan Shanahan (5-4—9 in 18 GP) for the third-most points by a Devils/Rockies/Scouts player in the postseason at age 21 or younger, trailing only Scott Gomez (9-15—24 in 48 GP) and Scott Niedermayer (6-12—18 in 45 GP).
* Jack and Luke became the first set of brothers to factor on the same playoff goal since Daniel and Henrik Sedin in Game 6 of the 2015 First Round. They also established themselves as the sixth set of brothers to combine for six-plus points in a postseason contest for the same team. The others: Henri and Maurice Richard (9 in Game 5 of 1956 SF & 6 in Game 1 of 1957 SCF), Don and Nick Metz (8 in Game 5 of 1942 SCF), Daniel and Henrik Sedin (7 in Game 4 of 2011 CF), Duane and Brent Sutter (7 in Game 2 of 1983 SCF & 6 in Game 5 of 1983 DF) as well as Anton and Peter Stastny (6 in Game 1 of 1981 PRLM).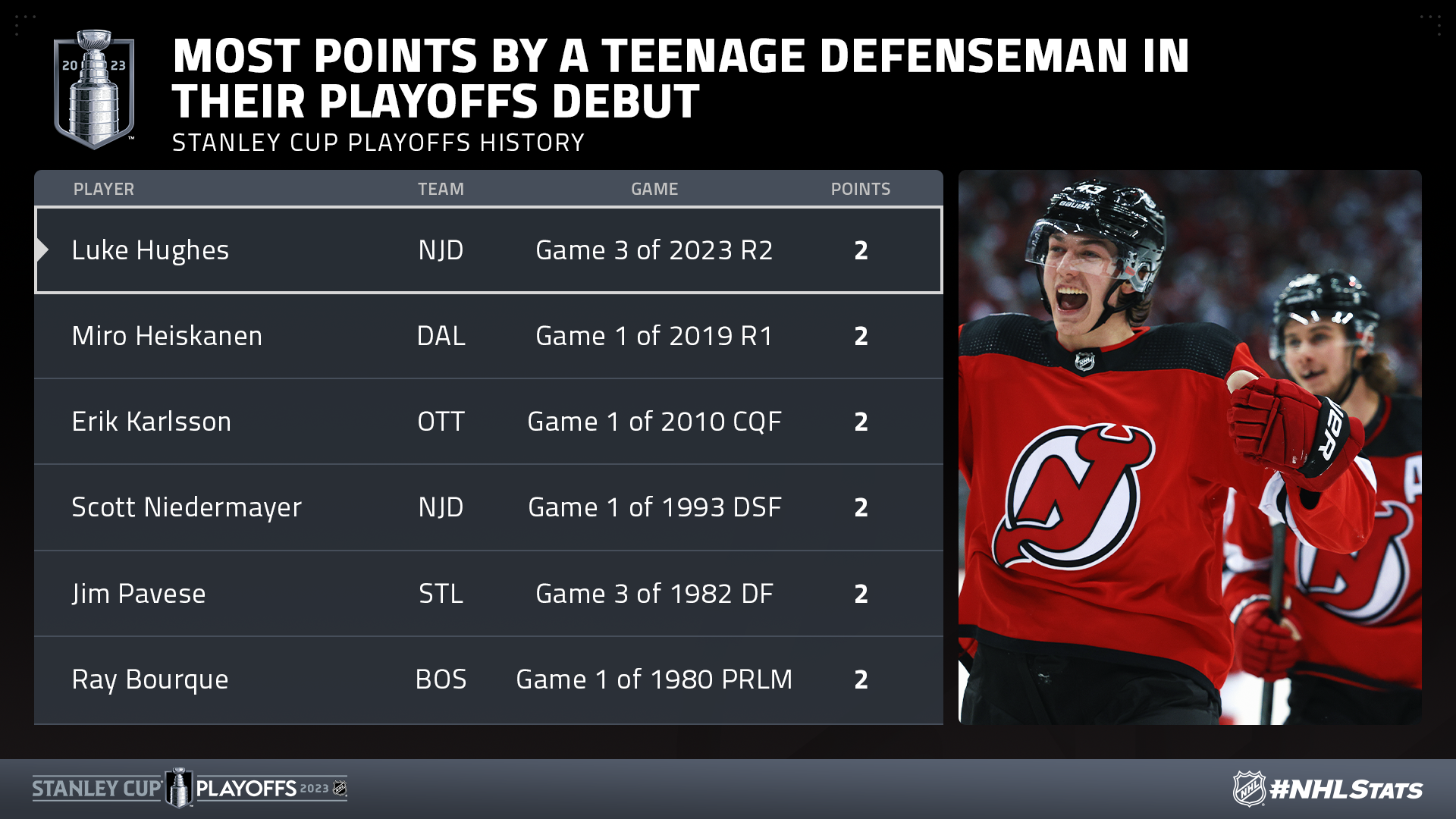 MORE #NHLSTATS FROM GAME 3 BETWEEN DEVILS AND HURRICANES
The 12-goal outing – topped with a combined four shorthanded goals – made for a jam-packed #NHLStats: Live Updates on Sunday, including many more noteworthy accomplishments from the Devils and Hurricanes game:

* The Hurricanes became the fourth team in NHL history to score three shorthanded goals in a playoff game (since special teams were first tracked in 1933-34), joining the Islanders (Game 3 of 1983 DF), Oilers (Game 3 of 1983 DF) and Bruins (Game 3 of 1981 PRLM).

* Carolina and New Jersey combined for four shorthanded goals – just the third Stanley Cup Playoffs game on record to feature as many. The others: Game 3 of the 1981 Preliminary Round (BOS at MNS) and Game 3 of the 1983 Division Finals (NYI at NYR).

* The Devils and Hurricanes matched the most goals scored in a game in the 2023 Stanley Cup Playoffs (also 12 goals between BOS-FLA in Game 6 of 2023 R1).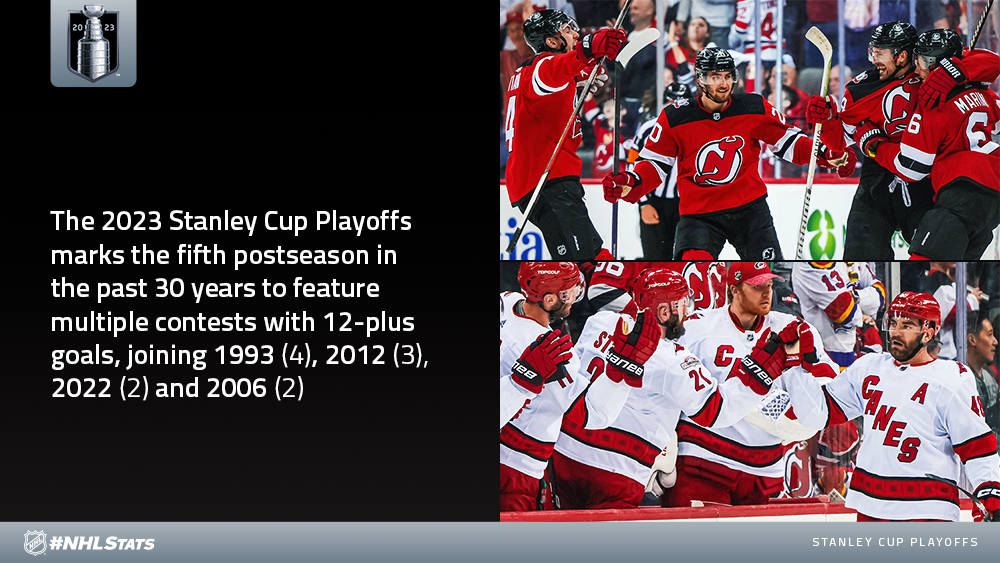 KRAKEN ERUPT FOR SEVEN GOALS, TAKE SERIES LEAD
Yanni Gourde (1-0—1) scored one of his team's seven goals – five of which came in the second period alone – as the Kraken defeated the Stars to earn their second-ever home playoff victory and take a 2-1 series lead. Seattle's eight seven-plus goal games in the regular season and playoffs combined are the most among all teams in 2022-23.

* The Kraken's five goals in the second fame are the most by a team in a postseason period since the Penguins in Game 4 of the 2022 First Round (5 in P2). The last team with more: the Bruins in Game 5 of the 1991 Division Semifinals (6 in P3).

* Carson Soucy was among the five Kraken players to find the back of the net in the second period, marking his first goal of the postseason. Seattle is the fifth team in the past 25 years to feature 16 different goal scorers within its first 10 games in a playoff year, following Colorado (16 in 2022), Vegas (16 in 2020), Columbus (16 in 2019) and Detroit (16 in 2011).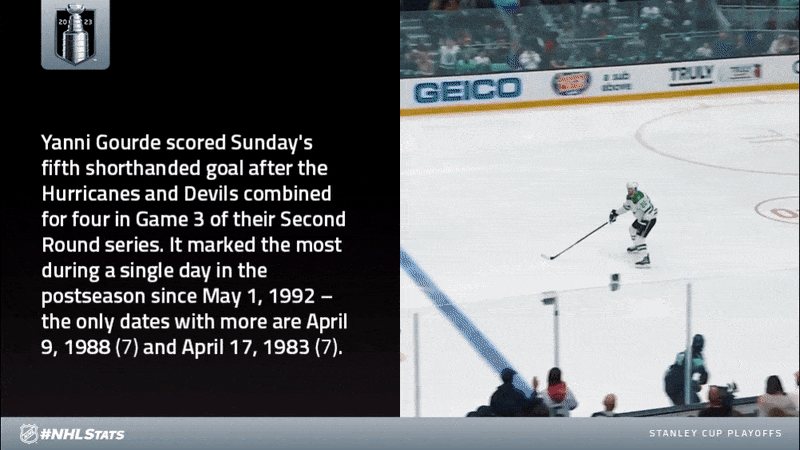 PANTHERS POUNCE IN OVERTIME TO TAKE 3-0 SERIES LEAD
After Toronto took an early lead for the second straight game, Florida erased multiple deficits to force overtime, where Sam Reinhart (1-0—1)and Anton Lundell (0-1—1) combined on the overtime winner to give the Panthers their second-ever 3-0 series edge (also 1996 CQF). It marked the club's second comeback win in as many contests and fourth overall of the 2023 Stanley Cup Playoffs – the most among all teams

* Florida extended its win streak to six games dating to Game 5 of the First Round. Only three teams have posted a longer postseason win streak over the past decade: Colorado (7 GP in 2022), Montreal (7 GP in 2021) and Boston (8 GP in 2019).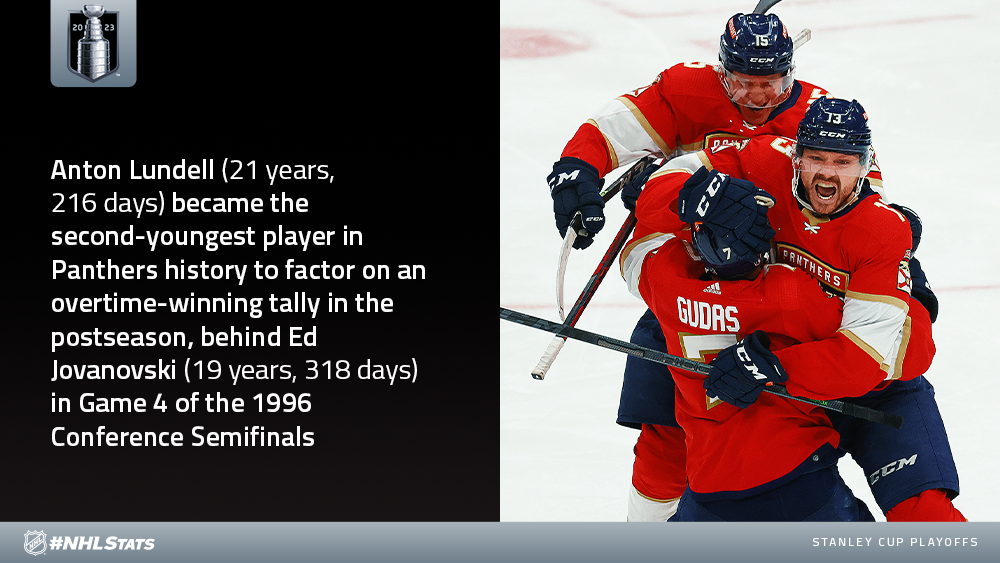 2023 NHL DRAFT LOTTERY SET FOR MONDAY
The 2023 NHL Draft Lottery, used to determine the order of selection for the first 16 picks in the first round of the 2023 Upper Deck NHL Draft, will be broadcast live Monday at 8 p.m. ET on ESPN, Sportsnet and TVA Sports from the NHL Network's studio in Secaucus, N.J.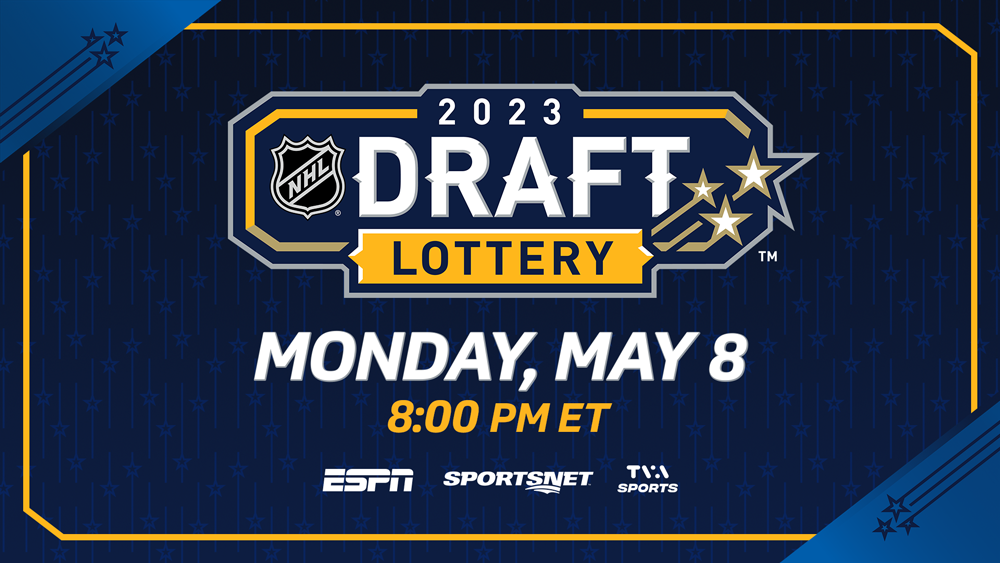 * Connor Bedard, a center from the Regina Pats who produced numbers the WHL has not seen in nearly a quarter of a century, enters the 2023 Upper Deck NHL Draft as the No. 1 prospect. Click hereto access the 2023 NHL Draft Lottery Information Guide, which features the odds and format for the event as well as lookup tables (both by combination ID and team sequence).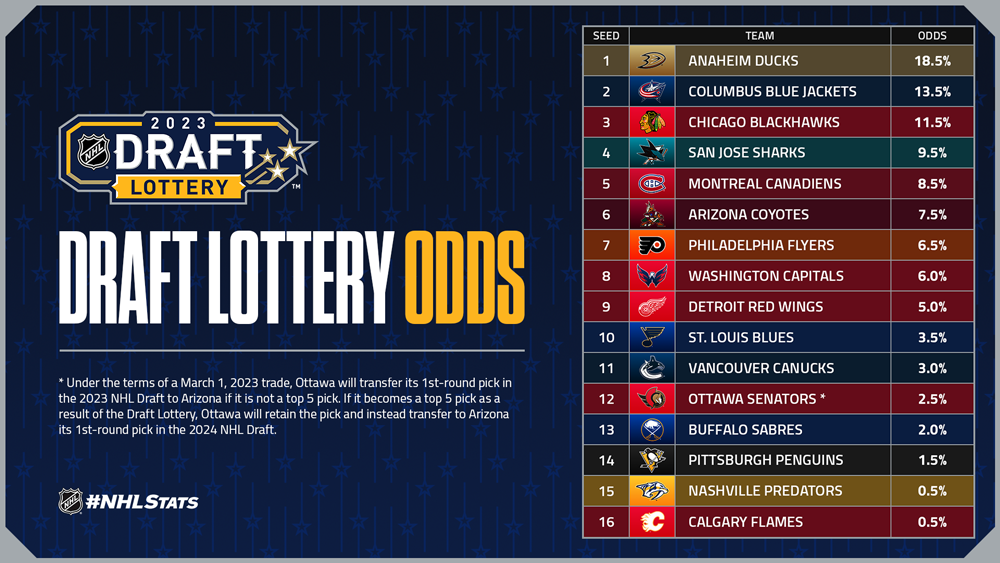 * A total of seven first-overall picks remain in the 2023 Stanley Cup Playoffs – tied for the second-highest total at this stage in a postseason. The list consists of Jack Hughes (2019), Nico Hischier (2017), Auston Matthews (2016), Connor McDavid (2015), Aaron Ekblad (2014), Ryan Nugent-Hopkins (2011) and John Tavares (2009).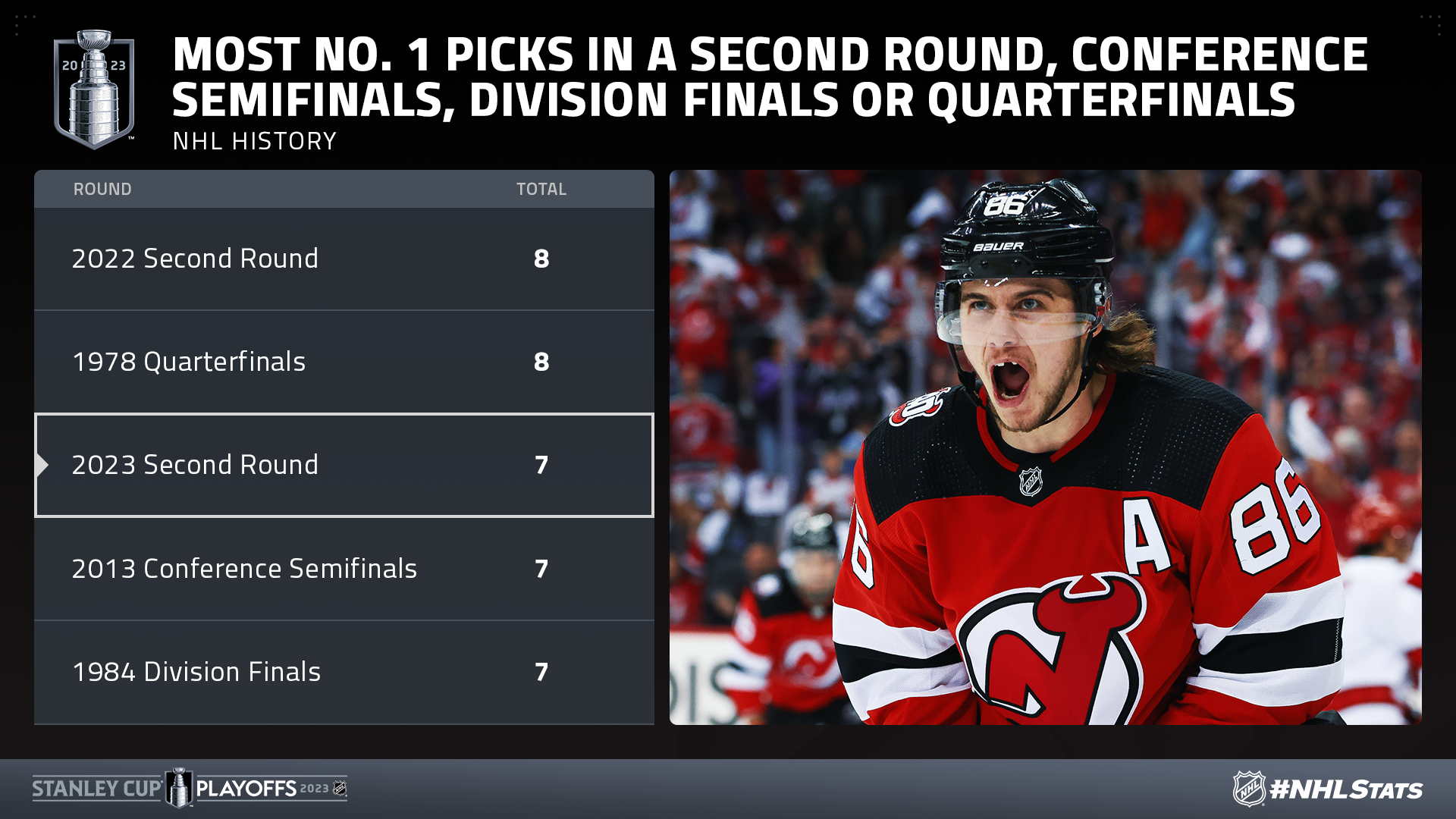 QUICK CLICKS

* Winning NHL Draft Lottery can become franchise-altering event
* Heat mainstay Udonis Haslem pounds Panthers drum, fires up crowd for Game 3
* Famous Fans: 'Voice of TikTok' Callaghan a lifelong Maple Leafs fan
* 2023 Stanley Cup Playoffs 2nd-round schedule
* Stars 'heartbroken' over mass shooting in Texas

SECOND ROUND SERIES BETWEEN EDMONTON, VEGAS SHIFTS TO OIL COUNTRY
The Oilers and Golden Knights will square off in Game 3 of their Second Round series at Rogers Place on Monday, with the contest carried on ESPN in the U.S. as well as on Sportsnet, CBC and TVA Sports in Canada. When a best-of-seven Stanley Cup Playoffs round is tied 1-1, the winner of Game 3 holds an all-time series record of 233-119 (.662) including a 2-4 (.333) mark in 2023.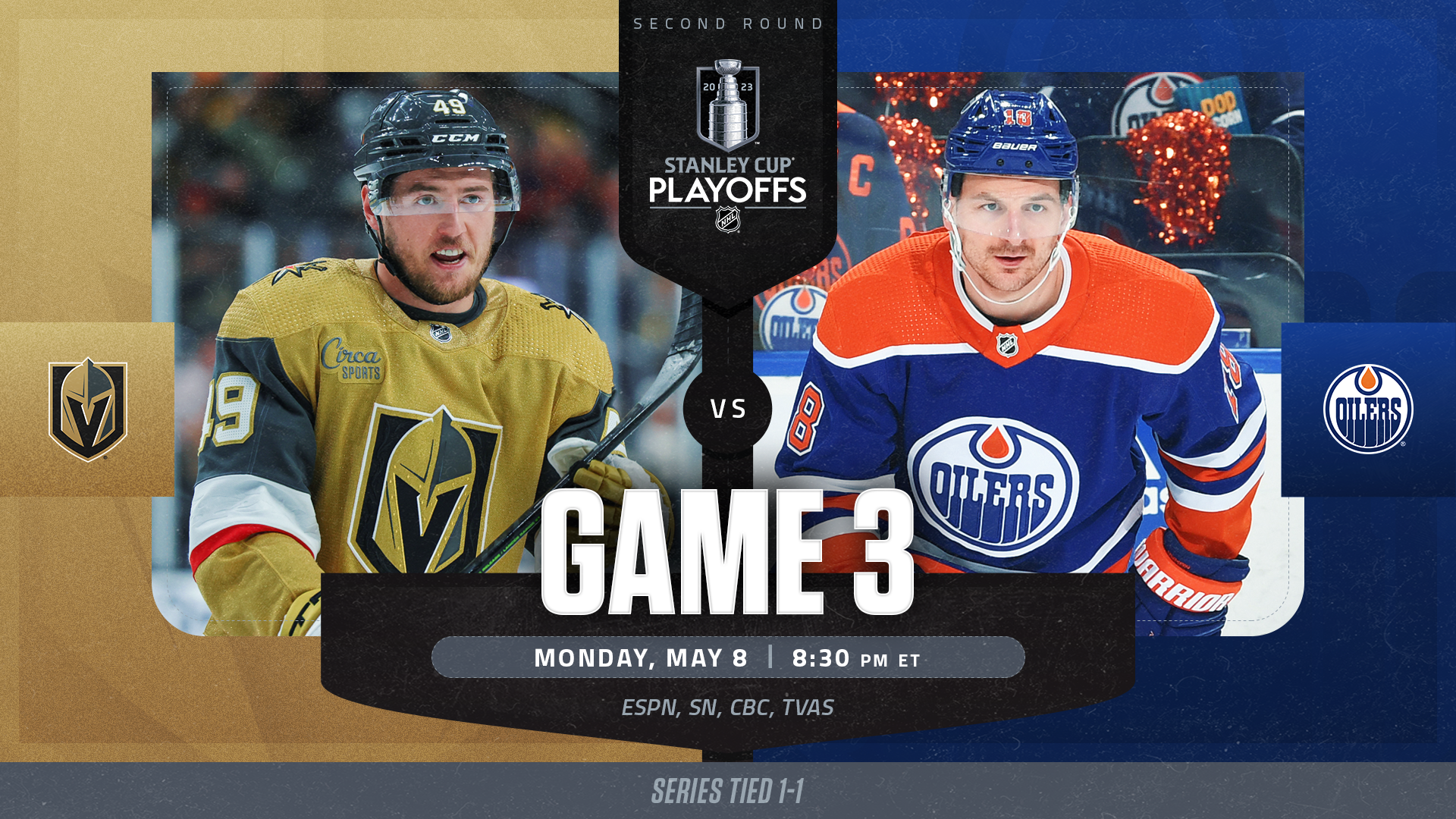 * Zach Hyman (2-7—9 in 8 GP) had three assists in Game 2 and is one point shy of becoming the fourth Edmonton player with a double-digital total this postseason – he would join Leon Draisaitl (13-4—17 in 8 GP), Connor McDavid (5-10—15 in 8 GP) and Evan Bouchard (3-11—14 in 8 GP). The Oilers have had four 10-point scorers prior to their 10th game in a postseason seven times in franchise history, with the most-recent instance being in 1990 (Esa Tikkanen, Jari Kurri, Craig Simpson, Mark Lamb & Mark Messier).

* Ivan Barbashev (3-0—3 in 2 GP) scored Vegas' only goal in Game 2 and leads all Golden Knights players with three through the first two contests in their Second Round series. He can become the third Vegas player with four or more goals through the first three games in a Stanley Cup Playoffs series, following Mark Stone in the 2019 First Round (6-2—8 in 3 GP) and Jonathan Marchessault in the 2018 Conference Finals (4-2—6 in 3 GP).

DRAISAITL CAN CONTINUE SCORCHING START TO STANLEY CUP PLAYOFFS
Leon Draisaitl (13-4—17 in 8 GP) has scored a League-leading 13 goals through eight games in the 2023 Stanley Cup Playoffs and needs just six tallies and three power-play markers to tie the NHL records for most in a postseason.

* Draisaitl can become the second player in Stanley Cup Playoffs history to score 14 or more goals prior to his 10th game in a postseason, joining Newsy Lalonde with the Canadiens in 1919 (15-2—17 in 9 GP). Draisaitl has 10 during his active five-game goal streak, which is a playoff career high and just one contest back of matching the franchise record for longest in a postseason.