* The Hurricanes captured their fourth consecutive 2-0 series lead thanks to another high-scoring outing at PNC Arena and have now outscored the Devils 11-2 through the first two games of their Second Round showdown.

* Leon Draisaitl looks to continue his goal-scoring ways and help the Oilers claim their first win of the 2023 Second Round, while captain Mark Stone and the Golden Knights eye a franchise record-tying sixth straight win and a 2-0 series lead.

* The 2023 NHL Draft Lottery, used to determine the order of selection for the first 16 picks in the first round of the 2023 Upper Deck NHL Draft, will be held Monday, May 8 (8 p.m. ET on ESPN, SN, TVAS). Click here for the 2023 NHL Draft Lottery Interactive Information Guide and click here for a full history of the NHL Draft Lottery on Records.NHL.com.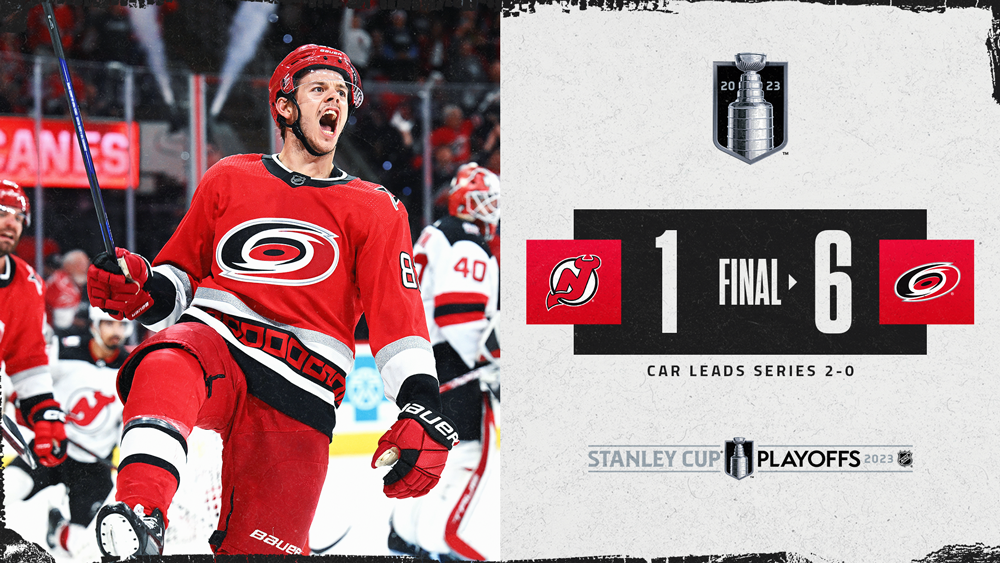 ANOTHER HIGH-SCORING OUTING LEADS HURRICANES TO ANOTHER 2-0 SERIES LEAD
Jesperi Kotkaniemi (2-0—2) scored two of Carolina's four second-period goals as the Hurricanes surged to their fourth consecutive 2-0 series lead in the Stanley Cup Playoffs thanks to an 11-2 goal-scoring outburst through two games of their series with the Devils.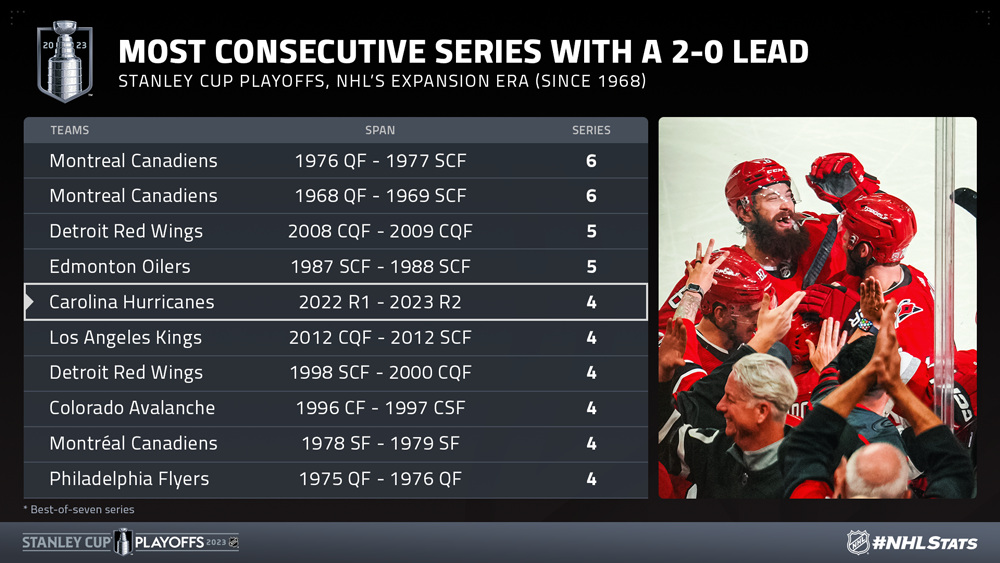 * The Hurricanes, who have scored 11 times through the first two games of a playoff series for the first time in franchise history, are the sixth different team with a four-goal period during the 2023 Stanley Cup Playoffs (also BOS, DAL, FLA, NYI & SEA). Only three postseasons in the past 30 years have featured more unique teams achieve the feat: 2018 (9), 2010 (7) and 1993 (8).

* Kotkaniemi scored both of his goals within the opening 3:58 of the second period, marking the second-fastest two goals from the start of any playoff period in Hurricanes/Whalers history behind only Erik Cole (3:33 in Game 6 of 2002 CSF). His tallies also came just 2:23 apart, which were the third-fastest two playoff goals by a player in franchise history behind Brock McGinn (2:08 in Game 4 of 2021 R1) and Andrei Svechnikov (2:19 in Game 1 of 2019 R1).

2023 PLAYOFF TRENDS HIGHLIGHTED IN FRIDAY EDITION OF #NHLSTATS: LIVE UPDATES
After New Jersey (2-0) and Florida (3-1) both overcame multi-game deficits en route to Game 7 victories in the opening round of the playoffs, the Devils and Maple Leafs now find themselves looking to do the same in their respective Second Round matchups. Teams overcoming multi-game deficits to win a series is one of many League trends spotlighted in the latest edition of #NHLStats: Live Updates.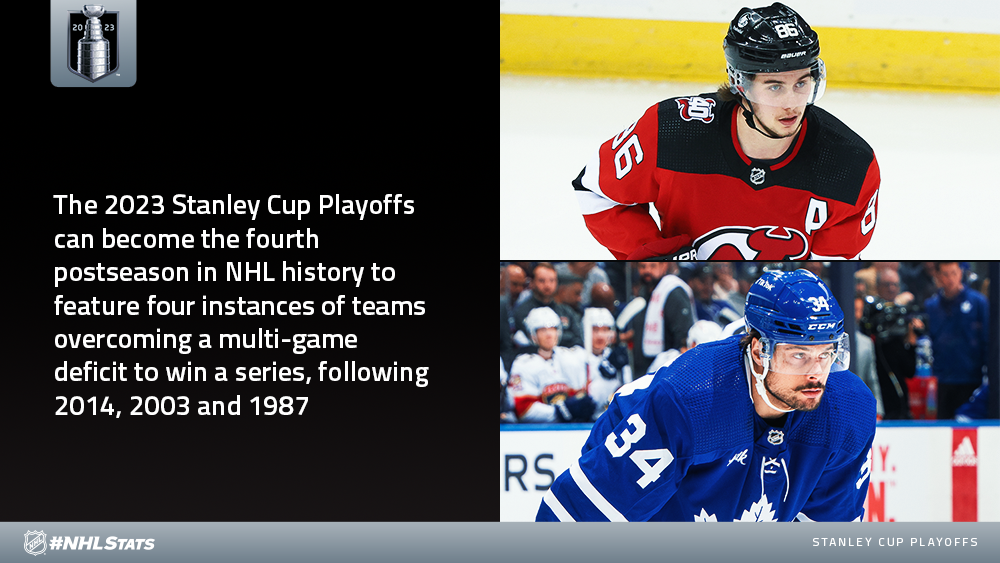 HAKSTOL, MONTGOMERY, RUFF VOTED JACK ADAMS FINALISTS
Seattle's Dave Hakstol, Boston's Jim Montgomery and New Jersey's Lindy Ruff are the three finalists for the 2022-23 Jack Adams Award, presented to the head coach who has "contributed the most to his team's success." Click here to read more.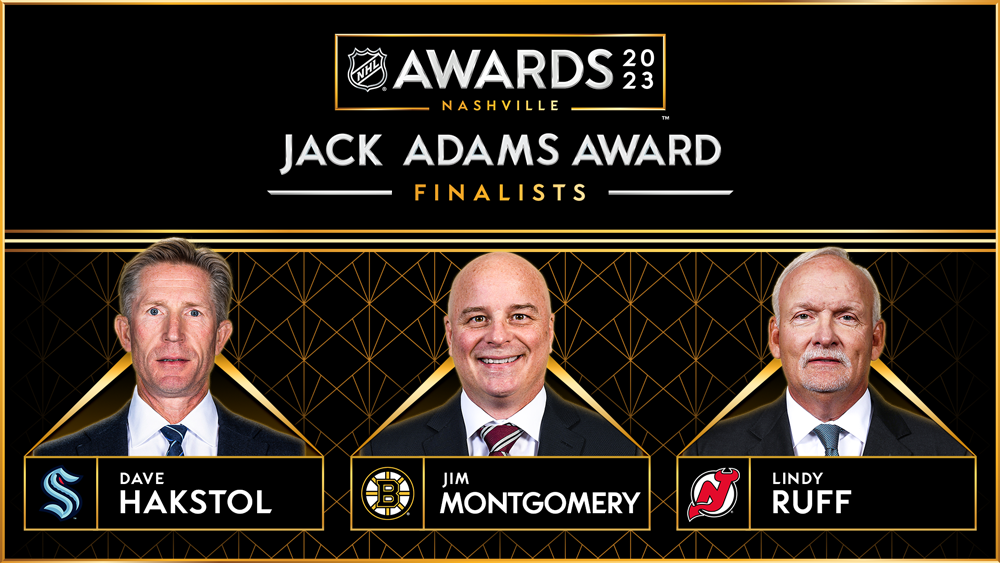 * The three finalists for the 2023 NHL Awards are being announced through Friday, May 12. The series of announcements continues Tuesday, May 9, when the three finalists for the Bill Masterton Memorial Trophy will be unveiled.

QUICK CLICKS

*Sam Bennett fined $5,000 for actions in Panthers game
* Connor Bedard among all-time prospects heading into 2023 NHL Draft
* Wyatt Johnston apprenticeship with Joe Pavelski pays off for Stars in Game 2 win
* Paul Maurice rediscovers love of hockey after return to game as Panthers coach
* Streamer Cody Burnett buys Maple Leafs fans playoff tickets

STREAKING GOLDEN KNIGHTS, DRAISAITL CONTEST GAME 1 ENCORE SATURDAY
Mark Stone and Vegas vie for another victory versus Edmonton in Game 2 of their Second Round series, which comes on the heels of the Golden Knights extending their winning streak in the opener despite Leon Draisaitl matching a franchise playoff record with four goals.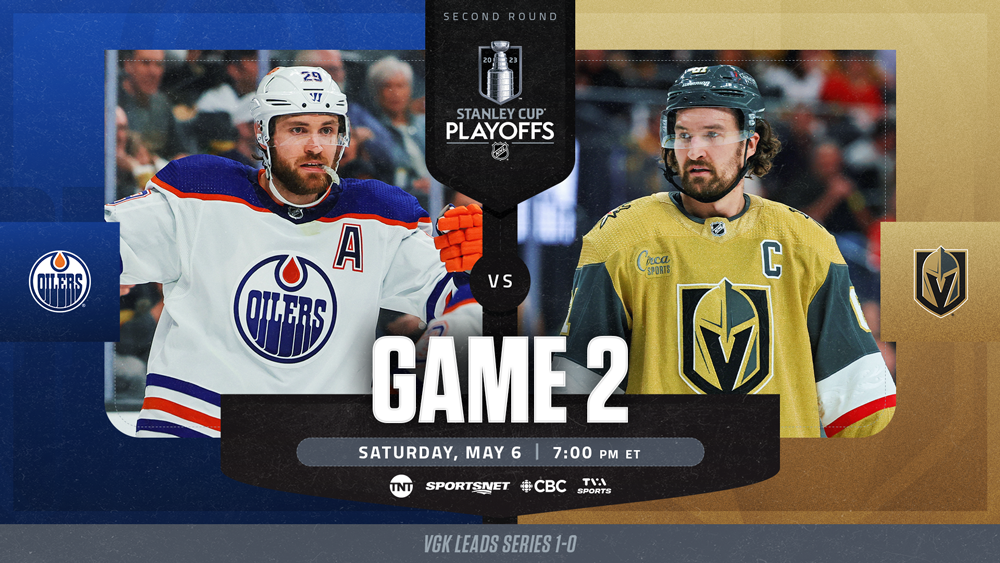 * Stone assisted on Chandler Stephenson's winning goal as Vegas improved to 5-0 in its past five contests dating to Game 2 of the First Round; the Golden Knights can equal their longest playoff winning streak in franchise history, a mark set in 2020 en route to reaching the Conference Finals (6-0). Laurent Brossoit has earned each decision during Vegas' run and can become the first Golden Knights goaltender with a six-game winning streak in the postseason.

* Draisaitl (11-4—15 in 7 GP) can become the second player in Stanley Cup Playoffs history to score 12 or more goals through his first eight games of a postseason, following Newsy Lalonde with the Canadiens in 1919 (15-2—17 in 8 GP). Draisaitl (7-2—9 in 4 GP) can become the second to score eight or more through his first five road games, joining Frederick "Cyclone" Taylor with the Vancouver Millionaires in 1918 (9-0—9 in 5 GP).