* After a four-goal performance in his return to the 2023 Stanley Cup Playoffs in Game 1, Joe Pavelski added to his goal total in Game 2 and helped the Stars even their Second Round series before it shifts to Seattle.

* The Panthers erased a multi-goal deficit to establish a franchise record for longest postseason win streak and will head south with a 2-0 series lead against the Maple Leafs.

* Game 2 between Carolina and New Jersey is Friday's lone contest, which will be broadcast nationally across the U.S. and Canada on TNT, Sportsnet and TVA Sports. The Hurricanes have the opportunity to take a 2-0 series lead at home.
PAVELSKI, JOHNSTON HELP STARS EVEN SECOND ROUND SERIES
Veteran Joe Pavelski androokie Wyatt Johnston were two of the Stars' four goal scorers who helped Dallas even its series as it shifts to Seattle – the club owns an all-time record of 9-3 (.750) when tied 1-1 in a best-of-seven series after starting at home. While Pavelski (38 years, 297 days) is nearly double the age of Johnston (19 years, 355 days), both players achieved notable accomplishments in Thursday's win.

* Pavelski (1-0—1) improved his totals in the Second Round to 5-0—5 (2 GP) and joined Steve Payne (5 in 1981) as the second player in Stars/North Stars history to record five goals over a two-game span in the postseason. In fact, only three players in franchise history have ever scored more in an entire series: Tony McKegney (7 in 1985 DF), Payne (7 in 1981 PRLM) and Denis Gurianov (6 in 2020 R1).

* Pavelski became the second player age 35 or older to score five goals over a span of two games in the same playoff year, joining Montreal's Maurice Richard (35 years, 245 days at time of second game). Richard accumulated five goals between Game 5 of the 1957 Semifinals and Game 1 of the 1957 Stanley Cup Final.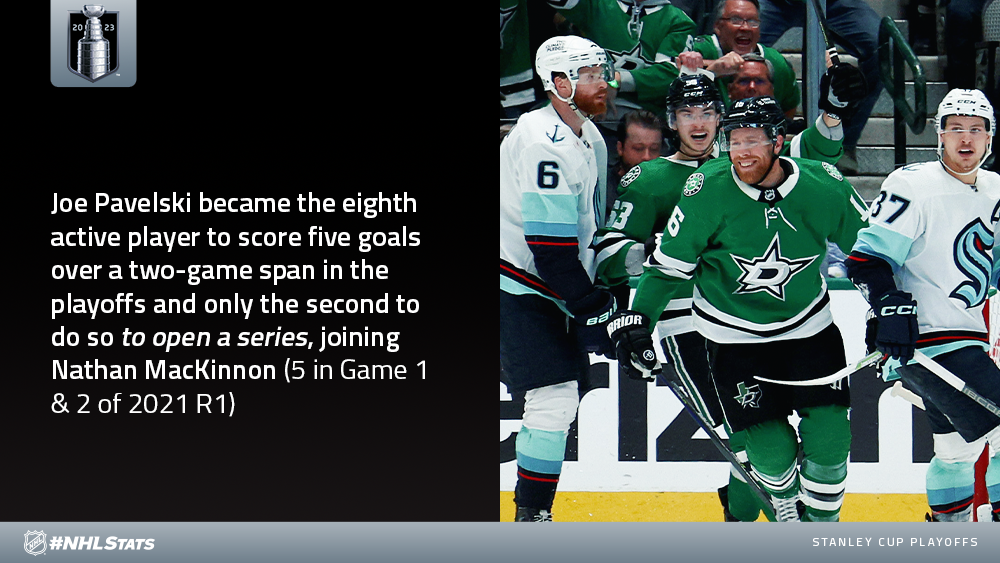 * Johnston (1-1—2) became the sixth teenager in Stars/North Stars history to record a multi-point game in the playoffs, joining Brian Bellows (8x; last: Game 3 of 1984 CF), Brad Palmer (4x; last: Game 6 of 1981 SF), Tom McCarthy (3x; last: Game 3 of 1980 SF), Miro Heiskanen (Game 1 of 2019 R1) and Mike Craig (Game 4 of 1991 DSF).

* Johnston (2-2—4 in 8 GP) is skating across the ice from Calder Trophy nominee Matty Beniers – who led the NHL in rookie scoring during the 2022-23 regular season. Johnston currently sits tied atop rookie scoring in the playoffs in both goals (also Tye Kartye w/ 2) and points (also Matthew Knies w/ 4).
PANTHERS STAGE MULTI-GOAL COMEBACK TO TAKE A 2-0 SERIES LEAD
After Toronto jumped out to an early 2-0 lead, Florida responded with three unanswered goals while Sergei Bobrovsky came up big with 35 saves to help the Panthers extend their win streak to five games – establishing a franchise record – and head home with a 2-0 series lead. Thursday marked just the fourth time Florida has overcome a multi-goal deficit to win in the postseason (also Game 5 of 2022 R1, Game 3 of 2021 R1 & Game 3 of 2012 CQF).

* Aleksander Barkov tied the game just 19 seconds into the second frame to establish a franchise record for fastest goal to begin a postseason period (previously 0:22 in P3 of Game 2 of 2023 R1).

* Matthew Tkachuk (0-1—1), who collected an assist on the game-winning goal, extended his point streak to six games and now trails only Dave Lowry (7 GP in 1996) for the longest run in Panthers Stanley Cup Playoffs history. Tkachuk (5-10—15 in 9 GP) now has 10 assists in 2023, tied with Stu Barnes (6-10—16 in 1996) for the most assists in a postseason by a Panthers player.

* Bobrovsky extended his win streak to five contests dating to Game 5 of the First Round, his longest run ever in the postseason. The last time Bobrovsky won six straight games was from April 8-23, 2022 during the 2021-22 regular season.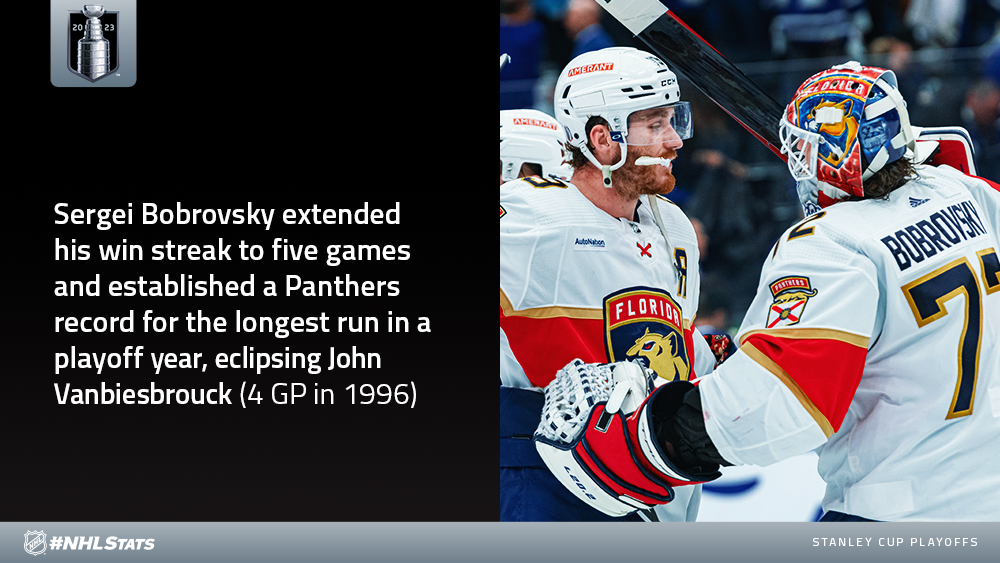 2023 PLAYOFF TRENDS FEATURED IN LATEST EDITION OF #NHLSTATS: LIVE UPDATES
Road teams improved to 34-22 in the 2023 Stanley Cup Playoffs, with the Panthers picking up a victory as visitors Thursday. A look at that and more postseason trends is included below as well as in the latest edition of #NHLStats: Live Updates.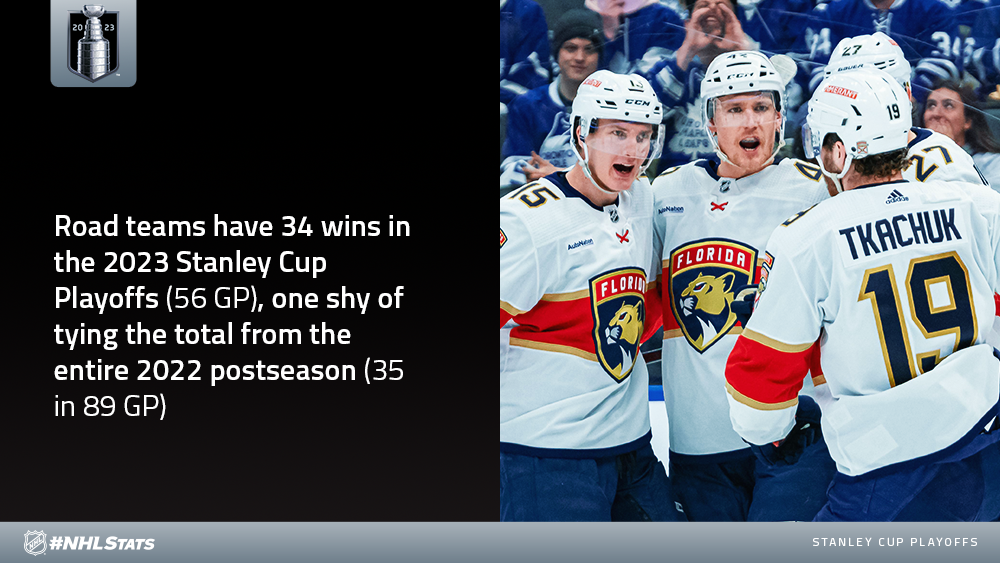 FOX, KARLSSON AND MAKAR VOTED NORRIS TROPHY FINALISTS
A trio of previous winners in New York's Adam Fox, San Jose's Erik Karlsson and Colorado's Cale Makar are the three finalists for the 2022-23 James Norris Memorial Trophy, awarded "to the defense player who demonstrates throughout the season the greatest all-round ability in the position." Click here to read more.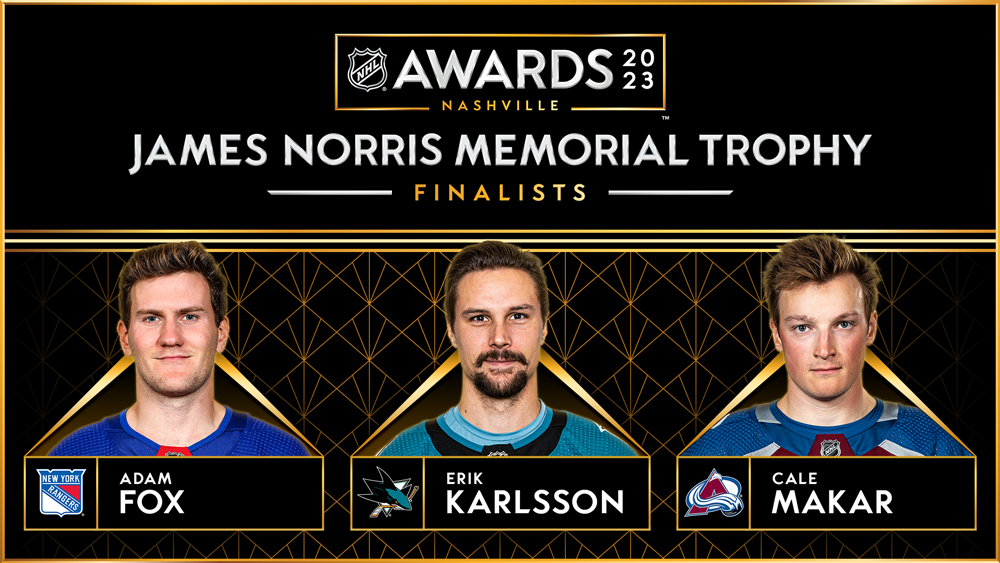 * The three finalists for the 2023 NHL Awards are being announced through Friday, May 12. The series of announcements continues Friday, May 5, when the three finalists for the Jack Adams Award will be unveiled.

QUICK CLICKS

* Oilers feel depth scoring will come in Game 2 against Golden Knights
* AHL notebook: NHL prospects to watch from West in Calder Cup Playoffs
* Eric Staal of Hurricanes relishing challenge against Devils in East Second Round
*Petr Klima dies at 58, scored in 3rd overtime for Oilers in 1990 Cup Final

HURRICANES LOOK FOR ANOTHER 2-0 SERIES LEAD
The sole Game 2 on Friday will feature the Hurricanes and Devils on TNT, Sportsnet and TVA Sports. Carolina will look to defend home ice once more and take a 2-0 series lead for the second time this postseason, while New Jersey will look to avoid a 2-0 deficit for the second straight series.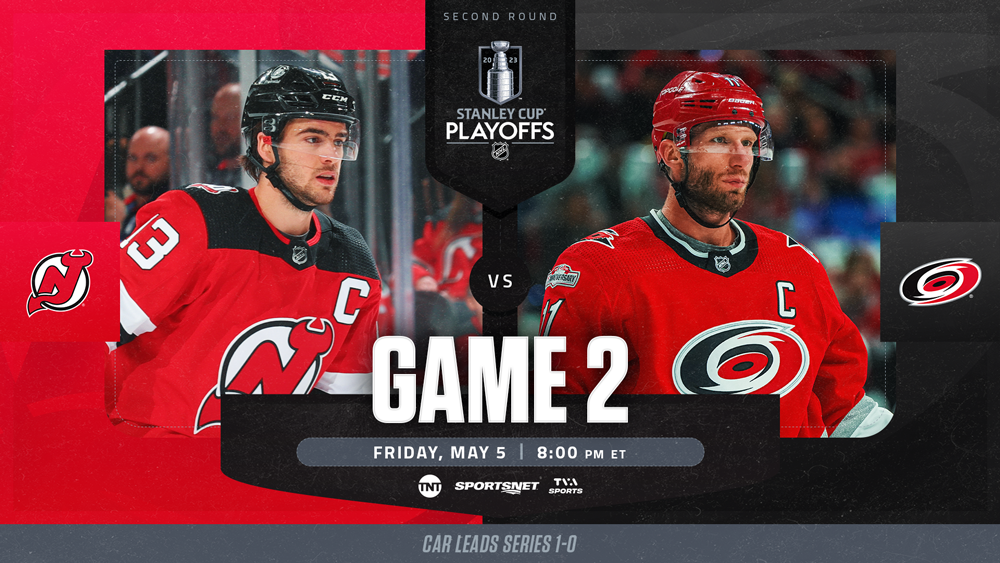 * In a postseason in which the road team has had the edge in play so far with a 34-22 record, Carolina (3-1) will look to become the first team to win four home games during the 2023 Stanley Cup Playoffs. The Hurricanes/Whalers are 8-1 all-time in Game 2 following a Game 1 win on home ice – their .888 winning percentage in those scenarios trails only the Islanders (10-1, .909 W%) for the best mark in Stanley Cup Playoffs history.

* The Hurricanes have an opportunity to go up 2-0 in a series multiple times in a single postseason for the third time in franchise history after first doing so in 2006 (CSF vs. NJD & SCF vs. EDM) on their path to the franchise's first Stanley Cup and again in 2022 (R1 vs. BOS & R2 vs. NYR). Their next victory against the Devils will also be their 16th all-time against the club in the Stanley Cup Playoffs.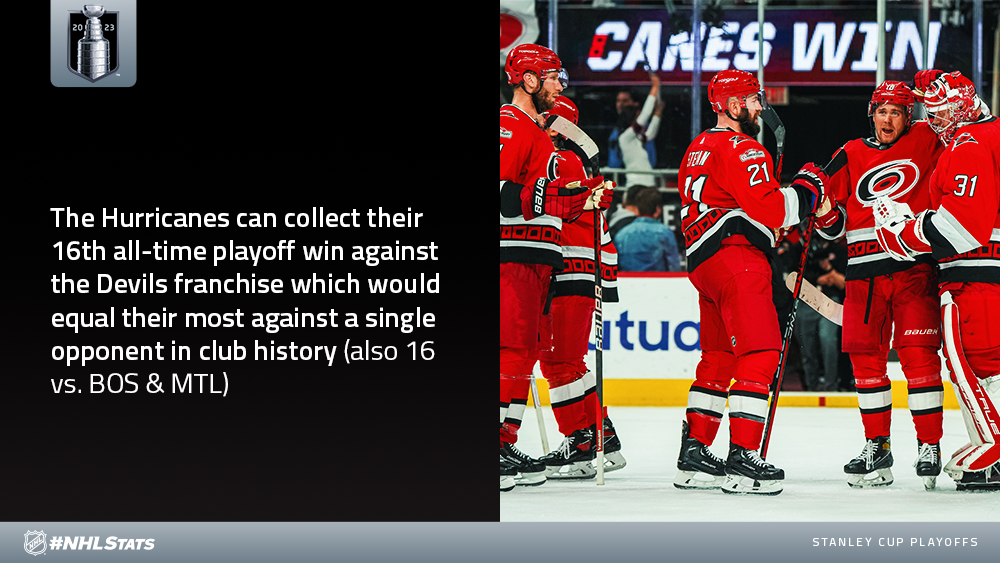 * The Devils went 20-8-2 (.700 P%) following a loss during the 2022-23 season – only the Bruins (14-2-1, .853 P%), Maple Leafs (24-5-3, .797 P%) and Golden Knights (20-7-4, .710 P%) had a higher points percentage in that scenario. New Jersey is also 10-5 all-time (.667 W%) in Game 2 following a Game 1 loss on the road, tied with Tampa Bay (6-3, .667 W%), Vegas (2-1, .667 W%) and Vancouver (6-3, .667 W%) for the best winning percentage in Stanley Cup Playoffs history.