* After Jason Robertson pulled the Stars even twice, Joe Pavelski netted the overtime winner to help his team stave off elimination and climbed multiple all-time lists in the process.

* Game 4 of the Western Conference Final marked the 23rd overtime contest of the 2023 Stanley Cup Playoffs, the ninth-highest total in a single postseason in NHL history.

* The 2023 Stanley Cup Final will open either Wednesday, May 31st or Saturday, June 3rd. Click here to view the different schedule scenarios.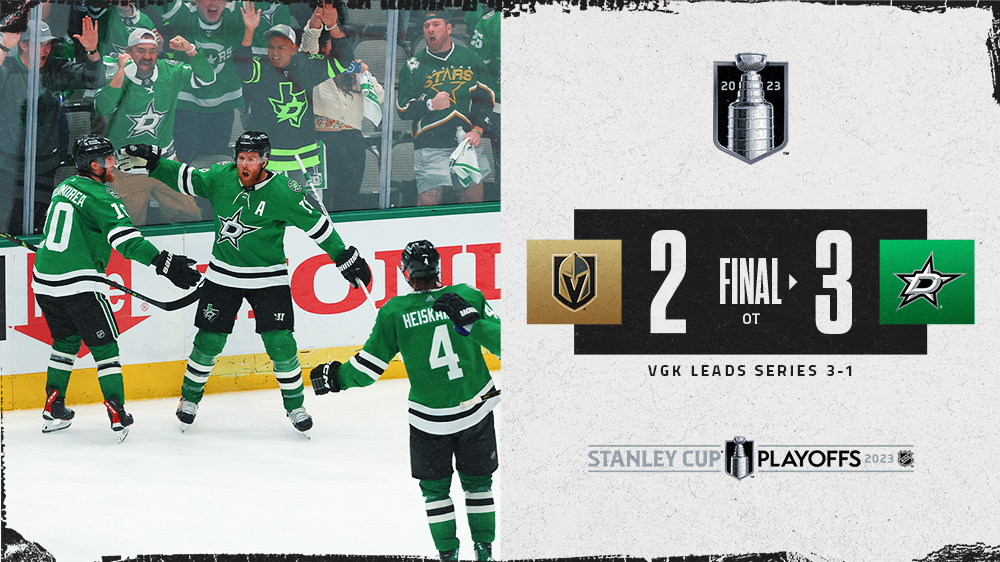 ROBERTSON, PAVELSKI HELP STARS STAVE OFF ELIMINATION
After Jason Robertson scored two game-tying tallies, Joe Pavelski found the back of the net in overtime to help the Stars stay alive in the Western Conference Final and force a Game 5 in Vegas on Saturday. Dallas earned a comeback win to stave off elimination for the sixth time in team history and first since Game 5 of the 2020 Stanley Cup Final.

* Robertson became the second player in Stars/North Stars history to score two tying goals in a game when his club is facing elimination, following Joel Kiviranta (2 in Game 7 of 2020 R2). Robertson also became the 10th player in Stars team history with multiple goals in a contest when facing elimination and the first since Corey Perry in Game 5 of the 2020 Stanley Cup Final.

* Pavelski scored his fourth career playoff overtime goal, tying Nicklas Backstrom and Patrice Bergeron for the second most among active players behind only Patrick Kane andPerry(both w/ 5).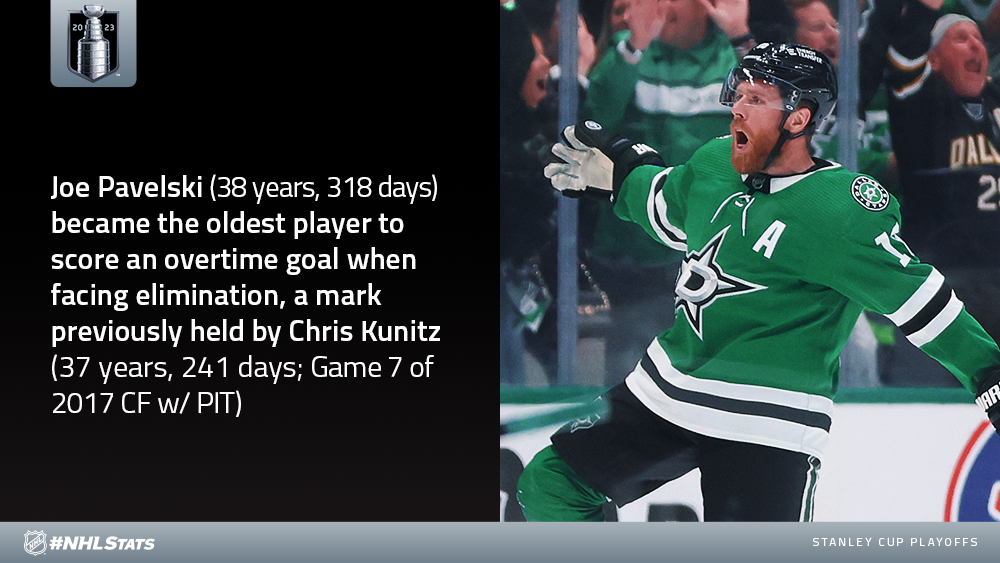 * Pavelski's goal marked the 73rd of his career in the postseason, moving him past Alex Ovechkin for sole possession of the most among all active players. He also tied Dino Ciccarelli for 13th place on the NHL's all-time playoff goals list.

* Pavelski, who now has the 10th-most points among all active players when facing elimination (8-10—18 in 29 GP), also surpassed Mario Lemieux and tied Nicklas Lidstrom (30) for the fifth-most playoff power-play goals in NHL history.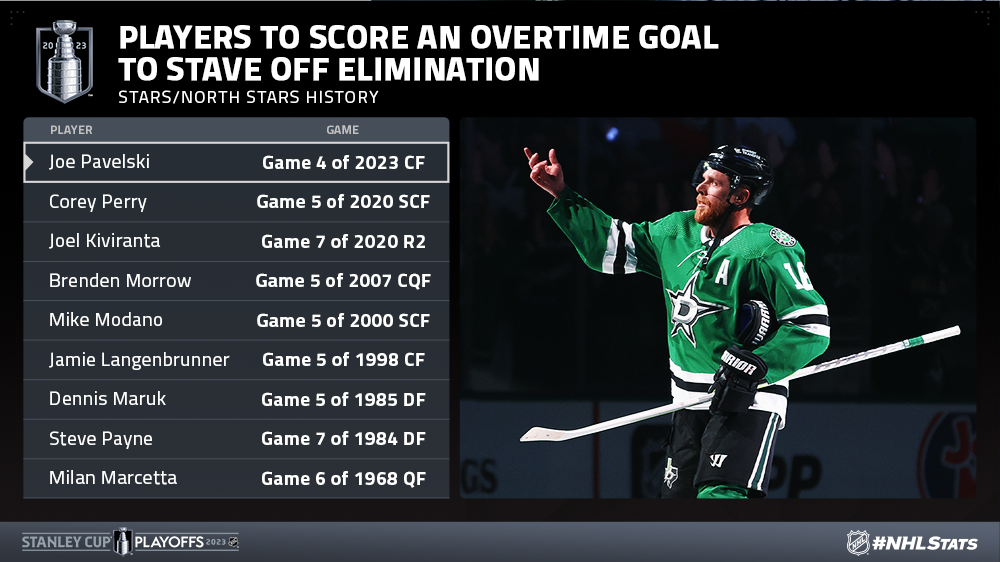 LEAGUE TRENDS FEATURED IN #NHLSTATS: LIVE UPDATES
The latest edition of #NHLStats: Live Updates featured a number of League trends as Game 4 of the Western Conference Final between the Stars and Golden Knights became the 23rd to require overtime in the 2023 Stanley Cup Playoffs.

* Seven of eight games so far in the Conference Finals have been decided by one goal, including five that required overtime. Only five postseasons have seen more one-goal contests in the round before the Stanley Cup Final, with each of those accumulated from a minimum of 11 games played: 2021 Stanley Cup Semifinals (9 in 13 GP), 2002 Conference Finals (9 in 13 GP), 2017 Conference Finals (8 in 13 GP), 2007 Conference Finals (8 in 11 GP) and 1945 Semifinals (8 in 13 GP).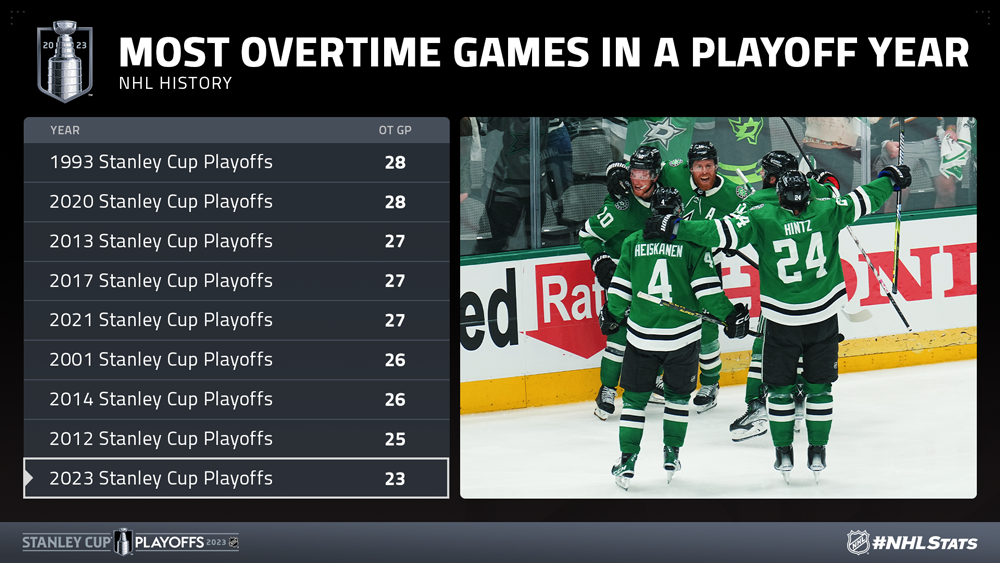 QUICK CLICKS

* Jon Hamm talks playoffs, Blues fandom, hockey memories and more
* Stanley Cup guest stars on Kelce Brothers' podcast
* Scotty Bowman says Panthers are 'a team of destiny'
* Panthers recovering, waiting on Stanley Cup Final opponent
* Oliver Moore among U.S. prospects discussed on 'NHL Draft Class' podcast
WESTERN CONFERENCE FINAL CONTINUES ON SATURDAY
The Western Conference Final will shift back to T-Mobile Arena for Game 5 on Saturday as the Stars continue their pursuit to become the fifth team in NHL history to rally from a 3-0 series deficit to win a best-of-seven. Vegas has an all-time record of 5-3 in potential series-clinching games on home ice, while the Stars/North Stars are 14-17 when facing elimination on the road.