* Twenty-year-old Wyatt Johnston became the youngest player in NHL history to score a series-clinching goal in a Game 7, sending the Stars to their second Conference Final in four years.

* Dallas is set to face off against Vegas in a rematch of the 2020 Western Conference Final, where the Stars earned a 4-1 series win en route to their first Stanley Cup Final in 20 years.

* The Conference Finals are set to begin Thursday when the Hurricanes welcome the Panthers to PNC Arena. The puck drops at 8:00 p.m. ET and will be broadcast nationally on TNT in the U.S. as well as on Sportsnet, CBC and TVA Sports in Canada. Click here for full Conference Finals schedule and broadcast details.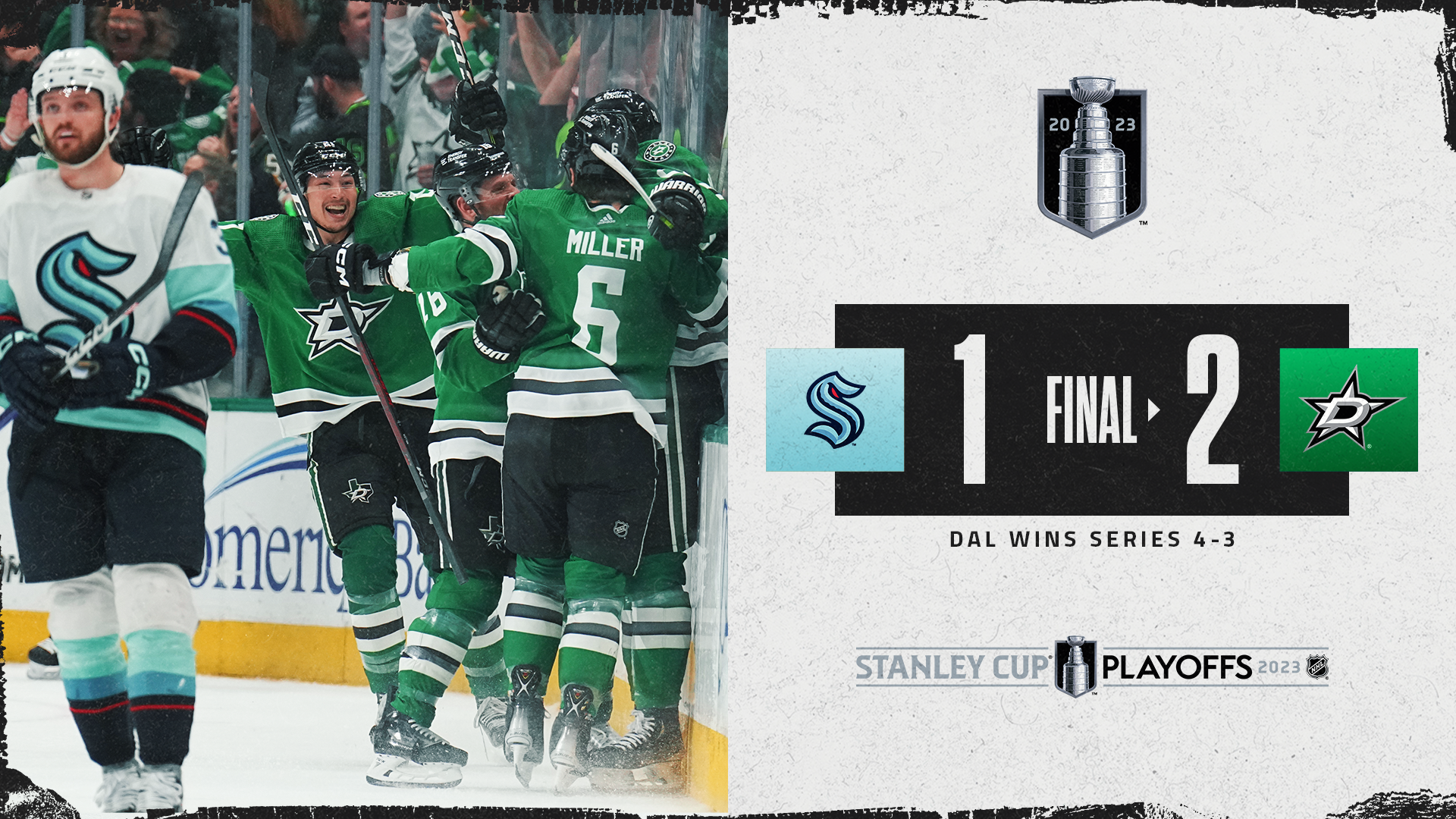 JOHNSTON, OETTINGER HELP STARS SECURE CONFERENCE FINALS
After Roope Hintz scored his League-leading third game-opening goal of the 2023 Stanley Cup Playoffs, Wyatt Johnston netted the game winner – and his second series-clinching tally this postseason – while Jake Oettinger made 22 saves to send Dallas to its second Western Conference Final in four years.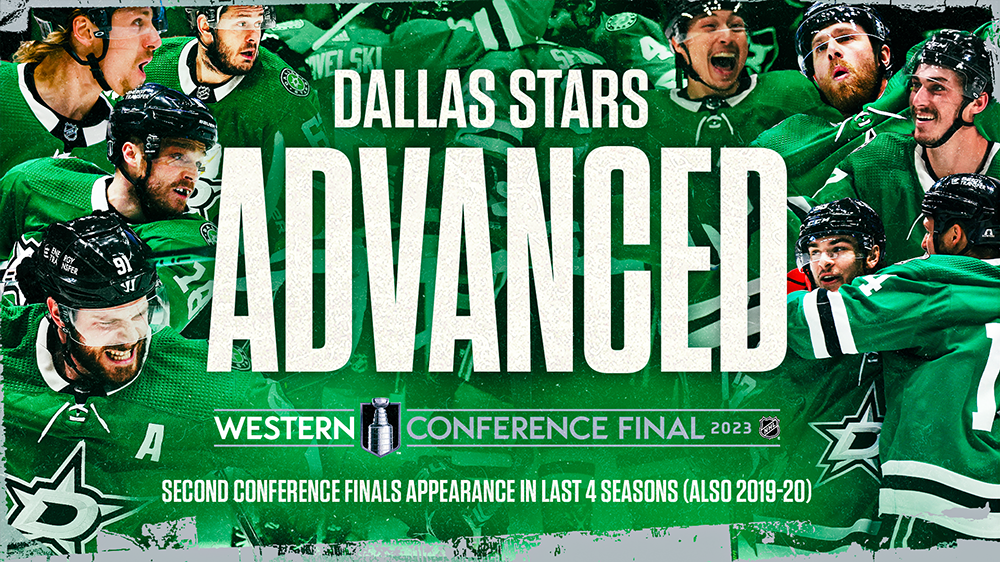 * Dallas now sits four wins away from the franchise's sixth berth in the Stanley Cup Final, following 2020, 2000, 1999, 1991 and 1981. The Stars/North Stars can become just the fourth non-Original Six franchise with six or more Stanley Cup Final appearances – they would join the Flyers (8x; last: 2010), Oilers (7x; last: 2006) and Penguins (6x; last: 2017).

* The Stars became the fourth franchise Peter DeBoer has led to a Conference Finals/Semifinals appearance (also VGK, SJS & NJD), a feat accomplished by only one other head coach in NHL history – Scotty Bowman (5; STL, MTL, BUF, PIT & DET). Additionally, DeBoer is the only head coach in NHL history to lead a franchise to a Conference Finals/Semifinals appearance in his first season as head coach on four separate occasions.

* Johnston, who also put the Stars through to the Second Round with the winning tally against the Wild in Game 6 of the First Round, became the fifth rookie in NHL history to score multiple series-clinching goals and the fourth to do so in a single playoff year, joining Adam Henrique (Game 6 of 2012 CF & Game 7 of 2012 CQF w/ NJD), Hank Goldup (Game 2 of 1940 SF & Game 2 of 1940 QF w/ TOR) and Howie Morenz (Game 2 of 1924 SCF & Game 2 of 1924 NHLF w/ MTL). Jeremy Roenick's two series-clinching goals as a rookie spanned two postseasons (Game 7 of 1990 DSF & Game 5 of 1989 DF w/ CHI).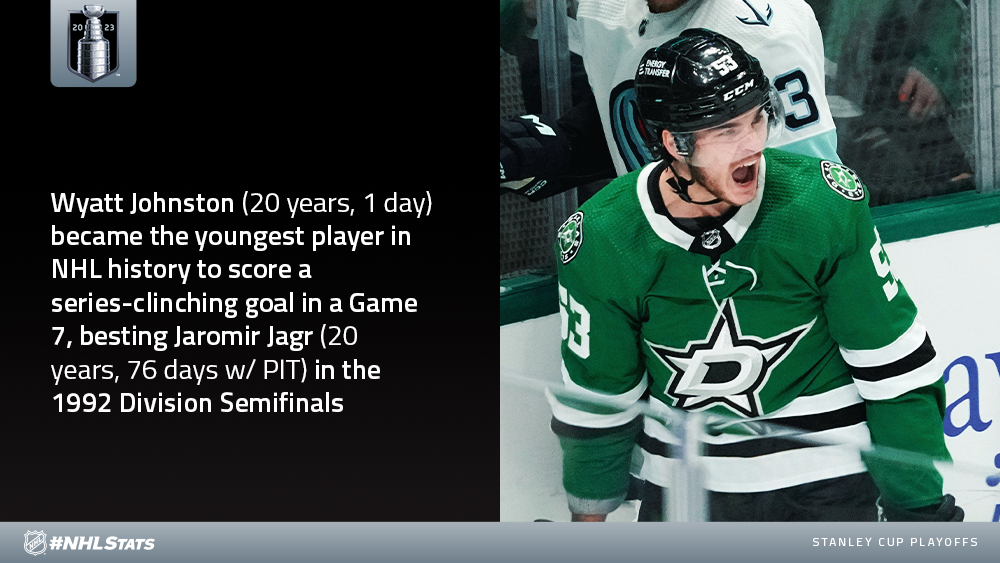 * Johnston (20 years, 1 day) also became the sixth-youngest player in NHL history to score a goal in a Game 7, joining Trevor Linden (19 years, 4 days; 1989 DSF w/ VAN), Glen Murray (19 years, 182 days; 1992 DSF w/ BOS), Kevin LaVallee (19 years, 222 days; 1981 QF w/ CGY), Robert Reichel (19 years, 295 days; 1991 DSF w/ CGY) and Wade Redden (19 years, 321 days; 1997 CQF w/ OTT).

* Oettinger improved to 14-0-0 after a regulation loss in 2022-23 while posting a 1.83 goals-against average and .940 save percentage in those contests (regular season & playoffs combined). Following his 64-save performance in Game 7 of the 2022 First Round, Oettinger has now recorded 86 total saves across his first two Game 7 appearances, trailing only Kelly Hrudey (102 saves) for the most in NHL history.

* For more notes from the Stars' Game 7 win, check out the latest edition of #NHLStats: Live Updates.





* The Stars will face the Golden Knights in the 2023 Western Conference Final, marking the second all-time meeting between the two clubs in the Stanley Cup Playoffs. The previous matchup came in the 2020 Conference Finals, a series Dallas won in five games, which saw the first instance in the NHL's modern era (since 1943-44) of a Conference Finals or Semifinals series opening with each team earning a shutout within the first two contests. Click here for more notes on their matchup.

STARS VETS SET TO CONTINUE PURSUIT OF FIRST STANLEY CUP
Stars veterans Joe Pavelski – who became the 10th active player to skate in 10 or more career Game 7s – and Ryan Suter continue to chase their first Stanley Cup. Pavelski's 176 career playoff games are the fifth most in NHL history before a Stanley Cup win/without winning a championship, behind only Ray Bourque (214 GP before winning in 2001 w/ COL), Patrick Marleau (195 GP), Joe Thornton (187 GP) and Dale Hunter (186 GP).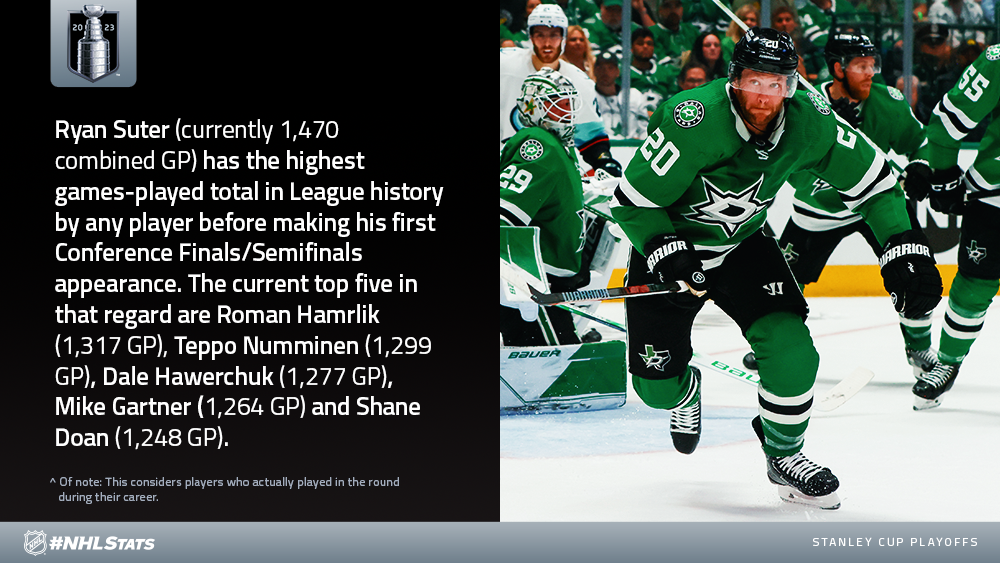 CONFERENCE FINALS BEGIN THURSDAY IN CAROLINA
Mark it in your calendars – the dates and start times are set for both Conference Finals series openers, with the Hurricanes set to host the Panthers in Carolina on Thursday and the Stars set to face the Golden Knights in Vegas on Friday. The 2023 Conference Finals will mark the southernmost final four in Stanley Cup Playoffs history (VGK: +36.1, CAR: +35.8, DAL: +32.7 & FLA: +26.1). The previous benchmark was in 2016 (PIT: +40.4, STL: +38.6, SJS: +37.3 & TBL: +27.9).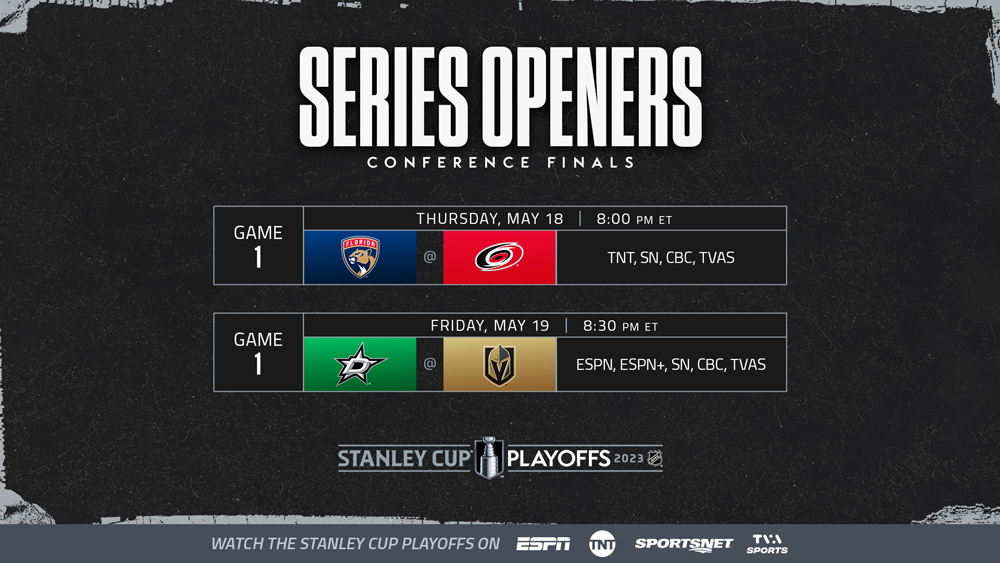 COMPETITIVE BALANCE SETS UP NEW-LOOK CONFERENCE FINALS
This is the first time in Stanley Cup Playoffs history that the final four teams are based in "Sun Belt" states. The closest instance before this year came in 2020 when three of the four clubs met those criteria (Tampa Bay, Dallas & Vegas) and set up the first-ever "Sun Belt" Stanley Cup Final, though it was played in Edmonton due to the COVID-19 pandemic. The only other instances of an "all Sun Belt" series in the round before the Final came in 2012 (Los Angeles vs. Phoenix) and 2017 (Anaheim vs. Nashville).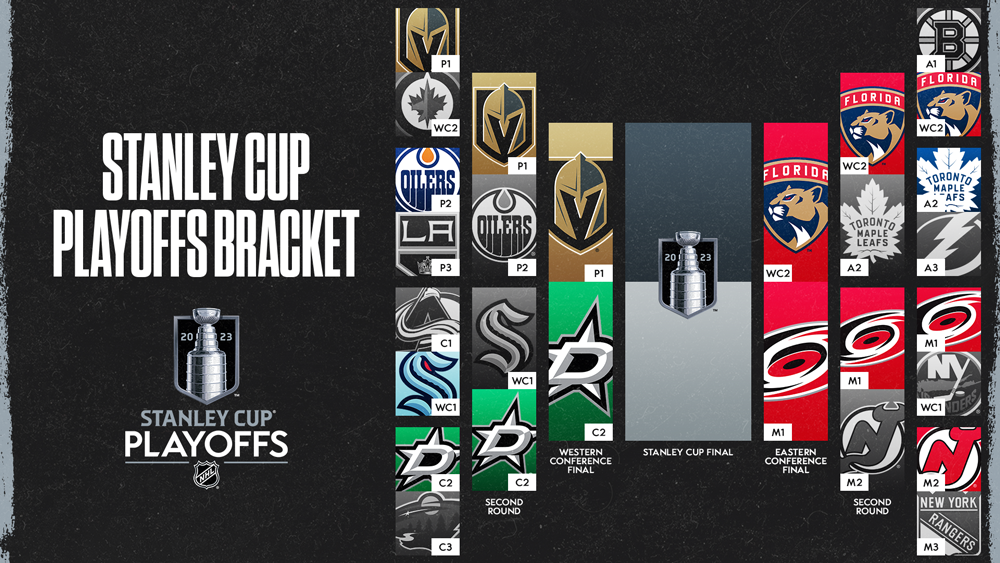 * The remaining teams have a combined two Stanley Cup wins, with the last coming 17 years ago – Carolina won in 2006 and Dallas won in 1999. Florida (29th season) and Vegas (6th season) are pursuing their first title. This is the fifth time in League history that the final four NHL teams in the Stanley Cup Playoffs have two or fewer combined championships – there was one previous Cup in the 2018 Conference Finals (TBL: 1) and two in the 2003 Conference Finals (NJD: 2), 1980 Semifinals (PHI: 2) and 1928 Semifinals (MTL: 1, MMR: 1).

* Florida became the 15th different team to reach the final four of the Stanley Cup Playoffs since the League expanded to 31 (now 32) clubs in 2017-18. They also became the fifth team in the NHL's modern era (since 1943-44) to win more than one series after entering as the lowest-ranked club in the Stanley Cup Playoffs, joining the 2021 Canadiens (won three rounds, lost in SCF), 2017 Predators (won three rounds, lost in SCF), 2010 Canadiens (won two rounds, lost in CF) and 1989 Blackhawks (won two rounds, lost in CF).

* Only 14 of nearly one million brackets submitted in the 2023 Stanley Cup Playoffs Bracket Challenge presented by GEICO correctly predicted all 12 series winners. Separately, only 433 brackets correctly predicted all four teams that reached the Conference Finals (i.e., picked DAL, VGK, FLA & CAR to reach Conference Finals but did not correctly predict each series in the First Round).

* Click here for more #NHLStats in our Second Round Recap.

QUICK CLICKS

* Rod Brind'Amour, Paul Maurice familiar foes entering Hurricanes-Panthers series
* 2023 Stanley Cup Playoffs: Hurricanes vs. Panthers Eastern Conference Final preview
* Canada's 30-year Stanley Cup drought a surprise to Guy Carbonneau
* J.T. Miller of Canucks competes in 2023 U.S. Open Golf qualifier
* Sportsnet releases audience numbers in the 2023 Stanley Cup Playoffs to date