THREE HARD LAPS
* Nicolas Roy scored an early overtime winner as Vegas broke even in Montreal and will head back home with its Stanley Cup Semifinals series tied 2-2.
* A pivotal Game 5 goes tonight when the Islanders and Lightning clash with a 3-2 lead in their Stanley Cup Semifinals series on the line.
* Lightning forward Brayden Point carries a seven-game goal streak into tonight and can join rare company on various all-time lists by extending the run to eight.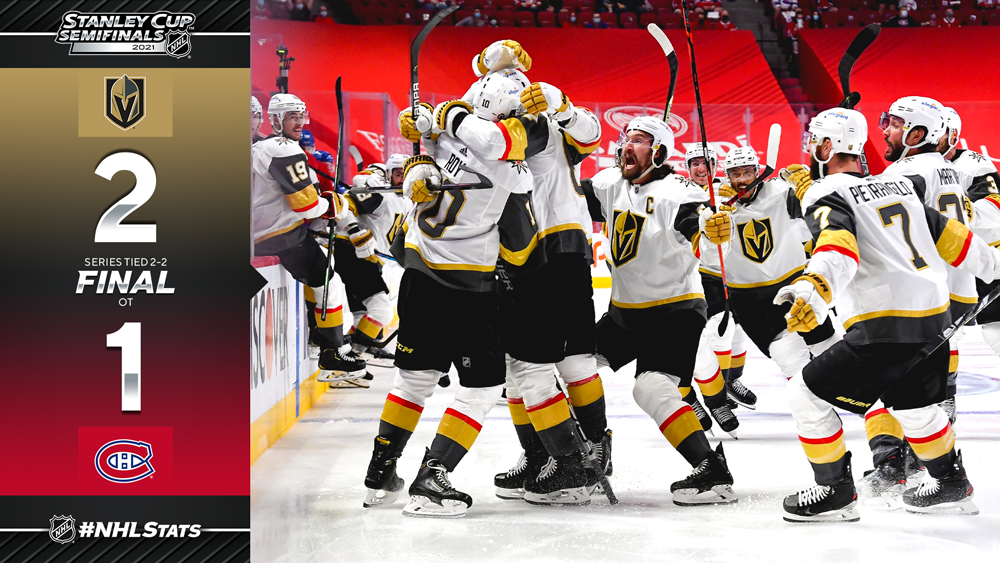 QUEBEC-BORN ROY PULLS GOLDEN KNIGHTS EVEN WITH OT WINNER IN GAME 4
Nicolas Roy scored 78 seconds into overtime as Vegas pulled even in its Stanley Cup Semifinals series against Montreal, which shifts back to T-Mobile Arena for Game 5.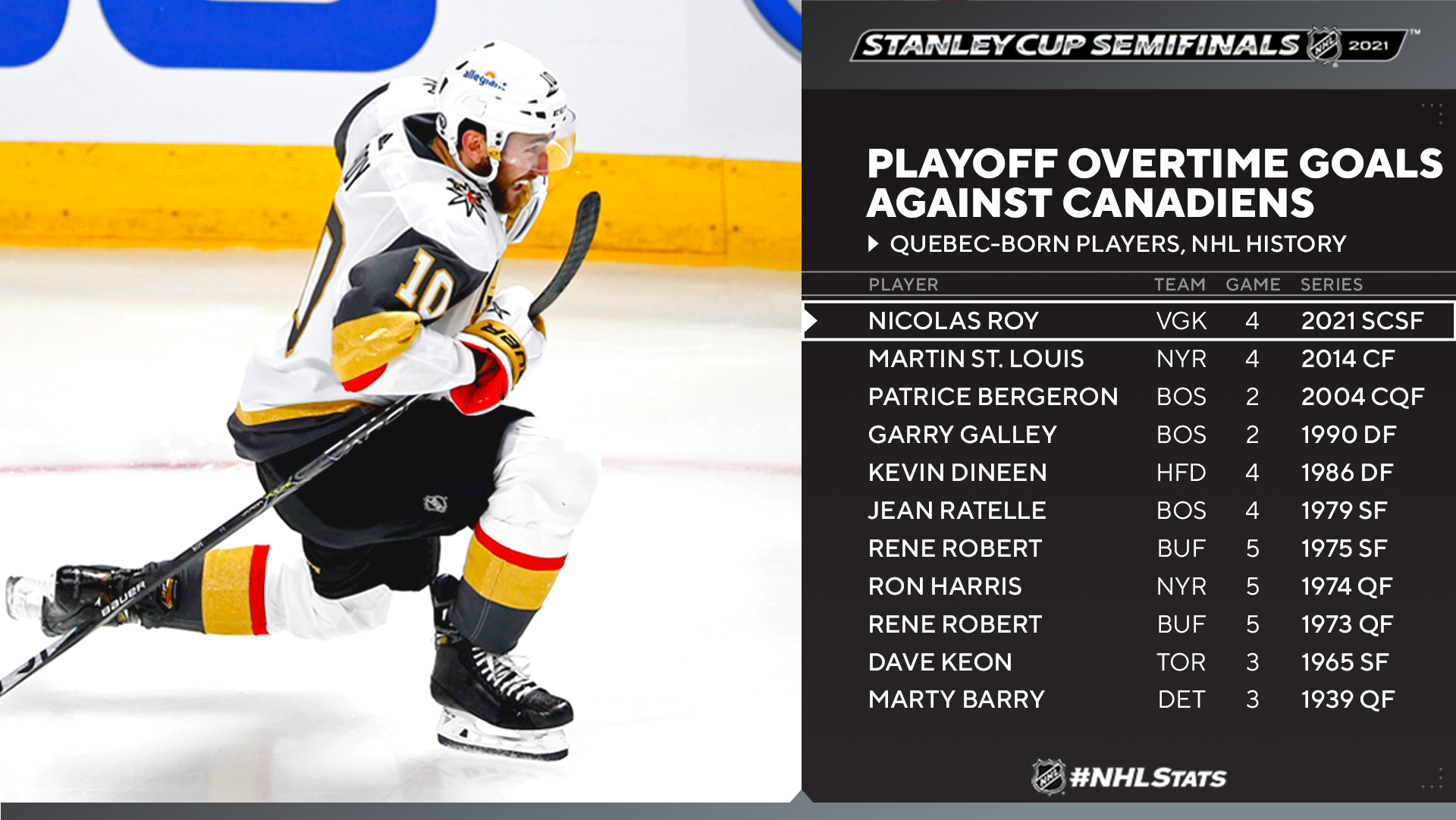 * Roy was born in Amos, Quebec, approximately 375 miles from Montreal. He led the QMJHL with 48 goals in 2015-16 (48-42—90 in 63 GP) and won the Guy Carbonneau Trophy during the following season as the league's best defensive forward, an award named after the longtime Canadiens center.
* Brayden McNabb tied Game 4 with 9:23 remaining in regulation and became the seventh different Golden Knights defenseman with at least one goal during the 2021 Stanley Cup Playoffs, tied for the most by an NHL team in a single postseason. It was McNabb's first postseason goal since the 2018 Stanley Cup Playoffs, when he had two including the only marker in a 1-0 win over Los Angeles to clinch Vegas' first-ever series victory.
* Robin Lehner made 27 saves to earn the win in his first appearance since a 7-1 loss to Colorado in Game 1 of the Second Round. He went 9-7 in 16 games with Vegas during the 2020 postseason (1.99 GAA, .917 SV%), which included four shutouts.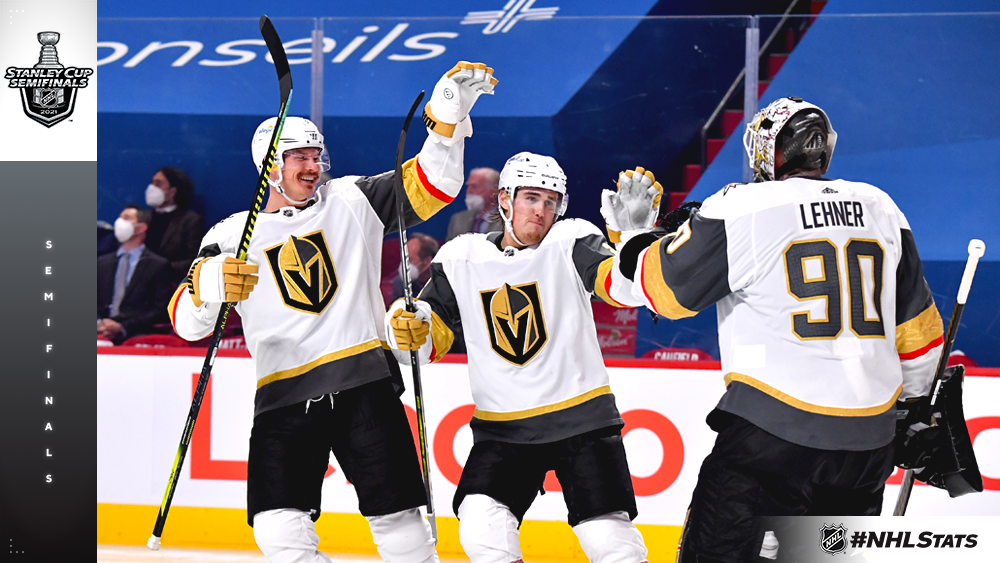 MORE GAME 4 QUICK HITS
* The 2021 Stanley Cup Playoffs mark the fifth postseason over the last eight years in which both Stanley Cup Semifinals/Conference Finals series will require at least six games. Prior to the 2014 Stanley Cup Playoffs, the last postseason in which each final-four series went at least six contests was in 2004.
* A total of 24 games have required overtime in the 2021 Stanley Cup Playoffs, which is just four shy of matching the NHL record for most in a single postseason (28 in 1993 & 2020).
* The Canadiens have not allowed a power-play goal in 11 consecutive contests, which eclipsed 10-game runs by the Red Wings in 1937, Rangers in 1940 and Devils in 2000 for the longest by an NHL team in a playoff year (since 1933-34 when goals by type were officially tracked). Montreal has killed 26 consecutive penalties over its 11-game run.
ISLANDERS, LIGHTNING LOOK FOR 3-2 SERIES LEAD IN PIVOTAL GAME 5
New York and Tampa Bay aim to take a 3-2 lead in its Stanley Cup Semifinals series when the clubs clash in Game 5 at AMALIE Arena tonight.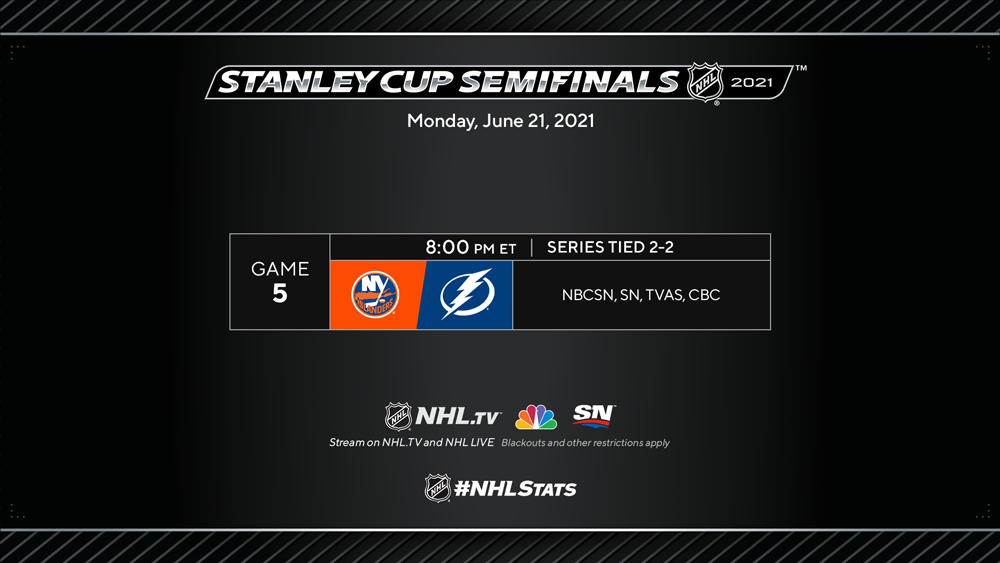 * The Islanders own an all-time record of 4-5 in Game 5 during a Conference Finals/Semifinals, including a 2-1 victory over the Lightning in the 2020 Eastern Conference Final in which Jordan Eberle scored the double-overtime winner on Andrei Vasilevskiy to stave off elimination.
* Tampa Bay owns a playoff record of 12-0 in the contest following a loss dating to Game 4 of the 2019 First Round, which is the longest such run in NHL history. Nikita Kucherov (5-18—23) leads Lightning players with 23 points in those contests, while Vasilevskiy has backstopped Tampa Bay to victory in all 12 games (1.52 GAA, .942 SV%, 2 SO).
POINT CAN PUSH PLAYOFF GOAL STREAK TO EIGHT GAMES
Lightning forward Brayden Point (7-2—9 in 7 GP) can become the second player in NHL history with a goal streak of eight or more contests in a playoff year, following Reggie Leach who had a 10-game run in 1976 (w/ PHI).
* Point (12-4—16 in 15 GP) leads all players with 12 goals in the 2021 Stanley Cup Playoffs, the most by a reigning Stanley Cup champion during the ensuing NHL postseason since Johan Franzen (12-11—23 in 23 GP) scored an equal amount in 2009 (w/ DET). The most goals in League history under that criterion is 19 (also the NHL record for most by any skater in a playoff year), a mark set by Leach (19-5—24 in 16 GP) in 1976 and matched by Jari Kurri (19-12—31 in 18 GP) in 1985 (w/ EDM).
* Point (34-32—66 in 59 GP) also needs one goal tonight to join Leach and Kurri on the list of players in League history who had 35 or more through their first 60 career playoff contests.