* Maple Leafs forward and reigning Maurice "Rocket" Richard Trophy winner Auston Matthews is expected to make his season debut Monday against the Rangers. He needs one goal for 200 in his NHL career.
* Connor Brown (0-3—3) and Filip Gustavsson (32 saves) helped power the Senators to a League-best seventh consecutive home win dating to last season.
* The final day of the 2021 Amerigol LATAM Cup saw Columbia and Puerto Rico take home the Men's and Women's title, respectively.
FLAMES, COYOTES EACH AIM FOR A WIN IN HOME OPENER
Monday will mark the first home game of the season for both Calgary and Arizona. The Flames are looking to win their fifth straight home opener dating to 2017-18, while the Coyotes aim to snap a skid in home openers which began that same season (0-2-2). After beginning their home slate with a 3-0 shutout of the Canucks in both 2019-20 and 2020-21, the Flames are in position to become the second club in NHL history to earn a shutout in three consecutive home openers (CHI from 2001-02 to 2003-04).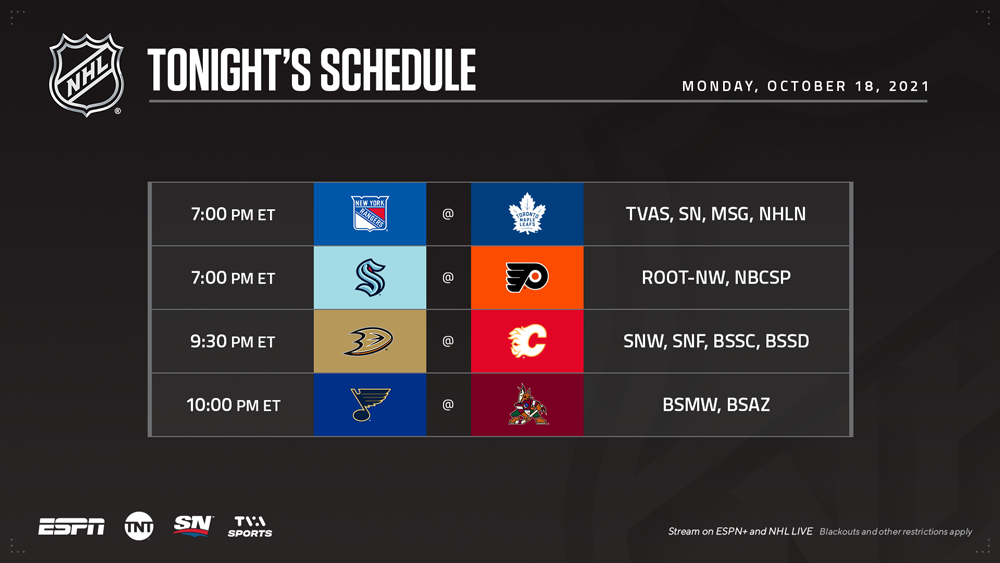 MATTHEWS SET FOR SEASON DEBUT AS HOMETOWN HOCKEY SHIFTS TO MONDAYS
Reigning Maurice "Rocket" Richard Trophy winner Auston Matthews is expected to make his season debut Monday against the Rangers, as Sportsnet's Rogers Hometown Hockey shifts from Sundays to Mondays for 2021-22. The first stop on this season's tour is the township of North Dumfries in Ontario.
* Matthews has a cumulative 9-3—12 across the first game in his five NHL seasons, the most goals and points (tied) in season debuts since he entered the League.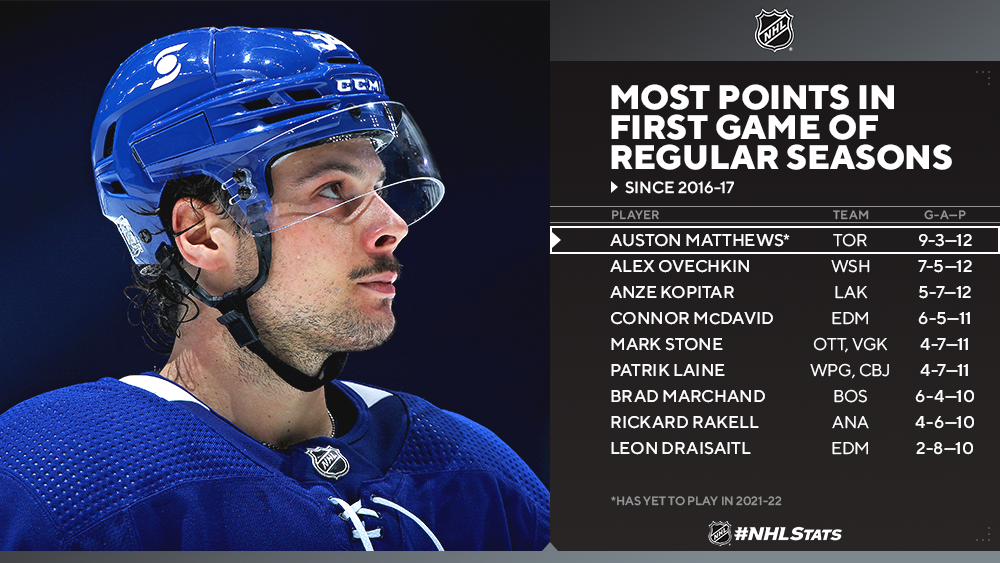 * Matthews (199 G in 334 GP) looks to become the second-fastest player in Maple Leafs history to score 200 NHL goals, behind Charlie Conacher (200 G in 317 GP). Only 18 skaters in League history have accumulated 200 goals in 335 or fewer games, with Alex Ovechkin (200 G in 296 GP) the only active player to do so.

SENATORS CONTINUE HOME SUCCESS WITH WIN VS. STARS
Chris Tierney scored twice and Connor Brown matched a career high with three assists to help Ottawa extend its home win streak to seven games dating to April 26, 2021 – the longest active such run in the NHL. This is the first time since 2016-17 (3-0-0) that the Senators have won each of their first two home games of a season.
* Filip Gustavsson won his first game of 2021-22 and is now 6-1-2 in his career (10 GP). He became the fifth goaltender in Senators history to win at least six of his first 10 career NHL appearances.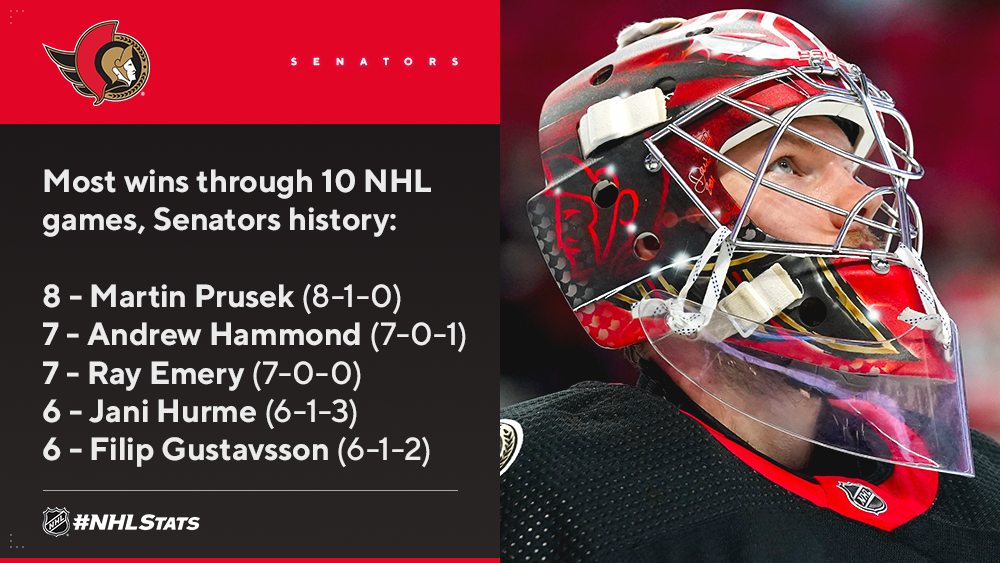 COLOMBIA WINS MEN'S TITLE, PUERTO RICO WOMEN'S TEAM PREVAILS AT LATAM CUP
Colombia's Division I men's team defeated Puerto Rico 5-1 to win the Amerigol LATAM Cup, while Puerto Rico's women's team claimed a 2-0 victory against Columbia in the championship as the four-day tournament at the Florida Panthers IceDen ended Sunday. Overall, 29 teams and more than 500 players who represented Argentina, Brazil, Chile, Colombia, Lebanon, Jamaica Mexico and Venezuela.