* Call it a "Swedish Sweep" as Anton Forsberg (Härnösand, Sweden), Filip Gustavsson (Skelleftea, Sweden) and Erik Brannstrom (Eksjo, Sweden) were named the three stars of Saturday's 2023 NHL Global Series – Sweden presented by Fastenal. The last of four straight games in Stockholm will be played today at 8 a.m. ET on NHL Network when the Wild return to action against the Maple Leafs.
* The Avalanche scored six unanswered goals to erase a 3-0 deficit and did so thanks in part to a three-assist performance from Cale Makar, who required the fewest games by a defenseman in NHL history to collect 200 career helpers.
* Roughly 13 hours of hockey – starting at 11 a.m. ET and ending at 1:00 a.m. ET – featured notable performances including Boston's 50th regular-season win this calendar year, another multi-point game from Artemi Panarin and an 11th consecutive contest with a point for 36-year-old Sidney Crosby.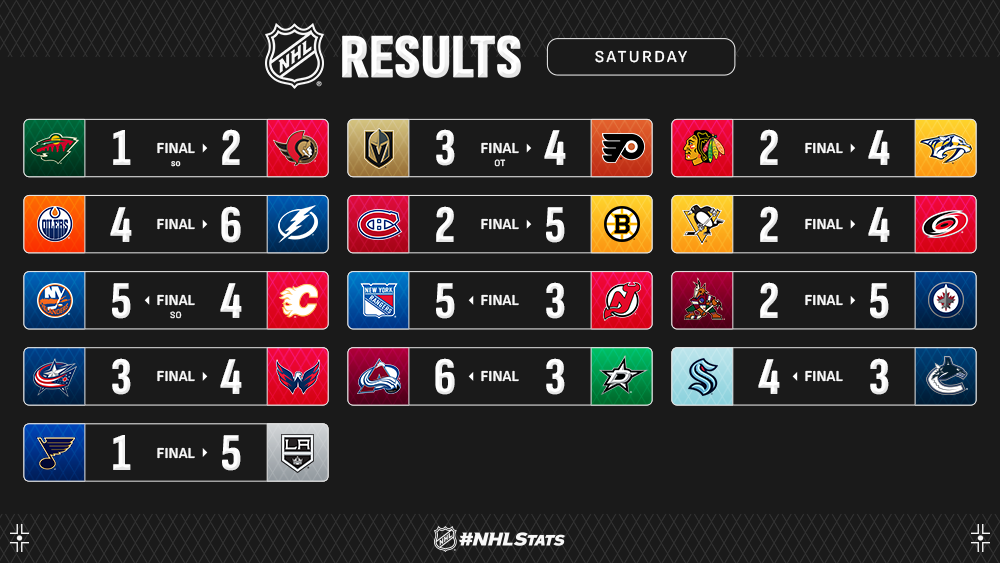 FORSBERG, BRANNSTROM LEAD SENATORS PAST GUSTAVSSON, WILD IN SWEDEN
Senators goaltender Anton Forsberg recorded a hat trick of sorts in the third game of the 2023 NHL Global Series – Sweden presented by Fastenal at Avicii Arena in Stockholm. The Swedish netminder made a penalty-shot save, notched an assist on the tying goal and claimed a victory to help Ottawa leave his home country with a pair of extra-time wins and an overall winning streak of three games dating to Nov. 11.
* Forsberg defeated Filip Gustavsson in a first-of-its-kind matchup to become the first Swedish goaltender to claim a victory across the 16 NHL regular-season games contested so far in the country. Overall, Forsberg became the second goaltender born outside North America to win a regular-season game played in his home country, following Antti Niemi (Vantaa, Finland; 4-0 W w/ CHI at Hartwall Arena in Helsinki on Oct. 3, 2009).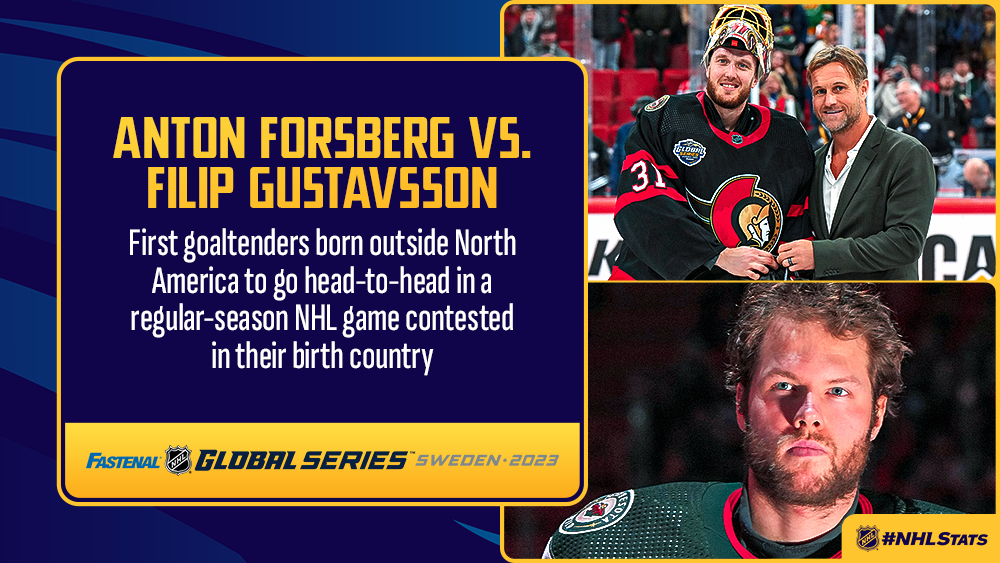 * The matchup between Forsberg and Gustavsson wasn't the only head-to-head between Swedish players Saturday – Wild forward Marcus Johansson (Landskrona, Sweden) was denied by Forsberg on the seventh penalty-shot involving two Swedish-born players. It was the second penalty shot in as many days in Sweden – following a goal by Detroit's Daniel Sprong on Friday against Toronto's Ilya Samsonov – and third overall in games played outside North America (Colorado's Matt Nieto was stopped by Ottawa's Craig Anderson on Nov. 10, 2017).
* In addition to his 27 total stops (including three in the shootout), Forsberg became the first goaltender born outside North America to record an assist in his home country – he set up countryman Erik Brannstrom for his first goal of the season. Forsberg joined Anderson (Oct. 6, 2018 at TOR) as the second Senators netminder to record an assist, penalty-shot save and a win in the same game.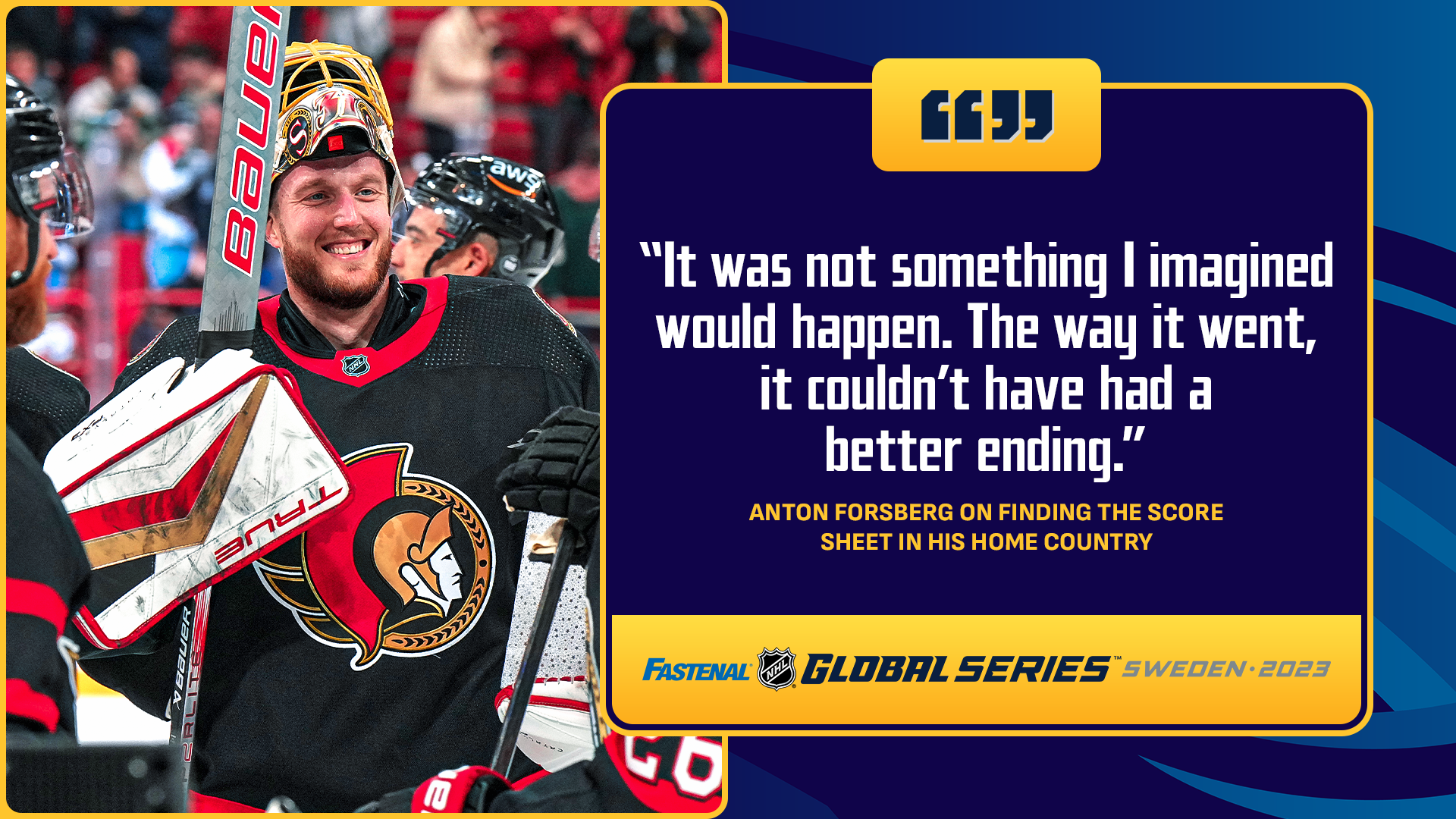 * Swedish legends were once again part of the show before and after the game as Daniel Alfredsson dropped the ceremonial puck (before returning to serve behind the Senators' bench) and Markus Naslund presented Forsberg with the Player of the Game gift.
MAKAR MAKES NHL HISTORY AS FASTEST BLUELINER TO 200 ASSISTS
Cale Makar (0-3—3) factored on three of the Avalanche's six unanswered goals to surpass the 200-assist milestone – and become the fastest defenseman in NHL history to reach the mark – as Colorado stunned Dallas. The victory included two goals in 11 seconds and allowed the club to join a group of four others this season to earn a three-goal comeback win.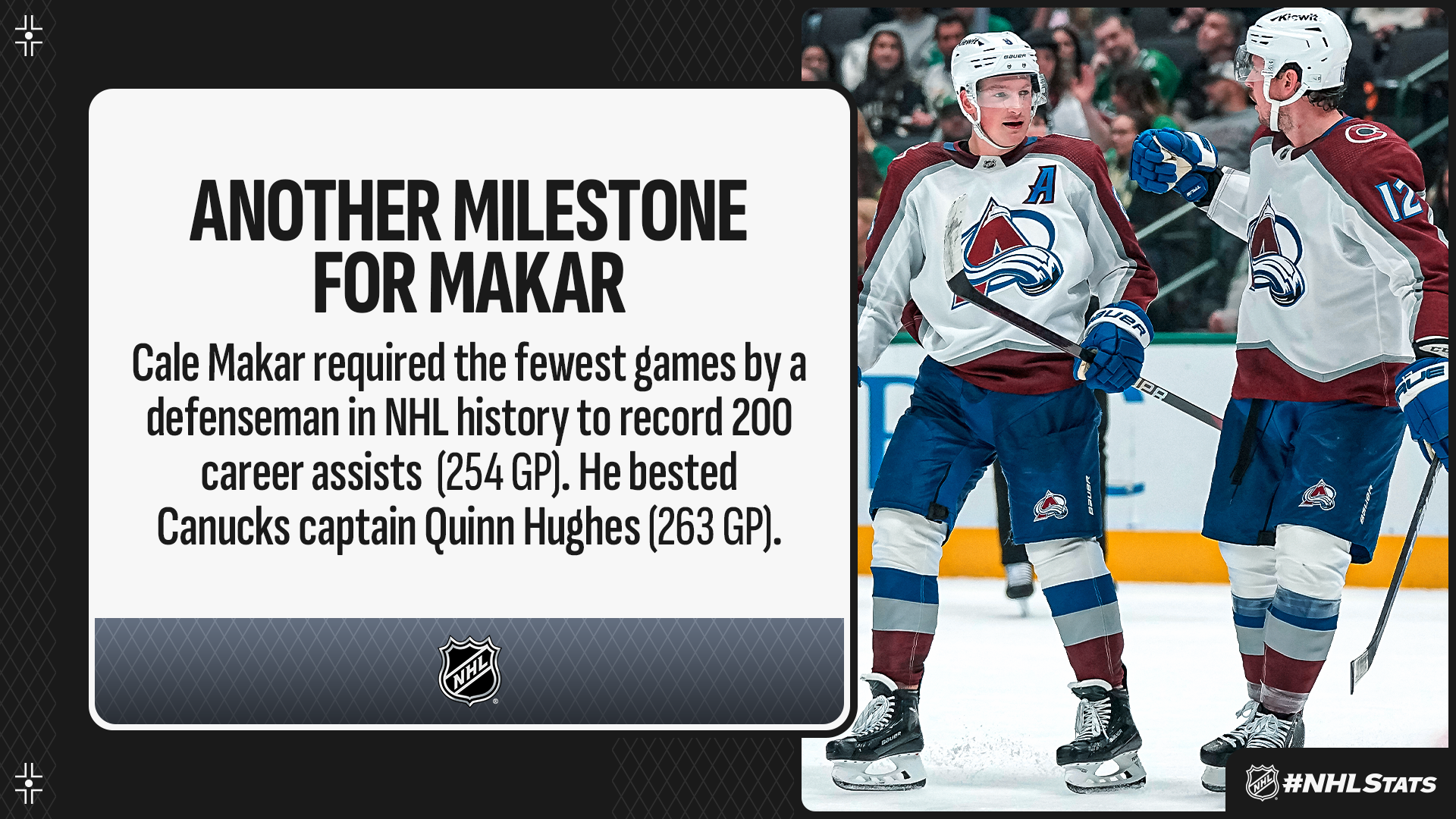 * The Avalanche earned a three-goal comeback victory in regulation for the sixth time since the club relocated to Colorado and just the eighth time in franchise history on the road. The last time Colorado earned a three-goal comeback win in regulation while on the road was Jan. 21, 2004 (at FLA).

* Makar boosted his season totals to 4-20—24 (16 GP) and established a franchise mark for fewest games to 20 assists in a campaign by a defenseman, previously held by Jeff Brown (22 GP in 1988-89). In fact, he tied the fourth-fewest contests in Avalanche/Nordiques history to reach the 20-assist mark in a season, behind Peter Stastny (12 GP in 1983-84), Nathan MacKinnon (14 GP in 2022-23 and 16 GP in 2021-22) and Michel Goulet (15 GP in 1987-88).
BRUINS OUST ORIGINAL SIX RIVAL FOR 50TH WIN OF 2023
David Pastrnak (0-3—3) continued his point-per-game pace against the Canadiens in his career and captain Brad Marchand (0-2—2) reached the 500-assist milestone as the Bruins (13-1-2, 28 points) earned their 50th regular-season win this calendar year – seven more than the next closest.

* Pastrnak, whose fifth three-point game of 2023-24 tied Canucks captain Quinn Hughes for the most among all players, boosted his career totals against the Canadiens to 17-18—35 in 27 contests. His 1.30 points per game against Montreal is the highest among all Bruins players in franchise history (min. 20 GP). The next closest is Adam Oates (10-22—32 in 27 GP; 1.19 P/GP).

* Boston, with just eight home losses of any kind in the past two seasons (41-4-4), improved to 50-9-3 overall since Jan. 1 and has posted at least 50 wins in a calendar year for the 13th time in franchise history – the most among all teams and five more than the next closest (WSH: 8).

* Following an NHL-best 65 victories in 2022, the Bruins have posted 50-plus wins in consecutive calendar years for the third time in franchise history following 2018 (50) and 2019 (52), as well as 1971 (56), 1972 (55) and 1973 (50). Coincidentally, the 1972 Stanley Cup-winning team, alongside the 1970 club, was honored as part of a pre-game ceremony Saturday.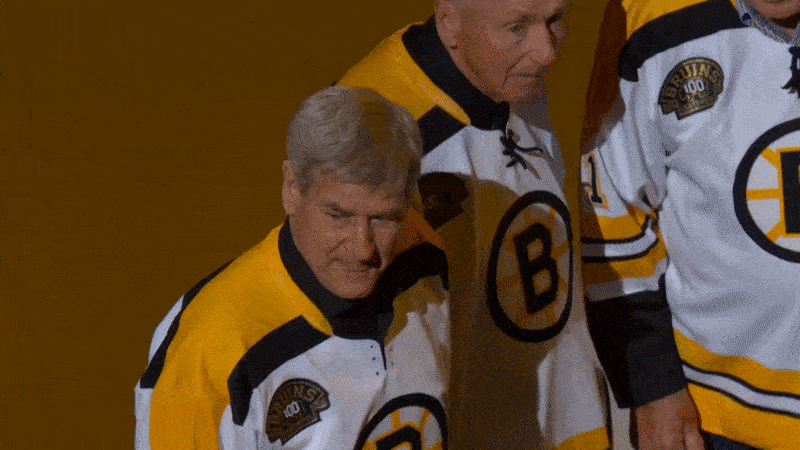 STADIUM SERIES PARTICIPANTS PUT ON A SHOW DURING 13-GAME SATURDAY
The Rangers (12-2-1, 25 points), Flyers (9-7-1, 19 points), Devils (8-7-1, 17 points) and Islanders (6-6-5, 17 points), set to participate in the 2024 Navy Federal Credit Union NHL Stadium Series from Feb. 17-18, 2024, each produced notable performances during a 13-game schedule.
* The Rangers (10-0-1 since Oct. 21) outlasted the Devils – in their first meeting since the 2023 First Round – thanks to another multi-point outing from Artemi Panarin (2-0—2), who netted the game-tying goal in the third period. Panarin (10-16—26 in 15 GP), who established the longest season-opening point streak in franchise history, joined Jaromir Jagr (6 GP in 2005-06) and Pavel Bure (6 GP in 2001-02) as just the third Rangers skater with at least five consecutive multi-point games since 1996-97.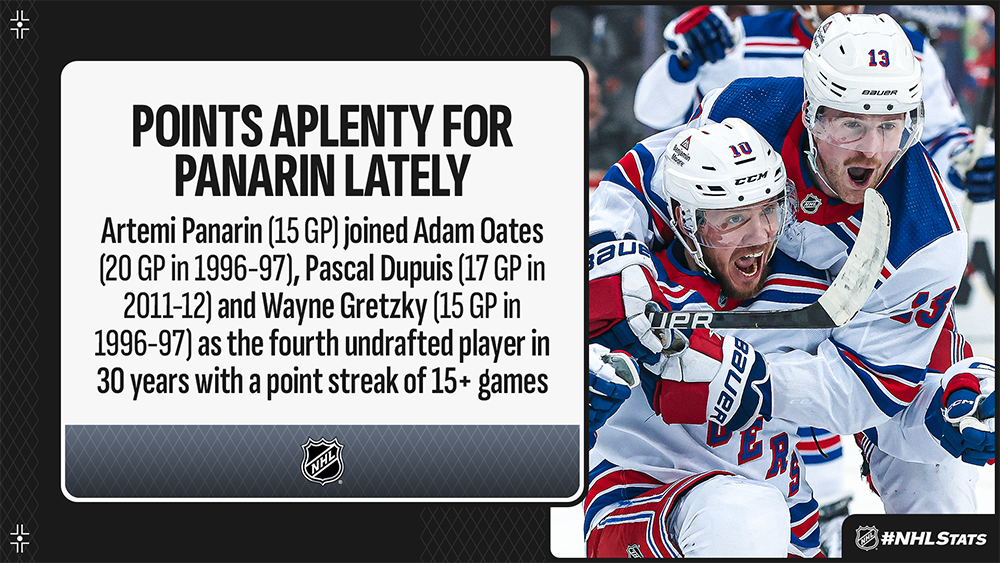 * Jack Hughes (1-1—2) collected two points in his first game for the Devils since Nov. 3 and maintained his 2.00 points-per-game pace in 2023-24. Should the 22-year-old continue producing at this current output, he would join Wayne Gretzky (4x; most: 212 in 1981-82) and Mario Lemieux (168 in 1987-88) as the third player in NHL history with at least 150 points in a single season before age 23.

* Vegas overcame 2-0 and 3-2 deficits, but Sean Couturier scored 1:00 into overtime to guide the Flyers to their fourth straight win. He became the seventh player in franchise history with at least five career overtime goals following Claude Giroux (11), Jakub Voracek (9), Shayne Gostisbehere (6), Simon Gagne (6), Eric Lindros (5) and John LeClair (5).

* Noah Dobson (5-10—15 in 17 GP), who sits tied with Mathew Barzal (4-11—15 in 17) for the team lead in points this season, collected an assist and found the score sheet for the third straight game. Should Dobson continue his point-producing ways throughout 2023-24, he can become just the third defensemen to lead the Islanders in scoring in a single season (outright or tied) following Mark Streit (2008-09) and Denis Potvin (1976-77, 1975-76, 1974-75 & 1973-74).

* ICYMI: Tickets for the 2024 Navy Federal Credit Union NHL Stadium Series went on sale to the public Nov. 1.
MORE #NHLSTATS IN SATURDAY'S LIVE UPDATES
Notes were aplenty during a 13-game Saturday, all of which can be found in the latest edition of #NHLStats: Live Updates.

* Kyle Connor (1-1—2) scored one of five Jets goals to register his fifth game-winning goal of the season, NHL-leading ninth tally in the month of November and 14th marker overall in 2023-24. He overtook Auston Matthews (13 in 16 GP), Brock Boeser (13 in 17 GP), Sam Reinhart (13 in 17 GP) and Nikita Kucherov (13 in 17 GP) for the most among all players.

* After Johnny Gaudreau opened the scoring for the Blue Jackets in his 700th career game, Alex Ovechkin scored one of three straight goals for the Capitals as Washington's captain skated to his 400th career win at Capital One Arena and became one of just 11 players in NHL history with as many victories at one arena.

* Nikita Kucherov (2-1—3) scored his 80th career power-play marker in a game which saw Tampa Bay net three tying tallies before taking the lead for their first multi-goal comeback win of the season. The Lightning have captured 46 multi-goal comeback wins dating to 2013-14, the fifth most among all teams through that span behind the Penguins (50), Ducks (48), Flames (48) and Panthers (47).

* Sidney Crosby (2-0—2) recorded his 95th career multi-goal game to extend his point streak to 11 contests, while longtime teammate Kris Letang (0-1—1) joined Brent Burns and Erik Karlsson as the third active defensemen to record 700 points. Crosby (12-10—22 in 16 GP) is on pace for 112 points – only two players in NHL history have reached that plateau at age 36 or older: Gordie Howe (44- 59—103 in 1968-69) and Joe Sakic (36-64—100 in 2006-07).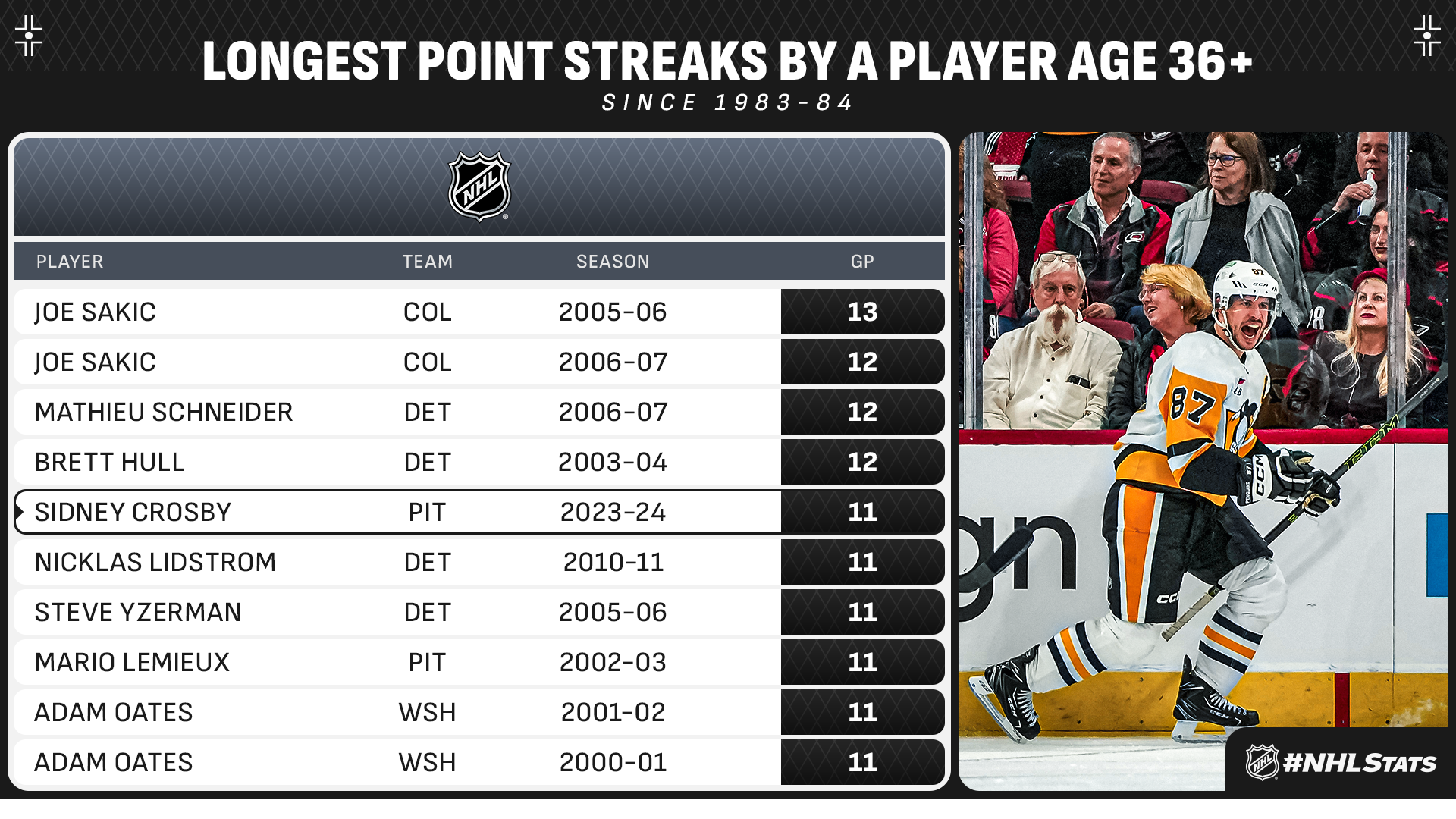 QUICK CLICKS
* William Nylander, Maple Leafs look to cap Global Series with win against Wild
* Senators' Parker Kelly gets a growling lesson from Johan Hegg, lead singer of Swedish metal band
* Oilers' James Hamblin honors late mother after first NHL goal
* Stars host teen hockey player from Finland who is losing eyesight
*Milan Lucic takes indefinite leave of absence from Bruins
NYLANDER CAN MATCH McDAVID IN GLOBAL SERIES FINALE FROM SWEDEN
After three straight one-goal games – all with a goal from a Swedish player and all with a team rallying from a deficit of at least one goal – the fourth and final game of the 2023 NHL Global Series – Sweden presented by Fastenal will be played Sunday when the Maple Leafs face the Wild.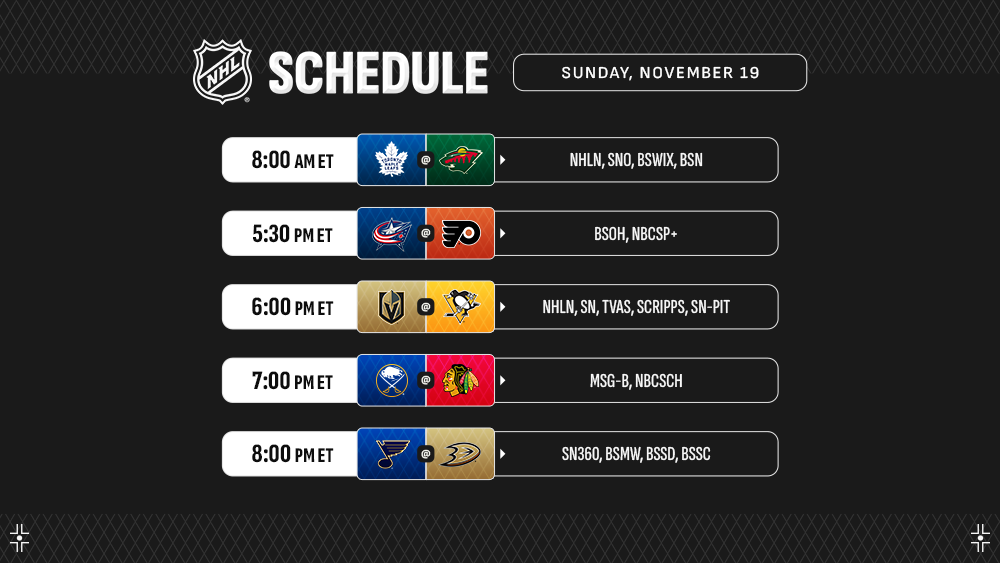 * Swedish forward William Nylander can match the longest season-opening point streak by an active player as he enters his second contest in Stockholm with 11-14—25 across a 16-game run to begin 2023-24 after collecting 1-2—3 in a 3-2 multi-goal comeback win Friday. Nylander can tie Connor McDavid (17 GP in 2021-22) for the longest point streak from the start of a season by current NHLers.
* A breakdown of Nylander's season-opening run so far: five points on 1-0 goals, six points on tying goals, nine points on the power play, 10 points on go-ahead goals and 15 points at even strength. He has tallied seven of his points in the first period, 10 in the second, six in the third and two in overtime. Click here for a look ahead to #NHLStats for the Global Series finale.