* Brandon Montour completed Florida's multi-goal, third-period comeback victory with an overtime goal to help the Panthers continue their playoff push as they moved within two points of the final Wild Card spot in the Eastern Conference.

* John Gibson made 36 stops to surpass Guy Hebert on the Ducks' all-time saves list.

* A busy 15-game Saturday will feature the Bruins aiming to clinch a berth in the 2023 Stanley Cup Playoffs and become the fastest team in NHL history to reach the 50-win mark all broadcast nationally on ABC, ESPN+ and SN1. Click here for a breakdown of Boston's clinch scenarios.


BRINGING COMEBACK CATS BACK AS FLORIDA CONTINUES PLAYOFF PUSH
Trailing 2-0 midway through the third period, the Panthers scored twice in 29 seconds to tie the game before Eetu Luostarinen gave Florida its first lead of the night a few minutes later. A tying goal from the Blackhawks in the final minute of regulation set the stage for Brandon Montour to record his second career overtime winner as the Panthers (33-27-6, 72 points) moved within two points of the idle Penguins (32-22-10, 74 points) for the final Wild Card spot in the Eastern Conference.

* Montour recorded his fourth game winner of 2022-23 and tied the Panthers record for the most game-winning goals by a defenseman in a season, a mark that Aaron Ekblad hit three times (4 in 2017-18, 2015-16 & 2014-15). With an assist on the play, Aleksander Barkov recorded his 22nd career overtime point and matched Jonathan Huberdeau for the most in franchise history.

* The Panthers led the NHL in both third-period comeback wins (15) and multi-goal third-period comeback wins (4) in 2021-22.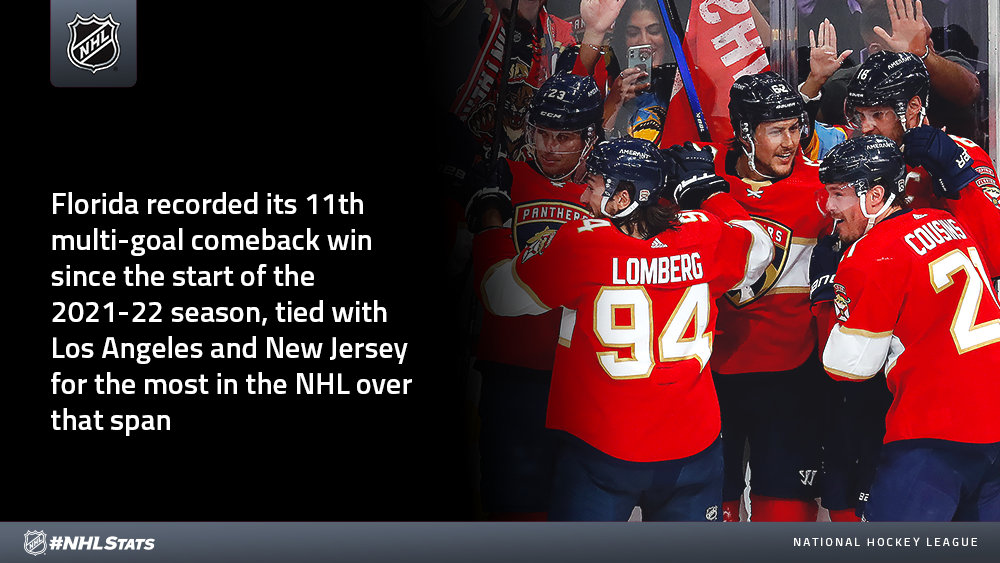 GIBSON SETS FRANCHISE RECORD ON #NHLSTATS: LIVE UPDATES
Friday's edition of #NHLStats: Live Updates featured John Gibson establish a franchise record via the all-time career saves list as the Ducks (22-35-9, 53 points) stymied the Flames (29-24-13, 71 points), who are in pursuit of the final Wild Card spot in the Western Conference.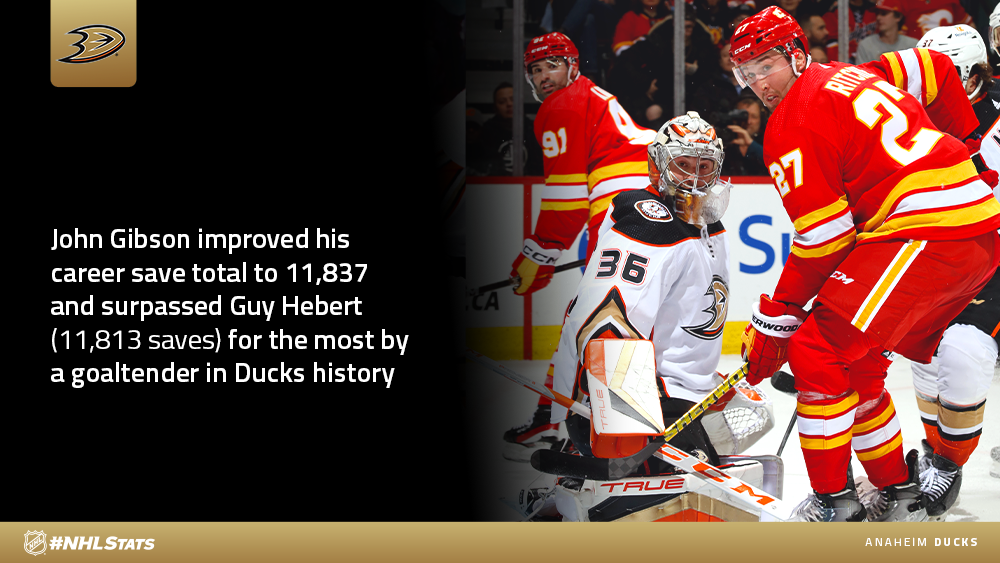 CRICKET GREEN CALLS NHL COMMISSIONER AHEAD OF "NHL BIG CITY GREENS CLASSIC"
NHL commissioner Gary Bettman was recently featured in "Random Rings" with Cricket Green of Disney Channel's "Big City Greens" ahead of the "NHL Big City Greens Classic," the first-ever live, animated NHL game telecast, featuring the Capitals and Rangers, on March 14 at 7 p.m. ET. ESPN+, Disney Channel, Disney XD and Disney+ will present the live, animated broadcast, while the main telecast will be available on ESPN and ESPN+.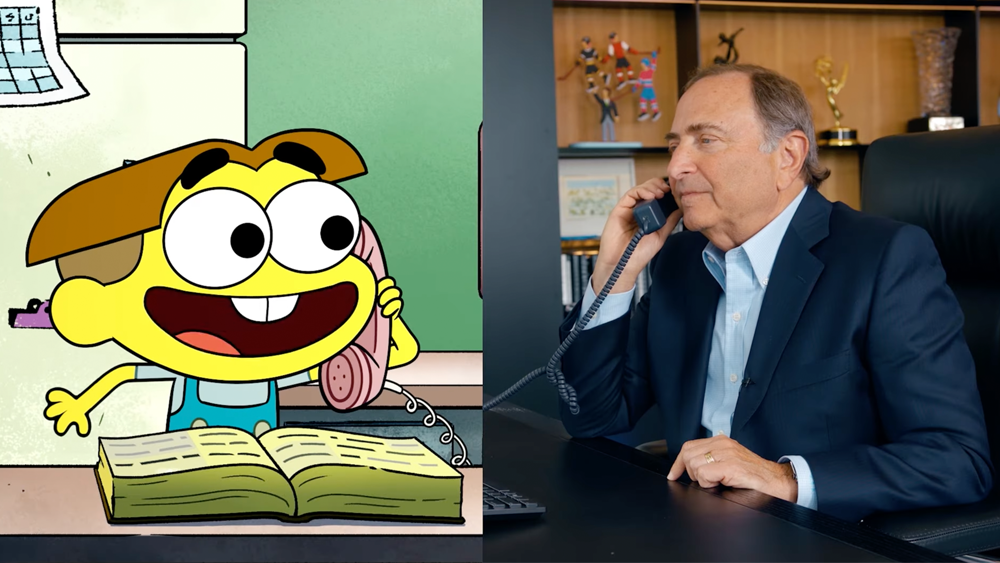 QUICK CLICKS

* Maple Leafs marvel at Connor McDavid scoring pace ahead of visit from Oilers
* Unmasked: Goalies can learn valuable lessons from NHL debuts
* NHL supports WISE Deepening the Bench campaign
* Food, Fashion and Fun! | NHL Mash-Up with Kathryn Tappen and Dominic Moore | Ep. 2
* #NHLStats Ahead of the First-Ever "Hockey Day in Finland" (all numbers through games on March 9)

BRUINS LOOK TO CLINCH PLAYOFF SPOT ON NATIONAL BROADCAST
A 15-game Saturday features a matinee doubleheader on ABC, ESPN+ and SN1, headlined by the NHL-leading Bruins (49-9-5, 103 points) who will look to become the fastest team in NHL history to reach 50 wins in a season and clinch a playoff spot when they clash with the Red Wings (29-26-9, 67 points) at TD Garden.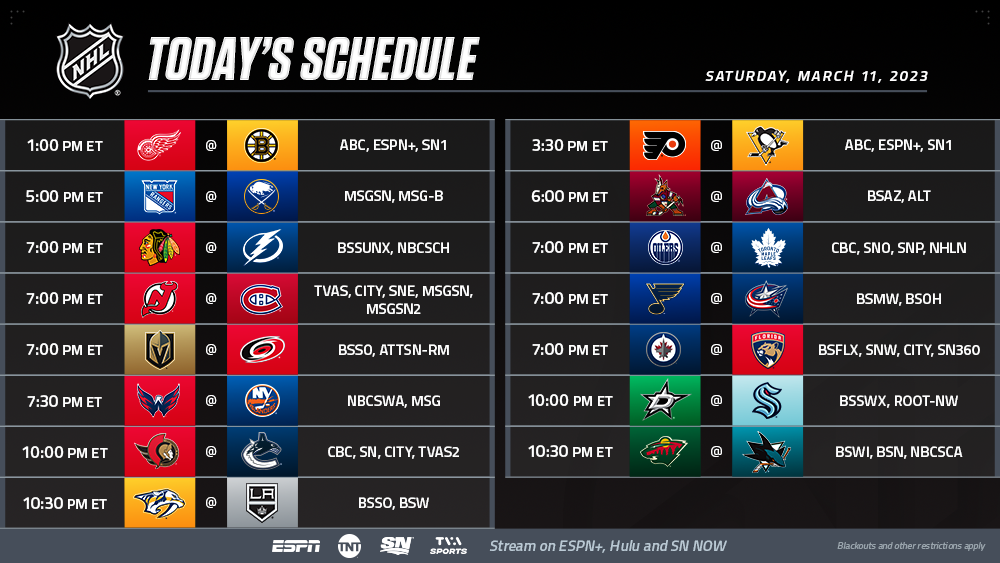 * Boston, which can clinch a playoff berth with a win against Detroit and pending results from other games, would secure its seventh consecutive trip to the Stanley Cup Playoffs and 76th playoff appearance – the second most in NHL history behind longtime rival Montreal (85).

* The Bruins can become just the third team to clinch a playoff spot in 64 or fewer contests in an 82-game schedule (since 1995-96) – a feat only the 1995-96 Red Wings (59 GP on Feb. 25, 1996) and 1998-99 Stars (63 GP on March 10, 1999) have achieved to date.

MAPLE LEAFS, OILERS CLASH ON HOCKEY NIGHT IN CANADA
Mitchell Marner and the Maple Leafs (39-17-8, 86 points) host Leon Draisaitl and the Oilers (36-22-8, 80 points) at Scotiabank Arena during the first game of a doubleheader nationally broadcast on CBC and Sportsnet.

* Draisaitl (41-56— 97 in 64 GP) can become just the fifth player born outside of North America to record four-plus 100-point seasons – he would join Peter Stastny (7x), Jari Kurri (6x), Jaromir Jagr (5x) and Alex Ovechkin (4x).
* With a point Saturday, Marner (23-56—79 in 64 GP) can become the fourth player in Maple Leafs history to post three or more 80-point seasons – Darryl Sittler (8x), Mats Sundin (4x) and Lanny McDonald (4x) are the only skaters that have accomplish the feat with the franchise.