* The Stars scored early and often at KeyBank Center in Buffalo en route to the NHL's first 10-goal performance of the season and tying the second-most in a game in franchise history.
* Four Metropolitan Division clubs skated to victories, including the Islanders who captured the NHL's 50th multi-goal, third-period comeback win of the season – the most in a single campaign in League history.
* Erik Karlsson established a career-high for points in a season thanks in part to his third 20-goal campaign and first since 2014-15.




STARS SCORE 10 GOALS ON THE ROAD FOR FIRST TIME IN NEARLY FOUR DECADES
Radek Faksa (2-0—2) was one of nine Stars players to find the back of the net as Dallas (35-17-13, 83 points) erupted for 10 goals to defeat Buffalo at KeyBank Center and strengthen its grip on first place in the Central Division standings. It was just the fourth time the franchise had at least that many skaters score in a single contest and the first since Oct. 17, 1985 (vs. DET).

* The Stars also became just the fifth different team in the past five seasons to score 10 goals in a game, joining the Canadiens (10 vs. FLA on April 29, 2022 & 10 vs. DET on Dec. 2, 2017), Penguins (11 vs. DET on March 27, 2022), Maple Leas (10 vs. DET on Feb. 26, 2022) and the Blackhawks (10 vs. PIT on Oct. 5, 2017).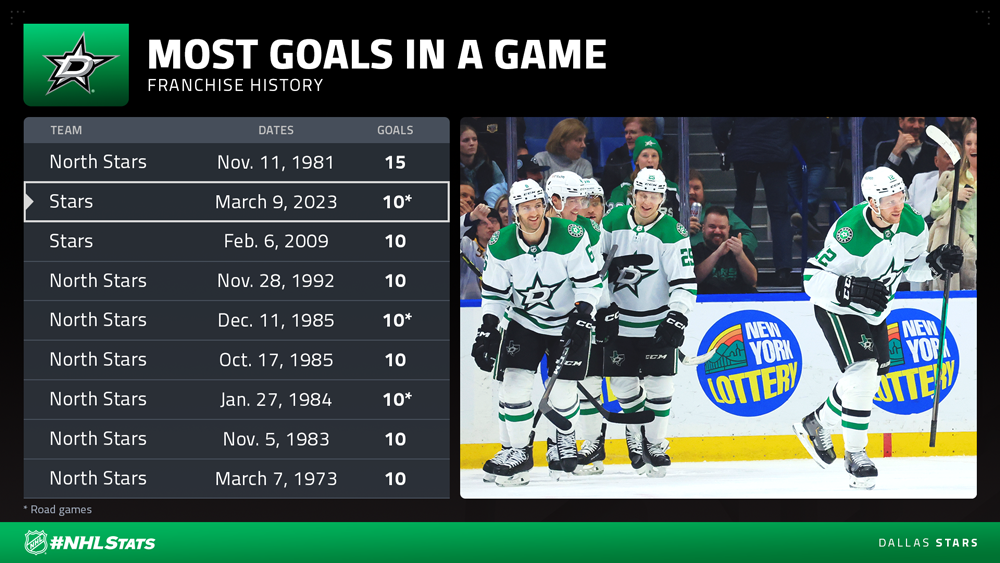 * Dallas teammates Joe Pavelski and Jamie Benn as well as Buffalo forward Jordan Greenway each potted a goal in a span of 28 seconds during the first period, marking the fastest three goals by both teams since the Maple Leafs and Coyotes combined for three in 21 seconds on Dec. 22, 2015.

METROPOLITAN DIVISION'S TOP TEAMS TRIUMPH THURSDAY
The Hurricanes (43-12-8, 94 points), Devils (42-16-6, 90 points), Rangers (36-19-9, 81 points) and Islanders (34-25-8, 76 points), who occupy the top four seeds in the Metropolitan Division, each skated to wins:

* Pyotr Kochetkov (19 saves), who was recalled by Carolina after scoring a goal with the AHL's Chicago Wolves on March 3, blanked Philadelphia to record his fourth shutout of the season. He matched the Hurricanes/Whalers franchise record for most in a single campaign by a rookie goaltender, a mark set by Peter Sidorkiewicz in 1988-89 (w/ HFD).

* Dawson Mercer (1-1—2) factored on both goals in regulation to extend to his point streak to 11 games and guided New Jersey to its League-leading 24th road win of the season – tied for the second most in a single season in franchise history and trailing only 1998-99 (28-10-3). Mercer matched Brendan Shanahan (11 GP in 1989-90) for the longest run by a Devils/Rockies/Scouts player before age 22.
* Patrick Kane (1-1—2) recorded his first two points with New York and Artemi Panarin (0-3—3) became the eighth undrafted player (since 1963-64) to record at least seven 70-point seasons as the former Blackhawks teammates helped the Rangers edge the Canadiens in a shootout. Panarin's three-assist performance was his 19th with New York, trailing only Brian Leetch (37 GP), Andy Bathgate (26 GP), Rod Gilbert (25 GP) and Mark Messier (21 GP) for the most in franchise history.
* The Islanders entered the third period trailing by two goals, but Anders Lee (2-0—2) scored the second of two New York tallies in a span of 4:14 with 1:15 remaining in regulation and set the stage for Brock Nelson's seventh career overtime goal. The Islanders, who captured the NHL's 50th multi-goal, third-period comeback win of 2022-23, posted their fourth such victory of the season – tied the Kings for the most among all teams.




KARLSSON NETS FIRST 20-GOAL SEASON SINCE 2014-15
The latest edition of #NHLStats: Live Updates featured notes from the Pacific Division teams in action Thursday including the Golden Knights, Kings and Oilers earning wins as well as Erik Karlsson (1-0—1) – who opened the scoring for the Sharks with his NHL-leading 20th goal among defensemen in 2022-23. It marked his third career 20-goal campaign following 2014-15 (21 in 82 GP and 2013-14 (20 in 82 GP).

* Karlsson (32 years, 282 days) became the second defenseman in NHL history to record eight or more years between 20-goal seasons (21 in 2014-15), joining Mathieu Schneider who had an 11-year stretch (20 in 1993-94 & 21 in 2005-06).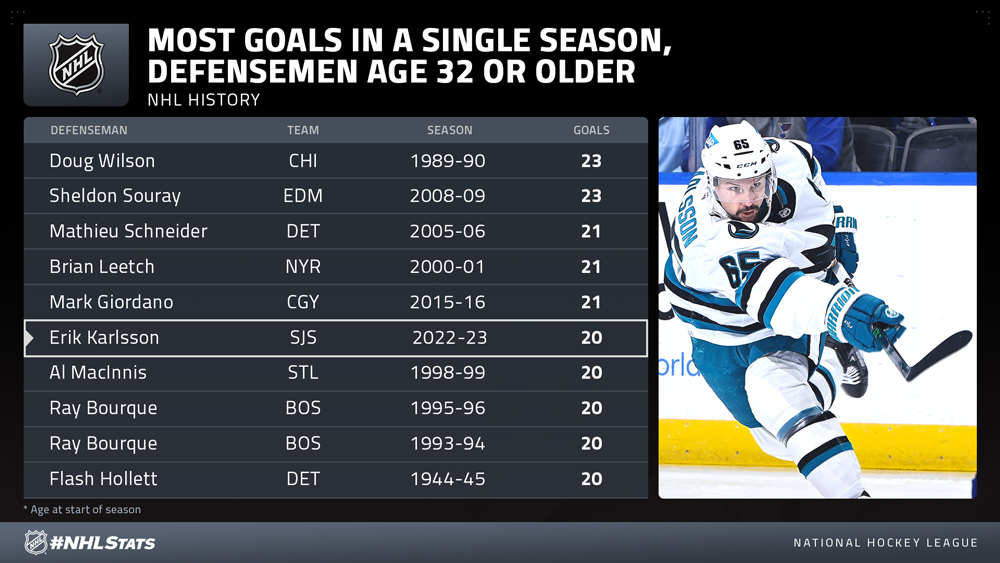 QUICK CLICKS
* Darnell Nurse, Oilers end Bruins winning streak at 10
* Penguins prank Pierre-Olivier Joseph with car full of packing peanuts
* Trophy Tracker: Linus Ullmark remains leader for Vezina as best goalie
* Former NHL goalie, current analyst Brian Boucher guest stars on 'The Goldbergs'
* Rangers, Canadiens celebrate Marc Joannette's 1,500th NHL game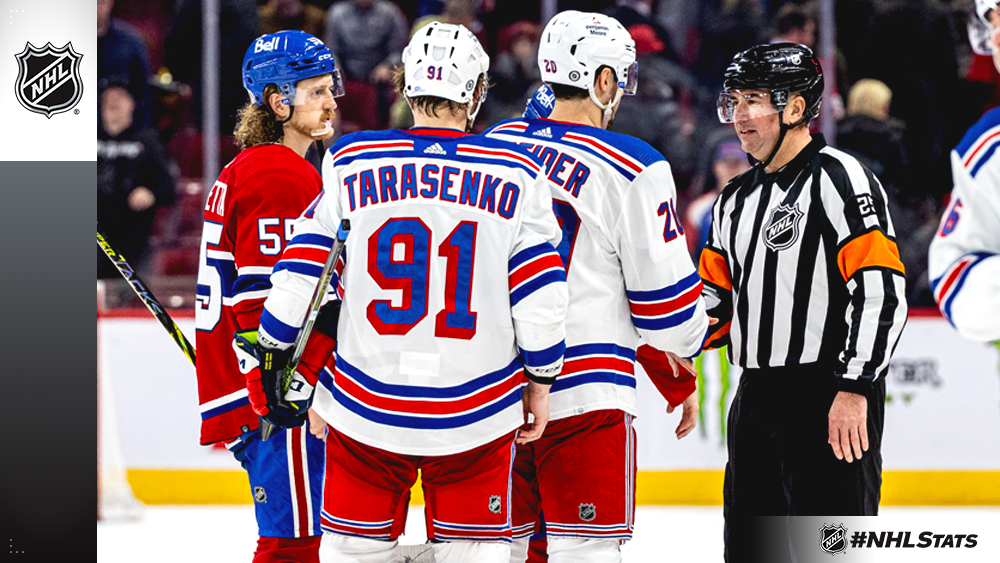 PANTHERS, FLAMES CONTINUE PURSUIT OF WILD CARD SPOT
A two-game Friday will see the Panthers (32-27-6, 70 points) and Flames (29-23-13, 71 points) – who both occupy third place in their conference's Wild Card race – continue their pursuit of playoff positioning when they host the Blackhawks and Ducks, respectively.

* Matthew Tkachuk (28-53—81 in 62 GP) leads the Panthers in points in 2022-23, with 26 more than the next closest skater (Carter Verhaeghe: 32-23—55 in 64 GP). His next point will tie Sam Reinhart (33-49—82 in 2021-22) for the most by a player in their first season with the franchise.