* After being named MVP at the 2023 Honda NHL All-Star Game, Matthew Tkachuk skated to a five-point performance to join Mario Lemieux on a unique list and surpass the 70-point mark on the season in the process.

* The Devils captured their eighth overtime win of 2022-23 – one shy of the most in a campaign in franchise history – with the help of Jack Hughes and Dougie Hamilton who assisted on the overtime tally.

* Connor McDavid, who is set to return from the All-Star break,can extend his point streak to 13 games when the Oilers visit the Red Wings in a contest carried by HULU, ESPN+ and Sportsnet.


TKACHUK FOLLOWS UP ALL-STAR MVP HONORS WITH FIVE-POINT PERFORMANCE
Matthew Tkachuk (2-3—5) factored on five of the Panthers' seven goals for his third career five-point outing to help Florida (25-22-6, 56 points) move within one point of idle Pittsburgh (24-16-9, 57 points) for the final Wild Card spot in the Eastern Conference. With the victory, Paul Maurice became the sixth head coach in NHL history to record 800 NHL wins.

* Tkachuk (27-44—71 in 50 GP) surpassed 70 points while skating in his 50th game and matched Jonathan Huberdeau (50 GP in 2021-22) for the fewest contests by a Panthers player to reach the mark in a campaign. Last season, it took Tkachuk 60 games to hit the mark – he went on to record a career-high 42-62—104 (82 GP).

* Tkachuk, who fell one point shy of the most by a Panthers player in a single game, surpassed Mike Hoffman (36-34—70 in 2018-19) for the second-most points by a Florida player in their first season with the club. He now trails only Sam Reinhart (33-49—82 in 2021-22).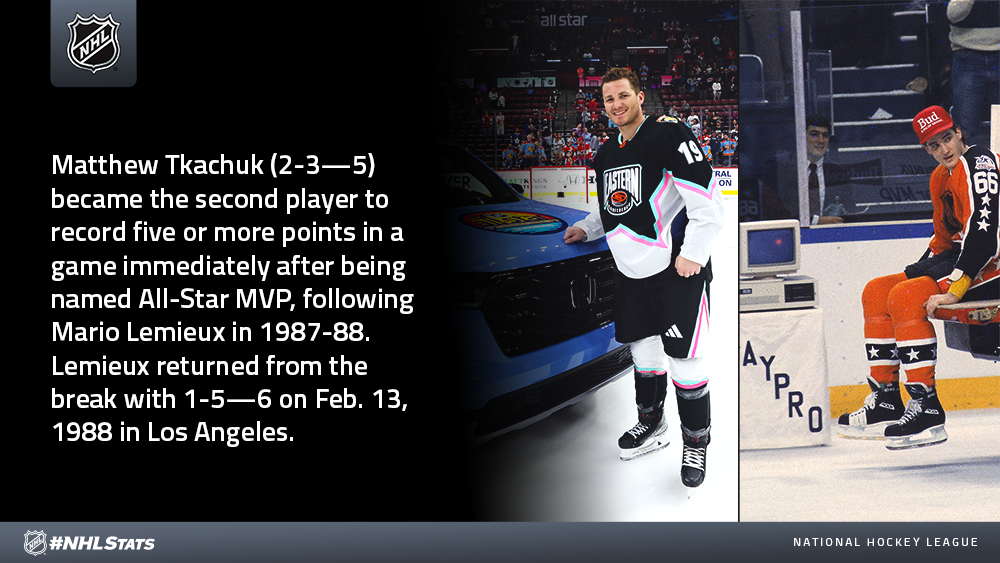 * Brandon Montour collected an assist to extend his franchise-record point streak to 10 games (3-7—10 in 10 GP) and join Josh Morrissey (11 GP) and Erik Karlsson (14 GP) as the third defenseman this season with a double-digit run. The last campaign to feature more blueliners with a point streak of 10-plus contests was 1992-93 (7).

TRIO HELPS DEVILS DOWN CANUCKS WITH ANOTHER OT VICTORY
The trio of Jack Hughes (2-1—3), Dougie Hamilton (0-3—3) and Vitek Vanecek (26 saves) each played a pivotal part for the Devils (33-13-4, 70 points), who edged the Canucks in their 50th game of 2022-23. Eight of New Jersey's 33 wins this season have come in overtime – one shy of the most in a single campaign in franchise history (9 in 2015-16 & 2008-09).

* Hughes (35-32—67 in 50 GP), with multiple points in five straight games, returned from the 2023 NHL All-Star Weekend and not only matched the longest stretch of multi-point contests in franchise history but moved into third place in the NHL's Maurice "Rocket" Richard Trophy race behind Connor McDavid (41) and David Pastrnak (38).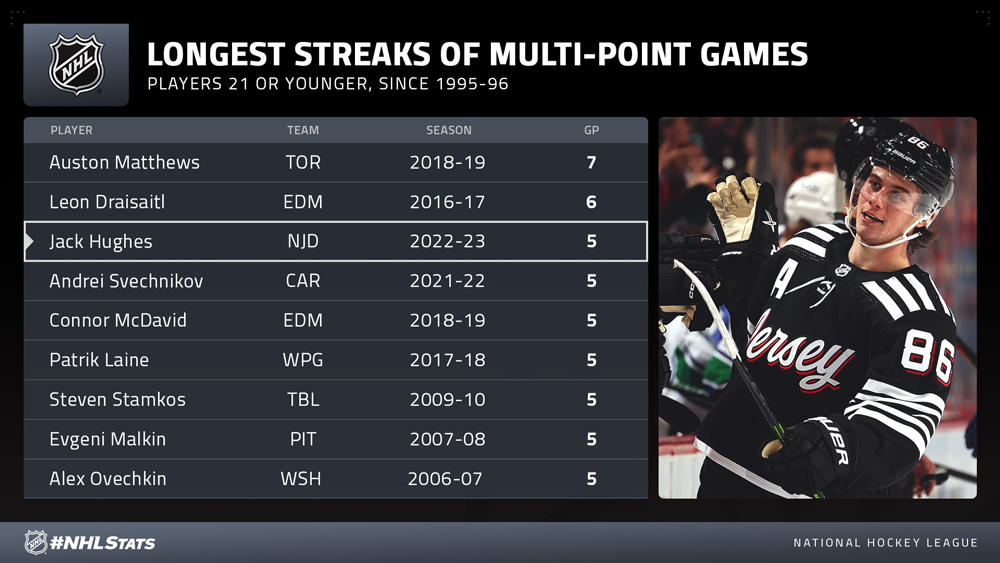 * Hamilton, who factored on one of three Devils goals in a span of 50 seconds, has collected 3-8—11 through his active five-game point streak and has notched 13-36—49 (50 GP) in 2022-23. His 49 points eclipsed Scott Stevens (11-35—46 in 1993-94) for the most by a Devils/Rockies/Scouts defenseman through 50 contests in a season and his 36 assists also surpassed Stevens and Bruce Driver (6-35—41 in 1989-90) for the highest by a blueliner in that scenario.

* The Devils acquired Vanecek from the Capitals on July 8 in exchange for a second- and third-round pick in the 2022 NHL Draft. His 10th straight victory improved his 2022-23 record to 22-5-2, besting 2020-21 (21-10-4) for his most wins in a single season.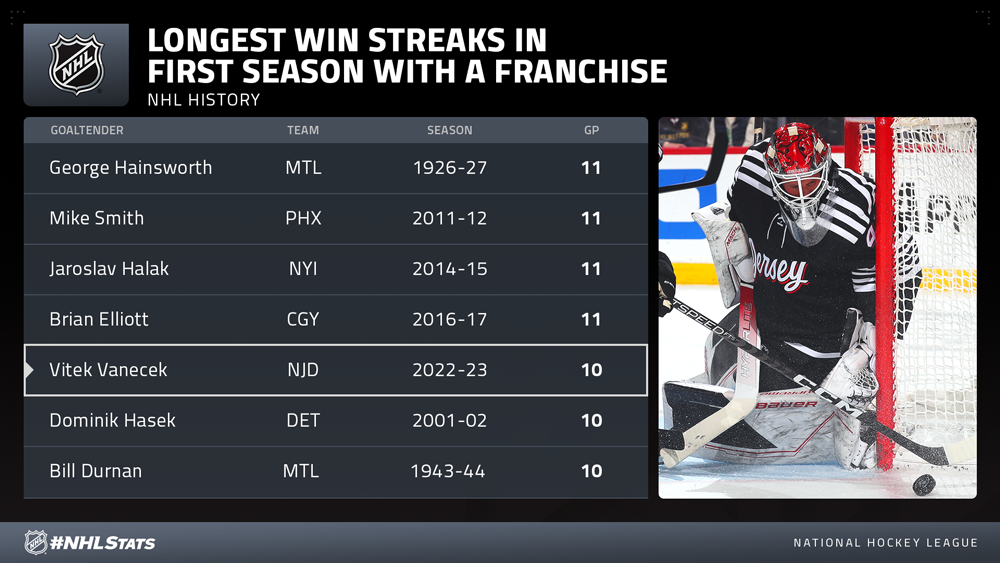 PANARIN POSTS MULTI-POINT PERFORMANCE, JOINS RANGERS LEGENDS
Fresh off skating in 2023 Honda NHL All-Star Weekend, Artemi Panarin (0-2—2) factored on two of his team's five goals and Adam Fox picked up an assist as the Rangers rallied from a one-goal deficit to win in overtime at Madison Square Garden.

* Panarin boosted his career totals with New York to 83-218—301 (236 GP). He required the fewest games in franchise history to reach the 300-point mark, surpassing Mark Messier (94-206—300 in 249 GP).

* Panarin became the first player to record 40-plus assists in each of his first four seasons with the Rangers. Overall, he is the sixth player in franchise history to record four or more consecutive campaigns with 40 assists, joining Andy Bathgate (9x from 1955-56 to 1963-64), Rod Gilbert (6x from 1971-72 to 1976-77), Jean Ratelle (6x from 1967-68 to 1972-73), Brian Leetch (4x from 1988-89 to 1991-92) and Brad Park (4x from 1971-72 to 1974-75).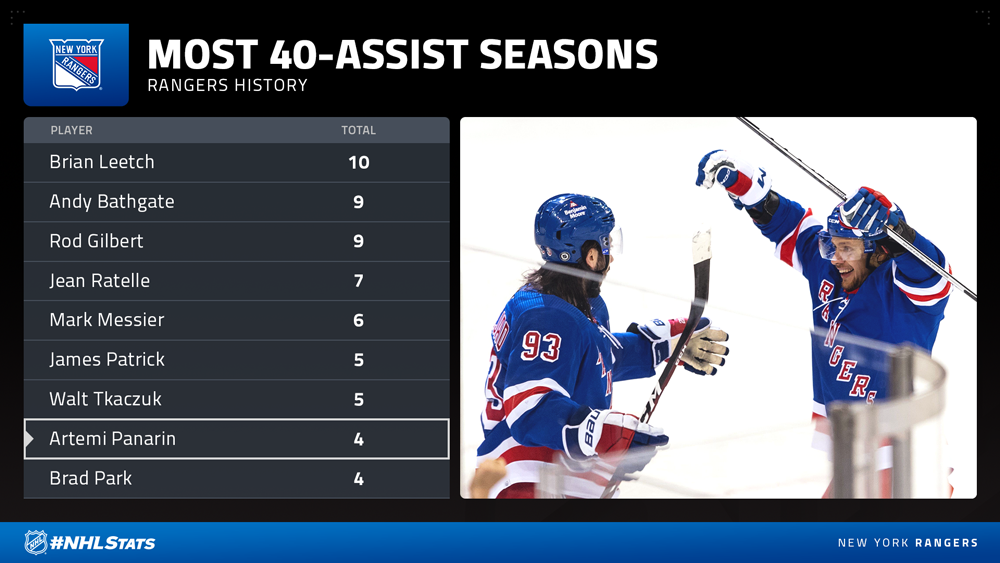 NHL PODCASTS WEEKLY ROUNDUP

* NHL Fantasy (Jan. 30): Fantasy waiver wire pickups – Week 17
* NHL Fantasy: All-Star Special (Feb. 2): Day 1, featuring Aleksander Barkov
* NHL @ The Rink: All-Star Special (Feb. 3): Denis Potvin, Angela James and Bernie Parent join
* NHL Fantasy (Feb. 5): All-Star wrap and Fantasy waiver wire pickups – Week 18

QUICK CLICKS

* #NHLStats: Live Updates – Feb. 6
* Matthew Tkachuk, Dylan Larkin, Mitchell Marner named NHL's "Three Stars" of the week
* Stadium Series ice truck arrives ahead of Capitals-Hurricanes
* Former Kings captain Dustin Brown lift Stanley Cup on 3D billboard in Downtown LA
* Women in Hockey: Manon Rhéaume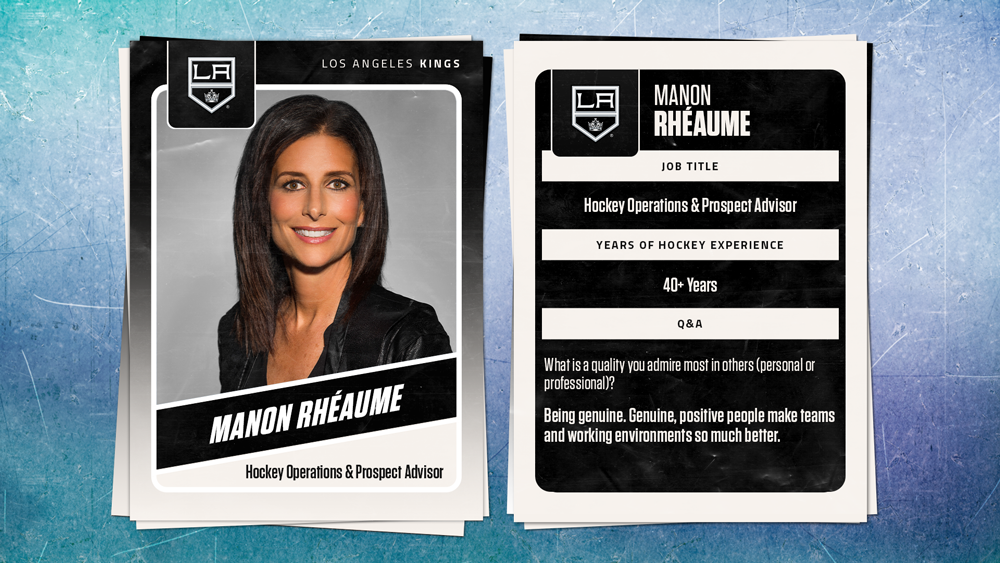 TUESDAY HIGHLIGHTED BY McDAVID IN MOTOWN ON HULU, ESPN+ AND SPORTSNET
Tuesday's six-game slate is highlighted by League scoring leader Connor McDavid (41-51—92 in 50 GP) looking to close in on 100 points this season and 800 in his career when the Oilers (28-18-4, 60 points) visit the Red Wings (21-19-8, 50 points) on HULU, ESPN+ and Sportsnet.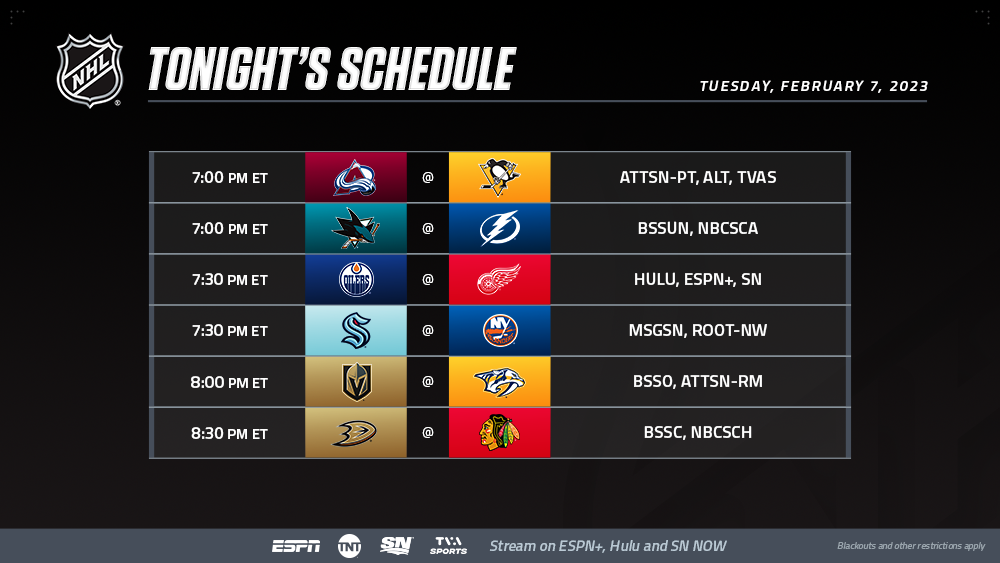 * Click here to read the newest #NHLStats Pack which details the various NHL lists that McDavid is on pace to join this season and in future campaigns, including several that feature current Detroit general manager Steve Yzerman.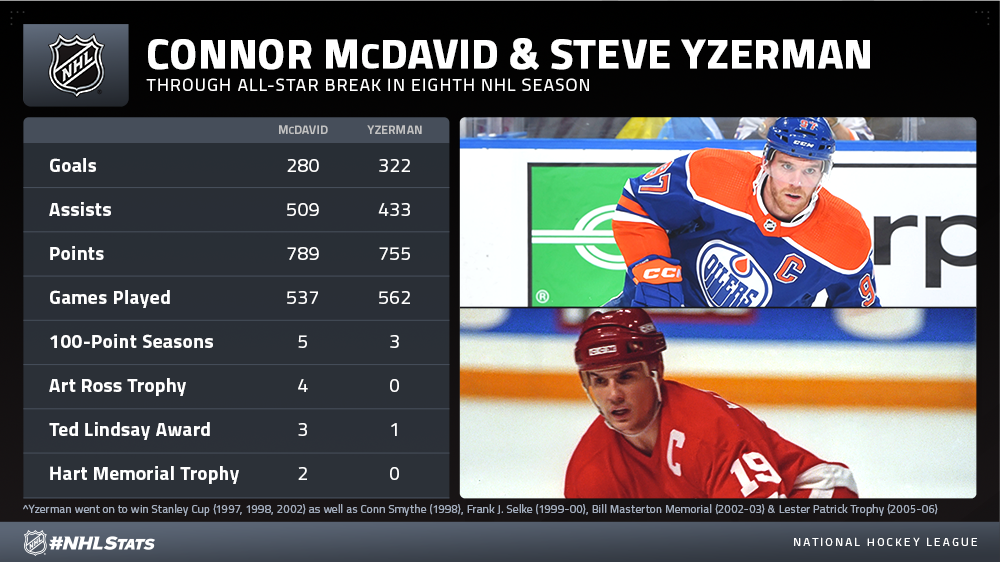 MAKAR SET FOR HEAD-TO-HEAD MEETING WITH CHILDHOOD IDOL
Cale Makar (13-32—45 in 44 GP) and Sidney Crosby (24-36—60 in 49 GP) each represented their respective divisions during the 2023 Honda NHL All-Star Weekend in South Florida, but will go head-to-head Tuesday when the Avalanche (27-18-3, 57 points) travel to Pittsburgh to clash with the Penguins (24-16-9, 57 points) in a matchup of Wild Card hopefuls.

* Makar grew up idolizing the Penguins star, which included a life-size poster hanging on the wall of his family's laundry room. "It's what we used to measure our heights. We'd stand next to it and mark the lines on him," the Avalanche defenseman said in an ESPN article in Dec. 2021.